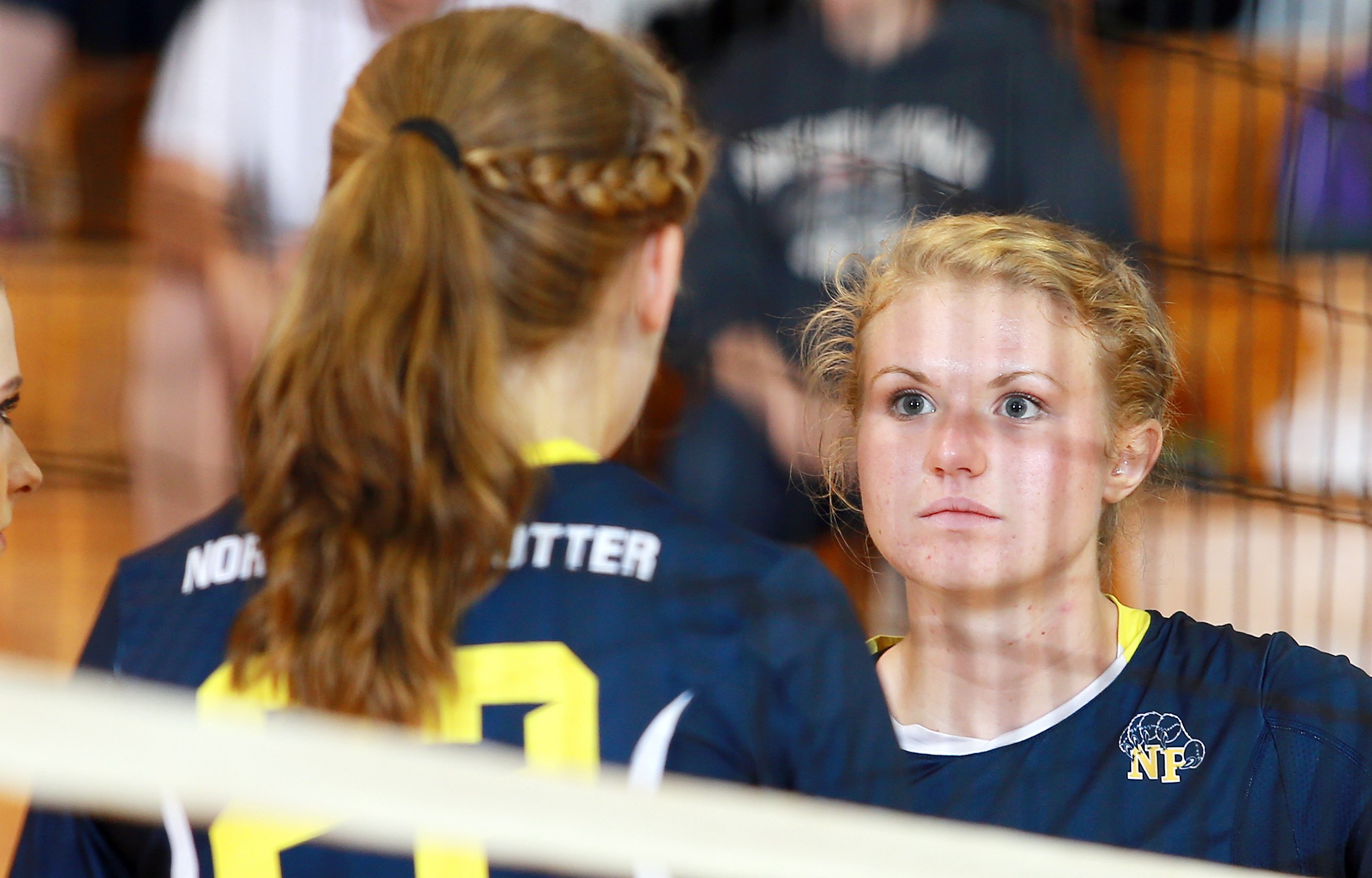 Volleyball and soccer recaps from Sept. 27.
(Cover photo by Paul Burdick. Check out more of Burdick's work here)
VOLLEYBALL
RIDGWAY 3, SHEFFIELD 2
RIDGWAY, Pa. – In the match of the night, Ridgway held off a strong performance from visiting Sheffield to get a 3-2 (27-25, 9-25, 25-15, 23-25, 15-8) win.
Emily Fullem led the Lady Elkers with 13 kills, while Casey Woodford added five kills and Jaylie Johnson four. Kylee Wall had 30 set assists
Mya Grubbs paced Sheffield with 23 set assists and seven kills. Lexi Lyon added nine kills and four blocks for the Lady Wolverines.
A-C VALLEY 3, CLARION-LIMESTONE 0
STRATTANVILLE, Pa. – Kylee Eaton and Josey Terwilliger each recorded 11 kills, as visiting A-C Valley beat Clarion-Limestone, 3-0 (25-12, 25-5, 26-24).
Terwilliger completed a kills/digs double-double with 13 digs and also had three aces and a block, while Eaton added four digs, an ace and a block.
Emily Weitzel had an assists/digs double-double with 10 set assists and 15 digs and added four aces, Olivia Boocks added 11 digs and Jaleigh Seigal nine digs and three aces. Sydney Rankin chipped in 15 set assists.
Erica Hetrick, Maddi Griffith and Amanda Kucic each had kills for C-L with Paige Aaron adding two set assists.
PORT ALLEGANY 3, AUSTIN 0
AUSTIN, Pa. – Behind 17 set assists from Mira Terrette, visiting Port Allegany was a 3-0 (25-8, 25-16, 25-6) winner over Austin.
Hannah Lathrop added 12 kills and Makenzie Burr five for the Lady Gators.
Jordan Brewer led Austin with 10 digs.
KANE 3, BRADFORD 0
KANE, Pa. – Despite 11 kills, three blocks and four digs from Kam Piscitelli, visiting Bradford fell, 3-0 (25-20, 25-22, 25-18), at Kane.
Ashton McGriff added six kills and three digs for the Lady Owls, who also got 13 set assists and four digs from Morgan Roggenbaum.
Kane stats weren't submitted.
NORTHERN POTTER 3, CAMERON COUNTY 1
EMPORIUM, Pa. – Behind a double-double from Bobby Jo Tubbs, Northern Potter picked up a 3-1 (25-19, 25-27, 25-14, 25-20) road win over Cameron County.
Tubbs had 11 kills and 10 digs, while Kalie Cowburn added eight kills and nine digs, Jenna Hyde nine digs, eight set assists and five aces and Tory McCutcheon eight digs, seven set assists and four aces for the Lady Panthers.
Payton Bloom had 15 digs for Cameron County, Amily Schatz four aces, Alyvia McKimm 12 set assists, Taylor Britton five kills and Kendyl Guisto two blocks.
CLARION 3, CRANBERRY 0
SENECA, Pa. – Maya Thornton's kill/digs double-double of 10 kills and 11 digs helped visiting Clarion sweep Cranberry, 3-0 (25-18, 25-15, 25-19).
Olivia Burns added 13 kills and nine digs for the Lady Cats, while Dorothy Kalinowski, Lexi Lauer and Gloria Kroh each added four kills. Kroh ran the offense with 26 set assists and also added seven digs.
Erin Merryman had 12 set assists and seven digs for Cranberry with Bree Swartzfager adding four kills, two blocks and nine digs, Malliah Schreck four kills and six digs and Lauren Conkle two kills and three blocks.
COUDERSPORT 3, GALETON 0
GALETON, Pa. – Behind a balanced offensive attack, Coudersport swept past Galeton for a 3-0 (25-15, 25-17, 25-10) road victory.
Ally Easton had nine kills and four blocks for the Lady Falcons and Kiara Perkins and EmmaRae Easton each added seven kills. Perkins also had four aces with EmmaRae Easton coming away with two aces.
Joplin Osgood paced the Coudy defense with 26 digs, and Haley Keck ran the offense with 35 set assists while adding three aces and two blocks.
DUBOIS 3, ST. MARYS 0
ST. MARYS, Pa. – Rachel Garvey and Danessa Allison each had 11 kills to lead visiting DuBois to a 3-0 (25-23, 25-12, 25-9) win over St. Marys.
Ashley McCluskey ran the Lady Beavers attack with 22 set assists, while Allison added seven aces and Kelli Hoffer and Lexi Ray each chipped in with five aces. Ray also had four blocks, and Kylee Bundy dug eight balls.
PUNXSUTAWNEY 3, DUBOIS CENTRAL CATHOLIC 0
DUBOIS, Pa. – Despite four kills from Libby Maurer and three blocks from Alyssa Bittner, DuBois Central Catholic fell on its home court, 3-0 (25-22, 25-10, 25-11), to Punxsutawney.
Punxsutawney stats weren't available.
ELK COUNTY CATHOLIC 3, JOHNSONBURG 1
ST. MARYS, Pa. – Visiting Johnsonburg grabbed the first set, but Elk County Catholic rallied to take the next three in getting a 3-1 (21-25, 25-15, 25-19, 25-10) win over the visiting Ramettes.
Cassidy Cunningham led the Lady Crusaders with 13 kills, and Reilly Herzing added 12 kills. Cunningham also had five aces. Josie Smith added four aces and Kara Detsch had 29 set assists, three aces, three blocks and a kill.
KEYSTONE 3, MONITEAU 0
WEST SUNBURY, Pa. – Alyssa Beichner had four kills and Danica Hurrelbrink added eight set assists and an ace to pace a 3-0 (25-21, 25-11, 25-19) Keystone win at Moniteau.
Makenzie Byerley chipped in with three kills and 10 set assists for the Lady Panthers, who also got a kill from junior varsity player Emma Weaver, who served for four straight points.
OTTO-ELDRED 3, OSWAYO VALLEY 0
SHINGLEHOUSE, Pa. – Camryn Thomas, Harlee VanScoter and Emily Smith led visiting Otto-Eldred to a 3-0 (25-17, 25-17, 25-18) win at Oswayo Valley.
Thomas had eight kills and five aces for the Lady Terrors, VanScoter chipped in six kills, 14 digs and four aces and Smith had 23 set assists and four aces.
REDBANK VALLEY 3, UNION 0
RIMERSBURG, Pa. – It was another strong night for Heather Traister, as the Redbank Valley hitter turned in a 12-kill, 5-block performance to lift the visiting Lady Bulldogs to a 3-0 (25-22, 25-14, 25-20) win at Union.
Macy King chipped in seven kills for Redbank Valley, while Josie Rupp had four kills, four blocks and three aces. Also for the Lady Bulldogs, McKenna Shirey added four kills.
Bryn Davis and Frankee Remmick each had three kills for Union, while Amy Henry and Taylor Adams both added two kills. Henry also had four aces, while Lexey Shick, in a serving-only role, also added a pair of aces.
On defense, Remmick (16 digs), Davis (11 digs) and Marli Hawk (seven digs) led the Golden Damsels. Adams chipped in five five blocks, and Hannah Atzeni had 11 set assists.
BOYS' SOCCER
BROCKWAY 5, ST. MARYS 1
BROCKWAY, Pa. – After trailing 1-0 at halftime, Brockway exploded for five unanswered second-half goals to beat visiting St. Marys, 5-1.
Anthony Esposito and Carter Adams each scored twice for the Rovers, and Jarrett Esposito added a goal.
Nathan Schneider scored St. Marys' lone tally on a penalty kick.
KARNS CITY 3, MERCER 1
KARNS CITY, Pa. – Thanks to a pair of Spenser Myers goals, Karns City held off visiting Mercer, 3-1.
Noah Pollock also scored the Gremlins, while Nolan Riley and Jace Ebbitt recorded helpers.
PORT ALLEGANY 5, RIDGWAY 0
PORT ALLEGANY, Pa. – Payton Caden scored twice, and Josh Mealy made three saves to help Port Allegany to a 5-0 win over visiting Ridgway.
David Talkington, Mackenzie Elliott and Howie Stuckey also found the back of the net for the Gators.
GIRLS' SOCCER
WARREN 3, BRADFORD 1
WARREN, Pa. – Trailing visiting Bradford, 1-0, at the half, Warren scored three second-half goals, two from Chelsea Winters, to beat the Lady Owls 3-1.
Bradford took the 1-0 halftime lead thanks to a goal from Kaitlyn Shields.