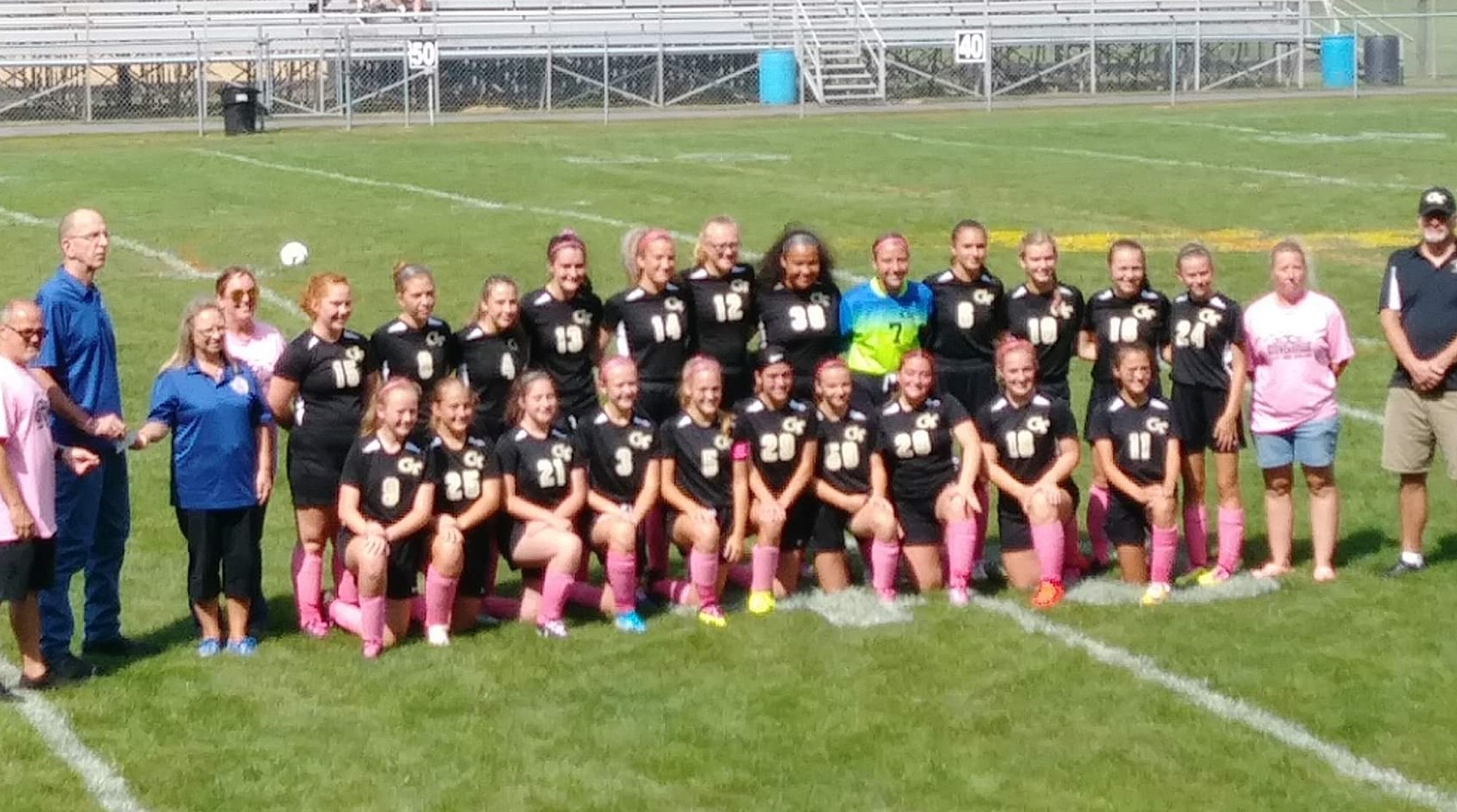 Sept. 28 soccer recaps.
(Photo: Curwensville raised $1,000 to donate to Clearfield County Cancer Support Inc. at its Giving Cancer the Cleat Day match Saturday. Submitted photo)
GIRLS' SOCCER
CURWENSVILLE 6, BROOKVILLE 2
CURWENSVILLE, Pa. – On Giving Cancer the Cleat day in Curwensville, the Lady Tide raised $1,000 to donate to Clearfield County Cancer Support Inc. and beat visiting Brookville 6-2.
Chloe Davis had the hat trick in the win for Curwensville while Emma Rebar scored twice and Haylee Mullins once.
Rebar added a pair of assists with Mullins also assisting on a goal. Breanne Spencer chipped in a helper as well.
Madison McAninch scored twice for Brookville with both goals being unassisted.
BRADFORD 4, DUBOIS 1
DUBOIS< Pa. – Regan Johnson scored twice to help visiting Bradford to a 4-1 win over DuBois.
Emily Bosworth and Liz Miller also scored for the Lady Owls.
BOYS' SOCCER
CLARION-LIMESTONE 6, BROOKVILLE 1
STRATTANVILLE, Pa. – Beau Verdill had three goals and an assist to lead Clarion-Limestone to a 6-1 win over visiting Brookville.
Paul Leonhardt added two goals and an assist while Cody Whiting also had a goal and a helper. Bailee Verdill and Bryon Cruz each chipped in assists for the Lions.
GENERAL MCLANE 4, BRADFORD 3
EDINBORO, Pa. – Visiting Bradford dropped a 4-3 decision to General McLane.
Gavin McGee, Alex Marrone and Ian Grady all scored for the Owls with Grady also adding an assist.
Evan Schmidt stopped 11 shots in net for Bradford.
DUBOIS 5, CLEARFIELD 1
DUBOIS, Pa. – Nick Graeca had the hat trick and Nolan Bussell scored twice to give DuBois a 5-1 win over visiting Clearfield.
Luke Sidorick scored for the Bison.
Ethan Wineberg made three saves to get the win for the Beavers, while Graeson Graves had five saves for Clearfield.
WILLIAMSON 3, NORTHERN POTTER 1
TIOGA, Pa. – Sam Cummings, Brennan Bolt and Christian Fuller all scored to lift Williamson to a 3-1 win over visiting Northern Potter.
Ryan Langworthy scored for the Panthers.
Josh Hultz made seven saves to get the win, while Patrick Lehman made 11 stops in the loss.