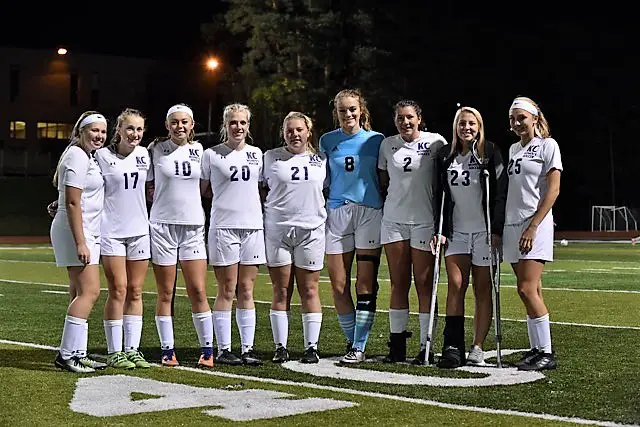 Sept. 28 volleyball and soccer recaps.
(Cover Photo: Karns City Senior Soccer Players. Photo by Howie Dittman)
GIRLS' SOCCER
KARNS CITY 9, CLARION 0
KARNS CITY, Pa. – Haley Scherer netted a hat trick to help Karns City to a 9-0 Senior Night win over visiting Clarion.
MacKenzie Claypoole, Chelsea Dodds, Hunter Dittman, Hannah Knoll, Brooke Stahlman and Taylor Eckes also scored for the Lady Gremlins.
PORT ALLEGANY 1, RIDGWAY 0
PORT ALLEGANY, Pa. – Rylie Lawton scored on a first-half direct kick, and Bri Roys made five saves to make the goal hold up, as Port Allegany beat visiting Ridgway, 1-0.
For Roys, it was her fifth shutout of the season.
BROCKWAY 6, KANE 0
BROCKWAY, Pa. – Chanell Britten had another hat trick, as Brockway rolled past visiting Kane, 6-0.
Morrigan Decker added a pair of goals for the Lady Rovers with Emily Botwright also chipping in a tally.
VOLLEYBALL
FOREST AREA 3, TIDIOUTE CHARTER 0
TIDIOUTE, Pa. – Behind 20 kills, five digs and four aces from Bianca Hetrick, Forest Area picked up its first win, 3-0 (25-15, 27-25, 25-12) at Tidioute Charter.
Makiya Bellotti added 14 set assists, a kill, five digs and an ace , Jasmine Ginnery had fven kills, three aces, two digs and a block, Shawna Carabugh chipped in 13 set assists, four kills and two aces, Angelina Harp had five digs and Jessica Wagner two kills and a dig.
GALETON 3, AUSTIN 1
AUSTIN, Pa. – Makayla Shadle, Erin Cimino, Brielle Kalacohski and Marika Leeler combined 36 kills to lead visiting Galeton to a 3-1 (25-17, 15-25, 25-16, 25-22) win at Austin.
Shalde paced the Lady Tigers with 10 kills while adding 23 set assists and five aces. Cimino and Kalacohski each had nine kills with Lechler adding eight kills. Also for Galeton, Ryleigh Rachiele chipped in six kills and 20 set assists, Alexis Johnson had five kills and a block and Katie Pagano added six digs.
Jordan Brewer helped pace Austin with five kills, 10 set assists and two aces. Angeline Watson added two aces, two kills and 15 sets assists and Cerissa Glover had two aces, two kills and three digs.
DUBOIS 3, BRADFORD 0
DUBOIS, Pa. – Behind 10 kills and 21 digs from Danessa Allison DuBois swept past visiting Bradford, 3-0 (25-20, 25-6, 25-13).
Lexi Ray chipped in five kills and five blocks for the Lady Beavers with Kelli Hoffer adding seven kills and three aces and Kylee Bundy 33 set assists.
SHEFFIELD 3, BROCKWAY 1
SHEFFIELD, Pa. – Sheffield overcame a slow start and then a set-deficit in the fourth set to knock off visiting Brockway, 3-1 (19-25, 25-21, 25-12, 27-25).
After losing the first set the Lady Wolverines rallied to take the next two but looked as if they were facing a fifth set when they got behind 24-17 in the fourth set before rallying for the 27-25 win and the match behind the serving of Marissa Grubbs.
Mya Grubbs ran the offense with 31 set assists while adding seven kills for Sheffield. Eliza Davidson added 12 kills and nine digs and Lexi Lyon 11 kills and five blocks.
Kaitlyn Morelli paced Brockway with 16 kills.
CLARION 3, MONITEAU 0
WEST SUNBURY, Pa. – Maddie Schill and Maya Thornton combined for 10 kills to help visiting Clarion to a 3-0 (25-12, 25-13, 25-12) win over Moniteau.
Schill had five kills and two aces with Thornton adding five kills and seven digs for the Lady Cats who also got a team-high seven kills from Kaitlyn Constantino, who added five digs. Brenna Campbell ran the offense and also played solid defense while serving strong finishing with 22 set assists, seven aces and seven digs. Sydney Kiser also chipped in four aces, as Clarion had 22 aces in the match.
NORTH CLARION 3, CLARION-LIMESTONE 0
STRATTANVILLE, Pa. – Another strong match from Tori Obenrader helped visiting North Clarion to a 3-0 (25-12, 25-16, 27-25) win over Clarion-Limestone.
The She-Wolves senior led the way with 17 kills, 10 digs and two aces. Megan Baumcratz added four kills, Gabby Schmader had eight digs, Paige Sherbine chipped in 22 set assists and three aces, Avari Schwabenbauer had four aces and Katie Burkett three aces.
For C-L, Erica Hetrick had three kills, five digs and a block, Madison Craig chipped in two kills and four digs, Nikki Shumaker had eight digs and Rachel Greeley four blocks.
COUDERSPORT 3, OSWAYO VALLEY 0
SHINGLEHOUSE, Pa. – Shaelyn Black, Adrian Page and EmmaRae Easton combined on 30 kills to help visiting Coudersport grind out a 3-0 (26-24, 25-15, 25-20) win at Oswayo Valley.
Black led the way for the Lady Falcons with 11 kills, 14 digs, nine blocks and three aces with Page adding 10 kills, 24 digs and two aces and Easton nine kills and seven blocks. Joplin Osgood led the Coudy defense with 39 digs, while Haley Keck added 24 set assists, four blocks, two aces and two kills.
CRANBERRY 3, REDBANK VALLEY 1
SENECA, Pa. – Cranberry used a total team effort to hand visiting Redbank Valley its first loss of the year, 3-1 (25-16, 27-25, 21-25, 25-19).
Malliah Schreck (13 kills) and Lauren Conkle (nine kills) led the offense with Schreck (20 digs, 3 blocks) and Conkle (six blocks) also coming up big on defense. Ellie Kahle (33 digs), Emily Duncan (20 digs), Erin Merryman (13 digs) and Aly Young (12 digs) were also key parts of the defensive effort for the Berries, and Merryman ran the offense with 33 set assists.
Josie Rupp led Redbank Valley with 14 kills and two aces, Emily Gourley added eight kills, five blocks and two aces and Jordan Milliron had five kills.
KEYSTONE 3, VENANGO CATHOLIC 0
OIL CITY, Pa. – Makenzie Byerley had two kills, six set assists and two aces to help visiting Keystone to a 3-0 (25-6, 25-6, 29-27) win over Venango Catholic.
Danica Hurrelbrink added six set assists, three kills and an ace for the Lady Panthers, who also got four kills from McKenzie Hovis and three kills from Mandy Wingard.
OTTO-ELDRED 3, NORTHERN POTTER 0
DUKE CENTER, Pa. – Emily Smith had 13 set assists and seven aces to help lift Otto-Eldred to a 3-0 (25-10, 25-6, 25-14) win over visiting Northern Potter.
Camryn Thomas added eight kills and six aces for the Lady Terrors with Alyssa Shelander chipping in four kills and three aces.
SMETHPORT 3, PORT ALLEGANY 1
SMETHPORT, Pa. – Behind a monster night from Abbey Woodard Smethport topped visiting Port Allegany, 3-1 (25-20, 25-23, 21-25, 25-23).
Woodard had 30 kills, seven blocks, seven digs and an ace in a winning effort, while Emily Gustafson added seven kills, 10 digs and four blocks, Emily Treat five kills, 13 digs, three aces and an assist and Kiara Orner three kills, 23 set assists and an ace for the Lady Hubbers.
Hannah Lathrop also had 30 kills in a losing effort for Port Allegany with Erin Stauffer coming up with 60 digs and Kenzie Burr 10 kills and 33 digs.
BOYS' SOCCER
BROCKWAY 8, KANE 0
BROCKWAY, Pa. – Carter Adams scored a pair of goals to help Brockway to an 8-0 win over visiting Kane.
Also scoring for the Rovers were Zane Puhala, Anthony Esposito, Noah Bash, Hunter Allenbaugh, Santino Inzana and Linkin Nichols. Nichols, Esposito, Jake Anderson and Ryan Lin had assists. Lewis Painter recorded the shutout in net, his second consecutive shutout.
KARNS CITY 2, PUNXSUTAWNEY 1
KARNS CITY, Pa. – Behind a pair of second-half goals Karns City topped visiting Punxsutawney, 2-1.
Dakota King scored off an assist by Nate Rondinelli, and Rondinelli then scored on a corner kick he bent in on the service.
Matthew Wehrle scored the lone goal for Punxsutawney.
ST. MARYS 3, RIDGWAY 2, 2 OVERTIMES
RIDGWAY, Pa. – Nathan Schneider's goal a little less than two minutes into the second overtime lifted visiting St. Marys to a 3-2 win over Ridgway.
St. Marys led 2-0 with just over 10 minutes to play on goals from Schneider and Isaac Caretti, but Ridgway's Ethan Kemmer scored twice in 29 seconds to force the extra sessions.