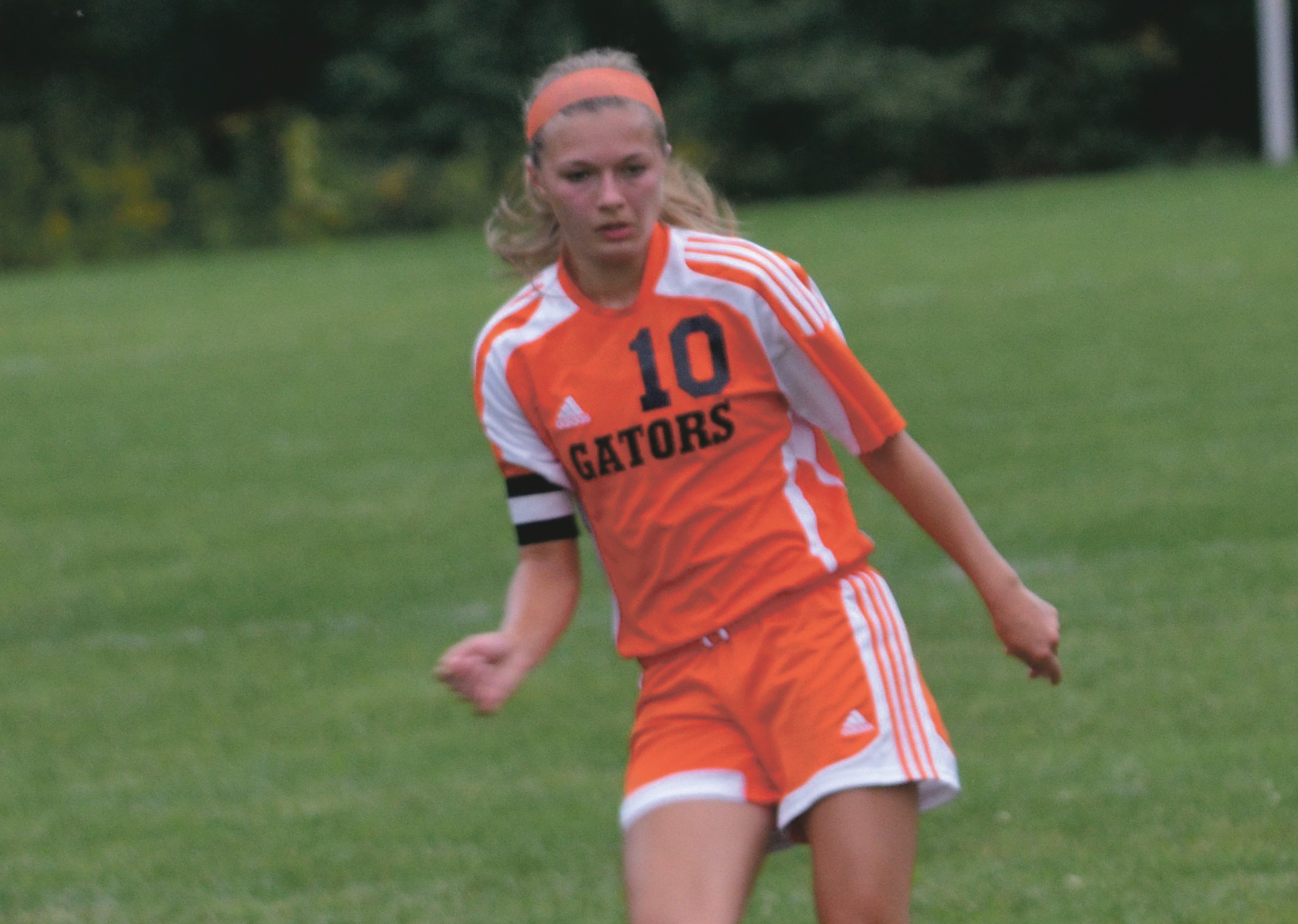 Sept. 28 volleyball and soccer recaps.
(Photo of Port Allegany's Autumn Buchsenschutz, who had the hat trick Wednesday. Photo by Andy Close)
VOLLEYBALL
GALETON 3, CAMERON COUNTY 1
EMPORIUM, Pa. – Behind 16 kills, seven aces and five blocks from Olivia Pagano, Galeton beat homestanding Cameron County, 3-1 (25-13, 25-13, 20-25, 25-21).
Laura Parsell added 14 digs for the visitors, while Katelynn Pagano had 11 set assists.
Corrine Burnside paced Cameron County with five kills. Payton Bloom had 15 digs, Alyvia McKimm 11 set assists, Taylor Britton two aces and Amily Schatz two blocks.
KARNS CITY 3, FOREST AREA 1
MARIENVILLE, Pa. – Visiting Karns City used a team-wide effort to knock off Forest Area, 3-1 (25-6, 25-13, 24-26, 25-14) at East Forest.
Brooke Snow, Makayla Waltman, Emily Hegedus and Mackenzie Craig all had three kills apiece for the Lady Gremlins with Craig and Brooke Moore teaming up to contribute 14 set assists.
Libero Alyssa Sitt and back row teammates Makala Bailey and Emily Wolfe were all solid in the receiving game along with Claudia Kamenski according to head coach Lisa Nagy.
BOYS' SOCCER
BRADFORD 2, WARREN 1
BRADFORD, Pa. – Colton Swanson and Mitch Forbes both scored to lead Bradford a 2-1 win over visiting Warren.
Evan Schmidt made seven saves in net for Bradford.
Devin Reed scored for Warren, while Tommy Harrington made nine saves.
Bradford led 1-0 at halftime.
ELK COUNTY CATHOLIC 6, COUDERSPORT 1
ST. MARYS, Pa. – Erick Mader and Frank Singer each scored twice to pace a 6-1 Elk County Catholic win over visiting Coudersport.
Valentyn Wolfe and Carter Lindemuth each scored once for ECC.
PORT ALLEGANY 1, DUBOIS CENTRAL CATHOLIC 0
DUBOIS, Pa. – Tyler Lashway scored off an assist from Mackenzie Elliott to lead visiting Port Allegany to a 1-0 win at DuBois Central Catholic.
Josh Mealy made four saves in recording the Gators' shutout.
ATHENS 7, NORTHERN POTTER 0
Athens, Pa. – Shane Colegrove scored four goals to lead Athens to a 7-0 win over visiting Northern Potter.
Ethan Lane added a pair of goals and Luke Arnold one for the victors.
FOREST AREA 5, REDBANK VALLEY 4
MARIENVILLE, Pa. – Forest Area rallied from a four-goal deficit to stun visiting Redbank Valley, 5-4.
The Bulldogs looked well on their way to their first victory when they took the four-goal advantage thanks to a Colby Nolf hat trick and a goal by Corben Deamer.
The Fires were still down 4-1 at halftime after Jarrett Kahle scored just before the break, but Redbank Valley was still up three with 18 minutes to go when Forest Area, behind two more goals by Kahle and two from Seth Berlin, exploded for four goals to get the win.
Berlin's game winner came in the 77th minute.
GIRLS' SOCCER
PORT ALLEGANY 8, SMETHPORT 2
PORT ALLEGANY, Pa. – Autumn Buchsenschutz had the hat trick to lead Port Allegany to an 8-2 win over visiting Smethport.
Buchsenschutz now has 20 goals on the season.
Autumn Freer added a pair of goals for the Lady Gators with Tara Briggs, Lauren Dynda and Madison Preston also scoring.
Morgan Hart and Hailey Wright had goals for Smethport.
ST. MARYS 7, PUNXSUTAWNEY 2
ST. MARYS, Pa. – Lauren Eckert scored five goals to lead St. Marys over visiting Punxsutawney, 7-2.