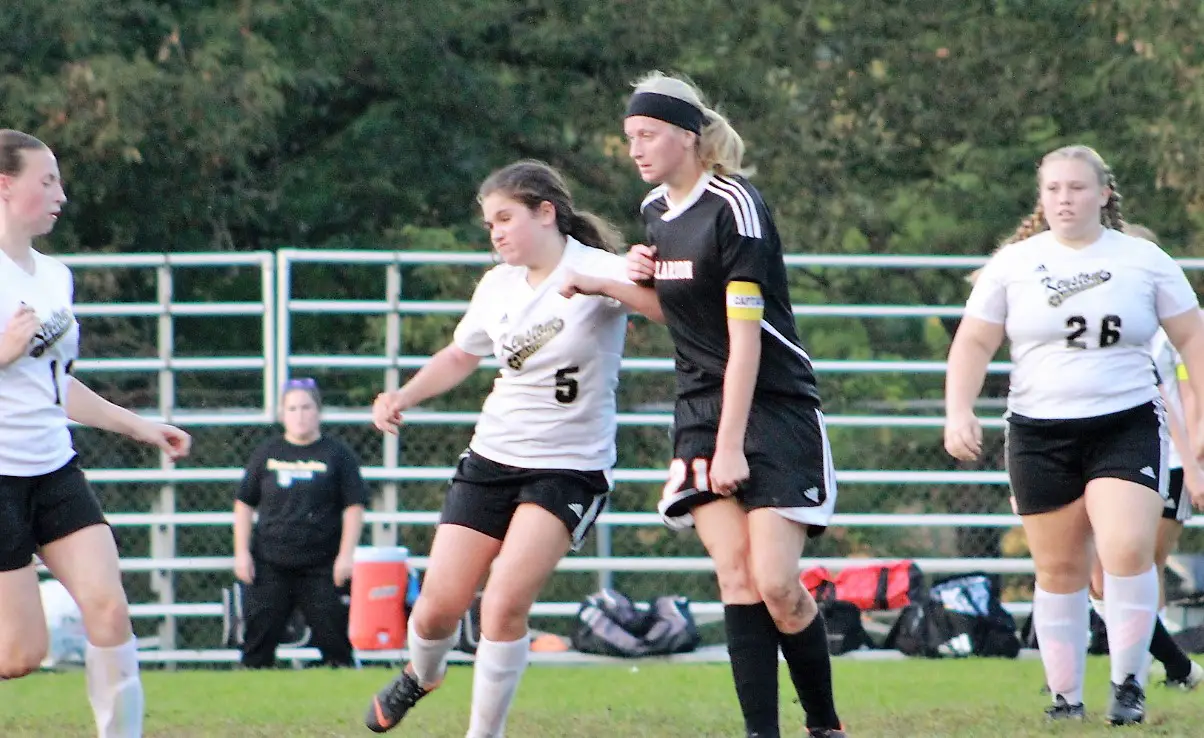 Sept. 28-29 soccer recaps.
(Livia Weckerly (No. 5 in white) scored the game-winning goal in double overtime for Keystone at West Middlesex Saturday. Photo by Jared Bakaysa of JB Graphics. See more of Bakaysa's work here)
GIRLS' SOCCER
KEYSTONE 2, WEST MIDDLESEX 1, 2 OTs
WEST MIDDLESEX, Pa. – Liv Weckerly scored in double overtime to lift visiting Punxsutawney to a 2-1 win over West Middlesex Saturday.
The Lady Panthers trailed 1-0 at halftime following a first-half goal by Karlissa Richmond for the Big Red, but Paige Cotton tied the game early in the second have.
Faith Young assisted on both Keystone goals.
Emily Schlegel kept West Middlesex in the contest making 17 saves. Jessi Phillippi got the win for Keystone making five saves.
ELK COUNTY CATHOLIC 5, PUNXSUTAWNEY 0
PUNXSUTAWNEY, Pa. – Mary Cerroni recorded a hat trick to lead visiting Elk County Catholic to a 5-0 win over Punxsutawney Saturday.
Cerroni scored at once in the first half to give the Lady Crusaders a 1-0 lead and then added two goals early in the second half to make it 3-0.
Kara VanEerden then added a pair of goals midway through the second half to close out the scoring.
Rena Messineo had three assists for ECC with Sady VanAlstine adding two helpers.
Emily Wolfe made one save to get the shutout win.
Punxsutawney keeper Brianna Thomas made 12 stops.
CURWENSVILLE 3, CLARION 1
CLARION, Pa. – Madison Weber scored twice to lead visiting Curwensville to a 3-1 win over Clarion Saturday.
Emma Rebar added a goal and an assist for the Lady Tide, while Emma Rebar also had a helper in the win.
Maura Bunnell had 10 saves for Curwensville, while Hannah Hazlett added 10 saves for the Lady Cats.
Clarion's goal scorer wasn't reported.
BOYS' SOCCER
KARNS CITY 8, FOREST AREA 0
MARIENVILLE, Pa. – Dakota King had the hat trick to help visiting Karns City roll past Forest Area, 8-0 Saturday.
Austin Fahlor added a pair of goals for the Gremlins with Owen Collwell, Nate Rondinelli and Brayden Christie each scoring once.
Jake Weckerly made three saves for his sixth shutout in net.