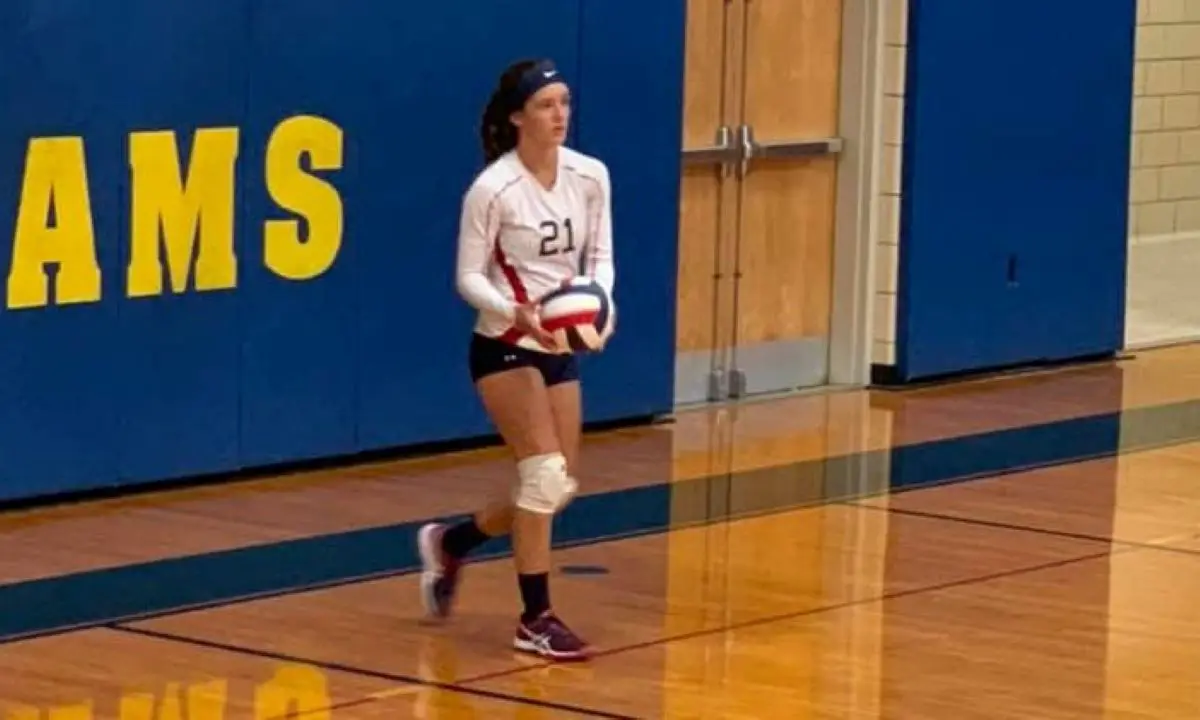 Sept. 30 volleyball/soccer recaps.
(Photo of DCC's Shay Gulvas)
VOLLEYBALL
DUBOIS CENTRAL CATHOLIC 3, CLEARFIELD 0
HYDE, Pa. – A strong defensive effort helped visiting DuBois Central Catholic to a 3-0 (25-20, 25-17, 25-18) win over Clearfield.
Shay Gulvas led that defense with 29 digs, while Maia Cogley, who ran the offense with 15 set assists, added 20 digs.
Bella Mangiantini paced the Lady Cardinals offense with seven kills and four blocks, while Jordy Kosko added four kills and 19 digs. Hannah Holdren also had four kills, while Martina Swalligan added three aces, three kills and a block.
KEYSTONE 3, CLARION-LIMESTONE 1
STRATTANVILLE, Pa. – Leah Exley had nine kills and four blocks to help visiting Keystone to a 3-1 (25-21, 25-18, 23-25, 25-11) win over Clarion-Limestone.
Alexandria Johnston (14 set assists, 4 aces) and McKenna Kaye (10 set assists, 7 digs) ran the offense for the Lady Panthers with Ceayra Altman chipping in five kills and eight digs.
Brooke Kessler had four kills for Keystone, while Bailey Smith chipped in six digs. Celia Shaffer added five blocks with Ruby Smith and Cassidy Makray each recording four blocks. Kendall Dunn had four set assists for the Lady Lions.
KARNS CITY 3, NORTH CLARION 1
KARNS CITY, Pa. – Emily Huff, Cassidy Nolan and Emma Clark each had seven kills to lead Karns City to a 3-1 (25-22, 21-25, 25-15, 25-16) home win over North Clarion.
Huff added five digs and four aces and Nolan chipped in three aces and a block for the Lady Gremlins, while Peyton Turner had 16 set assists and three aces with Rosalie Carden adding 12 set assists. Ashley Fox (16 digs) and Mackenzie Dunn (13 digs) paced the Karns City defense.
CURWENSVILLE 3, MOSHANNON VALLEY 1
HOUTZDALE, Pa. – Raylee Sunderlin had five kills to help visiting Curwensville to a 3-1 (25-12, 25-18, 24-26, 25-11) win over Moshannon Valley.
Emma Caldwell added seven aces and 21 set assists, and Tarah Jacobson chipped in four kills.
ALTOONA 3, PUNXSUTAWNEY 0
ALTOONA, Pa. – Altoona picked up a 3-0 (25-18, 25-18, 25-22) win over visiting Punxsutawney.
Katelyn Griebel had 10 kills and 11 digs for the Lady Chucks with Elliott Ferrent adding five kills, 11 digs and an ace, Grace Hall 18 set assists and an ace and Bella McDivitt 14 digs.
WELLSBORO 3, COUDERSPORT 0
COUDERSPORT, Pa. – Visiting Wellsboro swept Coudersport, 3-0 (25-20, 25-19, 25-16).
Paige Watson led Coudersport with six kills, three digs, two blocks and an ace, while Mikayla Gunn had a kill and 20 digs, Vanessa VanWhy seven digs, a block and an ace and Claudia Miller two aces and 13 digs.
RIDGWAY 3, SHEFFIELD 1
RIDGWAY, Pa. – Ridgway took care of visiting Sheffield, 3-1 (26-24, 25-16, 20-25, 25-22).
Annabel Sheldon had nine kills for Sheffield with Marissa Grubbs recording 31 digs and Megan Johnson 20 set assists.
Ridgway stats weren't available.
BOYS' SOCCER
CLARION-LIMESTONE 10, KEYSTONE 1
KNOX, Pa. – Beau Verdill had four goals and three assists to lead visiting Clarion-Limestone a 10-1 win over Keystone.
Paul Leonhardt added three goals and an assist for the Lions with Ryker Bingham scoring twice and Ben Murtha chipping in a goal and two assists. Austin Coull also had a helper for C-L.
KANE 3, REDBANK VALLEY 1
KANE, Pa. – Johnny Feikls scored twice to lead Kane to a 3-1 win over visiting Redbank Valley.
Aiden Zampogna added a goal and two assists for the Wolves, and Jim Mishic had an assist.
Alec Hucabine had four saves in the win.
CLEARFIELD 7, TYRONE 2
HYDE, Pa. – Andrew Lopez and Nick Ryan each scored twice to give Clearfield a 7-2 win at home over Tyrone.
Luke Winters, Luke Sidorick and Seth Visnofsky also scored for the Bison with Trevor Hoffman picking up two assists and Crae Ruiz, Ryan, Andrew Brickley, Winters and Sidorick each adding helpers.
Nick Vasbinder and Keegan Raabe scored for Tyrone.
PORT ALLEGANY 3, ELK COUNTY CATHOLIC 2, 2 OVERTIMES
SMETHPORT, Pa. – Howie Stuckey scored on a penalty kick with two minutes left in the second overtime to lift Port Allegany to a 3-2 win over Elk County Catholic at Smethport.
Shawn McNeil and Simon Burleson also scored for the Gators.
Edward Messineo had both of ECC's tallies.
Ty Guilds made 15 saves to get the win in net with John Tettis stopping 19 shots for ECC.
BROCKWAY 5, DUBOIS 0
DUBOIS, Pa. – Noah Bash had a hat trick to lead visiting Brockway to a 5-0 win over DuBois Central Catholic.
Linkin Nichols added a pair of goals and an assist for the Rovers, while Garrett Park had two assists and Nolan Swanson and Dylan Antonuccio also had helpers.
KARNS CITY 6, ARMSTRONG 3
KARNS CITY, Pa. – Dakota King had a hat trick to give unbeaten Karns City a 6-3 win over visiting Armstrong.
Nate Rondinelli added two goals and an assist for the Gremlins while Owen Collwell had a goal and three assists.
GIRLS' SOCCER
CLEARFIELD 7, BROOKVILLE 2
BROOKVILLE, Pa. – Elle Smith had the hat trick to help visiting Clearfield to a 7-2 win over Brookville.
Smith added a pair of assists in the win, while Maddie Davis, Emma Hipps, Amanda Hazel and Riley Ryen also scored for the Lady Bison.
Davis chipped in three helpers with Hazel also picking up an assist.
Madison McAninch scored both of Brookville's goals.
Hayley Moore made three saves in the win. Jordan Cook had seven saves for Brookville.
CURWENSVILLE 4, RIDGWAY 1
RIDGWAY, Pa. – Chloe Davis had a goal and two assists to give Curwensville a 4-1 road win over Ridgway.
Breanna Spencer, Emma Rebar and Hailey Sheeder also scored for the Lady Tide.
Julia Jones scored for Ridgway.
KANE 1, PORT ALLEGANY 1
SMETHPORT, Pa. – Kane and Port Allegany played to a one-all tie in Smethport.
Kane's goal came from Rachael Buhl.
Port Allegany's goal was by Cailey Barnett.