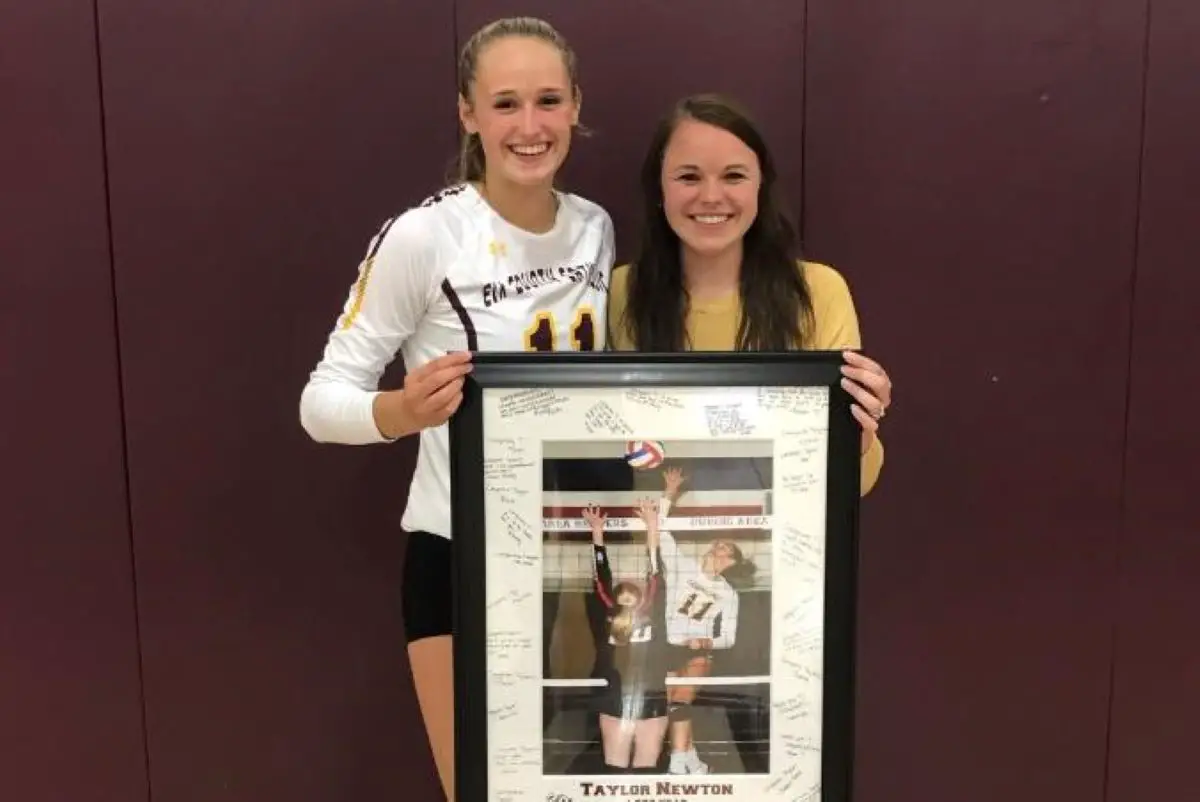 Sept. 5 volleyball and soccer recaps.
(Photo: Taylor Newton (left) with ECC head coach Kelsey Morey after Newton recorded her 1,000th career kill Thursday in a win over St. Marys)
VOLLEYBALL
ELK COUNTY CATHOLIC 3, ST. MARYS 0
ST. MARYS, Pa. – Taylor Newton reached the 1,000-kills milestone in Elk County Catholic's 3-0 (25-14, 25-14, 25-11) victory over St. Marys.
Newton finished the game with 10 kills for the Lady Crusaders while Kilia Aiken also added 10 kills.
Sage Heigel led the Lady Dutch with 16 blocks.
A-C VALLEY 3, REDBANK VALLEY 1
FOXBURG, Pa. – A-C Valley used a team effort to get past visiting Redbank Valley, 3-1 (25-18, 25-22, 21-25, 25-17).
Emily Wetzel ran the Lady Falcons offense with 17 assists and added 18 digs. Andrea Meals also had 19 digs and six kills. Mia Sherman and Meah Ielase each had 11 kills while Hannah Farrington totaled 14 digs and six kills.
Becca Kunselman paced the Lady Bulldogs with eight kills. Lauren Smit and Montana Hetrick each had four kills.
KEYSTONE 3, CLARION-LIMESTONE 0
KNOX, Pa. – Thanks to nine assists and a kill from Alexandria Johnston, Keystone came away with a 3-0 (25-8, 25-13, 25-20) victory over visiting Clarion-Limestone.
Jozee Weaver added nine kills for the Lady Panthers.
Cassidy Makray had four kills for the Lady Lions while Summer Mclaine and Ruby Smith each had three digs.
CAMERON COUNTY 3, PORT ALLEGANY 0
EMPORIUM, Pa. – Mallory McKimm and Morgan Lorenzo combine for 15 kills as Cameron County swept visiting Port Allegany, 3-0 (25-10, 25-13, 25-20).
McKimm had eight kills for the Lady Raiders with Lorenzo adding seven kills and six digs. Hailey Hilfiger chipped in six kills and Reggie Goodrow ran the offense with 14 assists.
CRANBERRY 3, FOREST AREA 0
SENECA, Pa. – Thanks to 14 assists and eight digs from Emily Duncan, Cranberry defeated visiting Forest Area, 3-0 (25-4, 25-8, 25-10).
Maddie Cornelius had 10 digs for the Berries while Mikayla Wenmoth and Jenna Reynolds each had four. Maria Anderson added eight kills and Kaiana Dean had five.
BELLEFONTE 3, CLEARFIELD 0
BELLEFONTE, Pa. – Bellefonte swept visiting Clearfield, 3-0 (25-23, 25-23, 25-21).
Bella Spingola paced the Lady Bison offense with 10 assists. Adrian Rowles had four kills and Paige Rhine had seven kills and a pair of blocks.
NORTHERN POTTER 3, AUSTIN 0
AUSTIN, Pa. – Northern Potter used a balanced team effort to defeat Austin, 3-0 (25-19, 25-23, 25-21).
Savanna Herring led the Lady Panthers with nine kills, Courtney Martin posted six kills and four digs and Madison Hoopes added 10 digs.
For Austin, Kylie Welsh had three kills and three blocks.
NORTH CLARION 3, VENANGO CATHOLIC 0
FRILLS CORNER, Pa. – North Clarion swept visiting Venango Catholic, 3-0 (25-23, 25-9, 25-15).
Sara Aaron led the She-Wolves offense racking up 11 assists and two kills. Emily Aites added three kills while Gabbie Schmader had eight digs. Dylen Mealy had four kills, three digs and a pair of blocks.
Emmy Ekis paced Venango Catholic with three kills and four digs. Chenoa Rudder had three digs, a kill and two assists.
UNION 3, MONITEAU 0
RIMERSBURG, Pa. – Morgan Cumberlands' 23 assists and two blocks helped Union knock off visiting Moniteau, 3-0 (26-24, 25-20, 25-10).
Dominika Logue had a team-high five blocks and 14 kills for the Golden Damsels. Drew Davis had four kills and Hailey Kriebel had three kills and four blocks.
Logan Barnhart had four blocks for the Lady Warriors, and Aslyn Pry chipped added three kills and a pair of blocks.
BRADFORD 3, SHEFFIELD 0
SHEFFIELD, Pa. – Bradford topped Sheffield, 3-0 (25-22, 25-14, 25-13).
Erica Marshall paced the Lady Owls with six kills with Alex Asp and Sarie Yohe each adding three kills. Laney Kahle ran the offense with 13 assists.
Marissa Grubbs led the Lady Owl offense with 11 assists. Marissa Grubs had a team-high 24 digs and Lynzie Grubbs chipped in four kills and four blocks.
OTTO-ELDRED 3, GALETON 0
DUKE CENTER, Pa. – Otto-Eldred cruised to a 3-0 (25-14, 25-21, 25-17) win over visiting Galeton.
Haley Cousins led the Lady Terrors with 20 kills, while Morgan Dalton added 11 kills and Reilly Raught seven aces and six blocks.
Alexis Johnson had seven kills and three blocks to lead the way for the Lady Tigers, while Kate Kulish had eight set assists and Cara Parsell 16 digs.
CLARION 3, ALTOONA 0
ALTOONA, Pa. – Korrin Burns and Kait Constantino combined for 21 kills to help Clarion to a 3-0 (25-11, 25-19, 25-22) win over Altoona.
Burns led the Lady Cats with 11 kills with Constantino adding 10.
KK Girvin paced Clarion's defense with 10 digs with Burns adding eight and Constantino seven. Brenna Campbell had six digs, while Maddie Schill had three blocks and Burns two blocks.
Campbell ran the offense with 30 set assists.
JOHNSONBURG 3, RIDGWAY 2
RIDGWAY, Pa. – Emma King and Jenna Morgan combined for 37 kills as Johnsonburg rallied to defeat Ridgway, 3-2 (22-25, 25-17, 30-32, 25-21, 15-7).
Morgan racked up 19 kills while King added 18 for the Ramettes. Ella Stauffer chipped in seven kills and Kensie Sallack had nine.
SLIPPERY ROCK 3, KARNS CITY 1
SLIPPERY ROCK, Pa. – Slippery Rock defeated Karns City, 3-1 (25-21, 32-34, 25-19, 25-22).
Mackenzie Dunn paced the Lady Gremlins with six kills and 44 digs while Ashley Fox added 49 digs.
KANE 3, DUBOIS CENTRAL CATHOLIC 0
DUBOIS, Pa. – Kane used a balanced offensive attack to pick up a 3-0 (25-21, 25-20, 26-24) road win over DuBois Central Catholic.
Kalen Johnson led the Lady Wolves with eight kills, while Sarri Swanson added seven kills and Audri Marconi six. Swanson also had six blocks for Kane, while Marconi added five aces and Johnson five digs.
Moira Stanisch ran the Kane offense with 21 set assists and added six digs, while Emma Ely had a team-best seven digs and Kelsie Alexander added five digs.
Bella Mangiantini led DCC with seven kills and five blocks with Hannah Holdren adding four kills and four blocks.
Maia Cogley ran the DCC offense with 14 set assists and added four aces with Shay Gulvas pacing the defense with 14 digs while also adding four aces.
OSWAYO VALLEY 3, SMETHPORT 0
SMETHPORT, Pa. – Behind six kills, five digs, two aces and two blocks from Jadyn Brabham, visiting Oswayo Valley beat Smethport, 3-0 (25-16, 25-15, 25-13).
Avaree Kellert added nine kills, five aces and a block for the Green Wave with Johanna Dickerson contributing two aces, three digs and a kill.
BOYS' SOCCER
CLEARFIELD 3, TYRONE 2
TYRONE, Pa. – Luke Winters broke a 2-2 tie in the 78th-minute mark lift visiting Clearfield over Tyrone, 3-2.
Winters game-winning goal and second of the day was assisted by Nate Barr. Hugh Brickley got the first tally for the Bison.
Corey Johnston and Alex Tylor got the goals for the Golden Eagles.
Greason Graves had six saves in net for Clearfield
For Tyrone, Alex Roberts stopped 10 shots.
DUBOIS CENTRAL CATHOLIC 3, FOREST AREA 2
TIONESTA, Pa. – Tristen Engle helped visiting DuBois Central Catholic defeat Forest Area, 3-2.
Engle scored a pair of goals for the Cardinals while Lenny Swisher added the other goal.
Scoring for Forest Area were Luke Cussins (assisted by Wesley Brooks) and Owen Kerle.
PORT ALLEGANY 8, KANE 0
PORT ALLEGANY, Pa. – Port Allegany used a balanced team effort to defeat visiting Kane, 8-0.
Howie Stuckey led the Gators with three goals. Shawn McNeil added a pair of goals and two helpers while Simon Burleson and River Cramer each had a goal and two assists. Aiden Emerick also found the back of the net once.
Port Allegany goalkeepers, Ty Guilds and Caiden Roys, combined for eight saves.
Alec Hucabone had nine saves for Kane.
COUDERSPORT 6, NORTHERN POTTER 1
COUDERSPORT, Pa. – Aristotle Smith and Jonathan Barroqueiro each scored twice in Coudersport 6-1 victory over visiting Northern Potter.
Smith added two helpers for the Falcons with Barroqueiro assisting one. Christian Furman had a goal and an assist while Payton Shupe had one. Owen Ott, Stefan Pyckik and Parker Glover each got an assist.
Ryan Lehman scored the lone goal for Northern Potter.
Rosalyn Page had nine saves for Coudersport.
KARNS CITY 9, CLARION-LIMESTONE 3
KARNS CITY, Pa. – Behind hat tricks from Dakota King and Owen Collwell, Karns City took care of visiting Clarion-Limestone, 9-3.
Nate Rondinelli, Malik Metcalfe and Chase Beighly also scored for the Gremlins with the goals by Metcalfe and Beighley being their first career tallies. Robby Rumbaugh added a pair of assists for KC.
Beau Verdill scored a pair of goals for the Lions and assisted on the Bailee Verdill goal.
GIRLS' SOCCER
ELK COUNTY CATHOLIC 2, RIDGWAY 0
RIDGWAY, Pa. – A big first half lifted visiting Elk County Catholic over Ridgway, 2-0.
Oliva Sorg and Kara VanEerden each scored a goal in the first half for the Lady Crusaders.
FOREST AREA 4, PUNXSUTAWNEY 0
TIONESTA, Pa. – A pair of goals and an assist from Mackenzie Bauer helped lift Forest Area over Punxsutawney, 4-0.
Shawna Pack also scored while assisting on a Bauer goal and Abby Gatesman scored the last goal.
Gatesman and Pack combined on the shutout.
BRADFORD 8, PORT ALLEGANY 0
BRADFORD, Pa. – Behind four goals from Regan Johnson, Bradford shutout visiting Port Allegany, 8-0.
Elizabeth Miller, Taylor Komidar, Marissa Miller and Emily Prince each added tallies for the Lady Owls.
KANE 2, KEYSTONE 0
KNOX, Pa. – Kane topped Keystone, 2-0 on the road.
Sadie Walter and Rachel Buhl got the goals for the Lady Wolves.
ST. MARYS 5, REDBANK VALLEY 1
NEW BETHLEHEM, Pa. – Lauren Eckert's hat trick paced St. Marys to a 5-1 win at Redbank Valley.
The three goals give Eckert 104 in her career.
Kaylee Muccio and Emma Sidelinger also scored for the Lady Dutch.
Brittney Shaw got the win in net.
Brooke Eberle scored for Redbank Valley.