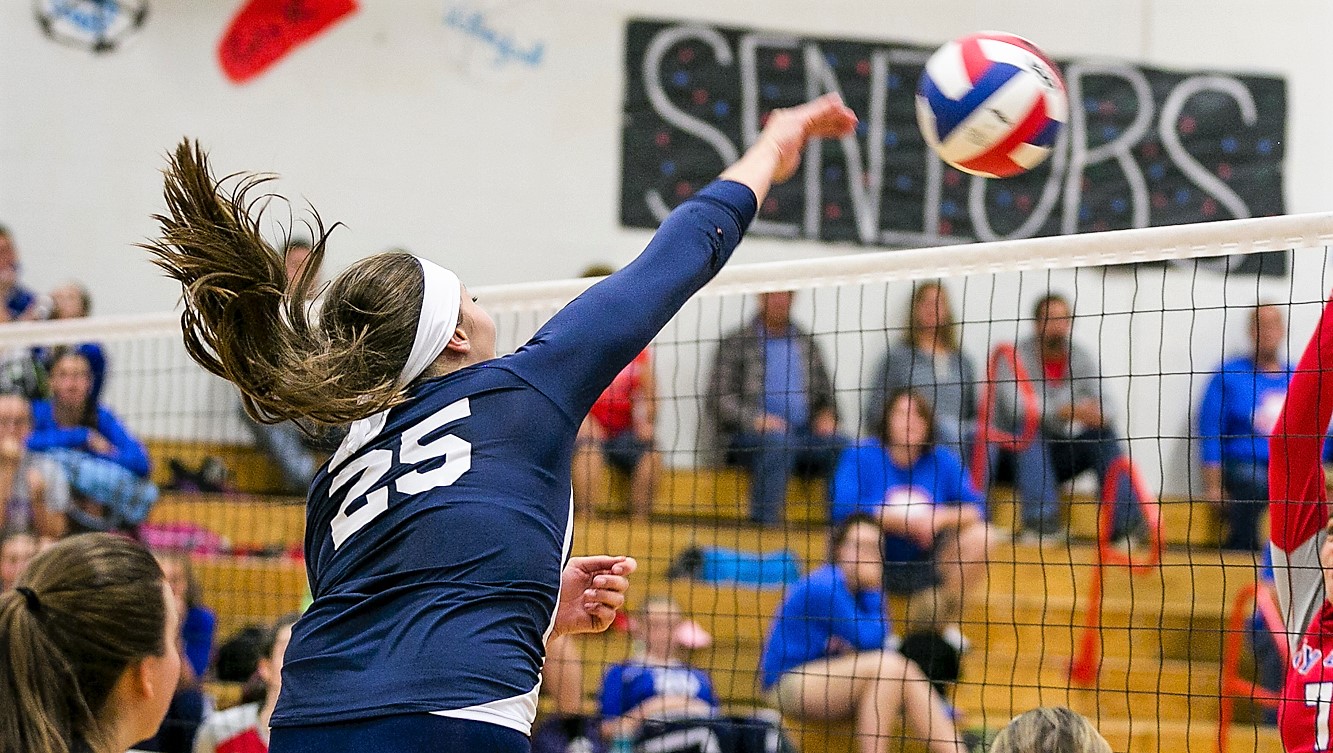 Sept. 6 volleyball and soccer recaps.
(Photo of Kane's Ella Marconi. Photo by Tessa Boschert. Check out more of Boschert's work here)
VOLLEYBALL
KANE 3, DUBOIS CENTRAL CATHOLIC 0
KANE, Pa. – Ella Marconi had nine kills, five aces and two blocks to help Kane to a 3-0 (25-15, 25-16, 25-16) win over visiting DuBois Central Catholic.
Audrey Marconi chipped in nine kills, four aces and two blocks for the Lady Wolves, while Hannah Buhl ran the offense with 26 set assists.
BRADFORD 3, SHEFFIELD 0
BRADFORD, Pa. – Alexis Huber had nine kills to help Bradford down visiting Sheffield, 3-0 (25-6, 25-8, 25-9).
Laney Kahle ran the offense for the Lady Owls with 14 assists, while Erica Marshall served well.
COUDERSPORT 3 NORTHERN POTTER 0
COUDERSPORT, Pa. – Led by Mikayla Gunn's nine aces and 12 digs, Coudersport defeated Northern Potter 3-0 (25-9, 25-19, 25-6).
Shaelyn Black (5 aces, 12 digs, 12 kills), Mikayla Kavounas (10 assists, 2 kills), and Dana Dubots (7 blocks) all contributed to the Lady Falcons win. Addie Myers led the team with two blocks on the night
Madison Hoopes chipped in for seven digs for Northern Potter and Mirissa Bliss led the team with three assists.
NORTH CLARION 3 VENANGO CATHOLIC 0
OIL CITY, Pa. – Quahah Seals contributed three kills, two blocks and seven aces for North Clarion in it's 3-0 (25-12, 25-15, 25-12) win over Venango Catholic.
Ryen Mealy (5 aces, 3 kills, 2 digs) and Katie Burkett ( 3 aces, 2 kills, and 1 assist) both played key roles in the win.
Emmy Ekis paced Venango Catholic with two kills. Mackenzie Metz added three kills and Lauren Ronchi tallied three kills.
OTTO-ELDRED 3 AUSTIN 0
DUKE CENTER, Pa. – Reilly Raught had five kills and three aces as Otto-Eldred defeated Austin 3-0 (25-9, 25-9, 26-24).
Haylee Frederick contributed with seven kills and an ace and Harley VanScoter tallied six kills and nine digs.
Taylor Brewer had two kills, three blocks and 10 digs for Austin with Angie Watson adding a kill.
UNION 3 MONITEAU 0
WEST SUNBURY, Pa. – Mogan Cumberland tallied 21 assists in Union's 3-1 win over Moniteau (19-25, 25-11, 25-11, 25-20).
Union fell behind 1-0 after the first set but rallied off three straight set wins to win the match.
Dominika Logue led the Golden Damsels with 10 kills, Bryn Davis added nine kills and five aces, and Vanessa Reddick contributed six kills and five aces.
CRANBERRY 3, FOREST AREA 0
MARIENVILLE, Pa. – Malliah Schreck had six aces. five kills and two digs to help visiting Cranberry to a 3-0 (25-4, 25-9, 25-8) win over Forest Area at East Forest.
Emily Duncan set up the Berries offense with seven assists and added five aces, two kills and three digs with Ally Young contributing two kills, two aces and five digs.
ELK COUNTY CATHOLIC 3, ST. MARYS 0
ST. MARYS, Pa. – Taylor Newton recorded 21 kills to lead visiting Elk County Catholic to a 3-0 (25-20, 25-22, 25-21) win over rival St. Marys.
Ellie Fledderman added 21 set assists for the Lady Crusaders.
PORT ALLEGANY 3, CAMERON COUNTY 0
EMPORIUM, Pa. – Kierra Keck had nine kills and three blocks to help visiting Port Allegany to a 3-0 (25-20, 25-9, 25-16) win over Cameron County.
Jenna Sprankle ran the Lady Gators offense with 20 set assists while Kalyn Naylor added three kills and three blocks.
For Cameron County, Hailey Hilfiger had five kills and Tapana Allison and Alvia McKimm each had eight set assists.
KEYSTONE 3, CLARION-LIMESTONE 0
KNOX, Pa. – Thanks to an all-around strong performance from Mckenna Kay, Keystone topped visiting Clarion-Limestone, 3-0 (25-26, 29-27, 25-16).
Kay had seven digs, 12 set assists, five kills and four aces.
Mandy Wingard added 17 digs and an ace for the Lady Panthers with Emma Weaver chipping in two kills, six set assists and an ace. Danae Hurrelbrink added three blocks and three kills and McKenzie Hovis had five kills and four digs.
For C-L, Rachel Greeley had three kills and five blocks with Cassidy Makray adding three kills, three blocks and two aces. Madi Craig had six digs and two aces with Keara Henry adding eight set assists.
PUNXSUTAWNEY 3, BROCKWAY 0
BROCKWAY, Pa. – Despite six kills and three blocks from Kenzie Weber, Brockway dropped a 3-0 (25-21, 25-14, 29-27) decision to visiting Punxsutawney.
Mikayla Duffalo added five kills for the Lady Rovers with Lexi Gorham chipping in 10 set assists,
Punxsutawney stats weren't available.
RIDGWAY 3, JOHNSONBURG 1
JOHNSONBURG, Pa. – Ridgway topped rival Johnsonburg, 3-1 (25-23, 25-11, 16-25, 26-24).
Unofficially for the Lady Elkers (2-0), Alyssa Kasmierski finished with seven aces and three kills. Casey Woodford added four aces and seven kills. claire Kemick had a game-high nine kills before leaving the match due to injury and Erica Delullo, Sophie McManus and Lacie Cherry all finished with three aces each.
Jenna Morgan had eight kills for Johnsonburg with Lindsey Kocjancic and Kenzie Sallack each recording six kills. Kocjancic also had six aces.
Ridgway stats weren't available.
DUBOIS 3, BROOKVILLE 0
DUBOIS, Pa. – Kelli Hoffer swung a big arm with 15 kills while adding 12 digs and three aces to lead DuBois to a 3-0 (25-9, 25-16, 25-21) win over visiting Brookville.
Sydney Kaschalk added seven kills, three aces and three blocks for the Lady Bears, while Cate Gregory had 35 set assists and three aces.
BOYS' SOCCER
BROCKWAY 8, BROOKVILLE 0
BROCKWAY, Pa. – Tino Inzana scored twice to help Brockway shutdown visiting Brookville, 8-0.
Zane Puhala, Hunter Allenbaugh, Elijah Fremer, Jared Marchiori, Austin Pringle and Jake Anderson also scored for the Rovers.
Puhala added three assists with Allenbaugh and Dominic Inzana each picking up a helper as well.
Garrett Park and Lewis Painter teamed up to record the shutout in net.
PORT ALLEGANY 5, KANE 2
KANE, Pa. – Noah Costa had two goals and two assists and Howie Stuckey had a pair of goals and an assist to lead visiting Port Allegany to a 5-2 win over Kane.
Shawn McNeil added a goal for the Gators with Caleb Lutz picking up two assists.
Aiden Zampana had both goals for Kane.
Brandon Peterson made five saves to get the win in goal, while Brennan Schultz had 15 saves for Kane.
DUBOIS CENTRAL CATHOLIC 4, FOREST AREA 0
DUBOIS, Pa. – Four different DuBois Central Catholic players scored to lead the Cardinals to a 4-0 win over visiting Forest Area.
Tallying first-half goals for DCC were Tristan Engle and Egon Peds with Zach Edwards and Rachel Avarich scoring in the second half.
Daniel Schwab made 15 saves in net for Forest Area.
COUDERSPORT 4, NORTHERN POTTER 3
ULYSSES, Pa. – Jon Barroquiero second goal of the game, unassisted in the 61st minute, gave Coudersport a 4-3 win at Northern Potter.
In a back-and-forth affair, Trew Slawson had tied the game at three for Northern Potter early in the 58th minute before Barroquiero answered back less than three minutes later.
Barroquiero had given the Falcons a 1-0 lead on a penalty shot goal in the 15th minute before AJ Lehman tied the game soon after with Foster Kosa getting the helper.
The Panthers then took a 2-1 lead in the 23rd minute on a Slawson goal with Ezra Sprow picking up the assists, but Coudersport found the equalizer before halftime when Aristotle Smith scored with Payton Sharp getting the assist just before the half ended.
Coudersport then took the lead just over five minutes into the second have when Owen Chambers was awarded a direct kick and was able to capitalize on it.
Rosalyn Page got the win for Coudy making 10 saves. Holden Cowburn took the loss, making nine saves.
KARNS CITY 6, CLARION-LIMESTONE 1
STRATTANVILLE, Pa. – Austin Fahlor and Dakota King each scored twice and Nate Rondinelli had three assists to pace visiting Karns City to a 6-1 win over Clarion-Limestone.
Brayden Christie and Josh Wimer each netted their first career goals for the Gremlins as well.
GIRLS' SOCCER
PORT ALLEGANY 5, CUBA-RUSHFORD (N.Y.) 0
CUBA, N.Y. – Cailey Barnett scored three times and Emma Fox twice to lead visiting Port Allegany to a 5-0 win over Cuba-Rushford (N.Y.)
CLEARFIELD 3, TYRONE 2, OVERTIME
TYRONE, Pa. – Sarah Snyder's goal two-and-a-half minutes into overtime off a Lydia Brown assist gave Clearfield a 3-2 overtime win at Tyrone.
Clearfield had jumped out to a 2-0 lead in the first half on goals in the 16th minute by Amanda Hazel and in the 24th minute by Snyder.
But Tyrone got a late goal in the 36th minute from Riley Deangelo to cut the lead to 2-1 at halftime, and the Lady Eagles tied the game in the 69th minute on another Deangelo tally.
Clearfield outshot Tyrone 25-7 in the contest with Hayley Moore making five saves in the win.
ST. MARYS 5, REDBANK VALLEY 0
NEW BETHLEHEM, Pa. – Lauren Eckert scored four times to lead visiting St. Marys to a 5-0 win over Redbank Valley.
Kira Pesce added a goal for the Lady Dutch.
BROCKWAY 3, BROOKVILLE 0
BROCKWAY, Pa. – Chanell Britten scored twice and Morrigan Decker added a goal to lead Brockway to a 3-0 win over visiting Brookville.