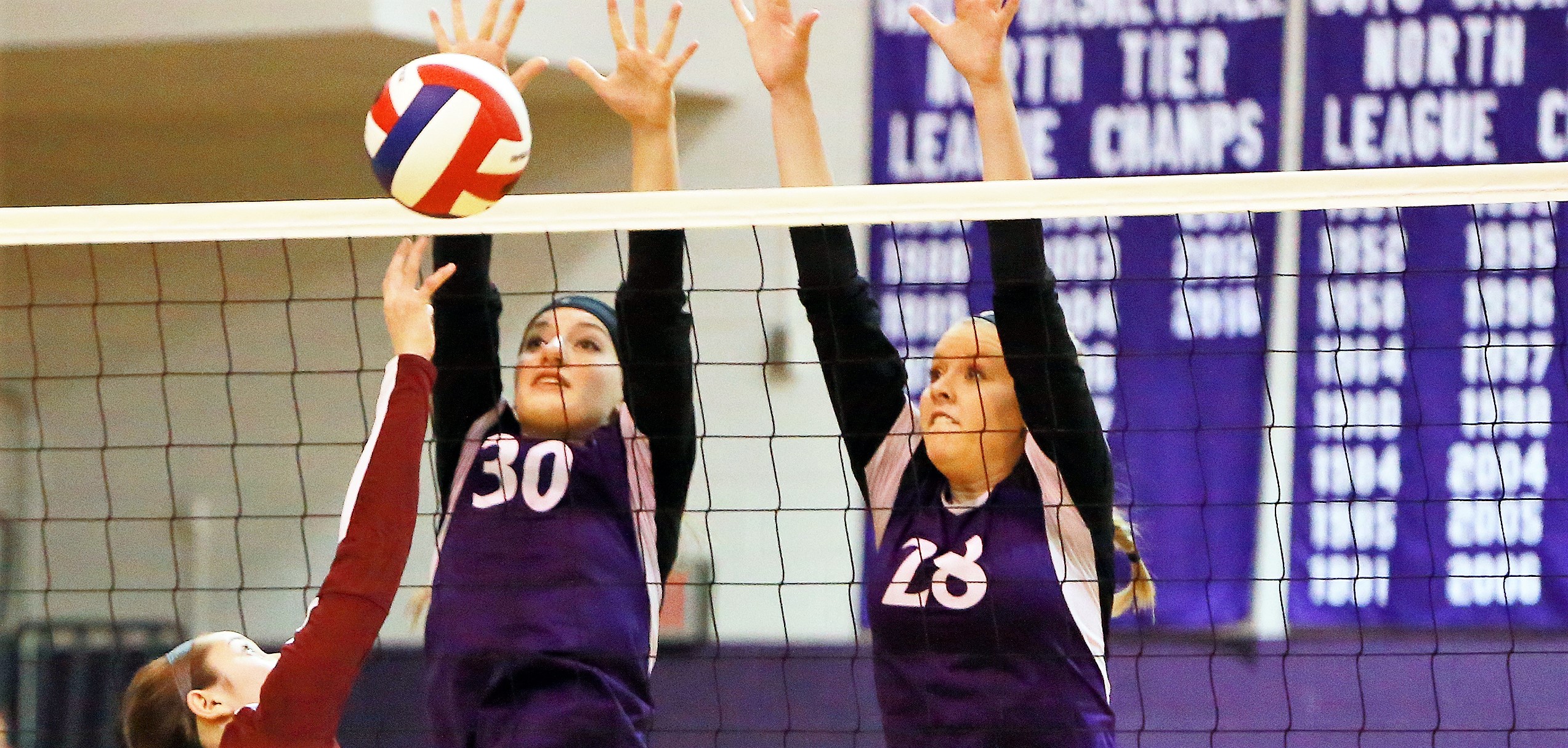 Sept. 7 volleyball and soccer recaps.
To find out how to submit recaps, e-mail Chris Rossetti at chris.rossetti@eyt.media.
(Cover photo of Coudersport's Adrian Page (No. 30) and EmmaRae Easton (No. 28). Photo by Paul Burdick. Check out more of Burdick's work here)
VOLLEYBALL
KEYSTONE 3, FOREST AREA 0
MARIENVILLE, Pa. – Tessa Weaver, McKenzie Hovis and Makenzie Byerly combined for 10 kills to lead Keystone to a 3-0 (25-8, 25-9, 25-10) road win over Forest Area at East Forest.
Weaver had a team-high four kills, while Hovis and Byerly each had three. Byerly added eight set assists and four aces, while Danica Hurrelbrink had seven set assists and Sydney Easton two kills.
The Lady Panthers are now 1-1 on the young season and 1-0 in the KSAC.
COUDERSPORT 3, NORTHERN POTTER 0
COUDERSPORT, Pa. – Eight different Coudersport players recorded kills led by six from Adrian Page, as the Lady Falcons rolled to a 3-0 (25-11, 25-11, 25-9) win over visiting Northern Potter.
EmmaRae Easton chipped in four kills for Coudy, while Madison Smith, Jillian Updegraff and Shaelyn Black had three apiece.
Haley Keck ran the offense with 23 set assists, while Joplin Osgood paced the defense with 14 digs. Emma Powell had a fantastic night serving with 12 aces, as the Lady Falcons recorded 28 aces in the match. Page had two of those aces and also added eight digs.
Jenna Hyde had two kills, three digs, two blocks and an ace for Northern Potter, while Kalie Cowburn added five digs, a kill and a block.
Coudersport is now 2-0, while Northern Potter fell to 0-2.
PORT ALLEGANY 3, CAMERON COUNTY 0
EMPORIUM, Pa. – Kierra Keck had six kills and Kayla Pesock five to lead visiting Port Allegany to a 3-0 (25-8, 25-14, 25-11) win over Cameron County.
Hannah Lathrop was strong at the net with five blocks, and Jenna Sprankle ran the offense with 19 set assists. Makenzie Burr also had a strong serving night for the Lady Gators.
CRANBERRY 3, VENANGO CATHOLIC 0
SENECA, Pa. – A strong serving night by Cranberry lifted the Berries to a 3-0 (25-13, 25-9, 25-7) win over visiting county rival Venango Catholic
As a team, Cranberry had 26 aces paced by nine from setter Erin Merryman, who also added 15 set assists.
Ellie Kahle chipped in five aces and six digs, while Lauren Conkle had a team-best five kills. Ava Ferringer added three kills with Abby Hanna and Emily Duncan each recording a pair of kills. Duncan added four aces and four digs.
Emerson Ekis, Hope Winger and Ashley Barletta each had two kills apiece for Venango Catholic with Barletta chipping in two digs and an ace. Kelsey Kresinski had four digs and two set assists, and Mackenzie Metz added three set assists.
UNION 3, CLARION-LIMESTONE 0
STRATTANVILLE, Pa. – Frankee Remmick recorded 13 kills to pace a 3-0 (25-12, 25-15, 25-14) Union win at Clarion-Limestone.
Bryn Davis and Vanessa Reddick each chipped in seven kills for the Golden Damsels, while Marli Hawk had 16 digs. Hannah Atzeni ran the offense with 32 set assists and added three aces as did Remmick.
For Clarion-Limestone Madison Craig had eight digs, four aces and a kill, while Madi Griffith and Nikki Shumaker each added six digs. McKenna Fleming paced the offense with three kills, and Emma Smith added a pair of aces. Rachel Greeley was strong at the net with three blocks, and Griffith had five set assists.
CLARION 3, NORTH CLARION 0
CLARION, Pa. – Maya Thornton and Lexi Lauer combined for 19 kills to lead Clarion to a 3-0 (25-13, 25-19, 25-12) win over visiting North Clarion.
Thornton paced the Lady Cats with 10 kills while adding four digs, while Lauer had nine kills, four digs, three aces and two blocks.
Brenna Campbell ran the offense with 25 set assists and added eight digs, while Alexis Constantino had 11 digs and Sydney Kiser five aces, six digs and three kills.
For North Clarion, Tori Obenrader had 13 kills, 11 blocks and nine digs, while Gena Caldwell added five kills and six blocks. Katie Burkett had four kills and two blocks and Paige Sherbine added 15 set assists.
JOHNSONBURG 3, RIDGWAY 0
RIDGWAY, Pa. – Thanks in part to 13 kills and two aces from Skylar Sherry, Johnsonburg toppled rival Ridgway, 3-0 (25-19, 25-19, 25-23).
Jensen Furlong added six kills for the Ramettes with Rylee Casilio feeding them the ball with 12 set assists to go with three aces. Dora Nelson chipped in six set assists, Brianna Quiggle had six digs and Jenna Morgan four aces.
BRADFORD 3, SHEFFIELD 2
SHEFFIELD, Pa. – Visiting Bradford rallied from a two-set deficit to knock off Sheffield, 3-2.
The hosts took the first two sets by scores of 25-23 and 25-18 but the Lady Owls rallied to win the final three by tallies for 25-18, 25-20 and 15-7.
Lexi Lyon had 16 kills and seven blocks in a losing effort for Sheffield, while Eliza Davidson added seven kills and 20 digs and Laurel Connolly added six kills. Callen Copley chipped in four aces, Taya Bailey had 17 digs and Mya Grubbs had 28 set assists and 15 digs.
Bradford stats were not available.
OTTO-ELDRED 3, AUSTIN 0
DUKE CENTER, Pa. – Behind the efforts of Emily Smith, Camryn Thomas, Alyssa Shelander and Allison Cousin, Otto-Eldred rolled to a 3-0 (25-10, 25-7, 25-6) win over visiting Austin.
Thomas had eight kills and seven aces, Shelander chipped in six aces and four kills, Cousins added four aces and four kills and Smith had 19 set assists and eight aces.
A-C VALLEY 3, KARNS CITY 0
KARNS CITY, Pa. – Josey Terwilliger had 12 kills, 19 digs, two blocks and two aces to lead A-C Valley to a 3-0 (25-8, 25-10, 25-19) win at Karns City.
Olivia Boocks chipped in eight kills, 16 digs and four aces for the Lady Falcons with Kylee Eaton coming away with four kills, three blocks and eight digs. Cassie Schwalm added 12 digs and Syd Rankin had eight digs, four aces and 12 set assists.
Emily Hegedus had three kills and three blocks for Karns City with Alyssa Stitt adding seven set assists
GALETON 3, SMETHPORT 1
SMETHPORT, Pa. – Erin Cimino and Malaya Shadle each had eight kills to pace visiting Galeton to a 3-1 (25-14, 25-20, 21-25, 26-24) win at Smethport.
Shadle added 13 set assists with Cimino also coming away with a block. Kate Pagano had 33 digs for the Lady Tigers defense.
Abbey Woodard led Smethport with 17 digs, nine blocks, five digs and four aces. Haleigh Larson chipped in five kills, nine digs, three set assists and two aces, Kiara Orner had three kills, 16 set assists and an ace and Alana Durphy added 22 digs.
REDBANK VALLEY 3, VALLEY 0
NEW BETHLEHEM, Pa. – Josie Rupp had 13 kills and five aces to help Redbank Valley to a 3-0 (25-20, 25-17, 25-13) win over Valley out of the WPIAL.
Emily Gourley added eight kills, two blocks and two aces for the Lady Bulldogs with Jordan Milliron chipping in three kills, Montana Hetrick two kills and three aces and Carissa Rearick 17 set assists and five aces.
DUBOIS 3, BROOKVILLE 0
BROOKVILLE, Pa. – Behind a kills-digs double-double from Danessa Allison visiting DuBois beat Brookville, 3-0 (25-13, 25-14, 25-18).
Allison had 10 kills and 12 digs, while Kelli Hoffer added eight kills and six aces for the Lady Beavers. Lexi Ray chipped in with six kills and three blocks and Kylee Bundy dished out 31 set assists.
PUNXSUTAWNEY 3, BROCKWAY 0
PUNXSUTAWNEY, Pa. – Home standing Punxsutawney swept past Brockway 3-0 (25-16, 25-9, 25-9).
For Brockway, Kaitlyn Morelli had four kills and three aces.
Punxsutawney stats weren't available.
ELK COUNTY CATHOLIC 3, ST. MARYS 0
ST. MARYS, Pa. – Behind the strong play of Josie Smith and Taylor Newton and the serving of Maggie Dinsmore, Elk County Catholic knocked off rival and visiting St. Marys, 3-0 (25-20, 25-13, 25-18).
Dinsmore's serving was especially prevalent in the second set when she served 12 straight points after the teams were tied at 13.
KANE 3, DUBOIS CENTRAL CATHOLIC 0
DUBOIS, Pa. – Trinity Clark and Ella Marconi combined for 15 kills to lead Kane to a 3-0 (25-16, 25-17, 25-17) road win over DuBois Central Catholic.
Clark had eight kills, seven digs and three aces with Marconi adding seven kills and two aces. Kendra Udovich chipped in five kills and seven digs with Hannah Buhl adding 21 set assists and four aces.
PENNS VALLEY 3, CLEARFIELD 0
HYDE, Pa. – Despite eight kills from Aspen Bishop Clearfield dropped a 3-0 (25-6, 25-17, 25-15) decision to visiting Penns Valley.
Briana Luzier added six set assists for the Lady Bison with Bella Spingola chipping in seven digs.
BOYS' SOCCER
BROCKWAY 6, BROOKVILLE 1
BROOKVILLE, Pa. – Zane Puhala scored twice to lead Brockway to a 6-1 win at Brookville.
Anthony Esposito, Noah Bash, Clayton Heckman and Nathan Long also added tallies with Bash's being the first of the freshman's career.
Hunter Allenbaugh chipped in three helpers for Brockway, while Jake Anderson and Carter Adams each had one assist.
KARNS CITY 2, CLARION-LIMESTONE 0
KARNS CITY, Pa. – Nate Rondinelli netted a pair of second-half goals to lead Karns City to a 2-0 win over visiting Clarion-Limestone.
Rondinelli scored one tally off a direct kick and a second off a pass from Kaden Scherer. Jake Weckerly recorded four saves for the shutout in net.
ATHENS 4, NORTHERN POTTER 1
ULYSSES, Pa. – Ethan Lane's hat trick paced visiting Athens to a 4-1 win over Northern Potter.
Brad Cardona also scored for the Wildcats while AJ Lehman scored on a penalty kick.
Holden Cowburn made 24 saves for Northern Potter.
PORT ALLEGANY 6, KANE 1
PORT ALLEGANY, Pa. – Payton Caden recorded a hat trick to pace Port Allegany to a 6-1 win over visiting Kane.
David Talkington, Howie Stuckey and Bryce Baker also scored for the Gators.
GIRLS' SOCCER
BROCKWAY 6, BROOKVILLE 1
BROOKVILLE, Pa. – Chanel Britten recorded her second straight hat trick to lead visiting Brockway to a 6-1 win over Brookville.
Leah Lindemuth added a pair of tallies for the Lady Rovers with her sister Morgan Lindemuth also scoring.
KEYSTONE 2, KANE 0
KNOX, Pa. – Jessi Phillippi made 18 saves and Tessa Roberts and Ali Clark both scored to give Keystone a 2-0 win over visiting Kane.
Jessica Cotton added an assist for the Lady Panthers.
RIDGWAY 2, ELK COUNTY CATHOLIC 1
RIDGWAY, Pa. – Cassidy King scored with just 15 seconds to play in regulation, as Ridgway stunned visiting Elk County Catholic, 2-1.
Hannah Lenze gave ECC a 1-0 halftime lead when she scored midway through the 17th minute, but Amanda Williams tied the game on a free kick in the 51st minute.