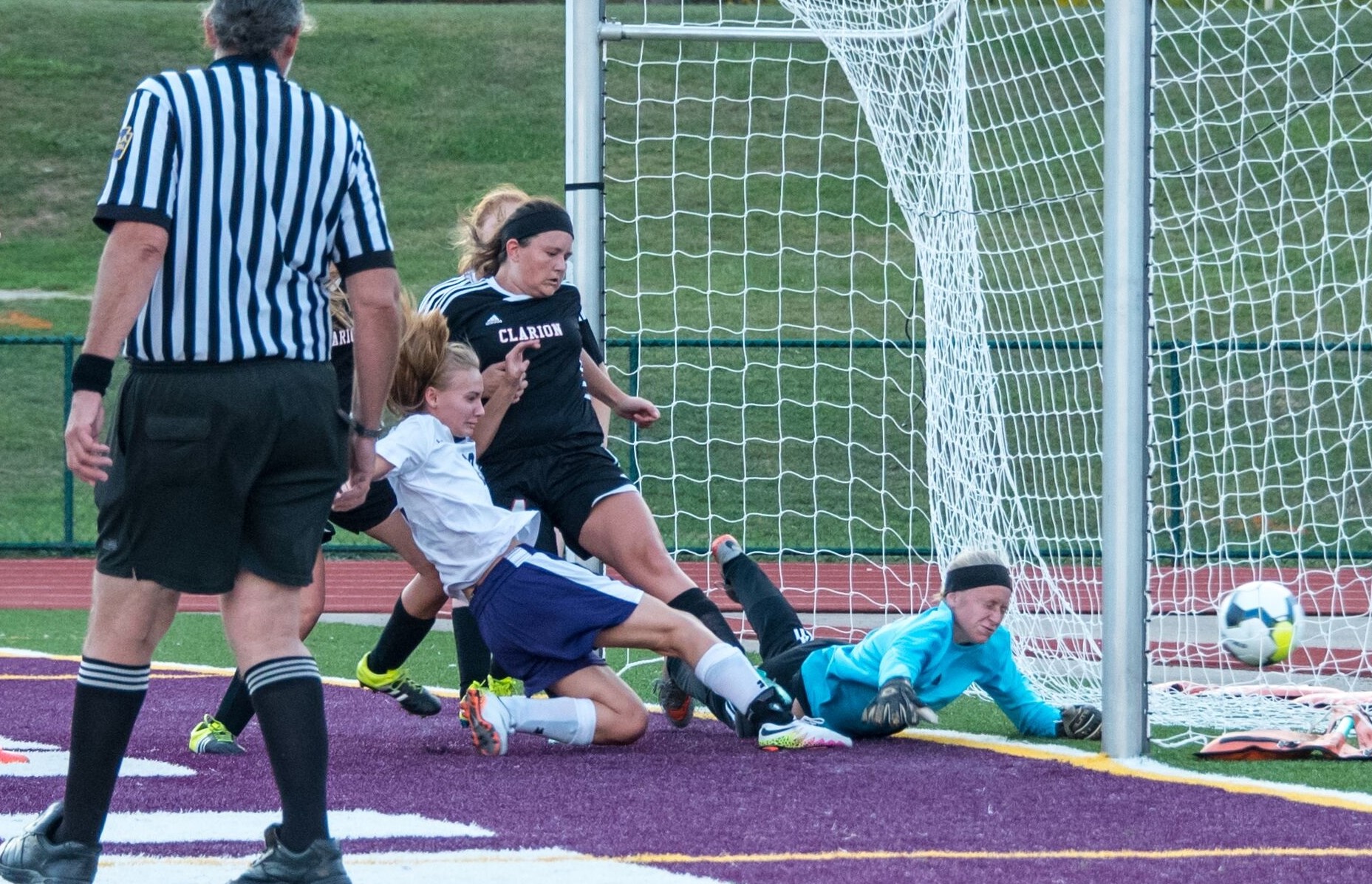 Sept. 7 soccer and volleyball recaps.
(Cover photo of Karns City's Collette Stahlman scoring against Clarion Wednesday. Photo by Scott Dittman)
GIRLS' SOCCER
KARNS CITY 6, CLARION 1
KARNS CITY, Pa. – In a game that was delayed because of weather concerns, six different Karns City players scored to push the Lady Gremlins to a 6-1 win over visiting Clarion.
Megan McCartney, Alexis Moore, Collette Stahlman, Kaylee Smith, Haley Scherer and McKenna Lavella all found the back of the net for Karns City.
Forrest Madison Mills scored the lone goal for Clarion.
DUBOIS CENTRAL CATHOLIC 5, CURWENSVILLE 1
CURWENSVILLE, Pa. – Jordy Frank scored twice to help DuBois Central Catholic to a 5-1 road victory over Curwensville.
Both of Frank's goals came in the first half helping the Lady Cardinals to a 2-1 halftime lead.
DCC then broke the game open with second-half tallies from Caitlin Drahushak, Riley Meyers and Alexsis Kosko.
RIDGWAY 9, SMETHPORT 0
RIDGWAY, Pa. – Led by Cassidy King, Madeline Cowan and Caitlin Viglione, Ridgway scored early and often on its way to a 9-0 win over visiting Smethport.
King scored four goals, including three in the contest's first 13 minutes, Cowan also recorded a hat trick with three goals and Viglione scored twice for the Lady Elkers, who led 6-0 at halftime.
BROOKVILLE 1, PUNXSUTAWNEY 0
PUNXSUTAWNEY, Pa. – Alissa Watterson made eight saves to record a shutout, as visiting Brookville blanked Punxsutawney, 1-0.
After a scoreless half, Lindzey Oakes recorded the game's lone tally eight minutes into the second half off an assist from Megan Mealy.
VOLLEYBALL
SHARPSVILLE 3, KEYSTONE 0
KNOX, Pa. – Despite solid matches from Makenzie Byerley, Grace Hogue and Kaci Weaver, Keystone dropped its season opener, 3-0 (26-24, 25-20, 25-19) to visiting Sharpsville.
Byerley had 10 points and 13 set assists, Hogue added four points and Weaver five kills for the Lady Panthers.
Keystone's JV team won 2-0 (25-21, 25-20).
CAMERON COUNTY 3, AUSTIN 2
AUSTIN, Pa. – Visiting Cameron County rallied from a 2-1 deficit to defeat Austin, 3-2 (25-22, 18-25, 15-25, 25-22, 15-11).
Jade McKeirnan led Austin with three aces and two kills, while Jordan Brewer chipped in 12 digs and five aces and Madison Hootfallen two aces.
Cameron County stats were not available because of a technical glitch with new stat-keeping software.
"It was a real team effort," Cameron County coach Karin Schatz said. "We are fighting several injuries, so we really had to work together to make the victory happen."
BOYS' SOCCER
NORTHERN POTTER 7, TOWANDA 1
ULYSSES, Pa. – Behind Austin Outman's hat trick, Northern Potter picked up its first win of the year, 7-1, over visiting Towanda.
The Panthers scored six first-half goals on their way to the easy victory.
In addition his three goals, Outman added an assist for NoPo, which also got two goals apiece from Tucker Kosa a Levi Kio. Both of them also had assists, as did Rebecca Morgan. Foster Kosa chipped in with three helpers.
AJ Lehman had seven saves in getting the victory in net for the Panthers, who will play Northeast Bradford at home Tuesday.