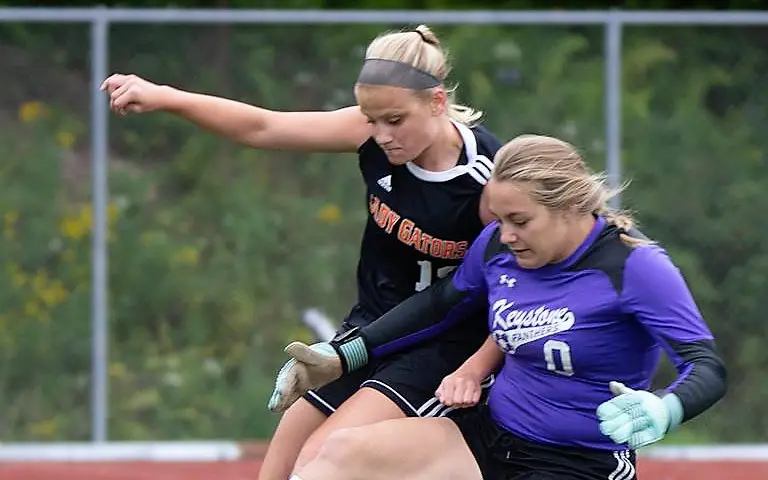 Sept. 8 soccer/volleyball recaps.
(A Port Allegany player and a Keystone player battle for a loose ball Saturday. Photo by Patrick Crants. See more of Crants work here.)
BOYS' SOCCER
PORT ALLEGANY 5, KEYSTONE 0
SMETHPORT, Pa. – Noah Costa had two goals and an assist to help Port Allegany down visiting Keystone, 5-0, in Smethport.
Shawn McNeil also scored twice for the Gators, while Howie Stuckey added a goal. Caleb Lutz had two assists for Port Allegany with AJ Edgell and Ben Lawton adding a helper apiece.
Brandon Peterson made four saves in net for the shutout.
Brooks LaVan had eight saves for Keystone.
KARNS CITY 5, BROOKVILLE 2
BROOKVILLE, Pa. – Scoring three times in the first five minutes of the game, visiting Karns City rolled to a 5-2 win over Brookville.
Dakota King had the hat trick for the Gremlins with Austin Fahlor and Brayden Christie also adding tallies.
Jake Weckerly made four saves in getting the victory.
NORTHERN POTTER 1, WILLIAMSON 1
ULYSSES, Pa. – In a match that saw both goals scored 3:05 apart in the second half, Williamson got the equalizer in the 57th minute to earn a 1-all draw at Northern Potter.
Northern Potter took a 1-0 lead in the 54th minute when Carter Anderson's volleyball was played into the net by Foster Kosa.
But Seth Lee, assisted by Cameron Thompson, tied the game quickly.
NoPo played a man down after a red card late in the 72nd minute, but the Panthers defense led by Wyatt Kosa, Kasey Freeman and goalie Holden Cowburn were able to control the attack by Williamson.
GIRLS' SOCCER
CLEARFIELD 4, DUBOIS 0
DUBOIS, Pa. – Emma Hipps and Alayna Ryan both scored twice with Ryan adding a helper to lead visiting Clearfield to a 4-0 win over DuBois.
Hipps scored in the 15th minute and again in the 50th minute off a pass from Ryan.
Ryan added goals in the 34th minute and the 68th minute. Amanda Hazel had the helper on Ryan's first goal and Erika Frye on her second goal.
Clearfield outshot the Lady Beavers, 16-2, with Hayley Moore making two saves in getting the shutout for the Lady Bison.
Emily Cherubini had 11 saves for DuBois.
ELK COUNTY CATHOLIC 5, KANE 0
KANE, Pa. – Maddie Kear and Michelle Gerber each scored twice to lead visiting Elk County Catholic to a 5-0 win over Kane.
Kear scored at 5:43 of the first half and with 8:15 left in the game. She also added an assist at 20:50 of the first half on a corner kick feed to Gerber, who also scored at 33:19 of the second half.
Olivia Sorg gave the Lady Crusaders a 3-0 halftime lead when she scored with just five seconds left in the half.
Kara VanEerden (three saves) and Emily Wolfe (two saves) combined on the shutout.
PORT ALLEGANY 7, KEYSTONE 1
SMETHPORT, Pa. – Rylie Lawton's first career hat trick helped Port Allegany roll past visiting Keystone, 7-1, in Smethport.
Lawton scored the first two goals off corners for the Lady Gators before Emma Fox made it 3-0 and Lawton 4-0 before halftime.
Port also got second-half penalty kick goals from Bree Garzel and Samantha Turner to make it 6-0 before each team picked up late goals to set the final score.
KARNS CITY 4, ST. JOSEPH'S CATHOLIC ACADEMY 0
BOALSBURG, Pa. – Four different Karns City players scored to lead the visiting Lady Gremlins to a 4-0 win over St. Joseph's Catholic Academy.
Olivia Rumbaugh, McKenna Lavella, Ally Fennell and Brooke Stahlman netted goals for Karns City.
VOLLEYBALL
UNION 3, COMMODORE PERRY 0
RIMERSBURG, Pa. – Behind 11 kills and three aces from Bryn Davis, Union swept past visiting Commodore Perry, 3-0 (25-14, 25-18, 25-18).
Morgan Cumberland ran the offense with 17 set assist, while Vanessa Reddick added five aces and Marlie Hawk five aces.