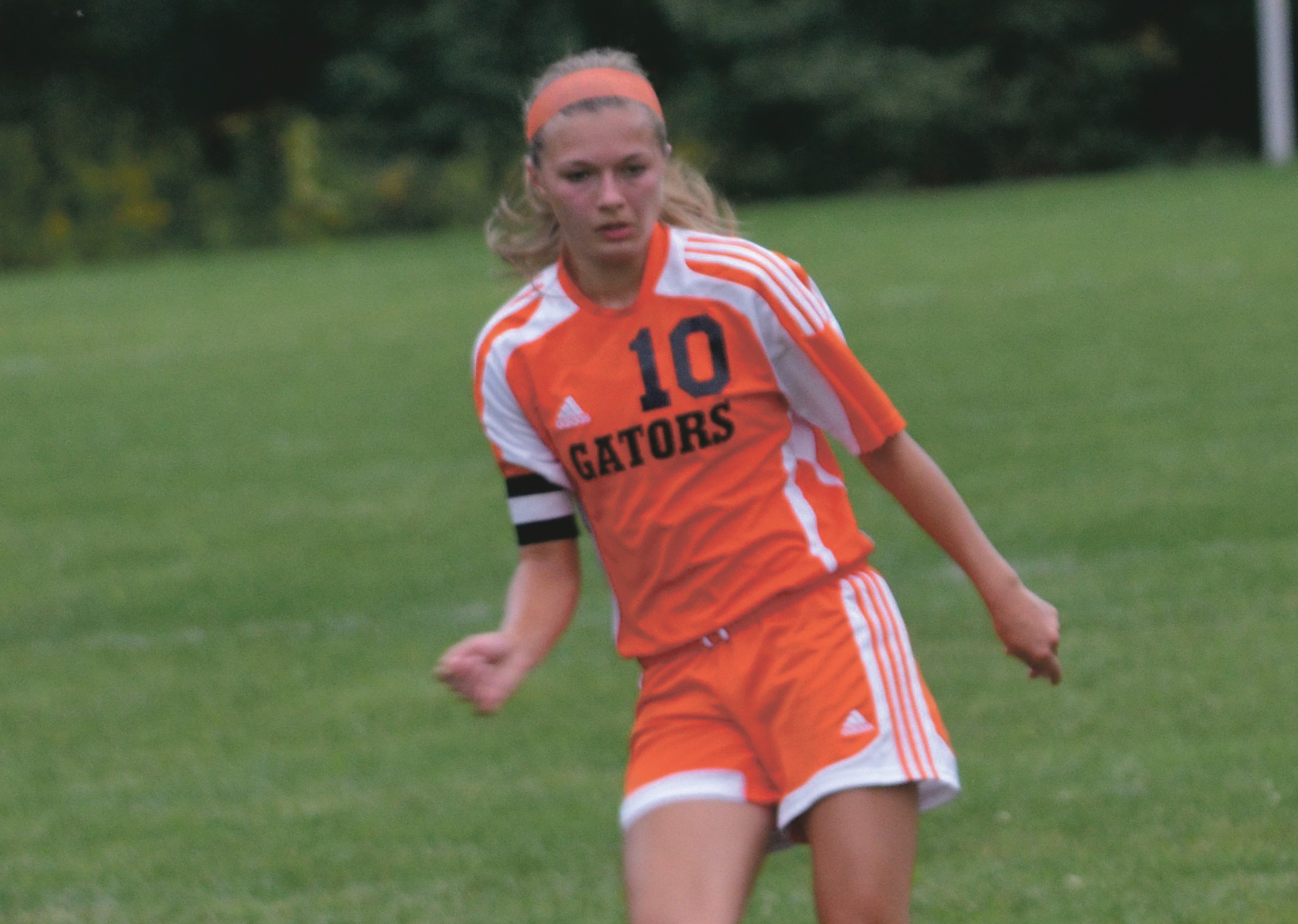 Sept. 8 volleyball and soccer recaps.
(Cover photo of Port Allegany's Autumn Buchsenschutz. Photo by Andy Close)
VOLLEYBALL
OTTO-ELDRED 3, SMETHPORT 1
SMETHPORT, Pa. – Allison Cousins and Tiffany Bair combined for 25 kills, as visiting Otto-Eldred downed Smethport, 3-1 (25-7, 25-20, 23-25, 25-5).
Cousins had a match-high 15 kills to go with three service aces, while Bair added 10 kills and an ace for the Lady Terrors, who also got six aces and 33 set assists from Emily Smith and 14 digs and seven aces from Harper Vanscooter.
Katie Treat and Abbey Woodard each had eight kills for Smethport with Treat adding five digs, three blocks and an ace and Woodard four blocks. Meagan DeLuca chipped in 13 set assists, one kill and one ace for the Lady Hubbers who also got 11 digs from Alana Durphy and six digs and a block from Emily Treat.
A-C VALLEY 3, KARNS CITY 0
FOXBURG, Pa. – Josie Terwilliger and Olivia Boocks each had 11 kills to lead A-C Valley to a 3-0 (25-22, 25-13, 25-16) win over visiting Karns City.
Sydney Rankin (12 assists, two aces) and Emily Wetzel (11 assists, two digs) ran the offense for the Lady Falcons. Cassie Schwalm chipped in with three aces and three kills.
Emily Hegedus led Karns City with five kills, while Brooke Moore had 14 set assists and Mackenzie Craig 10 service points.
Karns City won the JV match 2-0 (25-17, 25-17) behind five aces from Rayna Miller and two kills apiece from Emily Huff and Cassidy Nolan.
BRADFORD 3, SHEFFIELD 0
BRADFORD, Pa. – Thanks to the play of Kamryn Piscitelli, Morgan Roggenbaum and Ashton McGriff, Bradford toppled visiting Sheffield, 3-0 (25-12, 25-21, 25-21).
Piscitelli had 12 kills, seven digs and four aces for the Lady Owls, Roggenbaum added 27 set assists, four digs, three aces and a kill and McGriff had seven kills, six digs and three blocks.
Laurel Connolly and Claire Pierson paced Sheffield with five kills, Taya Bailey had 23 digs and five service points, Rachel Lemay added six set assists, four kills and eight service points and Mya Grubbs chipped in eight set assists and two kills.
Bradford own the JV match 2-0 (25-8, 25-21).
DUBOIS 3, BROOKVILLE 0
DUBOIS, Pa. – Behind 10 kills from Danessa Allison, DuBois rolled to a 3-0 (25-7, 25-12, 25-17) win over visiting Brookville.
Ashley McCluskey ran the offense with 24 set assists, Kelli Hoffer served well with six aces and Lexi Ray chipped in four blocks for the Beavers.
CLARION 3, NORTH CLARION 0
FRILLS CORNERs, Pa. – Olivia Burns' double-double paced Clarion to a 3-0 (25-15, 25-11, 25-15) win at North Clarion.
Burns had 16 kills, 10 digs and four service aces, while Maya Thornton added nine kills, seven digs and three aces for the Lady Cats. Gloria Kroh ran the offense with 28 set assists while adding six digs, four aces and a kill. Sydney Kiser (6 kills, 2 digs) and Alexis Constantino (6 digs) also played key roles for the Lady Cats.
UNION 3, CLARION-LIMESTONE 0
RIMERSBURG, Pa. – Hannah Atzeni had a double-double with 20 set assists and 10 digs while adding four aces and four kills to lead Union to a 3-0 (25-16, 25-21, 25-16) win over visiting Clarion-Limestone.
Atzeni was part of a balanced offensive effort for Union, which got five kills apiece from Bryn Davis, who added nine digs, and Frankee Remmick, who chipped in six aces, four more kills from Taylor Adams and three kills from Amy Henry.
C-L had a strong defensive effort in the match led by 14 digs from Olivia Shilling and 11 from Maddi Griffith, who also had two kills. Megan Schimp chipped in eight digs and an ace, Maddy Craig had a kill, three digs and an ace, Amanda Kucic six digs, Paige Aaron three digs and Erica Hetrick a kill for the Lady Lions.
C-L won the JV match 2-0 (25-19, 25-14). Lizzy Gruver had four kills and three aces for Union.
COUDERSPORT 3, NORTHERN POTTER 0
COUDERSPORT, Pa. – Led by nine kills and three aces from Kiara Perkins, Coudersport beat visiting Northern Potter, 3-0 (25-6, 25-22, 25-16).
EmmaRae Easton added seven aces and six kills for the Lady Falcons, who also got five kills from Skyler VanWagenm and four from Ally Easton, who chipped in three aces. Haley Keck ran the offense with 13 set assists while adding three aces.
CRANBERRY 3, VENANGO CATHOLIC 0
OIL CITY, Pa. – Visiting Cranberry got a double-double from Erin Merryman and strong matches from Ellie Kahle, Malliah Shreck and Lauren Conkle to beat Venango Catholic, 3-0 (25-7, 25-12, 25-6).
Merryman had 20 set assists, 12 service aces and seven digs, while Kahle added 11 digs, Shreck four kills and seven digs and Conkle four kills.
KANE 3, DUBOIS CENTRAL CATHOLIC 0
KANE, Pa. – Kane used strong serving and great play from its middle hitters to knock off visiting DuBois Central Catholic, 3-0 (25-16, 25-16, 25-10).
Marice Stanisch (14) and Trinity Clark (13) combined for 27 aces for the Lady Wolves, while middle hitters Alyssa Zampogna (nine kills) and Ella Marconi (five kills) combined for 14 kills out of the middle.
Lobby Maurer and Macey Hanes each had two kills and three digs for DCC, while Alyssa Bittner and Gabby Caruso each chipped in with two kills.
ELK COUNTY CATHOLIC 3, ST. MARYS 1
ST. MARYS, Pa. – Reilly Herzing, Taylor Newton and Cassidy Cunningham all reached double digits in kills to help Elk County Catholic hold off rival St. Marys, 3-1 (25-17, 25-8, 17-25, 25-13), at ECC.
Herzing led the Lady Crusaders with 12 kills and two blocks, Newton added 11 kills and five aces and Cunningham 10 kills and three aces in the victory.
Kali Tarle led St. Marys with five kills.
KEYSTONE 3, FOREST AREA 1
KNOX, Pa. – Keystone gave first-year head coach Kari Gougler her first victory with a 3-1 win (25-17, 25-11, 21-25, 25-10) over visiting Forest Area.
McKenzie Hovis led the way for the Lady Panthers with five kills and an ace, while Alyssa Beichner added four kills and three aces, Makenzie Byerley four kills and five aces, Katie Brown four kills and an ace and Kaci Weaver three kills and an ace.
Keystone's JV also came away with a 2-0 win (25-18, 25-8) behind two kills from Mandy Wingard, four aces from McKenna Kaye and three aces from Alyssa Dunlap.
JOHNSONBURG 3, RIDGWAY 1
JOHNSONBURG, Pa. – Nicole Myers, Skylar Sherry and Jensen Furlong combined for 29 kills to lead Johnsonburg to a hard-fought 3-1 (25-21, 22-25, 25-22, 25-23) victory over rival Ridgway in Johnsonburg.
Myers led the Ramettes with 11 kills with Sherry and Furlong each adding nine. Emily Dillinger chipped in with four kills and six aces for Johnsonburg with Jenna Morgan adding four aces.
Casey Woodford had six kills for Ridgway with Emily Fullem adding five kills and three aces. Kylee Wall had 17 set assists, and Toni Della three kills and four aces.
REDBANK VALLEY 3, MONITEAU 0
WEST SUNBURY, Pa. – Behind six kills and two aces from Heather Traister and five kills and five aces from Macy King, Redbank Valley claimed a 3-0 (25-13, 25-7, 25-9) road victory at Moniteau.
Josie Rupp added four kills and an ace and Carissa Rearick 22 set assists and two aces for the Lady Bulldogs.
Redbank also won the JV match 2-0 (25-17, 25-20).
BOYS' SOCCER
BROCKWAY 6, BROOKVILLE 3
BROCKWAY, Pa. – Six different Brockway players scored, as the Rovers doubled up visiting Brookville, 6-3.
Netting goals for the home team were Jarrett Esposito, Anthony Esposito, Jacob Allenbaugh, Devin Velez, Jake Anderson and Zane Puhala.
RIDGWAY 1, ST. MARYS 0
RIDGWAY, Pa. – Brandon Kinkead netted the game's only tally, as Ridgway held off visiting St. Marys 1-0.
GIRLS' SOCCER
FOREST AREA 7, TITUSVILLE 1
TITUSVILLE, Pa. – After conceding the game's first goal, the Forest Fires burned Titusville with seven straight tallies to pick up a 7-1 road victory.
Kristina Wagner led Forest Area with a hat trick, while Ally Carll collected a pair of goals and Gabby Carll one. Abby Gatesman made nine saves in goal for the Fires.
BROCKWAY 7, BROOKVILLE 3
BROCKWAY, Pa. – Freshman Chanell Britten netted four goals to lead Brockway to a 7-3 win over visiting Brookville.
The Lady Rovers led 2-0 at halftime on goals by Britten and Lauren Duttry before an eventful second half saw the teams combine for eight tallies.
PORT ALLEGANY 3, EISENHOWER 1
RUSSELL, Pa. – Autumn Buchsenschutz scored all three Port Allegany goals as the visiting Lady Gators topped Eisenhower, 3-1.
RIDGWAY 2, ELK COUNTY CATHOLIC 0
ST. MARYS, Pa. – Goals by Caitlin Viglione and Julie Alford each scored goals to lead Ridgway to a 2-0 win at Elk County Catholic.