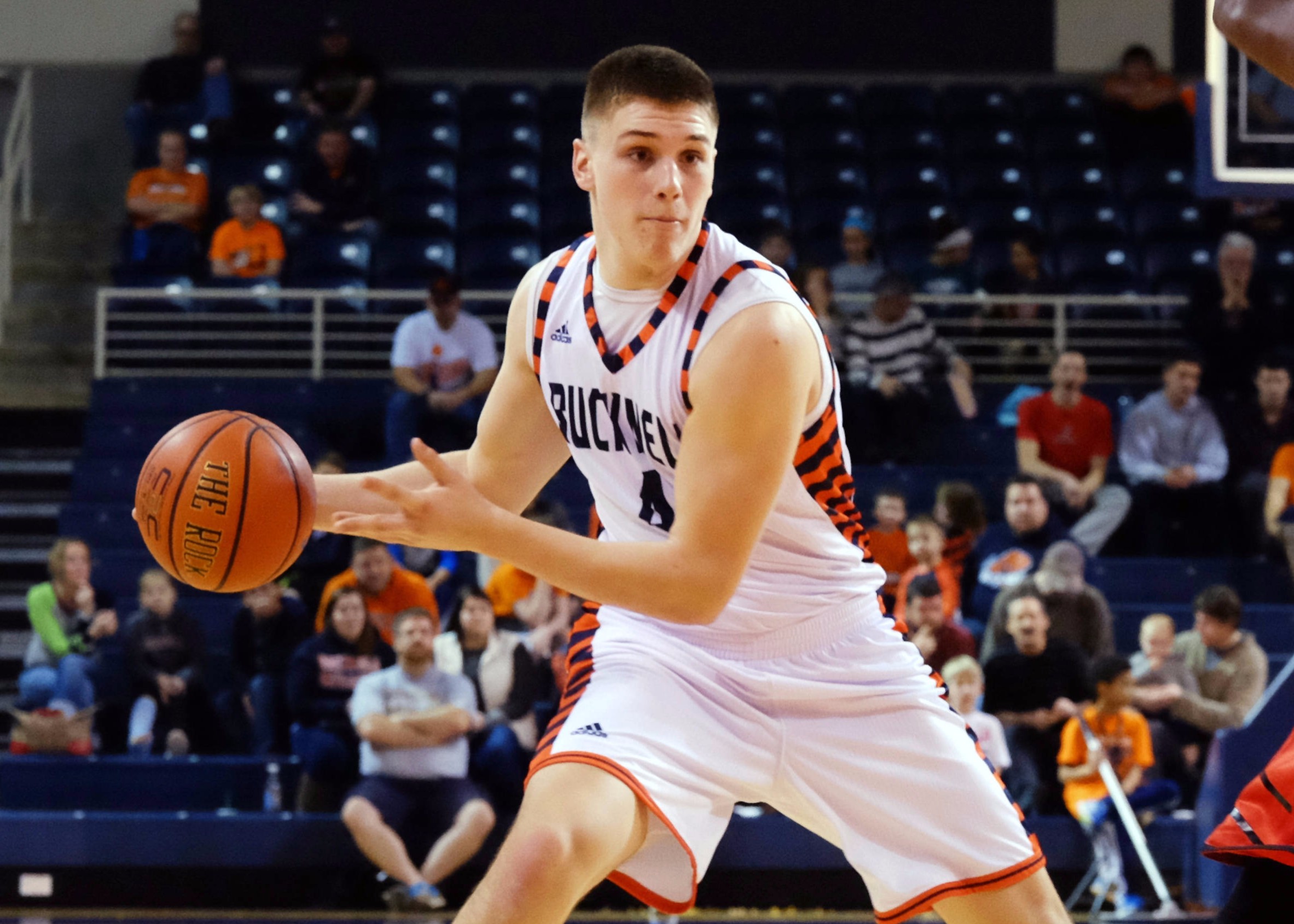 LEXINGTON, Ky. – Cameron County graduate Nate Sestina is headed to Kentucky.
(Photo courtesy of Bucknell Athletics)
Sestina, who played his last four years of college basketball at Bucknell – his freshman season was cut short by an injury that ended up gaining him another year of eligibility – has decided to play for the always powerful Wildcats and head coach John Calipari, a Clarion University graduate.
"This decision allows me to gain a great education and also learn from some of the best basketball coaches in the world, "Sestina, who as a graduate transfer will be eligible immediately, said. "Playing at Kentucky will help shape me for professional basketball while also winning and competing against the best players in the nation."
Sestina, who checks in at 6-foot-9, 245 pounds, helped Bucknell to a pair of Patriot League titles as a key player off the bench in 2017 and 2018 and moved into the starting lineup this year helping the Bison to a Patriot League runner-up finish and a 21-12 record by averaging 15.8 points and 8.5 rebounds per game for the Bison last season. He shot 80.8 percent (80 of 99) from the free-throw line, 53.6 percent from the field (185 of 345) and 38.0 percent from 3-point range (41 of 108), the latter being something Kentucky sorely needs with the Wildcats, who finished 30-7 while advancing to the Elite Eight, shooting 35.4 percent as a team from beyond the arc.
It marks the second consecutive year Calipari and Kentucky, which has produced many "one and done" players in the Calipari era, has picked up a graduate transfer.
Before the 2018-19 season, the Wildcats were able to recruit Stanford standout Reid Travis, and Travis became a focal point for the Wildcats as a leader on the floor while averaging 11.2 points and 7.2 rebounds per contest.
It was Travis who helped Sestina understand the role he would have both as a player but also overall as a person at Kentucky.
"Reid was clear and super honest about what it would be like for me," Sestina said. "He told me you're going to be the biggest leader and also you're going to have to work your tail off to help this team win. It is challenging, but I know you can fill this role."
With Travis' honesty and the coaches unprecedented interest, Sestina began to realize that Kentucky was the best fit for him over other possible options.
Calipari, the legendary coach, helped as well talking to Sestina about his Pennsylvania roots.
"Coach Calipari said, 'Nate, those Central Pennsylvania boys are bread different,'" Sestina said. "I replied, 'Yes Coach, what can I say it must be something in the water."
At Kentucky, Sestina is unsure what number he will wear, but if it is the number 23 from high school once again at Kentucky, it will be a number he shares with Anthony Davis, Jamal Murray and Jodie Meeks.
"It would be humbling to share a number with them," Sestina said. "When you talk about those guys, it's truly some of the most elite company possible. The number doesn't matter to me, but it would be special to share that number if possible."
While Sestina has had tremendous help in this process and over his career, he credited his family most of anyone for their honesty and support in all of his ventures. His parents Rachelle and Donald made the trip to Lexington with him to help him make his commitment decision. He also credited Bucknell Assistant coach Joe Meehan for his help in the recruiting process specifically. It was Meehan who also made an individual trip to Lexington to be there to support his now-former player. The entire Bucknell coaching staff all played a role in Sestina opening up his eligibility to other schools, but he spoke much more of their help overall over these last four seasons.
"The Bucknell Bison family has made me who I am today," Sestina said. "I cannot thank them all enough for their help and support through the ups and downs."
With just a few weeks left in his career as a Bucknell student, Sestina admits it is a bittersweet feeling.
He is excited for a new test and a new chapter, but he will miss Bucknell and the family he has built there both in and out of basketball. He will begin school at Kentucky in June of this year.
"I would like to give one final shoutout to everyone for their messages and support of me and my career," Sestina said. "More specifically, thank you to my teammates here at Bucknell for always rooting for me and being my brothers for life. Thank you to my sister Kristin for missing less than a handful of my college games at Bucknell. I'd also like to say thank you to my brother Andrew for always being a great role model and so honest with me on this journey. He has always made me better. Lastly, I want to thank my girlfriend Jenny Fischer for being so supportive from so far away."