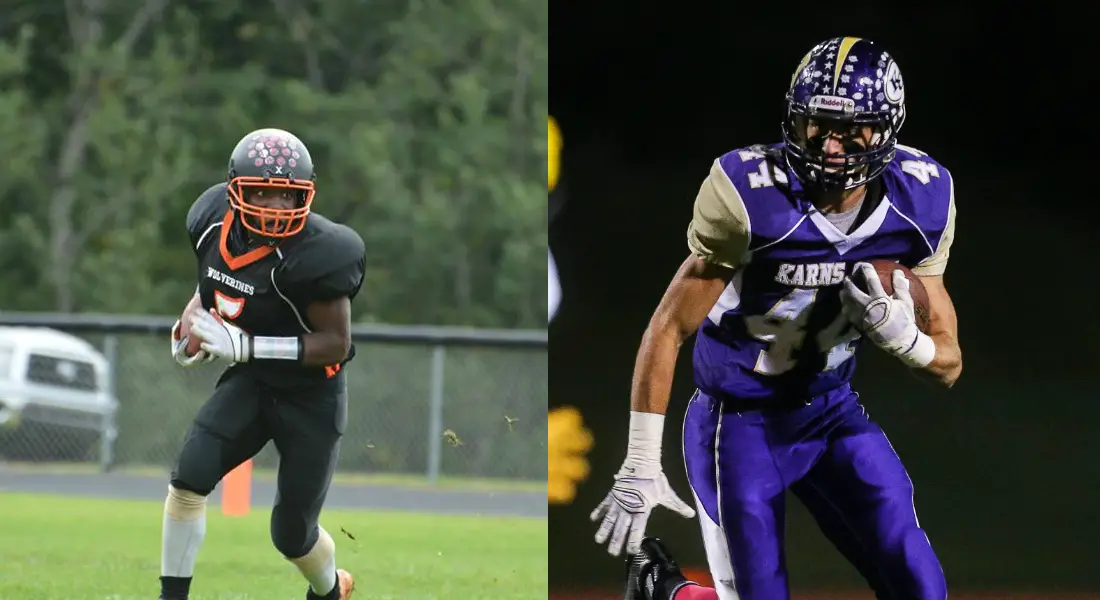 SHIPPENVILLE, Pa. – Sheffield's Kevin Evans and Karns City's Chandler Turner are the Week 6 D9Sports.com Co-District 9 Football Players of the Week.
Evans was instrumental in helping Sheffield end a 16-game losing streak accounting for 288 yards of total offense and three touchdowns in the Wolverines 33-14 win over Port Allegany Saturday. He ran 24 times for 161 yards and a score while also catching six passes for 127 yards and two touchdowns.
Turner, meanwhile, turned in the best rushing game in District 9 this season scampering for 308 yards and four touchdowns on just 12 carries to lead Karns City to a 45-6 win over Clarion-Limestone, which entered the game with just one loss.
In a week of many big performances, 15 players join Evans and Turner on the District 9 Honor Roll.
The Player of the Week and Honor Roll honors will continue through the conclusion of the regular season.  
D9SPORTS.COM CO-PLAYERS OF THE WEEK
Chandler Turner – Karns City: 12 carries, 308 yards, 4 touchdowns – Karns City 45, Clarion-Limestone 6
Kevin Evans – Sheffield: 24 carries, 161 yards, 1 touchdown; 6 catches, 127 yards, 2 touchdowns; Helped Wolverines snap a 16-game losing streak – Sheffield 33, Port Allegany 14
D9SPORTS.COM HONOR ROLL  
Hunter Miller – Brockway: 12 carries, 133 yards, 3 touchdowns; 9-for-21 passing, 67 yards – Brockway 30, Elk County Catholic 25
Seth Ray – Brookville: 9-for-21 passing, 277 yards, 2 touchdowns, 1 interception; Fourth-most passing yards in a game in Brookville history – Moniteau 37, Brookville 14
Colton Rapp – Clarion: 23 carries,175 yards, 3 touchdowns – Clarion 28, Redbank Valley 20
Isaac Rumery – Clearfield: 9-for-17 passing, 155 yards, 2 touchdowns; 1 interception; 11 carries, 66 yards, 1 touchdown – Clearfield 22, Tyrone 3
Jared Green – Coudersport: 5 catches, 92 yards, 2 touchdowns; 3 carries, 41 yards; 16 tackles – Coudersport 26, Smethport 14
Aaron Wolfinger – Coudersport: 10 of 17 passing, 153 yards, 3 touchdowns; 14 carries, 12 yards, 1 touchdown; 3 tackles, 1 sack – Coudersport 26, Smethport 14
Reed Williams – Kane: 13-for-17 passing, 158 yards, 3 touchdowns – Kane 41, Bradford 0
Kaiden Powers – Karns City: 4 carries, 129 yards, 2 touchdown – Karns City 45, Clarion-Limestone 6
Chance Nagy – Moniteau: 12 carries, 76 yards, 3 touchdowns; 12-for-16 passing, 161 yards, 1 touchdown, 1 interception – Moniteau 37, Brookville 14
Sawyer Drummond – Otto-Eldred: 6-for-9 passing, 147 yards, 2 touchdowns; 4 carries, 18 yards, 1 touchdown – Otto-Eldred 48, Cameron County 6
Grant West – Otto-Eldred: 5 carries, 110 yards, 1 touchdown; 4 catches, 135 yards, 2 touchdowns – Otto-Eldred 48, Cameron County 6
Caleb Harvey – Punxsutawney: Recorded 3 sacks in helping Punxsutawney to its first win of the season – Punxsutawney 30, Union/A-C Valley 6  
Neal MacDonald – Ridgway: 18 carries, 114 yards, 3 touchdowns; Made 8 tackles while helping Ridgway's defense limit Nick Stewart, the leading rusher in District 9 to a career-low 44 yards rushing – Ridgway 28, Curwensville 0
Cale Albaugh – Sheffield: 8-for-16 passing, 143 yards, 3 touchdowns, 1 interception; 5 carries, 34 yards, 1 touchdown; Helped Sheffield snap a 16-game losing streak – Sheffield 33, Port Allegany 14
Jeff Wehler – St. Marys: 4 catches, 72 yards, 2 touchdowns; Intercepted a pass on defense; Had a 25-yard punt return – St. Marys 49, Keystone 14
2016 PLAYERS OF THE WEEK
Week Zero: Braden Paulinellie, DuBois
Week One: Nick Stewart, Curwensville
Week Two: Isaac Rumery, Clearfield
Week Three: Sam Leadbetter, Clarion-Limestone
Week Four: Hunter Miller, Brockway and Michael McCloskey, Clarion
Week Five: Erik DeLong, Kane
Week Six: Chandler Turner, Karns City and Kevin Evans – Sheffield
Week Seven:
Week Eight:
Week Nine: