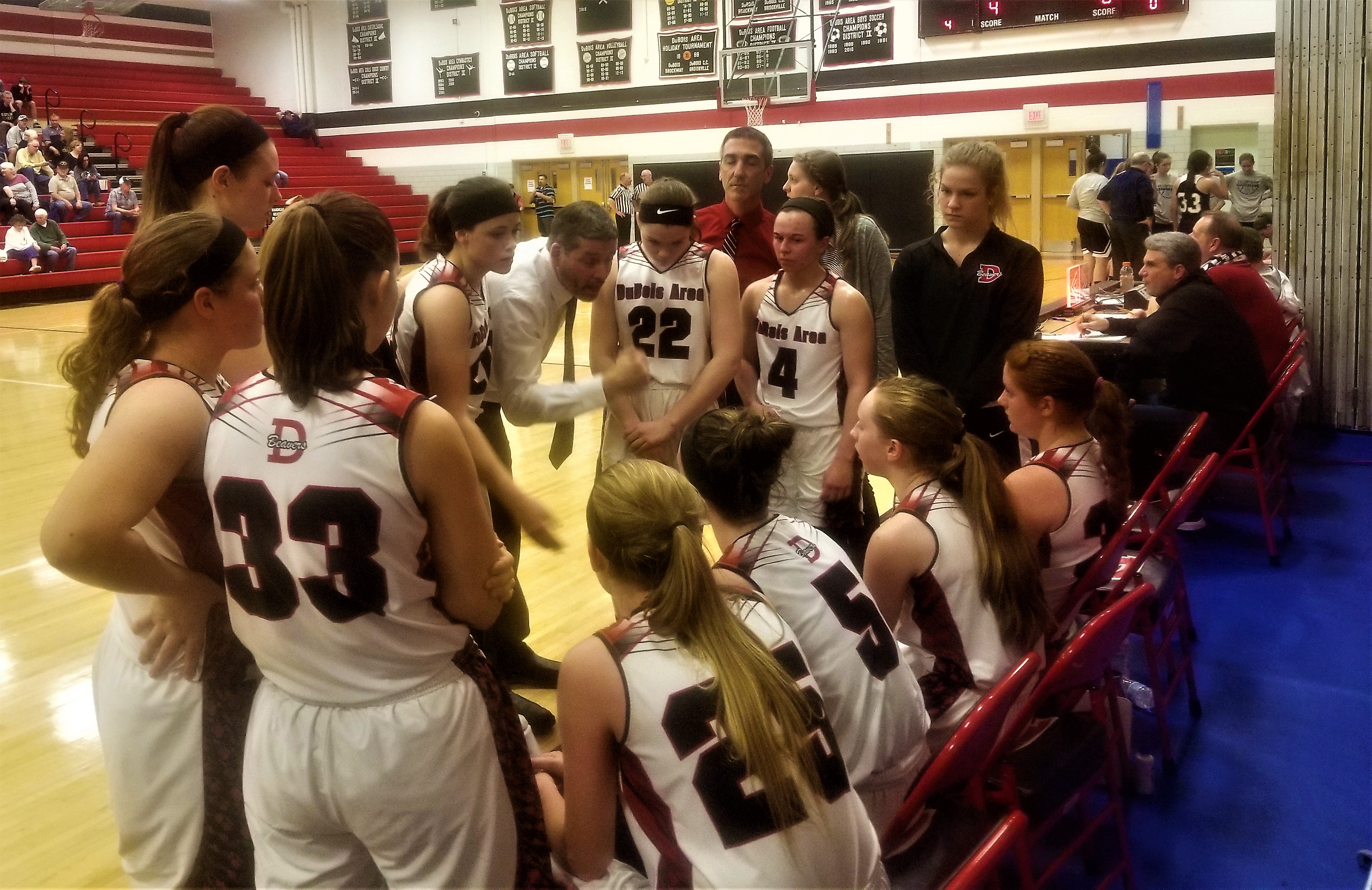 DUBOIS, Pa. – Despite giving it their all, a young and shorthanded DuBois team couldn't quite hang with visiting Hollidaysburg in a 39-24 District 6-8-9 Class 5A semifinal loss.
(Photo of DuBois head coach Keith Kriner giving instructions to the Lady Beavers during a timeout Tuesday night. Photo by Chris Rossetti)
The Lady Beavers, who played five freshmen and were without second-leading scorer Chelsea DeSalve, who was in a car accident over the weekend (in long run she will be OK but it forced her to miss the game Tuesday), fell behind 21-8 at halftime and couldn't claw their way back into the game in the second half.
"We did exactly what we wanted to do," DuBois head coach Keith Kriner, whose team had lost to Hollidaysburg 55-24 in mid-December, said. "We wanted to take away their fast-break game. We wanted to take away their press. They beat us from the outside, and that is what we wanted them to do. We wanted to force them to shoot from the outside."
Hollidaysburg hit four first-half 3-pointers, all from junior Theresa Gildea, who finished with a game-best 20 points, including three in the second quarter, and hit six triples in the game.
"It took too long for us to get out on No. 5 (Gildea)," Kriner said. "We were forcing them to shoot. That is a good shot (for us to have them take). What are you going to do? We had our two bigs in to try to get rebounds but you can't rebound a shot if it goes through."
The 3-point shot was pretty much the only shoot Hollidaysburg (8-15) was making in the first half, as the Lady Tigers shot just 8 of 31 in the half.
But DuBois had trouble holding on to the basketball early committing 10 first-quarter turnovers, 14 in the half and 26 in the game. That led to 13 points off turnovers in the first half for Hollidaysburg, including all 10 of its first-quarter points, and 15 in the game.
"We told them they were going to try to punch us in the mouth right off the bat," Kriner said. "If we could just withstand that and come back, we could stay in the game. We thought we did. We still have a lot of young girls out there and that is still a lot of pressure playing in a situation like this. I was really proud of them. I thought they played well."
DuBois (15-8) might have been right in the game if it could hit free throws. The Lady Beavers were 8 of 20 from the free-throw line in the game including 4 of 13 in the first half.
"It definitely could have been a different game," Kriner said. "The last time I asked we had missed 12 or 13. We were right within 12 or 13 points the whole time until the end when we had to foul to stop the clock and they made some free throws."
The Lady Beavers also had a hard time feeding the ball to leading scorer Ashley Hallowell, who was limited to just one basket and four points in the game. She also collected a game-high 11 rebounds.
"Our guards kept trying to push the ball down the sidelines," Kriner said. "We were telling them we have to take it into the middle. But they were fronting (Ashley) and backing her at times. It was hard to get it into her."
Caitlin Drahushak did her best to try to keep DuBois in the game and scored a team-high 13 points, which was a season-high for her, while showing fantastic hustle throughout the game.
"This was her last game," Kriner said of the senior transfer from DuBois Central Catholic. "She is a spark plug. Getting her this year, having her transfer in, was very key in getting us to where we are right now. She has no off switch. She goes after it, after it, after it whether it's offense or defense. She wants to play the game. Hopefully, some of the younger girls saw that and can learn off of that for next year."
Despite the loss, Kriner was pleased how the season turned out for DuBois.
"We are extremely happy," Kriner said. "We had to start freshmen, we had to play freshmen because we are so thin on numbers."
Hollidaysburg will take on Obama Academy out of the Pittsburgh City League (District 8) in the title game at 5 p.m. Saturday at Penn State Altoona. Obama Academy had a bye into the title game and is the defending champion. The Lady Tigers also earned a PIAA playoff berth with the win.
HOLLIDAYSBURG 39, DUBOIS 24
Score by Quarters
Hollidaysburg 10 11 12 6 – 39
DuBois 5 3 10 6 – 24
HOLLIDAYSBURG – 39
McKenna Hurd 2 0-2 4, Theresa Gildea 6 4-4 20, Abby Bettway 0 0-0 0, Allison Hileman 1 0-2 3, Taylor Smith 0 0-0 0, Hannah Snyder 0 0-0 0, Alexis Keagy 0 0-0 0, Jessica Hayes 0 0-0 0, Sierra McCLain 1 3-4 5, Maura Gildea 2 2-3 7. Totals 12 9-15 39.
DUBOIS – 24
Abby Guiher 0 0-0 0, Sarah Snyder 0 0-0 0, Maddie Smith 2 0-0 4, Taylor Smith 0 0-0 0, Saige Weible 0 0-0 0, Olivia Johnson 1 1-3 3, Caitlin Drahushak 4 5-13 13, Lakin Smith 0 0-0 0, Stacy Mosier 0 0-0 0, Ashley Hallowell 1 2-4 4. Totals 8 8-20 24.
Three-pointers: Hollidaysburg 6 (Theresa Gildea 4, Hileman 1, Maura Gildea 1). DuBois 0.
Rebounds: Hollidaysburg 21 offense, 15 defense, 36 total (Maura Gildea 7, Bettway 6, Theresa Gildea 5). DuBois 4 offensive, 24 defense, 28 totals (Hallowell 11, Johnson 4).