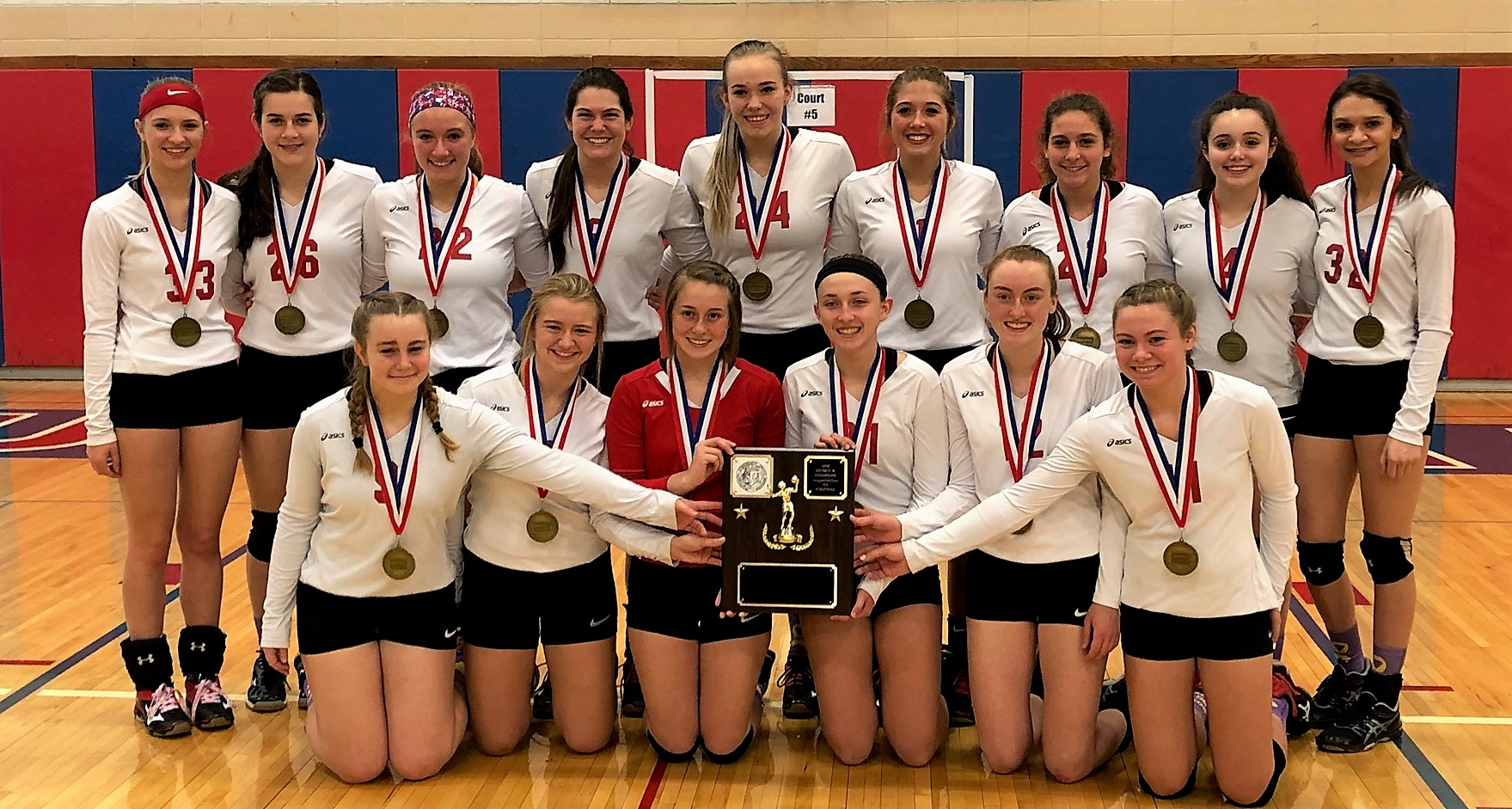 ST. MARYS, Pa. – Sometimes when adversity strikes it creates opportunity.
Relisten to the audio broadcast of the match.
That is exactly what happened for the Redbank Valley girls' volleyball team Saturday.
All season long Josie Rupp has been the offensive leader for the Lady Bulldogs.
But Rupp was unavailable for Saturday's championship match against Brookville at St. Marys High School after violating a team/school rule.
No Rupp, no problem for top-seeded Redbank Valley which rolled to its second District 9 Class 2A championship in three seasons with a 3-0 (25-19, 25-13, 25-18) victory over the third-seeded Lady Raiders.
"(Coach Matt Darr) said we can do it," Redbank Valley senior setter Carissa Rearick said of her coach's message to the team playing without Rupp. "We had Montana (Hetrick), of course. She is really good too, and she really stepped it up today. I think she did a great job."
Watch Redbank Valley's final point.
Hetrick taking Rupp's place at outside hitter did have a strong match with five kills, as Rearick and Redbank Valley spread the wealth around on offense.
Taylor King had 11 kills, ToriLynne Nelson added six kills, Jordan Milliron had five kills, Lauren Smith and Rearick each had three kills and Kianna Shreckengost got into the act with a kill.
Rearick was primarily responsible for the balance with 26 set assists.
"I just kept feeding them," Rearick said. "Of course, I switched it up every once in a while."
Redbank Valley's defense also played a large role in the victory.
Brookville's strength as a team all season has been its serving with the Lady Raiders have multiple matches with double-digit aces.
But the Lady Bulldogs allowed just one ace all match – in the first set by Leah Kammerdeiner – and also helped force seven service errors by the Lady Raiders.
Rearick, who was named the Hager Paving Player of the Game, attributed that to the Redbank Valley passing game.
"I think our passes were really good," Rearick said. "Our passers really stepped it up today, and I think they did a great job."
Leading the way for Brookville was Maggie Macknis and Lauren Hergert with two kills a piece, but with Redbank Valley not making many mistakes it was hard for the Lady Raiders to score.
"It's amazing," Rearick said. "I'm so excited. This is the second year we won a District 9 title (Redbank also won in 2015). It is great, because I am a senior."
Watch all of Rearick's thoughts on the win.
Redbank Valley will take on the fourth-place team out of the WPIAL, Freeport, which went into the WPIAL Tournament as the top seed before being upset by the Frazier, which then lost to North Catholic in Saturday's championship game (the WPIAL uses the follow-the-leader formula). That game will be at 5 p.m. Tuesday, Nov. 6, at DuBois High School.