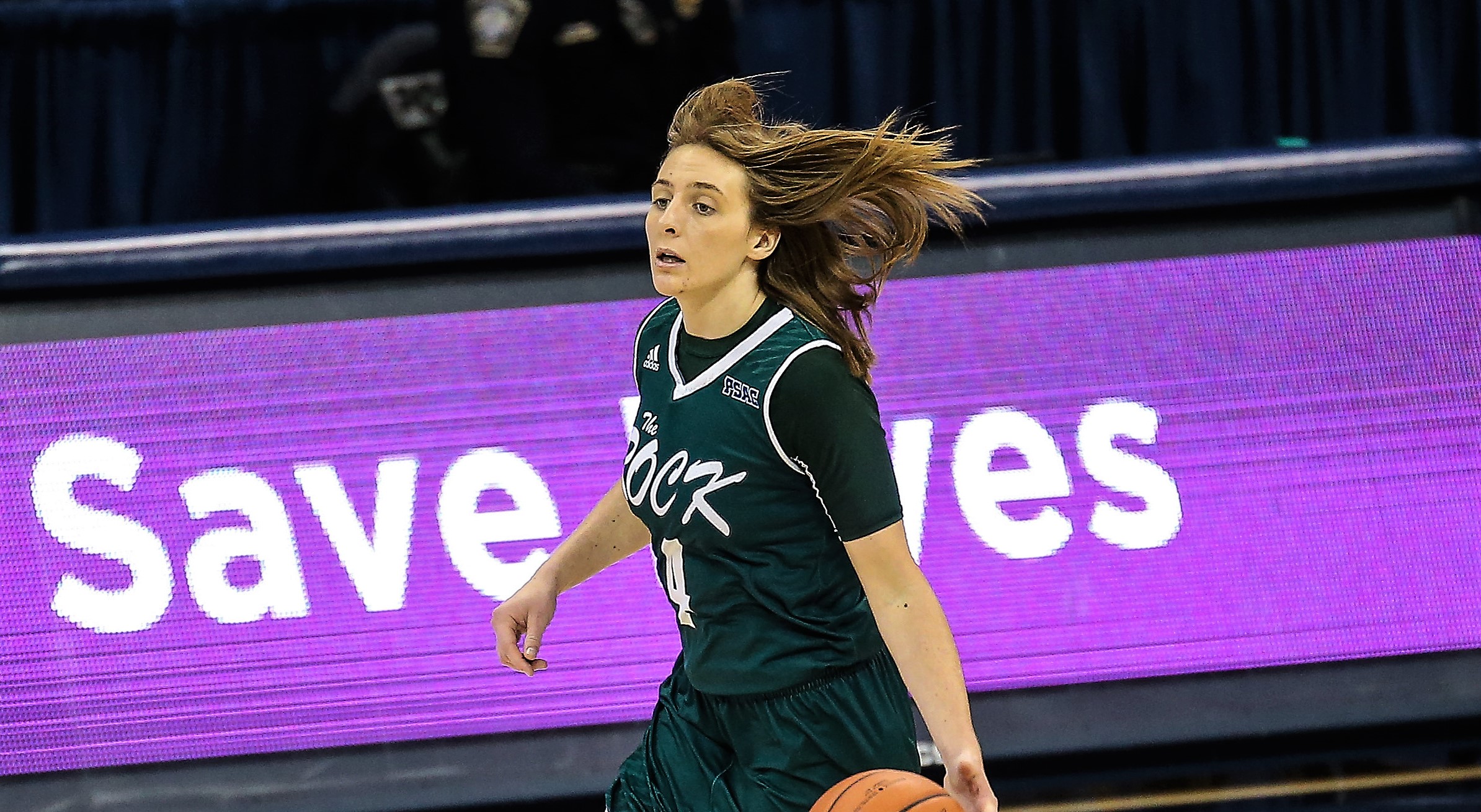 SLIPPERY ROCK, Pa.  – Six athletes – four women and two men – from District 9 are having success in the PSAC West this season in basketball.
(Photo: Brooke Hinderliter of Slippery Rock, a Redbank Valley graduate. Photo courtesy of Slippery Rock Athletics)
Three of the women's players – all from the KSAC – are at Slippery Rock University led by Redbank Valley graduate Brooke Hinderliter, a sophomore.
Hinderliter, who has started all 12 games, is the leading scorer for The Rock, which is 7-5 overall and 5-2 in the PSAC West, at 16.0 points per game, the 12th-best mark in the PSAC. She also leads the team in rebounding (6.4 rpg) and ranks fourth in the PSAC in free-throw shooting (51 of 57, 89.5 percent) and 15th in the conference in assists per game (3.1, 37 total) while adding 13 steals and three blocked shots.
Keystone graduate Madison Johnson, a transfer from NCAA Division I St. Francis (Pa.), and Karns City graduate LeeAnn Gibson join Hinderliter on the Slippery Rock squad, which is coached by former District 9 boys' assistant coach Bobby McGraw (Karns City).
Johnson, a redshirt sophomore, has started 11 of the 12 games she has appeared in and is averaging 10.7 points and 5.0 rebounds per game.
Gibson, a sophomore, has started eight of the 12 games she has played in and is averaging 5.0 points and 4.8 rebounds per game.
Another former KSAC star is finding success playing for the Clarion University women's team.
Venango Catholic graduate Taylor Moltz, a junior, has come back from an ACL injury she suffered last year, to start eight of 13 games for the Golden Eagles, who are 7-7 overall and 2-5 in the PSAC West. She is averaging 8.6 points and 4.0 rebounds per game while adding 13 assists and going 7 of 8 from the free-throw line.
Two area athletes are also playing for the Clarion men's team, which is 3-10 overall and 0-7 in the PSAC West.
Johnsonburg graduate Cameron Grumley is the leading active scorer and second-leading scorer for the Golden Eagles averaging 15.44 points per game, which ranks 22nd in the PSAC. The senior is adding 5.8 rebounds per game, which is 25th in the PSAC, and leads the PSAC in free-throw shooting at 94.3 percent (33 of 35) after leading all of the NCAA Division II from the line last year. Grumley is also 10th in the conference in steals (1.8 spg, 23 total) and has handed out 35 assists while starting all 13 games.
Clarion-Limestone graduate RJ Laugand has been a solid player as well for Clarion starting 10 of the 11 games he has seen action in and averaging 7.1 points per game while dishing out 26 assists and coming up with 11 steals. He is also 13 of 14 from the free-throw line.