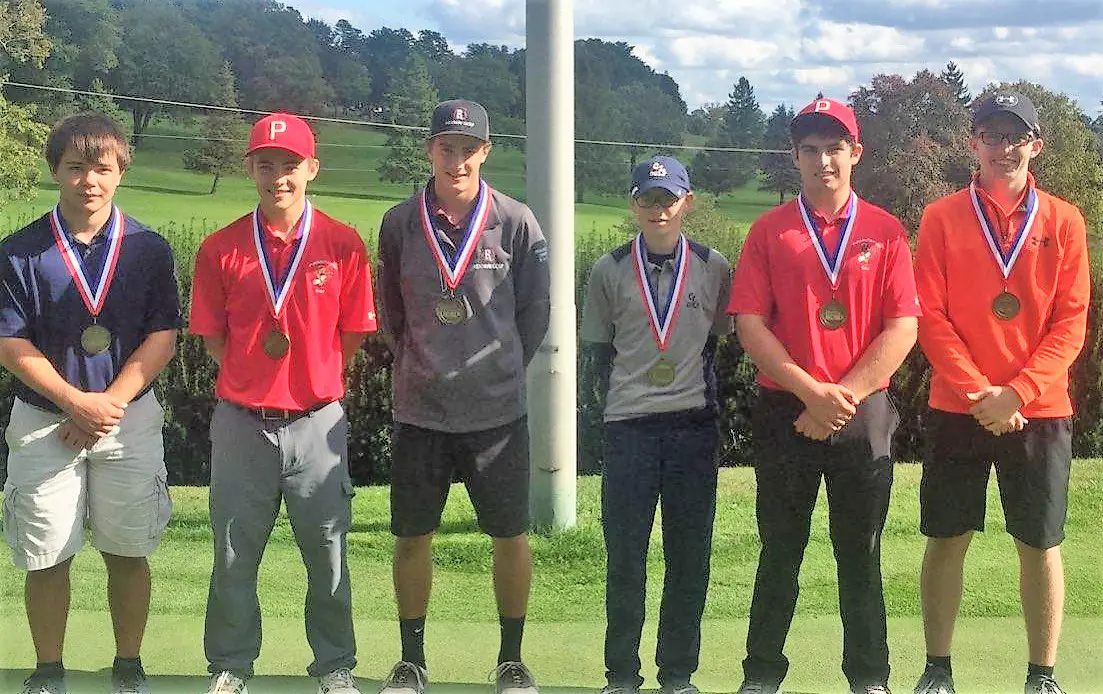 BROOKVILLE, Pa. – Smethport's Connor Alfieri won the District 9 Class 2A individual golf title Saturday at Pinecrest Country Club in Brookville.
(Photo: The Class 2A qualifiers for the Western Regional from left (Sixth-place finisher Zack Zameroski, fifth-place finisher Zack Vanleer, fourth-place finisher Dane Lyle, third-place finisher Hayden Siegel, second-place finisher Ryan Roberts and champion Connor Alfieri. Photo courtesy of Kevin Doverspike)
Alfieri shot an 82 Saturday to give him a two-day total of 158, which was one shot ahead of second-place finisher Ryan Roberts of Punxsutawney, who also shot an 82 Saturday and finished with a 159. To win the title, the Smethport golfer went Birdie then Eagle on his last two holes.
In the Class 3A sub-regional with District 8 and District 9, Brashear's Shane Woodhall shot an 85 Saturday to win the title with a 175, a stroke ahead of Bradford's Spencer Cornelius, who shot a 91 Saturday.
Back to Class 2A, four additional golfers qualified for the Western Regional with Clarion-Limestone's Hayden Siegel finishing third with a score of 160 after a Saturday-best score of 74, Brookville's Dan Lyle taking fourth with a score of 165, Punxsutawney's Zack Vanleer fifth with a score of 168 and Ridgway's Zack Zameroski sixth with a score of 169.
In Class 3A, Woodhall and Cornelius were the lone qualifiers for the Western Regional.