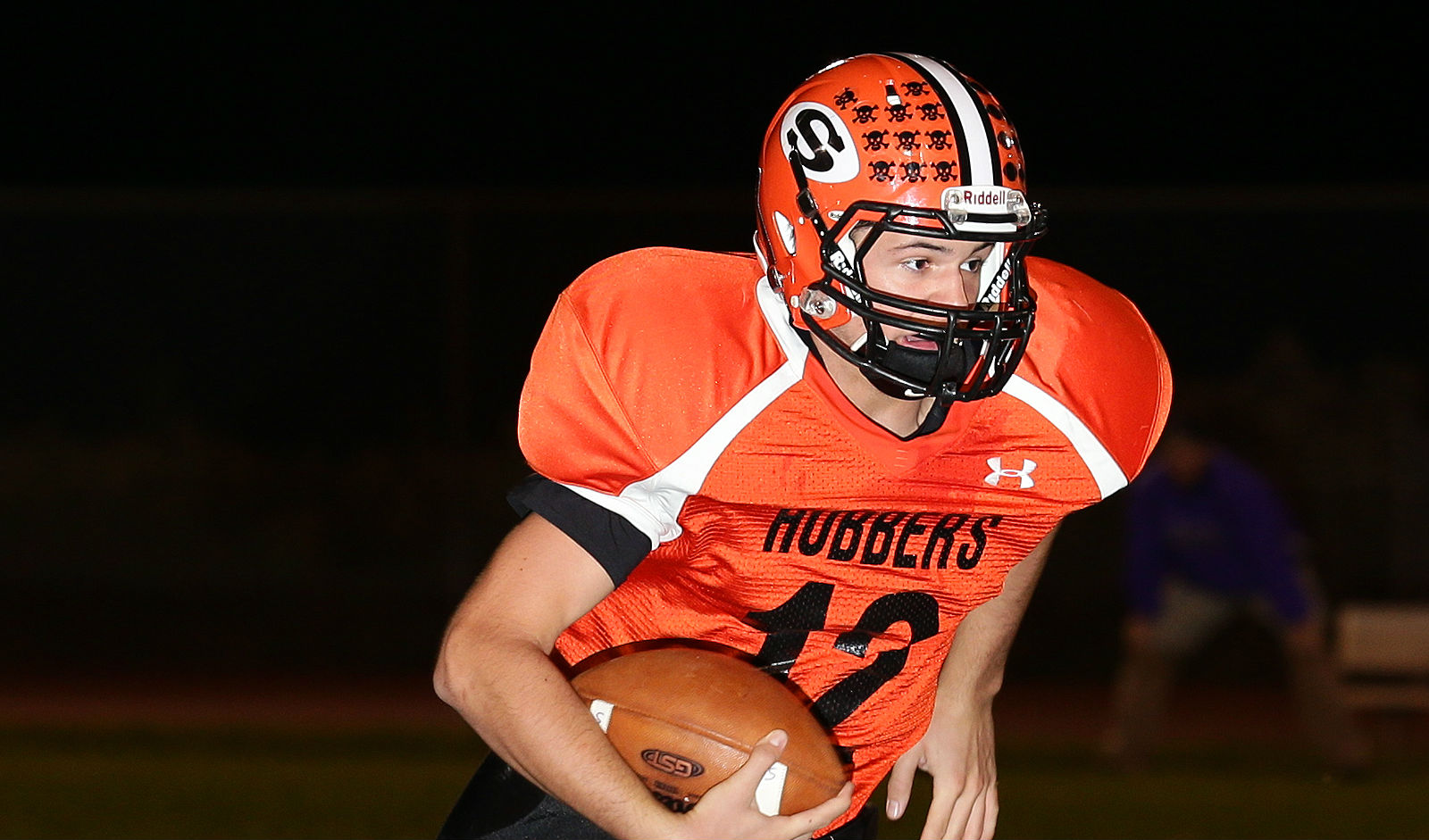 Cover photo by Paul Burdick – See all of Burdick's work at http://pburdick.smugmug.com/
CLARION, Pa. – Thanks to a four-passing touchdown performance that included throwing the game-winning aerial with a minute to play, Smethport quarterback Dustin Zetwick is the D9Sports.com District 9 Football Player of the Week for Week Five of the 2014 season.
Zetwick rallied the Hubbers (2-3) to their second straight victory, 33-32 over Sheffield, when he threw the game-winning touchdown pass on a fourth-and-7 play with a minute left.
On the night, Zetwick completed 12 of 20 passes for 203 yards and the four scores while adding 25 carries for 96 yards.
Joining Zetwick in being honored are 15 players on the Week Five 2014 District 9 Honor Roll as well as Clarion head coach Larry Wiser, who became the all-time winningest coach in the conference now known as the KSAC and the fourth all-time winningest coach in District 9 history.
The Player of the Week and Honor Roll will run through Week 10 of the 2014 high school football season and will be released at the conclusion of the week's games either Sunday or Monday.
Located at www.d9sports.com, D9Sports.com is in its 15th year of covering athletics within the PIAA's District 9. The site, which is not affiliated with the PIAA in any way, covers all 25 football playing teams playing in District 9. For more information on the site, please visit it or e-mail the staff at sports@d9sports.com. The site is also active on Twitter @D9sports and on Facebook at www.facebook.com/d9sports.
D9SPORTS.COM DISTRICT 9 PLAYER OF THE WEEK
Dustin Zetwick – Smethport: 12-for-20 passing, 203 yards, 4 touchdowns; 25 carries, 96 yards; Threw game-winning touchdown pass with 1 minute to play on a fourth-and-seven play – Smethport 33, Sheffield 32
D9SPORTS.COM DISTRICT 9 HONOR ROLL (in alpabetical order my team)
Kyle Langdon – Bradford: 23 carries, 160 yards, 3 touchdowns – Erie Central Tech 64, Bradford 28
Caleb Burnside – Cameron County: 11 carries, 140 yards, 2 touchdowns – Cameron County 45, Port Allegany 16
Rusty Setzer – Cameron County: 12 carries, 120 yards, 3 touchdowns – Cameron County 45, Port Allegany 16
Ian Corbett – Clarion: 18 carries, 248 yards, 4 touchdowns; Intercepted a pass on defense – Clarion 46, Keystone 0
Kyle Robertson – Clarion-Limestone: 22 carries, 154 yards, 2 touchdowns – Clarion-Limestone 27, A-C Valley 14
Erik Sellers – Clearfield: 27 carries, 138 yards, 3 touchdowns – Clearfield 28, Brockway 17
Nick Stewart – Curwensville: 24 carries, 206 yards, 2 touchdowns – Elk County Catholic 20, Curwensville 13
Gabe French – DuBois: 16-for-18 passing, 247 yards, 4 touchdowns; Ran for two touchdowns – DuBois 69, Punxsutawney 26
Mitchell Smith – Elk County Catholic: 10 of 18 passing, 139 yards, 2 touchdowns, 1 interception; 21 carries, 96 yards, 1 touchdown – Elk County Catholic 20, Curwensville 13
Cody Deal – Karns City: 9 carries, 97 yards, 3 touchdowns; 2-for-2 passing, 21 yards – Karns City 48, Moniteau 6
John English – Kane: 30 carries, 147 yards, 3 touchdowns – Ridgway 21, Kane 20
Jake Dougherty – Redbank Valley: 15-for-21 passing, 173 yards, 1 touchdown; 14 carries, 76 yards, 3 touchdowns – Redbank Valley 36, Union 28
T.J. Hogan – St. Marys: 31 carries, 256 yards, 2 touchdowns – St. Marys 26, Brookville 7
Marquis Clark – Sheffield: 4 catches, 176 yards, 3 touchdowns – Smethport 33, Sheffield 32 Adam Higby – Sheffield: 9-for-21 passing, 271 yards, 4 touchdowns – Smethport 33, Sheffield 32
Notable
Larry Wiser – Clarion: Became the winningest coach in KSAC/Little 12/Southern 7 Conference history with 184 passing former Union boss Rich Vidunas; Fourth all-time winningest coach in DIstrict 9 history – Clarion 46, Keystone 0