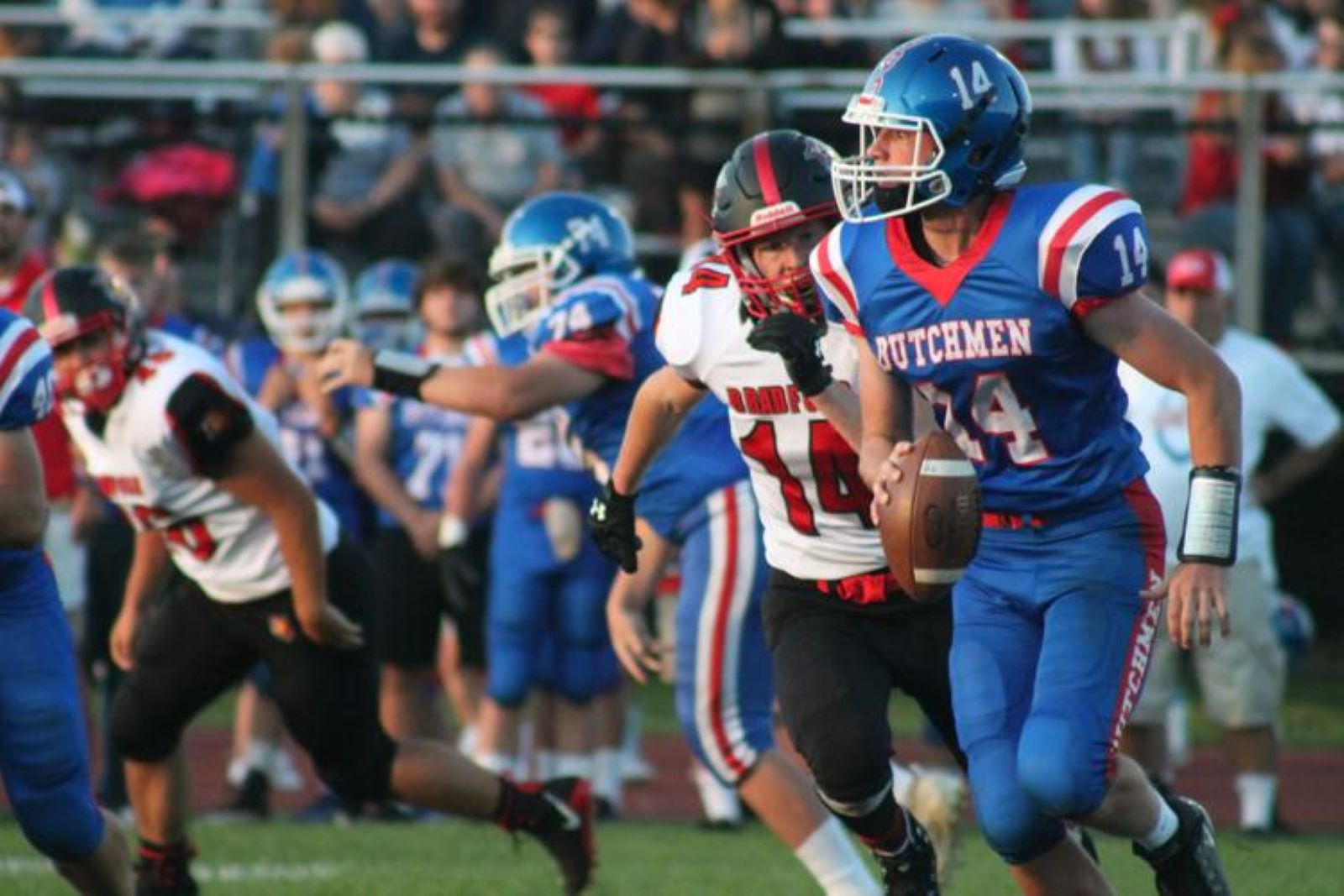 SHIPPENVILLE, Pa. – A career night helped St. Marys' Christian Coudriet garner the D9Sports.com District 9 Football Player of the Week for Week Three of the 2019 season.
(Photo of Christian Coudriet. Photo by Joel Whetzel of the Bradford Era. Photo courtesy of the Bradford Era. Check out the Bradford Era at www.bradfordera.com)
Coudriet was 22-for-31 passing for 452 yards and six touchdowns while also running six times for 57 yards and a score in the Dutch's 60-21 win over visiting Punxsutawney.
James Davis helped St. Marys in the win as well making 10 tackles and returning an interception for a touchdown, the third straight week he has returned an interception for a touchdown. Davis is one of 15 players on the District 9 Honor Roll for Week Three.
The Player of the Week and Honor Roll honors will continue through the conclusion of the regular season.
D9SPORTS.COM PLAYER OF THE WEEK
Christian Coudriet – St. Marys: 22-for-31 passing, 452 yards, 6 touchdowns; 6 carries, 57 yards, 1 touchdown – St. Marys 60, Punxsutawney 21
D9SPORTS.COM HONOR ROLL
Austin Newcomb – Clarion:20 carries, 136 yards, 2 touchdowns – Clarion 29, Brookville 12
Jake Lezzer – Clearfield: 8 catches, 103 yards; Intercepted a pass on defense – Clearfield 28, Huntingdon 16
Sam Kaul – Elk County Catholic:12 carries, 216 yards, 2 touchdowns – Elk County Catholic 35, Port Allegany 7
Jake Alcorn – Kane: 7 carries, 73 yards, 2 touchdowns; 3 catches, 61 yards, 1 touchdown – Kane 41, Brockway 0
Teddy Race – Kane: 9 carries, 104 yards, 2 touchdowns; 10-plus tackles on defense with 2 ½ sacks – Kane 41, Brockway 0
Hunter Rowe – Karns City: 13 carries, 78 yards, 2 touchdowns – Karns City 21, Moniteau 6
Isaak Jones – Keystone: 9-for-13 passing, 237 yards, 3 touchdowns, 1 interception; 3 carries, 26 yards – Keystone 49, Cameron County 12
Caleb Nellis – Keystone: 8 tackles, 2 sacks – Keystone 49, Cameron County 12
Ethan Smith – Otto-Eldred: 7 catches, 195 yards, 2 touchdowns – Union/A-C Valley 32, Otto-Eldred 26
Max London – Punxsutawney: 11 carries, 105 yards, 1 touchdown; 1 catch, 4 yards; Returned a kickoff 89 yards for a touchdown – St. Marys 60, Punxsutawney 12
Paul Gresco – Ridgway: 8-for-11 passing, 184 yards, 3 touchdowns; 2 carries, 16 yards – Ridgway 55, Bradford 0
Gabe Watts – Ridgway: 3 catches, 85 yards, 1 touchdown; 4 carries, 38 yards, 1 touchdown – Ridgway 55, Bradford 0
Braedon Johnson – Smethport: 15 carries, 137 yards, 2 touchdowns; Returned a punt 85 yards for a touchdown – Smethport 26, Curwensville 0
James Davis – St. Marys: 10 tackles and an interception return for a TD (3rd straight week he has returned an interception return for a TD) – St. Marys 60, Punxsutawney 21
Kylar Culbertson – Union/A-C Valley: 19 carries, 150 yards, 2 touchdowns – Union/A-C Valley 32, Otto-Eldred 26
2019 PLAYERS OF THE WEEK
Week Zero: Jake Lezzer, Clearfield
Week One: Oliver Billotte, Clearfield
Week Two: Jack Krug, Brookville
Week Three: Christian Coudriet, St. Marys
Week Four: TBA
Week Five: TBA
Week Six: TBA
Week Seven: TBA
Week Eight: TBA
Week Nine: TBA