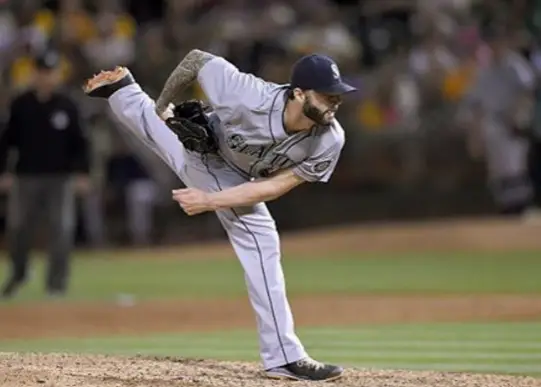 Photo courtesy Joe Beimel's Instagram account
MIAMI – According to multiple reports, St. Marys High School graduate Joe Beimel has signed a minor-league deal with the Miami Marlins pending a physical.
Beimel, 39, pitched last year with the Seattle Mariners appearing in 53 games, all out of the bullpen, and pitching in 47 1/3 innings with an ERA of 3.99, a WHIP of 1.37 and a record of 2-1 with a save.
It was Beimel's second year with Seattle after being out of the majors in 2012 and 2013. If he ends up in Miami, the Marlin would be the eighth club Beimel has pitched for.
He was drafted by the Pirates out of Duquesne in the 18th round in 1998 and made it to Pittsburgh as a starter in 2001. He spent 2001 through 2003 with his hometown team before being released at the end of Spring Training in 2004. A few days later, the Minnesota Twins signed Beimel, and he pitched three games for the Twins in 2004. He was then signed by Tampa Bay in November 2004 and pitched seven games for the Rays in 2005 before signing as a free agent with the Los Angeles Dodgers in 2006. He pitched in over 200 games with the Dodgers between 2006 and 2008 before signing with the Washington Nationals just before the 2009 season. He pitched 45 games for Washington in 2009 before being traded at the deadline to the Colorado Rockies, where he pitched in another 26 games that season helping the Rockies to the postseason. He also pitched for the Rockies in 2010 before going back to Pittsburgh as a free agent prior to the 2011 season. He spent most of the 2011 season with the Pirates appearing in 35 games. He was then signed by the Rangers and then the Braves in 2012 and 2013 without appearing in a major-league game before signing with the Mariners in 2014. He pitched for Seattle in 2014 then signed with the Rangers prior to 2015 but was released by Texas just before the season. Seattle then picked him up again in early April.
Overall, Beimel has pitched 676 MLB games over 13 years throwing 680 innings with 23 starts (all in his first two seasons with the Pirates). He has a 29-34 career record with five saves, a 4.06 ERA and 1.457 WHIP. He has also appeared in six postseason games throw 1 1/3 innings allowing a hit and two walks but no runs.
Miami is in need of a lefthanded reliever after designating Craig Breslow for assignment Wednesday.