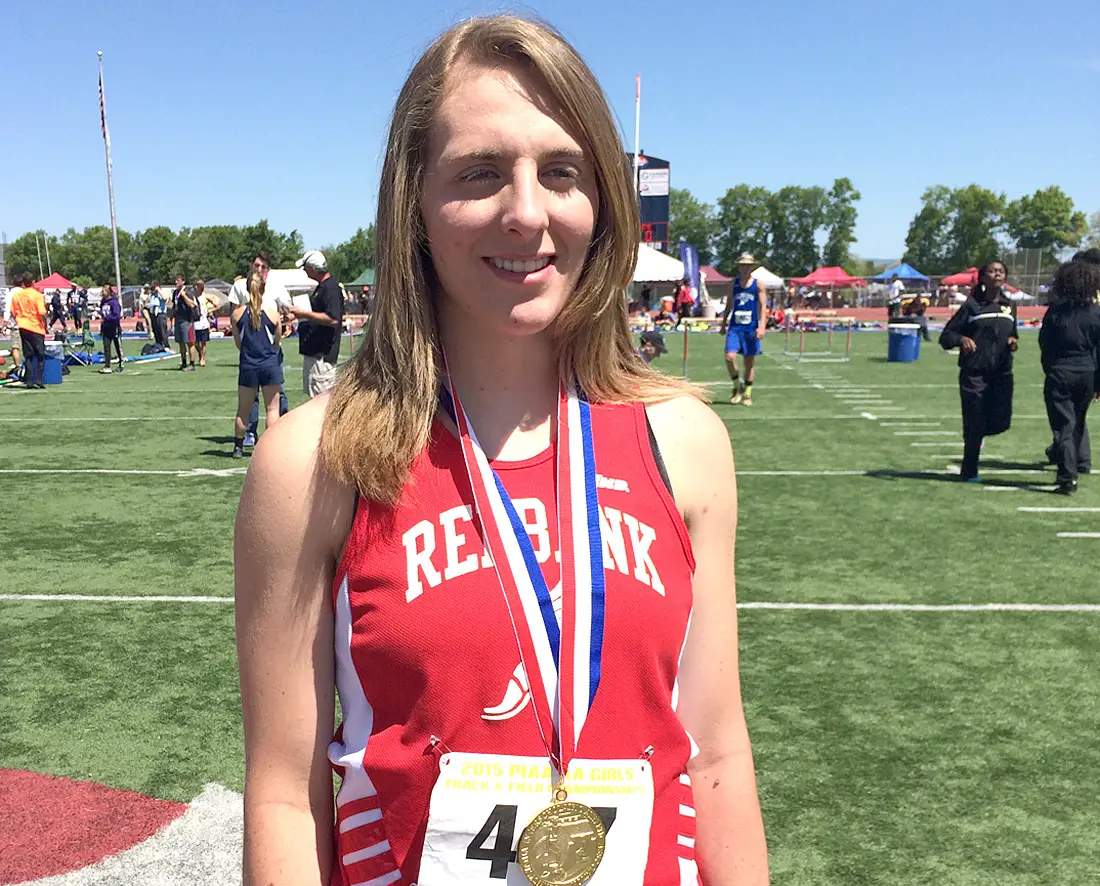 PIAA Results Page
SHIPPENSBURG — Led by Redbank Valley's Brooke Hinderliter's state title in the javelin and Karns City's Logan Moroney's three-medal effort, District 9 brought home a total of 12 medals — all of them in Class AA — at this weekend's PIAA Track and Field Championships at Shippensburg University.
Hinderliter became Redbank Valley's first-ever state champion in track and field, besting her career-best toss with a throw of 158 feet, 9 inches to beat runner-up Maura Fiamoncini of Mount Carmel by almost 19 feet.
D9 also had another medalist in the girls' javelin as Johnsonburg's Ashley Imbrogno was fourth with a toss of 135 feet, 6 inches. She placed third last year.
Hinderliter was the first D9 athlete to win a javelin title since Smethport's Ashley Colley did it also in Class AA back in 2000. The only other D9 champ was also in Class AA girls in 1993 with Union's Penny Summerville.
It's also the sixth straight year that a District 9 girl has won state title. That's happened once before from 1993-98. Since 1980, there have been just three years where a D9 athlete — boy or girl in Class AA or AAA — has failed to win a state title — 2009, 1992 and 1986. That's 36 state meets with 77 state titles: 37 boys (32 in Class AA) and 40 girls (38 in Class AA).
The Gremlins' Moroney claimed medals in both the 100- and 200-meter dashes. He was fifth in the 100 dash (11.26) and eighth in the 200 dash (22.62). He also teamed up with Tristan Rhoades, Allesandro Marroto and Tyler Dunn to finish third in the 4×100 relay (43.70).
Other medalists from Saturday:
— Clarion's Ian Corbett finished third in the long jump (21 feet, 11 3/4 inches), wrapping up his career with three state medals. He was fifth in the 100-meter dash last year and seventh in the long jump two years ago as a sophomore.
— Clarion's Liam Raehsler finished sixth in the 3,200 run (9:23.65).
— Redbank Valley's Wyatt Hetrick was eighth in the 110 hurdles (15.69).
— Johnsonburg's Rachel Guyer was fifth in the 1,600 run (5:12.98).
— Kane's Tyler Rolick tied for seventh in the pole vault (13-6).
Friday:
— Elk County Catholics Nicole Florio won her third state medal in four trips to states by tying for fourth place (5 feet, 4 inches) in the high jump. She was third last year and tied for fifth as a freshman three years ago.
— Kane's Savannah Anderson tied for eighth in the pole vault (10 feet).