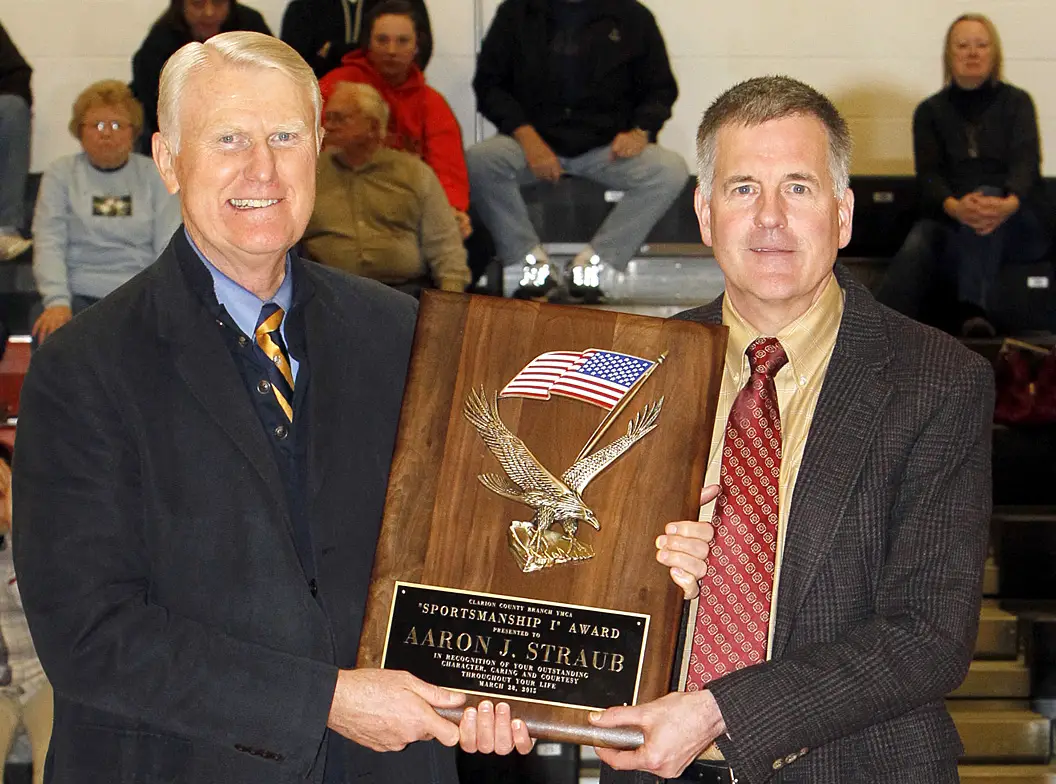 CLARION — Veteran Elk County Catholic High School boys' basketball coach Aaron Straub was named this year's recipient of the Sportsperson of the Year award for Western Pennsylvania.
The award was given out at last Saturday's Sportsmanship I/Clarion County YMCA All-Star Basketball Games at Clarion Area High School.
The award coincided with the theme of the all-star games. The criteria for the award require that the recipient demonstrate excellent consistency in character traits such as leadership, honesty, fairness, integrity and courtesy.
"Coach Straub is a coach through and through." Sportsmanship I All-Star Games Director Norb Baschnagel said. "I have watched him work with small children to young adults and the results are the same — excellence.
"His success as a coach puts him in an elite class. However, all the wins, championships and titles are not as impressive as the end product. He prepares young men to face the world by teaching morals, values, honesty, hard work and trust in God. I truly believe this to be one of his greatest accomplishments. Aaron J. Straub is worthy of the Sportsmanship I Award due to his excellence in coaching, leadership and community service."
Straub just completed his 33rd season as a head coach, 31st with the Crusaders after starting with two years at ECC with the girls' program. He's compiled a record of 764-248 with both programs with 19 District 9 titles and one PIAA Class A state championship in 2006.
"I am humbled to be selected for the Sportsmanship I award." Straub said. "I feel blessed to coach at Elk County Catholic High School and compete in District 9 where 'Excellence with Honor' is the gold standard of operation. Congratulations to our coaches, athletes, officials and administrators for promoting sportsmanship and for pursuing 'Victory with Honor.'
"Thank you to the organizers of this year's all-star games for keeping sportsmanship as the focus for our great sport of basketball."
Straub, an athletic director at Elk County Catholic for the past 31 years, was honored earlier this month at the Pennsylvania State Athletic Directors Association convention with the Distinguished Service Award.
Straub has served on the PIAA District 9 Committee since 1989 and has served as the vice-chairman for the past eight years.
He and his wife Joanne have been married for 33 years and have three children — A.J., Doug and Allison — and four grandchildren.