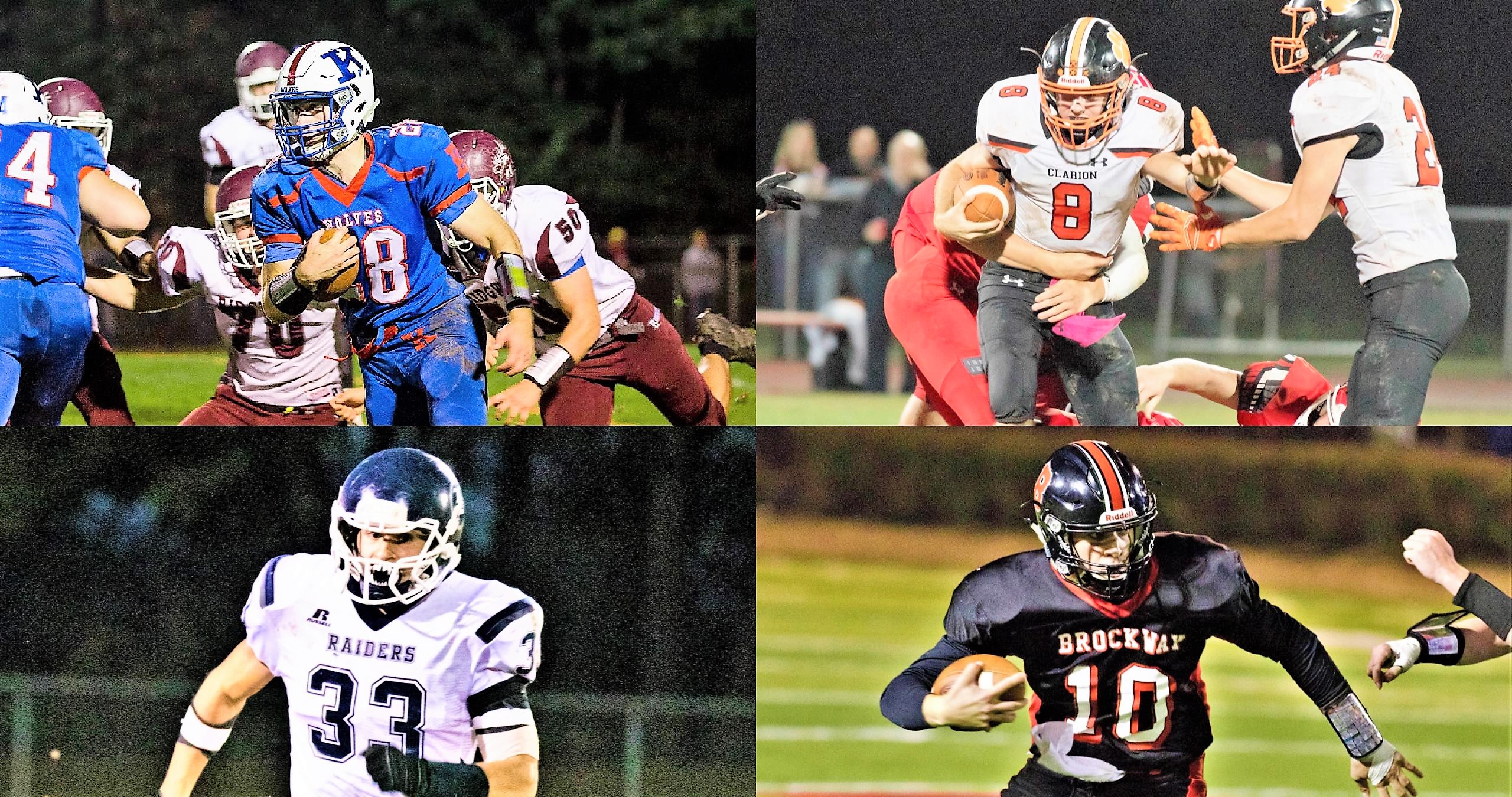 Four teams with a combined record of 34-4 will battle it out for the District 9 Class 2A football championship starting Friday night with a pair of semifinal games.
Kane (10-0) is the defending champion and the Wolves have won three titles in a row when counting their 1A championships in 2014 and 2015 and have been to five straight championship games finishing second in 2A in 2012 and 2013.
Clarion (9-0) checks in as the No. 2 seed and the Bobcats join Kane as the only unbeaten teams in District 9.
Brookville (9-1) is the third seed with the Raiders only loss coming to Clarion, and Brockway (6-3) is the fourth seed with the Rovers losses coming to Kane, Bradford, the third seed in the District 5-6-9 Class 4A field and Curwensville, the top seed in the District 9 Class 1A bracket.
Both semifinal games are at 7 p.m. Friday with Kane hosting Brockway and Brookville traveling to Clarion University's Memorial Stadium, the home field of the Bobcats.
Here is a closer look at the two games:
(4) BROCKWAY (6-3) AT (1) KANE (10-0)
The Set Up
This is a rematch of a game from two weeks ago won by Kane, 28-17, in Brockway thanks in part to a pair of Reed Williams to JT Stewart touchdown passes and a 156 yards rushing and a score from Erik DeLong. Jon Wood and Tyler Serafini ran for scores for the Rovers with Wood rushing for 116 yards and Serafini 78 yards. But Kane intercepted Brockway quarterback Peter Downer three times and held the signal caller to 8 of 20 for 125 yards.
This is the first postseason matchup between these teams since Kane's epic 21-17 win over the Rovers in the 2015 D9 1A title game. Brockway took a 17-14 lead in that game on a Mark Latuska touchdown run with 1:23 to go, but Kane rallied behind the Rolick twins of Shane and Tyler with Tyler catching a 25-yard scoring pass from Shane with 47.2 seconds left for the win.
Kane, which has won 38 in a row vs. District 9 teams since a 13-12 loss to Elk County Catholic Oct. 17, 2014, has beaten Brockway seven straight times, including twice in the playoffs (2014 and 2015) since a 52-40 Rovers win Sept. 21, 2012.
The game two weeks ago was the last game Brockway has played, while Kane beat Otto-Eldred, 33-0, in the AML Title game last week.
The Stats
Brockway:
Team Passing: 188.3 yards per game
Team Rushing: 182.2 yards per game
Top Rushers: Jon Wood (726 yards, 8 TDs), Tyler Serafini (638 yards, 6 TDs)
Top Passers: Peter Downer (112 of 192, 1,621 yards, 11 TDs, 10 Ints)
Top Receivers: Dylan Lecates (38 catches, 545 yards, 2 TDs), Noah Vokes (27 catches, 460 yards, 6 TDs), Jon Wood (22 catches, 269 yards, 1 TD), Tyler Serafini (12 catches, 140 yards, 1 TD)
Top Defensive Players: Not available
Kane:
Team Passing: 180.9 yards per game
Team Rushing: 279.2 yards per game
Top Rushers: Erik DeLong (1,557 yards, 22 TDs), Ange Costanzo (662 yards, 11 TDs), Jake Alcorn (337 yards, 3 TDs)
Top Passers: Reed Williams (112 of 199, 1,769 yards, 21 TDS, 7 Ints)
Top Receivers: Ray Maze (34 catches, 746 yards, 9 TDs), Jake Alcorn (26 catches, 401 yards, 4 TDs), JT Stewart 27 catches, 380 yards, 3 TDs), Ange Costanzo (17 catches, 167 yards, 3 TDs)
Top Defensive Players: Aiden Hulings (8.0 tackles per game not including last week with 25 tackles for a loss and 4 sacks), Erik DeLong (7.3 tackles per game)
BROOKVILLE (9-1) AT CLARION (9-0)
The Set Up
These two teams hooked up back on Sept. 8 in Brookville with the Bobcats pulling away for a 58-22 win in a game that saw Clarion rack up 466 yards of offense and score on every drive but the final one when it took a knee to run out the clock.
Colton Rapp shredded the Raiders defense for 227 yards and four touchdowns on 27 carries and added two catches for 46 yards. Logan Minich chipped in 55 yards rushing and two touchdowns, and the Bobcats defense limited freshman sensation Jack Krug to a season-low 156 yards passing (12 of 21) with two touchdowns and two interceptions. Krug's 72.8 QB rating for the game was the only time this season he has been under 100. As a team, Brookville, which averages 428 yards per game on offense, was held to 206.
Colton Rapp, who returned last week from a Sept. 29 injury, ran for 227 yards on 27 carries and scored four touchdowns to lead a powerful Clarion performance in a 58-22 rout at Brookville Friday night.
Clarion, which has won six straight against Brookville since a 13-12 loss in 2011, lost in last year's 2A championship game to Kane, 21-14, while Brookville, which is having a bounce-back campaign after going a combined 7-22 the last three years including 3-6 last season, is back in the postseason for the first time since losing to Kane, 26-12, in the 2A semifinals in 2013. The Raiders haven't been to the title game since beating Karns City, 21-3, in the 2A title game in 2006 and haven't won a playoff game since beating Moniteau in the 2010 semifinals. This is the first-ever postseason game between Brookville and Clarion.
The Stats
Brookville:
Team Passing: 293.8 yards per game
Team Rushing: 134.0 yards per game
Top Rushers: Brandon McGranor (926 yards, 12 TDs), Jack Krug (218 yards, 3 TDs)
Top Passers: Jack Krug (157 of 238, 2,691 yards, 38 TDs, 9 Ints)
Top Receivers: Bryan Dworek (79 catches, 1,372 yards, 20 TDs), Nick Keth (16 catches, 416 yards, 7 TDs), Cabe Park (8 catches, 318 yards, 6 TDs), Tyler Park (12 catches 197 yards, 2 TDs), Addison Singleton (17 catches, 167 yards), Ian Thrush (9 catches, 148 yards, 3 TDs)
Top Defensive Players: John Frank (8.7 tackles per game, 26 tackles for a loss with 15 sacks), Tyler Park (7.1 tackles per game)
Clarion:
Team Passing: 75.6 yards per game
Team Rushing: 343.3 yards per game
Top Rushers: Logan Minich (719 yards, 9 TDs), Colton Rapp (714 yards, 8 TDs), Spencer Miller (401 yards, 9 TDs), Brendan Zerfoss (313 yards, 5 TDs), Keeven Weaver (255 yards, 4 TDs), Camden Boggess (224 yards, 4 TDs), Sam Minich (145 yards, 3 TDs)
Top Passers: Spencer Miller (46 of 82, 707 yards, 7 TDS, 4 Ints)
Top Receivers: Keeven Weaver (13 catches, 135 yards)
Top Defensive Players: Zak Bauer (10.0 tackles per game, 34 tackles for a loss with 8 sacks), Spencer Miller (7.7 tackles per game, 3 interceptions), Colt Stimmell (7.3 tackles per game, 9 sacks)