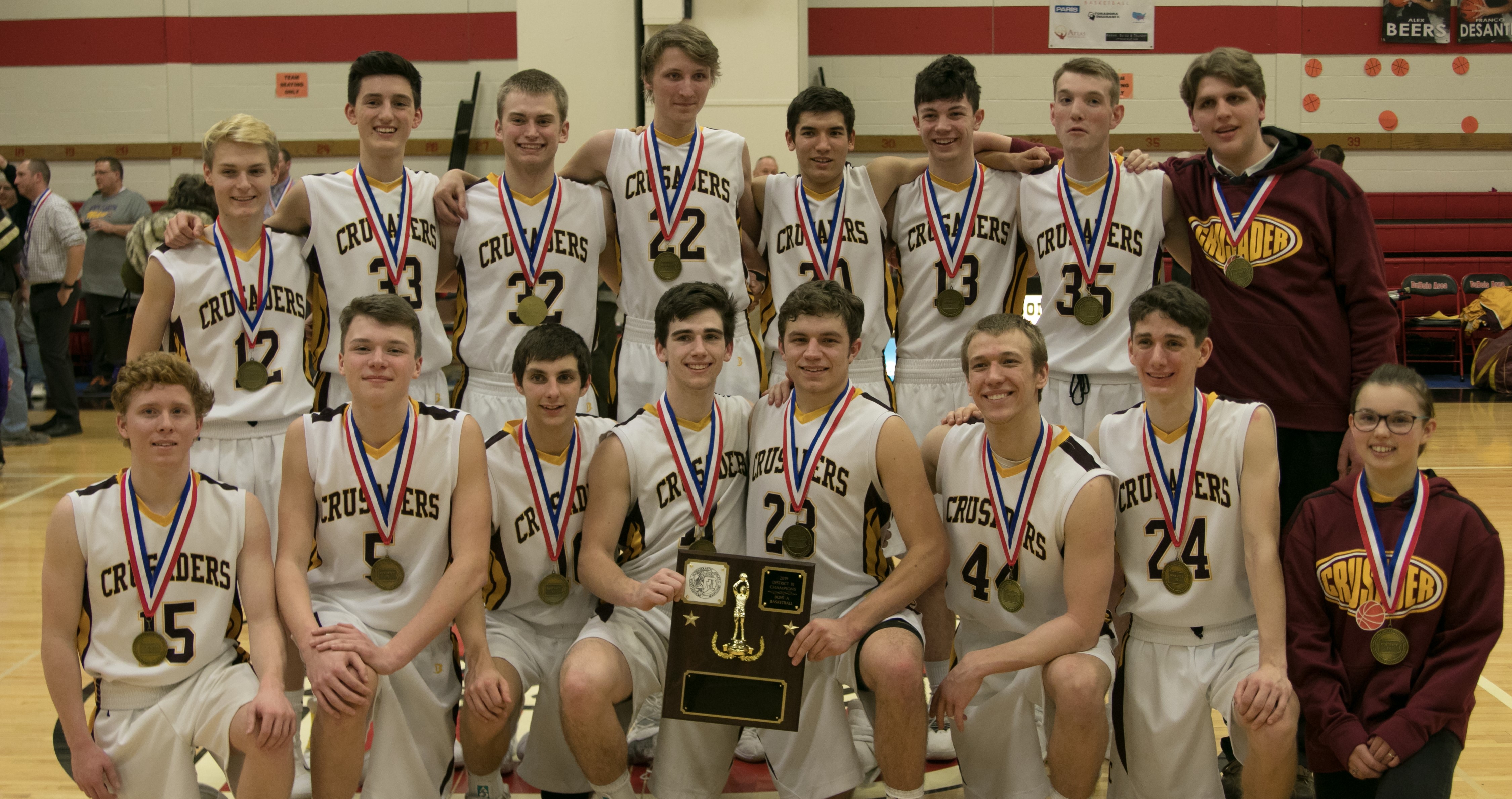 DUBOIS, Pa. – A 10-2 run at the start of the fourth quarter helped Elk County Catholic capture its 25th District 9 title with a 52-43 win over North Clarion Friday night in the Class 1A title game at DuBois High School.
(Photo by Jared Bakaysa of JB Graphics. See more of Bakaysa's work here)
Relisten to the game:
"I'm really proud of our kids," ECC head coach Aaron Straub said. "I think people don't understand how difficult it is to win a district championship. Class A was really good. From one to right, the teams that entered, anybody could be standing here. I'm really blessed to have the team that ended up winning it. The good Lord has blessed us with a lot of ability and certainly has blessed us with a good work ethic. They are great kids."
The top-seeded Crusaders (26-1), who led by 12 early in the third quarter, found themselves up just two, 36-34, going to the fourth quarter. But junior point guard Carter Lindemuth put his team on his back scoring six straight points and nine of his 11 tallies in the fourth quarter to help ECC pull away.
"They had been running that 2-3 zone and coach was like attack the middle, attack the middle," Lindemuth said. "Finally, I found an open lane every time and decided to take over."
Straub was impressed with how his point guard, who was hampered with first-half foul trouble, responded at a critical time.
"Carter is a smart player, very heady," Straub said. "As a point guard, we expect a lot out of him. He certainly did a nice job for us."
ECC, which led 26-19, seemed in firm control of the game a couple of minutes into the second half when it built the lead to 31-19 on a Brennen Klawuhn basket.
But behind 6-foot-7 Kyle Mills, North Clarion started clawing its way back into the game and the Wolves closed the gap to 36-34 late in the third quarter with Mills scoring nine of his 16 points in the frame.
"It was huge for us getting it down into him," North Clarion head coach Andy Bish said. "We were talking about it in the first half, but it just wasn't happening on driving and dumping it back in. He was really what sparked us there on the offensive end. Then, defensive-wise, that gets your energy going when that happens."
According to Straub, ECC didn't react well to North Clarion getting the ball to the basket in the third quarter.
"I think North Clarion decided to get the ball to the hoop, and we didn't make any defensive adjustments," Straub said.
The Wolves (21-3), playing in their first District 9 title game in 20 years, had a couple of opportunities to either tie the game or take the lead late in the third quarter including a 3-pointer by Jacob Bauer in the final five seconds, but weren't able to get that key basket to drop. Bish believed things may have turned out differently if his team had been able to tie the game or take the lead.
"If you take the lead or at least tie it there, I think that definitely gets the kids going a little bit more. But the bottom line is they gave me everything they had."
Any real hopes of a North Clarion comeback went away in the first four minutes of the fourth quarter thanks to the fun by ECC, which included the six straight points by Lindemuth that took the lead from 37-34 to 43-35.
"Whenever you are down like that against a team like Elk that is so quick and so fast and will slow the ball down on you, it's tough to come back," Bish said. "But my boys gave it everything they had and I couldn't be prouder of the effort they put out."
North Clarion's effort caught the attention of Lindemuth and his teammates.
"The atmosphere was crazy," Lindemuth said. "It was unreal. North Clarion, man, I give them a lot of credit. They played a great game, and I congratulate them. I have to thank my teammates. We worked hard all season. That is all I can ask for."
Both Straub and Lindemuth pointed to the fact ECC lost last year's title game to Johnsonburg as motivation for winning this season.
"It means everything," Lindemuth said. "We were definitely hurt last year. This year we were hungry for it and wanted it bad. And we got it."
Watch all of Lindemuth's postgame interview.
Straub, who has been around for most of the Crusader's 25 titles said this one, like all of them, is special.
"I think each one of them represents a lot of hard work by our kids," Straub said. "Every one is special, and this one is extremely special. Last year we were in the game, and we weren't able to win that game."
Alec Wehler led ECC with 13 points, while Sam Minich added 10 points for North Clarion.
Both teams move into the PIAA playoffs.
ECC will take on Leechburg, the sixth-place team out of the WPIAL.
"I am just really proud of the kids, really proud of their accomplishment," Straub said. "They worked extremely hard all year, and we are looking forward to inter-districts."
North Clarion will face the second-place team out of District 6, Bishop Carroll.
"I told our guys we aren't done yet," Bish said. "We have had a really good season, but the last three games we have played the best defense we have played all season. We kind of started off just scoring at will at the beginning of the season. Now, the defense is there and we need to get the offense to catch up with it."
ELK COUNTY CATHOLIC 52, NORTH CLARION 43
Score by Quarters
North Clarion 9 10 15 9 – 43
Elk Co. Cath. 15 11 10 14 – 52
NORTH CLARION – 43
Sam Minich 3 3-6 10, Jacob Bauer 0 0-0 0, Logan Minich 3 1-2 7, Korey Mills 1 3-4 5, Tyler McCord-Wolbert 2 1-2 5, Zyler Hargenrader 0 0-0 0, Devon Walters 0 0-0 0, Kyle Mills 6 4-6 16. Totals 15 12-20 43.
ELK COUNTY CATHOLIC – 52
Bryce O'Leary 0 0-0 0, Carter Lindemuth 4 3-5 11, Alec Wehler 2 8-8 13, Ben Hoffman 0 0-0 0, Will Uberti 3 0-0 8, Brennen Klawuhn 3 2-4 8, Regis Wortman 1 1-2 4, Leo Gregory 0 0-0 0, Brady Schneider 1 2-2 5, Alex Breindel 1 1-3 3. Totals 15 17-24 52.
Three-pointers: North Clarion 1 (Sam Minich). ECC 5 (Uberti 2, Wehler, Wortman, Schneider).