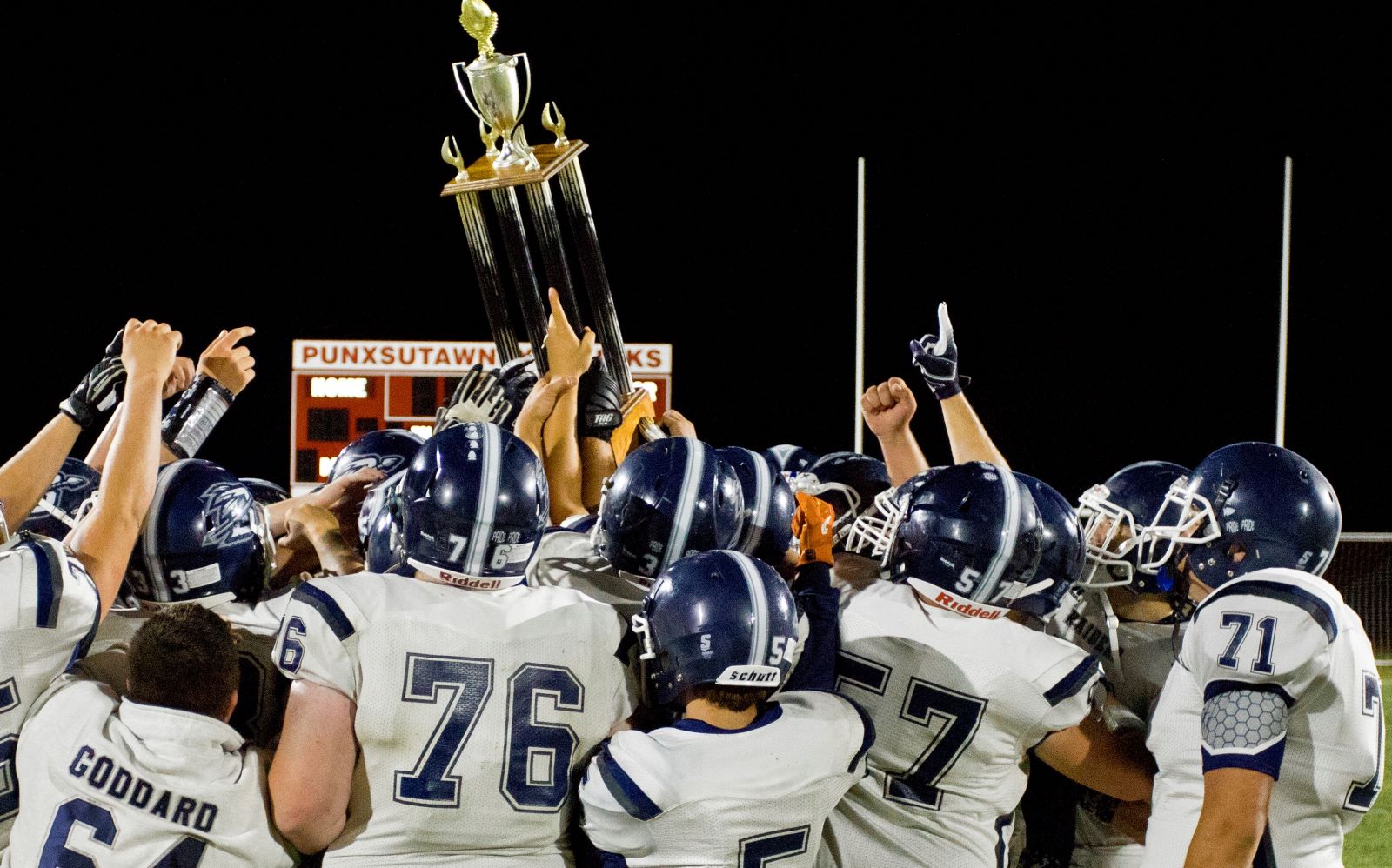 PUNXSUTAWNEY, Pa. – The Route 36 Trophy is headed back up north after Brookville snagged it back from Punxsutawney with a 38-6 win over the Chucks in Punxsy Thursday night.
(Photo by Kyle Yates www.facebook.com/YatesPhoto)
"The kids wanted to bring it back," Brookville head coach Scott Park said of the trophy that Punxsutawney won in an upset over the Raiders last year. "They thought it was theirs. They felt we gave one away last year."
There was no giving it away this year, as Brookville outgained Punxsutawney 473-125 including 205-2 in the second half while scoring on its final possession of the first half and first possession of the second half to break open a game that stood at 14-6 Raiders through much of the first half.
"It is nice to see that we are capable of playing on both sides of the ball," Park said. "I think we are playing pretty decent football."
Junior quarterback Jack Krug, who missed last year's game with an injury, made up for lost time throwing for four touchdowns and running for a fifth in the win.
"It feels great personally," Krug said. "I didn't play much last year, so I am just kind of taking it one game at a time, getting back in the grove. But this game is special to all of us. It is just a big game for us."
Krug was 25-for-33 passing for 363 yards and the four scores while also rushing six times for 30 yards and the touchdown.
He spread the ball around to five different receivers and had two of them go over 100 yards on the night.
Robert Keth, who has transitioned nicely from quarterback to receiver, had 10 grabs for 137 yards and three touchdowns with Ian Thrush adding eight for 123 and a touchdown.
"It is definitely different," Krug said of spreading the ball around more this year. "We had (Bryan) Dworek and Cabe Park last year, and you kind of knew where the ball was going and you couldn't stop it anyway. This year, you don't kind of know what is going to happen. Everyone contributes pretty well."
Watch Krug's full postgame thoughts.
While the final score and especially the second half didn't make the game seem all that close, Punxsutawney hung with Brookville for most of the first 24 minutes.
Thanks to a long kickoff return from Max London that set the Chucks up at the Brookville 28-yard line to start the game, Punxsutawney grabbed an early 6-0 lead on an 11-yard Kameron Falgout to Sam Shepler touchdown pass. It was the first touchdown allowed by the Brookville defense this year.
"I'm sure they are not happy because they finally have up a touchdown," Park said of his defense. "But it was going to happen. They played tough."
Tough, indeed.
After allowing the 28 yards on the first drive, Brookville yielded just 97 yards the rest of the night and were particularly stellar in the second half when 20 of Punxsutawney's two yards in the half came with the junior varsity in the game.
"The kids are practicing hard and are focused," Park said.
It didn't take Brookville very long to answer Punxsutawney's score – one offensive play – as Krug hit Thrush in stride for a 49-yard touchdown pass that gave the Raiders a 7-6 lead.
Brookville then went up 14-6 a little over five minutes later when Krug ran it in himself from the 12-yard line, and the rout looked on.
But Punxsutawney came up with a couple of big defensive plays stopping Brookville on downs inside the 15-yard line and also recovering a Cole Labenne fumble at the Punxsutawney 21 to stay within striking distance.
Late in the half, however, Brookville was able to extend the lead after getting the ball back with around 1:20 to play following a punt after Punxsutawney had been pinned back inside its own 15-yard line.
The punt set Brookville up at the Chucks 38 with plenty of time on the clock – probably more than there should have been considering facing third-and-long Punxsutawney elected to throw a pass despite the Raiders being out of time outs.
The short field helped Brookville take a 21-6 halftime lead when Krug found Keth with a 10-yard pass with 51 seconds left in the half.
"That was huge," Park said. "They kind of helped us out by throwing that long pass there. I didn't quite under that, but it was huge. They didn't have a chance to come back after that because there wasn't much time left (in the half), and then we came out and took it right down and scored (to start the second half). I think that was big."
Brookville made it 28-6 on the first possession of the second half going 70 yards for a touchdown that was scored when Krug found Keth from 23 yards away 3:12 seconds into the half.
"It (scoring late in the first half) was definitely important for us getting some momentum up into the half," Krug said. "We had mistakes but we definitely picked it up."
Krug and Keth hooked up one more time late in the third quarter – this time from seven yards away – to make it 35-6, and Donavan Hoffman, who was 5-for-5 on extra points, capped the scoring with a 19-yard fourth-quarter field goal.
The win moved Brookville to 3-0 on the season, while Punxsutawney fell to 0-3. The Raiders host Clarion in a key game in the District 9 League Large School Division next week while Punxsutawney hits the road with a game at St. Marys.
"We have some great momentum going into Clarion," Krug said. "We are just trying to go out and work hard this coming week and see what happens."
BROOKVILLE 38, PUNXSUTAWNEY 6
Score by Quarters
Brookville 14 7 14 3 – 38
Punxsutawney 6 0 0 0 – 6
Scoring Summary
First Quarter
P – Sam Shepler 11 pass from Kameron Flagout (Kick blocked), 9:18
B – Ian Thrush 49 pass from Jack Krug (Donavan Hoffman kick), 9:01
B – Krug 12 run (Hoffman kick), 3:30
Second Quarter
B – Robert Keth 10 pass from Krug (Hoffman kick), 0:51
Third Quarter
B – Keth 23 pass from Krug (Hoffman kick), 8:48
B – Keth 7 pass from Krug (Hoffman kick), 2:52
Fourth Quarter
B – Hoffman 19 field goal, 7:22
TEAM STATS
Brookville-Stat-Punxsutawney
24 First Downs 8
26-79 Rushes-Yards 33-83
394 Passing Yards 42
27-35-0 Comp-Att-Int 4-13-0
61-473 Totals Play-Yards 46-125
3-35 Penalties-Yards 5-52
4-1 Fumbles-Lost 3-2
INDIVIDUAL STATS
RUSHING: Brookville – Cole Labenne 10-55, Jack Krug 6-30, Braiden Davis 3-24, Marshall Hunt 1-4, Linkin Radaker 4-2, Team 2-negative 36. Punxsutawney – Kameron Flagout 13-42, Max London 11-40, Jacob Bellerillo 4-6, Landon Peterson 1-3, Logan Jacoby 2-3, Daniel Billick 1-0, Team 1-negative 11.
PASSING: Brookville – Jack Krug 25-for-33, 363 yards, 4 touchdowns. Miles Bogush 2-for-2, 31 yards. Punxsutawney – Kameron Falgout 3-for-11, 22 yards, 1 touchdown. Seth Moore 1-for-2, 20 yards.
RECEIVING: Brookville – Robert Keth 10-137, Ian Thrush 8-13, Brayden Kunselman 3-38, Ryan Daisley 2-38, Tate Lindermuth 2-32, Cole Labenne 2-27. Punxsutawney – Daniel Billick 1-20, Colin Hoover 1-15, Sam Shepler 1-11, Micah Kriebel 1-negative 4.