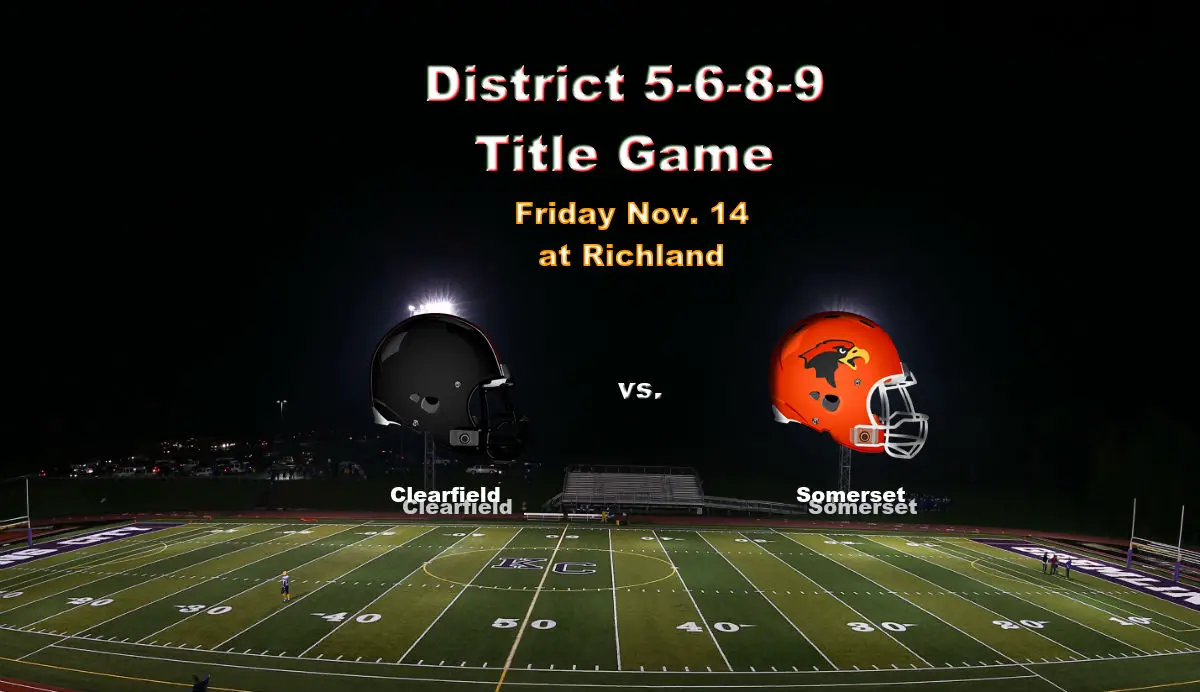 Starting lineups; Clearfield game-by-game; Clearfield statistics; Somerset game-by-game; Somerset statistics
State-wide Class AAA bracket via easternpafootball.com
By Rich Rhoades
JOHNSTOWN — They've been a postseason force with an impressive playoff resume and the Clearfield Bison will try to add to their list of titles Friday night when they square off against Somerset for the District 5-6-8-9 Class AAA Sub-Regional title at Richland High School.
For the record, the Bison have won 14 District 9 or sub-regional titles. All but three of those — the last three D9 Class AAA championship games didn't mean a state playoff berth — meant trips into the PIAA playoffs. That is what's on the line in a rematch of last year's final.
"You always have expectations, but you never say you're going to be here and it's gratifying when you get there," Clearfield head coach Tim Janocko said.
"It's a great opportunity," Somerset head coach Bob Landis said. "Clearfield has been the predominant team in Class AAA in the area for several years. It seems like they're there every year and the opportunity for us to play them two years in a row with a chance to win a title, that's whey you play them."
Somerset has never won a district title, let alone the relatively new sub-regional setup.
In last year's finale in Hollidaysburg, the Bison beat the Golden Eagles, 21-6, as Christian Lezzer and Tyler Stratton combined for 303 yards rushing. But those playmakers are gone via graduation as the 9-2 Bison take on a 10-1 Somerset squad that's racked up some big numbers.
This year, the Golden Eagles are scoring 43.2 points per game with five 50-plus scoring games, including a 50-12 rout of Punxsutawney in last week's semifinals.
"They're one of the more talented teams we'll play," Janocko said. "They have some speed. The quarterback runs well, they have a very fast receiver and the running back is fast as well. We're similar because their skill people are effective and make plays."
Junior quarterback Dylan Barnes just went over 1,000 passing yards for the season and he's completed 58 of 113 passes for 1,0006 yards to go along with 14 touchdowns and six interceptions. His top receiving target is tight end Bryce Mostoller (24 catches, 426 yards, 5 TDs) with speedy senior Raven Beeman (17 catches, 319 yards, 7 TDs) providing the home run threat.
Junior Jake Heiple (1,092 yards, 5 TDs) is the leading rusher with Barnes also providing a double-threat with his legs, second on the team with 533 yards and eight TDs. Beeman is effective as well when he runs the ball, going for 367 yards on only 32 attempts with five touchdowns.
It's all led to a dominant season for the Golden Eagles,
"We had hopes that this is where we could be," Landis said. "Barnes more than capable (last year as a backup) and we're pleased with Heiple's development. We knew what we had with Beeman and Mostoller. The receivers were a big question mark and they stepped up."
Stratton and Lezzer combined for nearly 3,300 yards and 53 rushing TDs last year with the Boston College recruit Lezzer going for 1,957 yards and 33 scores. He also threw for 646 yards and six touchdowns.
So replacing those numbers was a big key for a Bison run to another title game. Senior Erik Sellers played a secondary role by throwing for 262 yards and two touchdowns while running for 80 yards. The role expanded this year and he's responded with a 1,000-yard rushing season with 1,071 yards and 23 touchdowns.
From his linebacker spot on defense, Sellers shares the team lead with senior linebacker Nick Kovalick in tackles with 85 to go along with two interceptions.
"The kids have stepped up like Erik," Janocko said. "That's the most gratifying thing to watch as a coach, to see kids develop. He's a mainstay on both sides of the ball. We move him around, and athletically he's able to do that."
Sophomore Seth Caldwell, who ran for 800 yards and seven TDs a year ago as a freshman, is poised to go over 1,000 yards with 964 yards and seven TDs this year.
First-year quarterback Cody Spaid, a 6-foot-6 junior, is also ready to go over 1,000 yards as a passer. He's thrown for 990 yards and 12 touchdowns against seven interceptions. His top receiver is sophomore Ryan Lezzer (29 catches, 585 yards, 9 TDs).
"Cody has thrown the ball well and we have the opportunity to throw for 1,000 yards," Janocko said. "Erik has run over 1,000 and Seth can go over 1,000. We're a diversified offense and Ryan has had a good season catching the ball. We can throw the ball effectively if we need to."
The Golden Eagles return two all-state players on defense in their lineman Mostoller and senior linebacker Logan Eller. Mostoller and Beeman share the team lead with 63 tackles while Eller is third with 58 tackles. Mostoller leads the team with 10 ½ sacks while Beeman has six sacks.
Defensively for the Bison, senior lineman Dustin Maines set a team record with 14 sacks. He's third on the team with 75 tackles. Lezzer has four interceptions.
"Their defense comes off the ball very well and I was impressed with that and the motor they have," Landis said. "The secondary is one of the best, if not the best we'll face this year. It's a good hard-nosed group of players. They pursue the ball well."