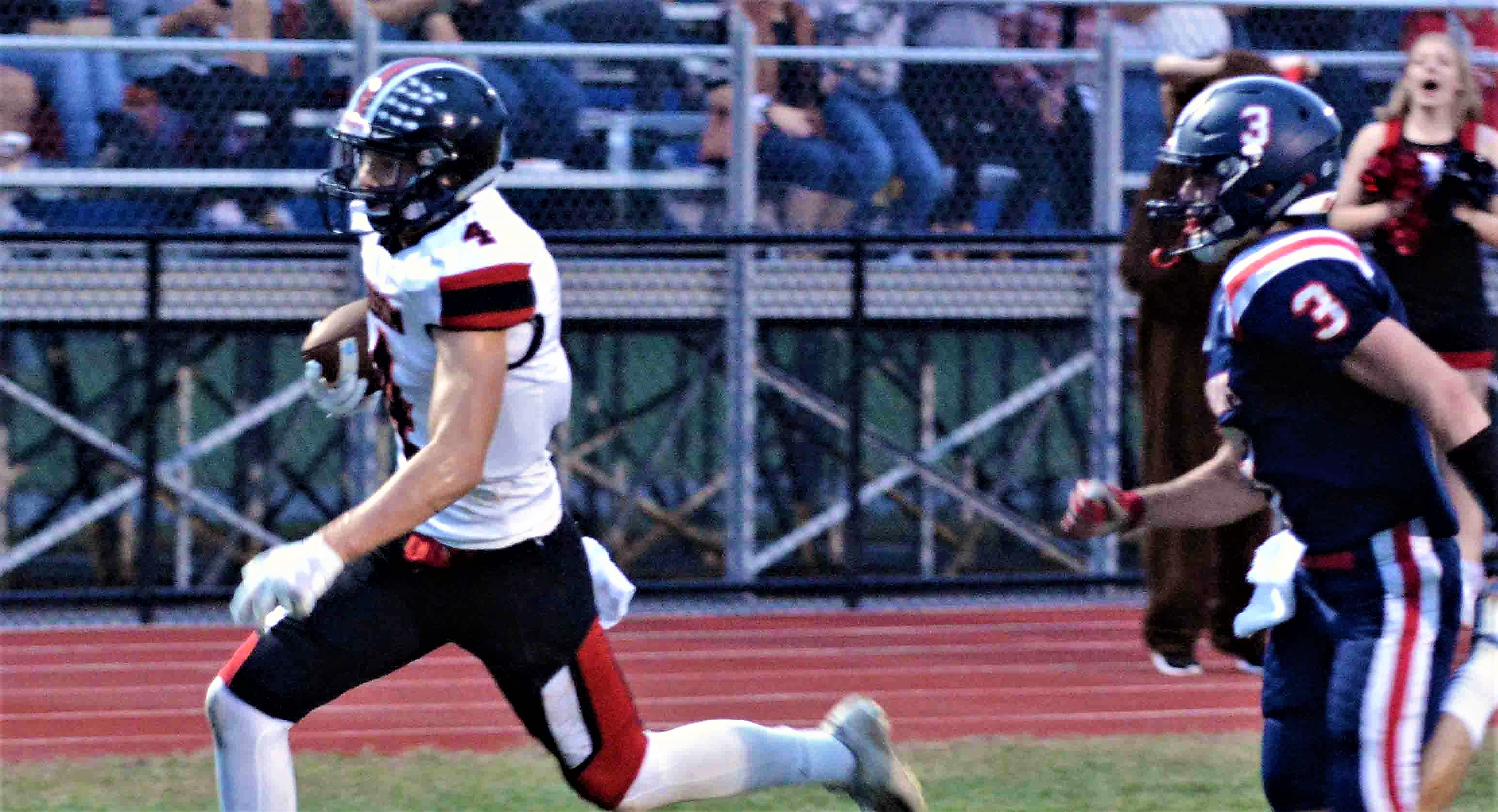 DUBOIS, Pa. — In a weekend of playoff rematches for District 9 football teams, to say that Clearfield and Bellefonte are familiar foes going into their District 6-9 Class 4A Sub-Regional Championship game at E.J. Mansell Stadium Friday night is an understatement.
Photo: Jake Lezzer helps lead the Clearfield Bison into their District 6/9 Sub-Regional Championship game against Bellefonte Friday night in DuBois. (Photo by Logan Cramer III)
It's the sixth meeting in three seasons — three regular-season games as Mountain League rivals and two playoff matchups the past two seasons going into this one. And the winner of this one gets D10 powerhouse Cathedral Prep, which beat Fort LeBoeuf 42-12 last week for the district title.
The Bison swept the Red Raiders in 2016 with a 28-0 win during the season, then a 34-7 win in the Sub-Regional semifinals before losing to Johnstown in the final. Last year, it was Bellefonte's turn to reverse things with a 55-28 win during the season before a 62-21 rout of the Bison in the playoff semifinals. Bellefonte went on to beat Johnstown for the title before losing to Selinsgrove in the PIAA playoffs.
This year, the Bison won the battle of two 5-0 teams 49-21 back on Sept. 28 at the Bison Sports Complex. Last week, both teams advanced to the final with routs. Clearfield improved to 11-0 with a 45-14 win over DuBois while Bellefonte drubbed Bradford, 58-18, to improve to 9-2 with its fourth straight win.
Bellefonte's only other loss was right after its setback at Clearfield when it lost 42-27 at Penns Valley.
Meanwhile, the Bison cruised along to their eighth perfect regular season and ninth unbeaten run in team history and first since 2013. Clearfield, which had lost four of six playoff games prior to last week's win over DuBois, is looking for its first title since that same 2013 season. The Bison lost in the finals in 2014 to Somerset and 2016 to Johnstown.
Clearfield is averaging 45.4 points per game while giving up just 12.4 per game. The Bison have allowed just four touchdowns over the past five games, including two shutouts.
Against DuBois, the Bison piled up 556 yard of offense as senior quarterback Isaac Rumery completed 9 of 13 passes for 188 yards and a touchdown while running for 87 yards and three TDs. Rumery is up to 2,268 yards passing for the season, completing nearly 70 percent of his attempts (106-of-152) with 25 TDs and just three interceptions.
On the D9 all-time passing list, Rumery now sits in the No. 5 spot with 6,877 yards. DuBois' Gabe French is No. 4 at 7,940 yards. Rumery has also rushed for 505 yards and 10 TDs, giving even more balance to an offense that also averages 241 yards per game on the ground. Junior Brett Zattoni (138-879, 11 TDs) is closing in on 1,000 yards as is Caleb Freeland (109-854, 18 TDs).
Rumery's top receivers are also sniffing 1,000-yard seasons with sophomore Jake Lezzer (40-943, 9 TDs) and Taye Lynch (38-839, 12 TDs).
Defensively, Nick Domico (6.8), Jude Pallo (6.3) and Spencer Graham (5.9) lead the unit in tackles per game. Ian Heitsenrether has a team-best 6.5 sacks while Lezzer and Lynch each have four interceptions.
The Red Raiders average 32.5 points per game while giving up 16.9. Offensively, they average 369 yards per game — 104 passing and 265 rushing. Junior C.J. Funk has rushed for 1,475 yards and 19 touchdowns, averaging 8.5 yards per carry. He's scored 23 TDs overall, returning an interception and two punt returns for scores along with a receiving TD.
Senior quarterback Kyle Myers has thrown for 1,039 yards, completing 80 of 140 passes with 11 TDs and two interceptions. He's a dual threat player, rushing for 639 yards on 137 carries with five TDs. Myers' top receiving targets are Trae Bauman (31-423, 4 TDs) and Noah Badger (29-392, 7 TDs).
Kick Chris Persiko has been effective, making 45 of 48 point-after kicks while going 6-for-10 in field goal tries.
Ethan Rossman (6.3) and Caleb Rockey (5.7) lead the defense in tackles per game. Rockey has a whopping 34 tackles for losses, 17 of them sacks.
It's the 63rd meeting between the teams. Bellefonte's sweep last year ended an eight-game losing streak to the Bison. Clearfield leads the all-time series, 35-26-1.