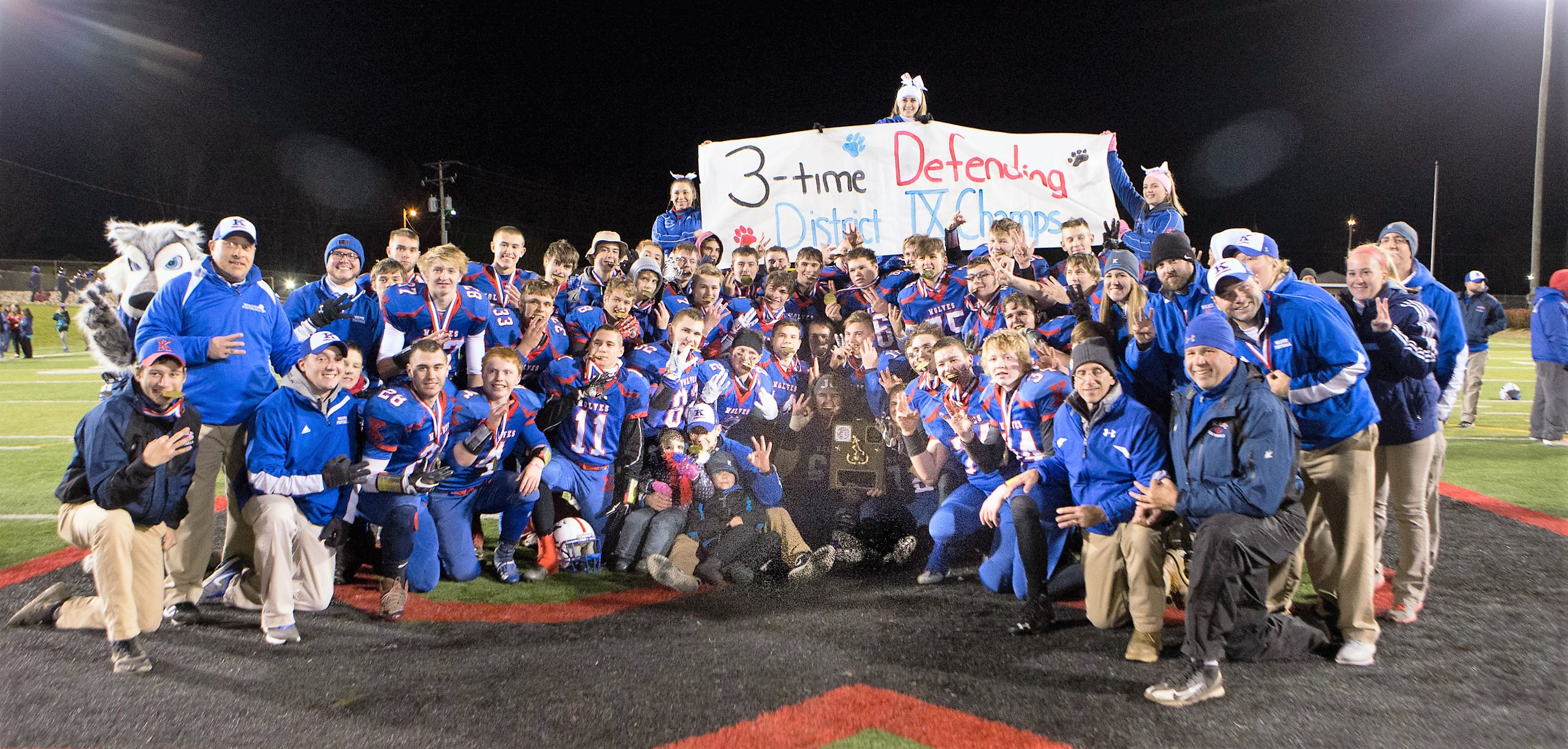 By Chris Rossetti
BROCKWAY, Pa. – Kane turned to a team approach on offense and a bend-but-not-break defense to win its third straight District 9 title and its first in Class 2A with a 21-14 win over Clarion Friday night at Brockway's Varischetti Field.
(Cover photo by Shawn Murray. Check out more of Murray's work here.)
Kane receives it's championship plaque.
With star running back Erik DeLong limited after the first series with a right-ankle injury, the Wolves spread the ball around and had three different players score touchdowns.
Quarterback Reed Williams threw a pair of touchdown passes – one to Ray Maze (3 catches, 56 yards) and one to Davis Gardner (5 catches and 63 yards) – and Frank Truden ran for 66 yards and the game's first score.
"It's a lot of weight on my shoulders," Truden said. "But I thought I handled it pretty good. I didn't get too many yards, but I did what I had to do for my brothers. That's good enough for me."
Watch all of Truden's thoughts on the victory.
Kane's defense, meanwhile, gave up some yards – Clarion outgained the Wolves 295-264 – but it came up big when it had to, turning the Bobcats over twice in the red zone while also getting another interception on a pass inside the 10-yard line.
"That's our motto," Kane head coach Todd Silfies said. "We've got to bend, but don't break. Clarion does some special things. They broke us a couple of times. When they scored, they scored quickly. When we make them take time, it gives an opportunity for our takeaway game to play in a little bit. A huge play at the end of the first half, we get a takeaway. Huge play early there in the third quarter when they were driving right down our throat getting a takeaway and Ray Maze coming up with a huge pick when it was happening again. It's been our motto all year. You have to make them take time. We say basically never die easy."
Watch all of Silfies takes on the game.
Kane never trailed in the game and scored twice – once in the second quarter and once in the third – after Clarion tied the game at seven on a trick play late in the first quarter.
But the Wolves (12-0) could never put the Bobcats (9-2) away, as Clarion got back within a touchdown, 21-14, when Colton Rapp got the edge for an 8-yard touchdown run with 3:20 to play.
With two timeouts left, Clarion tried an onside kick. But Truden recovered at the Kane 47.
The Bobcats defense came up with a pair of stops forcing Kane into a third-and-5 play from the Clarion 48 with 3:05 left.
Silfies gambled allowing Williams to throw the ball. But his pass was a little off the mark stopping the clock and giving Clarion the ball back at its 24-yard following a punt by Truden with 2:50 to go.
Kane's defense stiffened, and Clarion faced a fourth-and-11 from the 23 when backup quarterback Archer Mills, making his second straight start in place of the injured Spencer Miller, hit Ryley McMaster with a 12-yard pass and a first down.
But on the next play, the snap sailed over Mills' head. The sophomore kept his composure and hit Michael McCloskey with a pass that returned the ball back to the line of scrimmage. But Mills then threw three straight incompletions giving the ball back to Kane with 45 seconds left.
"I think all along (our guys) thought they were going to win," Clarion head coach Larry Wiser said. "Their attitude was just tremendous through this whole thing. I liked it with the next man up. We had a couple of guys who got hurt this year. Everybody stepped up that's been in that position."
Watch all of Wiser's thoughts on the contest.
Kane took the 21-7 lead on a 2-yard Williams to Gardner pass off a play-action pass that concluded an 11-play, 70-yard drive on the Wolves' first possession of the second half.
Clarion looked like it was going to answer the score right back getting a big kickoff return from Brendan Zerfoss out to its 45-yard line and then following the running of Kyle Patterson and Rapp to the Kane 16-yard line. But on first-and-10 from the 16, Ange Costanzo rocked Rapp forcing the junior to fumble with Kane recovering the ball at the 18.
The Wolves, who by this point were without the services of DeLong, their single-season rushing leader because of the ankle injury, weren't able to move the ball and were forced to punt.
Clarion looked like it would have superior field position at the Kane 30 after the punt and a short return, but a 10-yard block in the back penalty pushed the ball back to the Wolves' 40. It was one of eight penalties for 79 yards on Clarion on the night, many of them costly.
Still, though, Clarion was in good field position and had the ball on second down at the Kane 37 following a 3-yard run by Michael McCloskey. But, after a Bobcat timeout, Mills tried a long pass down the sideline that was picked off by Maze at the Kane 7-yard line.
Kane grabbed an early 7-0 lead on its first possession of the game behind the running of DeLong, who toted the ball on each of the Wolve's first nine plays and nine of the first 10. The Wolves' junior caught a break on his 10th carry, a third-and-inches tote from the Clarion 10, when he fumbled the ball only to have teammate Austin Labesky fall on it at the 7.
While Kane was fortunate to get the ball back on the play, DeLong also hobbled off the field with the injured ankle – and while he gutted his way through much of the rest of the game including having the ankle iced multiple times on the sideline – he was never quite the same the rest of the night.
Truden, though, stepped right in and put Kane ahead by the touchdown with a 7-yard scamper on the first play after the DeLong injury.
Clarion answered right back tying the game on some uncharacteristic for a Wiser-coached team trickery.
Facing third-and-7 at midfield, Mills threw a quick 5-yard pass to Ty Burford. Burford immediately tossed the ball to a streaking McCloskey, who covered the remaining 45 yards for the game-tying score.
Kane went to the air to retake the lead using three Williams to Maze passes to cover 56 of 63 yards on the scoring drive with a 25-yard strike from Williams to Maze putting the Wolves ahead, 14-7, 4:20 into the second quarter.
Clarion had a chance to tie the game just before the half driving from its 11-yard line to the Kane 16 in just 26.6 seconds.
A 23-yard draw play run by Rapp got the ball out to the 34, and two plays later Mills hit Ty Burford with a 34-yard pass to the Kane 31 with 5.3 seconds to play.
Then, after a spike, Mills scrambled for five yards to the Kane 26 as the clock ran out. But the Wolves were called for a defensive holding penalty, one of five infractions on them, that gave Clarion an untimed down from the Kane 16.
The Bobcats tried some more trickery with a wide receiver reverse pass from McMaster, but Gardner picked the ball off in the end zone.
Kane will take on District 5 champion Chestnut Ridge in the opening round of the PIAA playoffs. That game is tentatively set for 7 p.m. Friday at DuBois' Mansell Stadium.
Wolves' receive their championship medals.
KANE 21, CLARION 14
Score by Quarters
Clarion 7 0 0 7 – 14
Kane 7 7 7 0 – 21
Scoring Summary
First Quarter
K – Frank Truden 7 run (Joe Johnson kick), 6:11
C – Mike McCloskey 45 pass from Archer Mills – Mills threw a 5-yard pass to Ty Burford who lateraled to McCloskey – (Mills kick), 3:09
Second Quarter
K – Ray Maze 25 pass from Reed Williams (Johnson kick), 7:40
Third Quarter
K – Davis Gardner 2 pass from Williams (Johnson kick), 4:48
Fourth Quarter
C – Colton Rapp 8 run (Mills kick), 3:20
TEAM STATISTICS
Clarion-Stat-Kane
14 First Downs 18
29-143 Rushes-Yards 43-145
152 Passing Yards 119
12-21-2 Comp-Att-Int 8-12-0
50-295 Plays-Yards 55-264
2-1 Fumbles-Lost 3-1
8-79 Penalties-Yards 5-34
3-39.6 Punts-Avg. 5-33.4
INDIVIDUAL STATISTICS
RUSHING – Clarion: Colton Rapp 17-143, Michael McCloskey 3-1, Archer Mills 2-negative 3, Ryley McMaster 3-negative 1, Kyle Patterson 3-16, Team 1-negative 13. Kane: Erik DeLong 21-74, Frank Truden 11-66, Austin Labesky 5-14, Ange Costanzo 2-2, TEam 1-negative 2, Reed Williams 3-negative 0.
PASSING – Clarion: Archer Mills 12-for-19, 152 yards, 1 touchdown, 1 interception. Ryley McMaster 0-for-1, 1 interception. Team 0-for-1. Kane: Reed Williams 8-for-12, 119 yards, 2 touchdowns.
RECEIVING – Clarion: Ryley McMaster 5-57, Michael McCloskey 3-56, Ty Burford 3-37, Thomas Wurster 1-2. Kane: Davis Gardner 5-63, Ray Maze 3-56.
INTERCEPTIONS – Kane: Davis Gardner, Ray Maze.