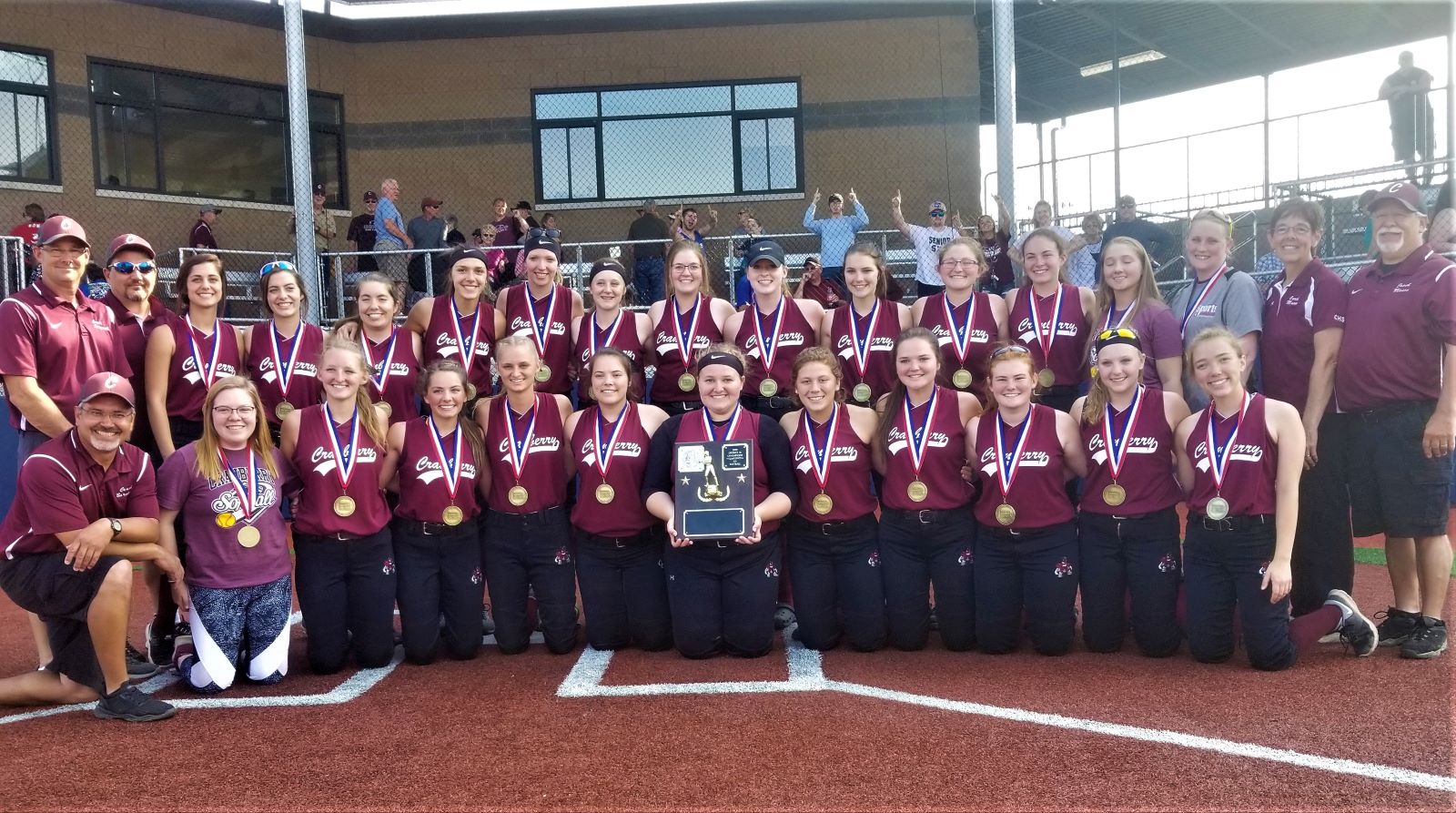 DUBOIS, Pa. – Thanks to a season-high 22 hits, Cranberry defended its District 9 Class 2A softball title with a 16-5 win over top-seeded Redbank Valley Friday afternoon at Heindl Field in DuBois.
"They hit the ball well the whole way through the lineup," Cranberry manager Glenn Barcinas said of his team, which has scored 38 runs in three postseason games. "That is what they have been doing the last few games. It helps. If one is slacking, the other is picking them up."
The offensive outburst has helped fuel a seven-game win streak for the Berries, who are now 13-5 after sitting at 6-5 following a loss to Clarion May 2. The streak was enough to help Cranberry secure its second consecutive D9 title and its third since joining the District in 2005.
"It feels fabulous," Barcinas said. "But it's hard. It's hard to get back here and do it again. We had a lot of adversity through the year with illness, injuries. The girls would not quit. Somebody would step up when somebody was out. They just would not go away."
Friday's offensive output was a good example of why Cranberry has been able to overcome some of the adversity this season.
All nine starters got at least one hit and scored at least one run.
"We have been really practicing working on hitting the ball better and focusing on what we need to do and centering up," senior shortstop Malliah Schreck, who was 2-for-5 with a run scored an RBI said. "We came through one through nine. I'm very proud of our team. It's an exciting experience to be part of."
Watch Schreck's postgame interview.
The bottom of the Berries lineup was again strong with hitters seven through nine – Maria Anderson, Emily Duncan and Jenna Seigworth – going a combined 7 of 14 with six runs scored (one was scored by pinch runner Olivia Plummer) and two RBIs.
"It is just something about when one person gets a base hit the next person just follows it up," Seigworth, the No. 9 hitter who was 4-for-5 with a run scored and an RBI, said. "It just keeps going and going and never seems to end. One through nine can hit on this team. We just never stop."
With the bottom of the order setting the table, the top of the order collected eight RBIs.
Winning pitcher Andrea Watson, the leadoff hitter, helped herself by going 1-for-5 with a run scored and three RBIs. No. 2 hitter Maddie Cornelius was 3-for-5 with two runs scored and three RBIs and No. 3 hitter Kaylie Bruce was 3-for-6 with two runs scored and two RBIs.
Meanwhile, cleanup hitter Rachel McCauley was 4-for-5 with a run scored and an RBI, and No. 6 hitter – Schreck was the No. 5 hitter – Megan Hadden going 2-for-5 with two runs scored and two RBIs.
"I feel we can get production all the way through (the lineup)," Barcinas said. "It's a tough line to go through. Everybody in the line has a role. They have a job to do. They accept that."
Cranberry's bats helped stake the Berries to a 9-0 lead through four innings with Cranberry scoring twice in the first, once in the second, twice in the third and four times in the fourth.
"It's always huge when you can score runs early," Barcinas said.
An RBI double by Bruce and a single by McCauley accounted for the first-inning runs, while Cornelius' two-out single in the second made it 3-0. Schreck then added an RBI single in the third before scoring on an error to push the lead to 5-0, and Hadden had a two-run double in the fourth followed by a double off the top of the wall by Duncan in the same inning that scored Hadden and an RBI single by Seigworth to make it 9-0.
But something funny happened on the Berries way to an easy victory.
Redbank Valley rallied scoring five times in the fifth inning to make it a game.
Brooke Holben had a two-run double to start the scoring for Lady Bulldogs, two runs scored on a two-out throwing error by Duncan the third baseman and the fifth run came home on a wild pitch.
"We don't quit," Redbank Valley manager John Sayers said. "We have had it in different games this year. We just have to be able to start faster. "
Cranberry, though, wasn't rattled by the Redbank Valley comeback and answered the five Lady Bulldog runs with five runs of its own in the top of the sixth while sending 11 batters to the plate.
Seigworth had another RBI single to get the scoring started before a two-run triple by Watson was followed by a run-scoring triple by Cornelius and an RBI hit by Bruce.
"It was just let's get back in this, let's focus," Seigworth said. "This is still our game. We just need to go and put the pedal down and never stop. We just came right back and decided to reply with five more runs."
Watch Seigworth's full postgame interview.
Two more runs in the seven on an RBI groundout by Watson and an infield single by Cornelius capped off the scoring for Cranberry, which then saw Watson, who allowed five runs, two earned, on eight hits, two walks and a hit batter, ended the game with her ninth strikeout.
"It's absolutely amazing," Seigworth said. "Our team has been working hard to get here. This was the goal since the beginning of the season. Every little step we have taken has gotten us here. I am so proud of them."
Cranberry moves into the PIAA playoffs where it will face the third-place team out of the WPIAL, Freedom, at 1 p.m. Monday, June 3, at Heindl Field.
"We have to play well defensively," Barcinas said. "It's going to be a tough road. It's going to be hard. But it's going to be worth it if we get it. We just have to play our game."
For Redbank Valley, Sayers hopes this is just the beginning of something special. The Lady Bulldogs return seven starters next season.
"I'm glad we made it this far," Sayers said. "I had every intention of winning it. But we didn't But it is a good experience to understand the stage. The game is played the same, but it's just a different atmosphere. You lose and you are done. They need to experience that. They did last year, getting to the semifinals, and this year getting through Curwensville. This is a good experience. Hopefully, we will build on it. Hopefully, the Lord is willing and we will be back here next year."
CRANBERRY 16, REDBANK VALLEY 5
Score by Innings>
Cranberry 212 405 2 – 16
Redbank 000 050 0 – 5
CRANBERRY – 16
Andrea Watson p 5113, Maddie Cornelius rf 5233, Kaylie Bruce dp 6232, Jenna Reynolds c 0000, Rachel McCauley 1b 5141, Alisha Beggs pr 0100, Malliah Schreck ss 5121, Megan Hadden cf 5222, Maria Anderson lf 5110, Emily Duncan 3b 4321, Jenna Seigworth 2b 5141, Olivia Plummer 0100. Totals 47-16-22-14.
REDBANK VALLEY – 5
Montana Hetrick p 3120, Brynn Rearick ss 4100, Brooke Holben 2b 4112, Shylie Shreckengost 3b 3120, Becca Kunselman c 3110, Teja Hagetar rf 4010, Trista Bowser dp 3000, Gabby DInger lf/pr 0000, Elaina Miller 1b 3010, T.L. Nelson cf 2000, Jennie Dinger ph 1000. Totals 29-5-8-2.
LOB: Cranberry 11. Redbank Valley 8. Errors: Cranberry 2. Redbank Valley 3. 2B: Bruce, Hadden, Duncan. Holden. 3B: Watson, Cornelius SB: Plummer, Hetrick. HBP: Shreckengost by Watson. DP: Cranberry 1 (Hadden to McCauley).
PITCHING
Cranberry
Andrea Watson 7 IP, 8 H 5 R, 2 ER, 2 BB, 9 K, 1 HBP
Redbank Valley
Montana Hetrick 7 IP, 22 H, 16 R, 13 ER, 3 BB, 4 K
Winning pitcher: Watson
Losing pitcher: Hetrick