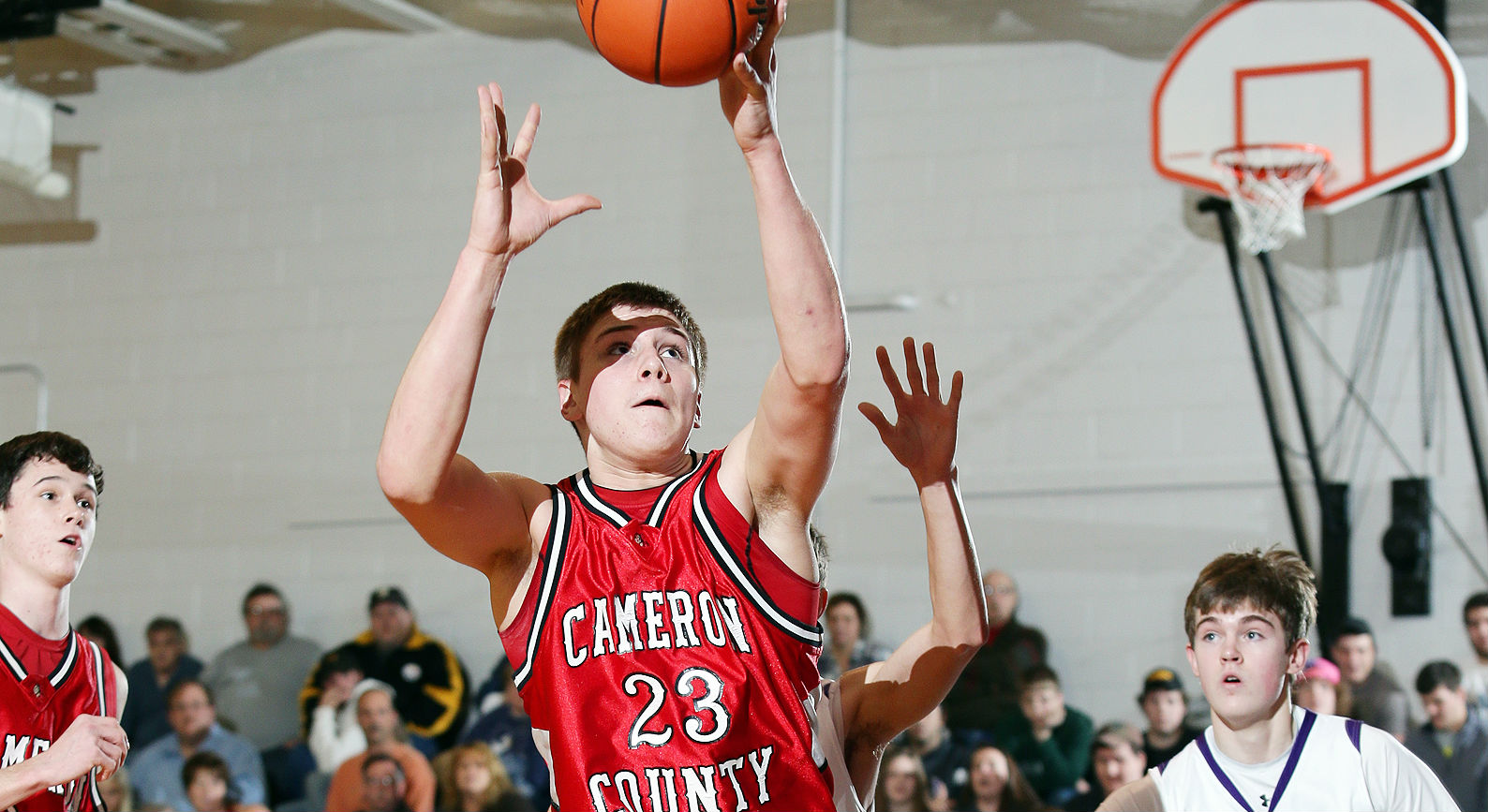 As 2015 comes to an end, we look back at a great year of athletics in District 9. So great, that it's hard to say any moment or any story was the best. So instead of looking at the best stories of 2015, the District 9 staff – Chris Rossetti, Andy Close and Rich Rhoades – each picked its favorite story of 2015.  Tweet us your favorite story of 2015.
ANDY CLOSE – Cameron County boys' and girls' basketball give Emporium a season to remember  
2015 provided so many great moments across District 9, but for me, none was greater than watching the run of basketball success at Cameron County.
Powered by Bucknell recruit Nate Sestina, the Cameron County boys rolled through the North Tier League, advanced to the Class A championship game and won their first state playoff game since the 1970s.
Not to be outdone, the Lady Raiders advanced to the state playoffs with a stunning win over a great Port Allegany program in the Class A quarterfinals just over a week after the same Lady Gators team beat them by 27 at the end of the regular season. This came just 48 hours after a double-overtime win over A-C Valley in the first round.
The energy the success of these teams brought to Emporium was something  I got to witness first hand – and it was an incredible thing to see. The pride coaches Jon Songer and Dave Sullivan had for their kids and their community was abundantly clear, as was the joy the student-athletes brought to the school and community.
Personally, it was my favorite moment of 2015.
RICH RHOADES – C-L boys' gives one reporter a special moment with his dad
March 10. That was my date. At Sharon High School, the Clarion-Limestone Lions won a PIAA playoff shootout against Vincentian. The final was 97-90 in a game that actually lived up to its billing. Both teams liked to run and delivered.
The Lions' senior point guard R.J. Laugand scored 20 points and dished out a whopping 21 assists. He also went a perfect 12-for-12 from the foul line as the D9 champion Lions became the winningest team in program history, breaking a tie with the last team to win a district title back in 1960-61.
Speaking of that team from yesteryear, I took along a member of the junior varsity squad that season. He was a sophomore on that team and now some 50-plus years later was nudging me more than once during the game with approval, proud of what he was seeing.
Then after the game in the lobby, the 1963 C-L grade was congratulating Laugand, giving him a brief history of Lions basketball and thanking him for entertaining his night.
'The 1963 grad was my dad.
I'd be remiss in not mentioning a state championship moment to remember at the PIAA Track and Field Championships in Shippensburg. Redbank Valley's Brooke Hinderliter won the Class AA javelin title. Any one of her first five attempts would've been good enough to capture the gold.
CHRIS ROSSETTI – Redbank Valley boys' basketball making an unlikely run in the PIAA AA Playoffs
District 9 Class AA boys' basketball teams haven't generally been very successful in the PIAA Playoffs.
In fact, prior to 2015, District 9 had lost 14 straight PIAA Class AA playoff games with the last win coming in 2004 when Keystone went to the quarterfinals.
It didn't appear that much would change in March considering D9 AA champion Redbank Valley had been beaten in the KSAC championship game by Class A Clarion-Limestone by 26.
But then came a magical run, one made even more special by the fact that two of the key Bulldogs – Jake Dougherty and Devin Shumaker – had endured  a one-win season as freshman.
First, Redbank beat Bellwood-Antis 60-53 in the opening round, the 'Dogs first state playoff win since 1979. Then, at DuBois Middle School, in the second round they blew open a four-point halftime lead to get a 62-46 win over West Branch to become the first D9 AA boys' team to move into the quarterfinals in 11 years.
In the quarterfinals, Redbank Valley knew it was going to have its hands full with a much faster, stronger and quicker Aliquippa team. But for a half, the pesky, scrappy Bulldogs made people believe a miracle could happen trailing by just four late in the opening half before a 3-pointer by the Quips just before halftime was the start of the end for Redbank Valley.
But in the end it didn't matter. It was a special run with a special team with a special coach – who will ever forget Greg Bean's red blazer – at a school known more for its football and wrestling than its basketball. And that's the reason it was my favorite memory of 2015 in District 9 sports.