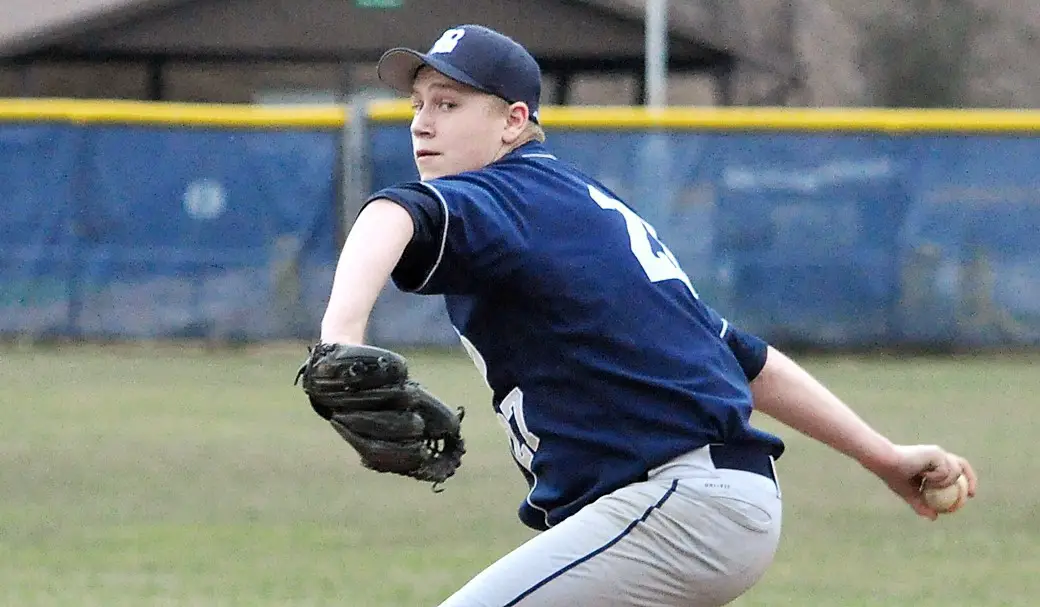 BROOKVILLE, Pa. – Sshhhhh. The Brookville Raiders might be a sleep right now, and no one should wake them up from this amazing dream.
(Cover photo: Aaron Park)
A team of freshmen and sophomore – oh yeah there are two seniors and a junior as well – is two wins from maybe the most improbable state championship there would ever be after a 7-3 win over District 10 runner-up Saegertown in the PIAA Class 2A quarterfinals Thursday afternoon at Neshannock High School.
"It's pretty cool," Brookville manager Bruce Ferry said. "I would have never thought it. But the kids keep amazing me with what they are capable of doing. We pitch good. We play good defense. We haven't given people a whole lot of stuff these last six weeks, and we have been able to do just enough offensively. As long as we keep doing it … Like I said, they are 14- and 15-years old kids. Who the heck knows? They could wake up tomorrow and it could all disappear. While it's working for us, we are going to keep riding it."
These Raiders, this team. It wasn't supposed to be here. At least not this early in the careers of so many young players. They didn't even finish the regular season above .500 or even at .500 going 9-11 including sitting 4-8 at the end of April. But then something clicked and Brookville has run off 10 wins in its past 13 games including five straight postseason victories to improve to 14-11.
"It's been a blast," freshman pitcher Aaron Park, who played a key role in the win over Saegertown tossing five strong innings of three-hit, two-run ball while also driving in a pair of runs, said. "We knew we had a good team. At the beginning of the year, we pitched decent and played good defense. But towards the end of the year, we started hitting the ball. When we started hitting the ball, we knew it was starting to come together. So, we knew we could put together a couple of games and make a run for it."
Watch Park's full interview.
Brookville jumped all of Saegertown early scoring three times in the bottom of the first to take a 3-0 lead on the Panthers.
Sophomore Bryan Dworek singled in the infield leading off the game and went to second on a throwing error before scoring on freshman Seth Dunkle's single with Dunkle taking second on the throw to the plate. Sophomore Tanner LaBenne then singled home Dunkle making it 2-0, and he also took second on the throw to the plate. After Park grounded out, Ben Reitz, one of the two seniors, capped off the inning with another run-scoring single.
"Having the lead at the beginning helps a lot," Park said. "When you go out, you feel relaxed because you know you have a lead to work with. It kind of puts the other team down. It's really good to come out to a lead."
Park's defense helped him out in the early going as well, especially in the third inning when Saegertown was threatening with runners on first and second with one out. That's when Park got Wesley Price to hit a grounder to Reitz at third, who stepped on the bag and threw across the Diamond to LaBenne to complete the double play.
"That was a big play," Ferry said. "I was teasing coach Dworek (assistant coach Chris Dworek). That (play) is in our practice infield routing, that step on third, throw to first. They (the kids) laugh. It's the first time we have done it (in a game) in two years. They laugh about it because they say we will never do it. It worked."
By the time the Raiders turned the double play they led 6-0 thanks to three more runs in the second off Offi knocking him from the game after just two innings.
Brady Caylor, another sophomore, started the frame with a one-out infield single. Dworek followed with a base hit, and Dunkle drove home Caylor with an RBI single. After a LaBenne groundout, Park came up with a two-run single to make it 6-0.
"I figured it wasn't going to be 1-0," Ferry said. "I figured we were going to have to score. Getting those early runs was huge. We had good at-bats. Again, we got fortunate and we found some holes."
Park rode the 6-0 lead into the fifth, but in the fifth things started to become interesting after an error by Reitz at third gave Saegertown it's leadoff hitter on.
After a strikeout, Park walked Austin Shearer, the second time Shearer received a free pass, and following a Ryan Sherry flyout Alan McGill got the Panthers on the board with a single to center that scored Chase Steiner and looked like it was going to move Shearer to third. But Dworek had other ideas gunning the Saegertown base runner at third base with a cannon of a throw.
"I always know when I got out, if I throw strikes my teammates will play good defense behind me," Park said. "So I just try to throw strikes and let them put it in play."
When Park walked Price leading off the sixth, though, Ferry had seen enough and summed Dworek in from center field to take the mound.
Dworek promptly hit Dane Rhoades before Nick Palmer hit a chopper in front of the plate that catcher Dane Lyle was able to field and gun to first to get an out with the runners both moving up 90 feet.
Dillon Steiner followed with an infield single to first scoring a run and putting runners at the corners, and Chase Steiner followed with an RBI hit to cut Brookville's lead to 6-3.
With only out, the game was all of a sudden in the balance, but Dworek quickly quieted the Saegertown faithful by getting Josh Weaver to pop out to Caylor at second and then striking out Shearer looking.
"(Bryan) did what he had to do," Ferry said. "He threw strikes when he had to, and the kids played good defense behind him."
Brookville got one of those runs back in the bottom of the sixth with some two-out lightning.
Caylor, the No. 9 hitter, got the rally started when he drew a two-out walk on a full count. Dworek then singled him to second, and Dunkle followed with a single to center that saw Caylor beat the rap at the plate when Palmer, the Saegertown catcher, couldn't corral the throw from centerfielder Shearer that appeared to have Caylor beat making it 7-3.
Dworek then retired the side 1-2-3 in the seventh including striking out Price looking to end the game and send the Raiders to the PIAA semifinals for the first time in school history.
"They are 15- and 16-years old kids," Ferry said. "Half these kids don't have driver's licenses. I'm serious. I remember the first practice how we were (wondering) how we were going to get these kids to practice downtown (at McKinley Field). Now they are one of the (four) final teams. It's great. For them to just get here is great."
Brookville will take on perennial state powerhouse Bishop McCort, a 6-5 winner over Rocky Grove, in the semifinals Monday at a site and time to be announced.
BROOKVILLE 7, SAEGERTOWN 3
Score by Innings
Saegertown 000 012 0 – 3
Brookville 330 001 x – 7
Saegertown – 3
Alan McGill 1b/p 4021, Wesley Price ss 2110, Dane Rhoades cf/1b 2100, Nick Palmer c 3000, Dillon Steiner 3b 3011, Chase Steiner rf 3111, Josh Weaver dh 2000, Ben Berger ph 1000, Tony Offi p/lf 0000, Austin Shearer lf/cf 1000, Ryan Sherry 2b 3000. Totals 24-3-5-3.
Brookville – 7
Bryan Dworek cf/p 3230, Seth Dunkle ss 4233, Tanne LaBenne 1b 3111, Aaron Park p/3b 3012, Adam Mackins cr/ph 1000, Ben Reitz 3b/2b 3021, Ben Caun lf 3000, Tyler Park rf/cf 3000, Dane Lyle c 3000, Brady Caylor 2b/rf 2220. Totals 28-7-12-7.
LOB: Saegertown 5. Brookville 6. Errors: Saegertown 1. Brookville 1. SAC: Dworek. HBP: Rhoades by Dworek. DP Turned: Brookville 1 (Reitz-LaBenne).
PITCHING
Saegertown
Tony Offi – 2 IP, 8 H, 6 R, 6 ER, 0 BB, 0 K, 0 HP
Alan McGill – 4 IP, 4 H, 1 R, 1 ER, 2 BB, 7 K, 0 HP
TOTALS – 6 IP, 12 H, 7 R, 7 ER, 2 BB, 7 K, 0 HP
Brookville
Aaron Park – 5 IP, 3 H, 2 R, 1 ER, 3 BB, 3 K, 0 HP
Bryan Dworek – 2 IP, 2 H, 1 R, 1 ER, 0 BB, 2 K, 1 HP
TOTALS – 7 IP, 5 H, 3 R, 2 ER, 3 BB, 5 K, 1 HP
Park pitches to one batter in the sixth
Winning pitcher: Aaron Park
Losing pitcher: Tony Offi