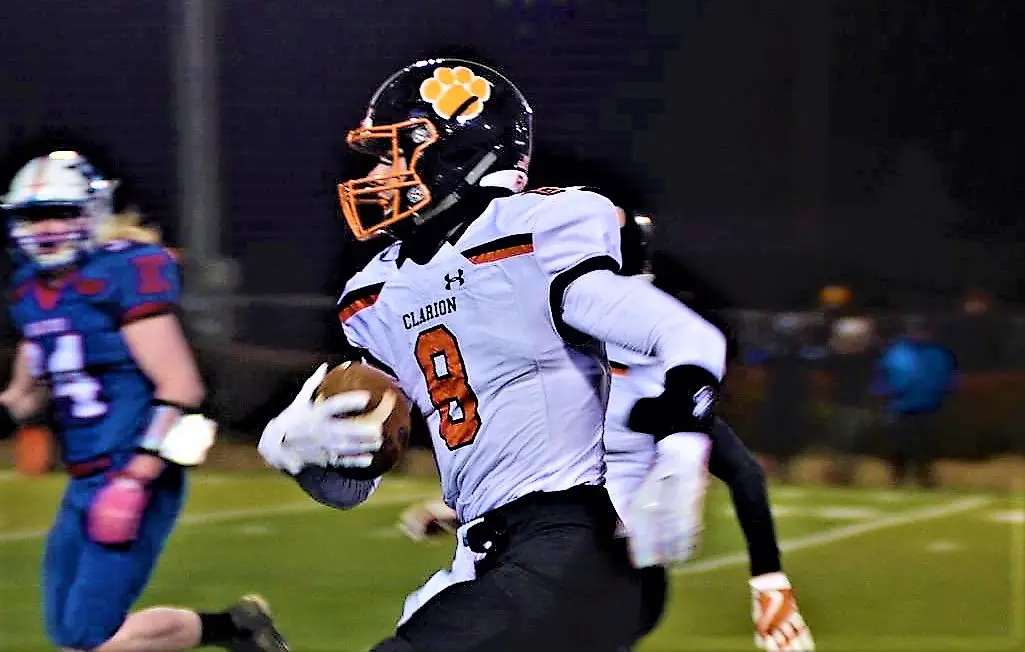 SHIPPENVILLE, Pa. – Spencer Miller did a little of everything for Clarion while helping the Bobcats capture the District 9 Class 2A title in 2017.
(Photo: Spencer Miller, Clarion. Photo by Deb Arner)
That is why Miller, the Bobcats quarterback/defensive back/punter, is the 2017 Jim Kelly Award Winner as the District 9 MVP as presented by Eric Shick Agency (Nationwide Insurance) and D9Sports.com.
Miller threw for 1,030 yards (75 of 131) and nine touchdowns vs. six interceptions and ran for 557 yards and 10 touchdowns on 62 carries on offense. On defense, he tied for the team-lead in tackles with 10.2 per game while adding a sack and a team-high five interceptions to go with 13 passes defended. He was also the top punter in District 9 this season averaging 42.1 yards per punt on 23 punts with 10 inside the 20-yard line.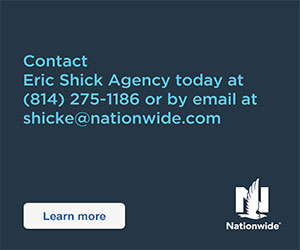 Joining Miller in being honored with major postseason awards are Brookville's Bryan Dworek as the Offensive Player of the Year, Clarion's Zak Bauer as the Defensive Player of the Year, Brookville's Jack Krug as both the Rookie of the Year and the Individual Performance of the Year, Brookville's Scott Park and Clarion's Larry Wiser as the co-Coaches of the Year, Kane's Anthony Smith, an East Forest student playing in the co-op with the Wolves, as the Offensive Lineman of the Year, Redbank Valley's Clint Thurston as the Special Teams Player of the Year, the Clarion/Kane District 9 Class 2A title game as the Game of the Year and Brookville resident Bob Tonkin as the Special Contributor of the Year. Information on all of these award winners is listed below.
In addition to the major awards, The Eric Shick Agency D9Sports.com All-District 9 Football team was also announced (see below).
ABOUT JIM KELLY
Kelly is a 1978 graduate of East Brady High School (now part of the Karns City School District) where he threw for 3,915 career yards and 44 touchdowns and also scored over 1,000 career points in basketball while averaging 23 points and 20 rebounds as a senior. He went to college at Miami (Fla.) and then played in both the USFL for the Houston Gamblers and in the NFL for the Buffalo Bills. He led the Bills to four straight AFC Championships and was elected to the Pro Football Hall of Fame in 2002. The District 9 MVP award was named after Kelly, with his permission, in 2014.
ABOUT ERIC SHICK AGENCY
The Eric Shick Agency has been proud to serve Ford City, New Bethlehem, Brookville and the surrounding communities since 1992. Offering insurance and financial services. The Eric Shick Agency can be reached at 814-275-2210. Nationwide is on your side. Eric Shick is a 1987 graduate of Union High School and a 1991 graduate of Clarion University. More information on the Eric Shick Agency can be found at https://agency.nationwide.com/eric-d-shick-in-new-bethlehem-pa/our-agency.
THE AWARDS
Jim Kelly Award (District 9 MVP)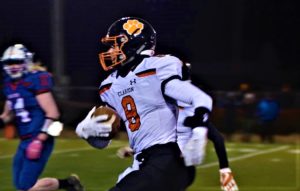 Spencer Miller – Sr. QB/DB/P, Clarion
Offense: 75 of 131 passing, 1,030 yards, 9 touchdowns, 6 interceptions; 62 carries, 557 yards, 10 touchdowns
Defense: 10.2 tackles per game, 1 sack, 5 interceptions, 13 passes defended
Special Teams: 42.1 yards per punt on 23 punts with 10 inside the 20-yard line
Offensive Player of the Year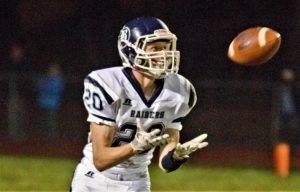 Bryan Dworek – Jr., WR, Brookville: 85 catches, 1,406 yards, 21 touchdowns; 1 carry, 29 yards. Had seven 100-yard reception games including a career-high 244 yards and four touchdowns on seven catches in a win over Clarion-Limestone Sept. 29. Also hauled down 12 balls for 169 yards and three scores in a season-opening win at Warren Aug. 25 and had 11 catches for 136 yards and two scores in a win over Keystone Oct. 27.
Defensive Player of the Year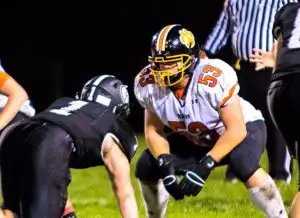 Zak Bauer – Sr., LB, Clarion: Bauer, the KSAC Large School Division Defensive Player of the Year, tied for the team lead in tackles per game with 10.2 while adding 41 tackles for a loss, eight sacks and two interceptions, Moved to linebacker this year to replace Colton Rapp, who was limited to just offense because of an injury suffered during wrestling season, Bauer became the leader of a Bobcats defense that allowed 12.7 points per game while recording a pair of shutouts and allowing single-digit points six times.
Offensive Lineman of the Year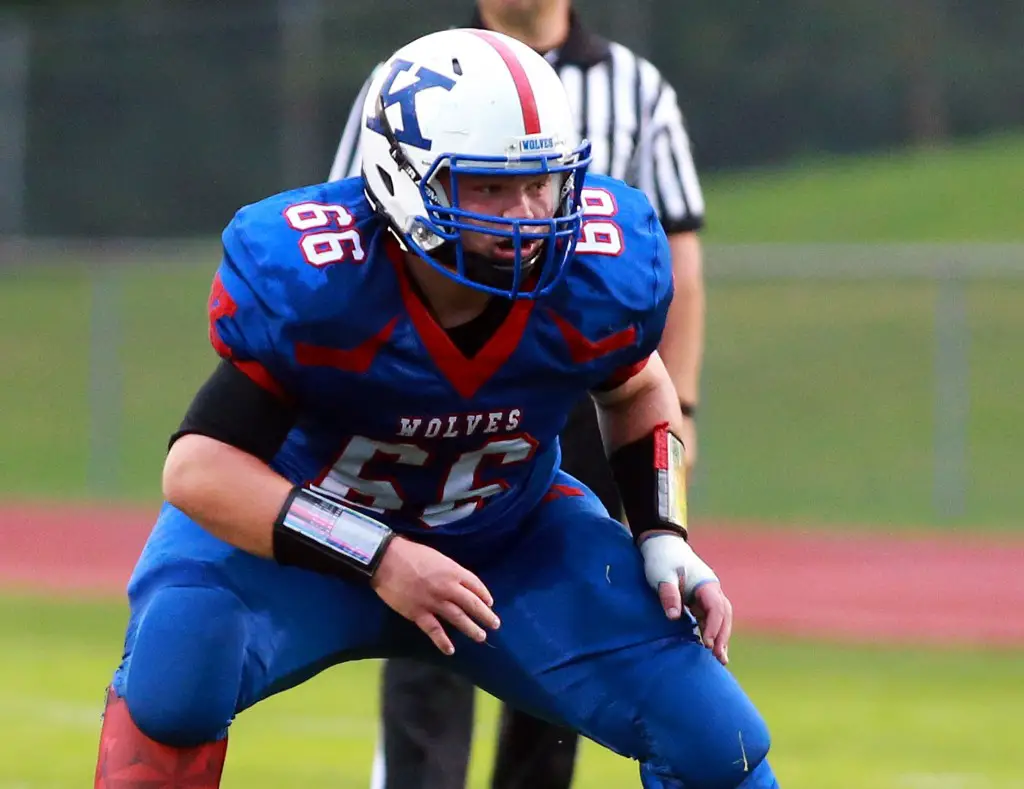 Anthony Smith – Sr., G, Kane: Smith is a player Kane was glad to have as part of its co-op with East Forest. After being asked to move from tackle to guard this season, the 5-foot-11, 245-pounds senior became the leader on the Wolves offense line and helped Kane average a District 9-leading 436.6 yards per game including 256.2 on the ground. The Wolves scored 41.5 yards per contest and scored 69 offensive touchdowns. This is the second year in a row a Kane lineman has won the award with Smith joining Keaton Rounsville, who earned the honor last year.
Rookie of the Year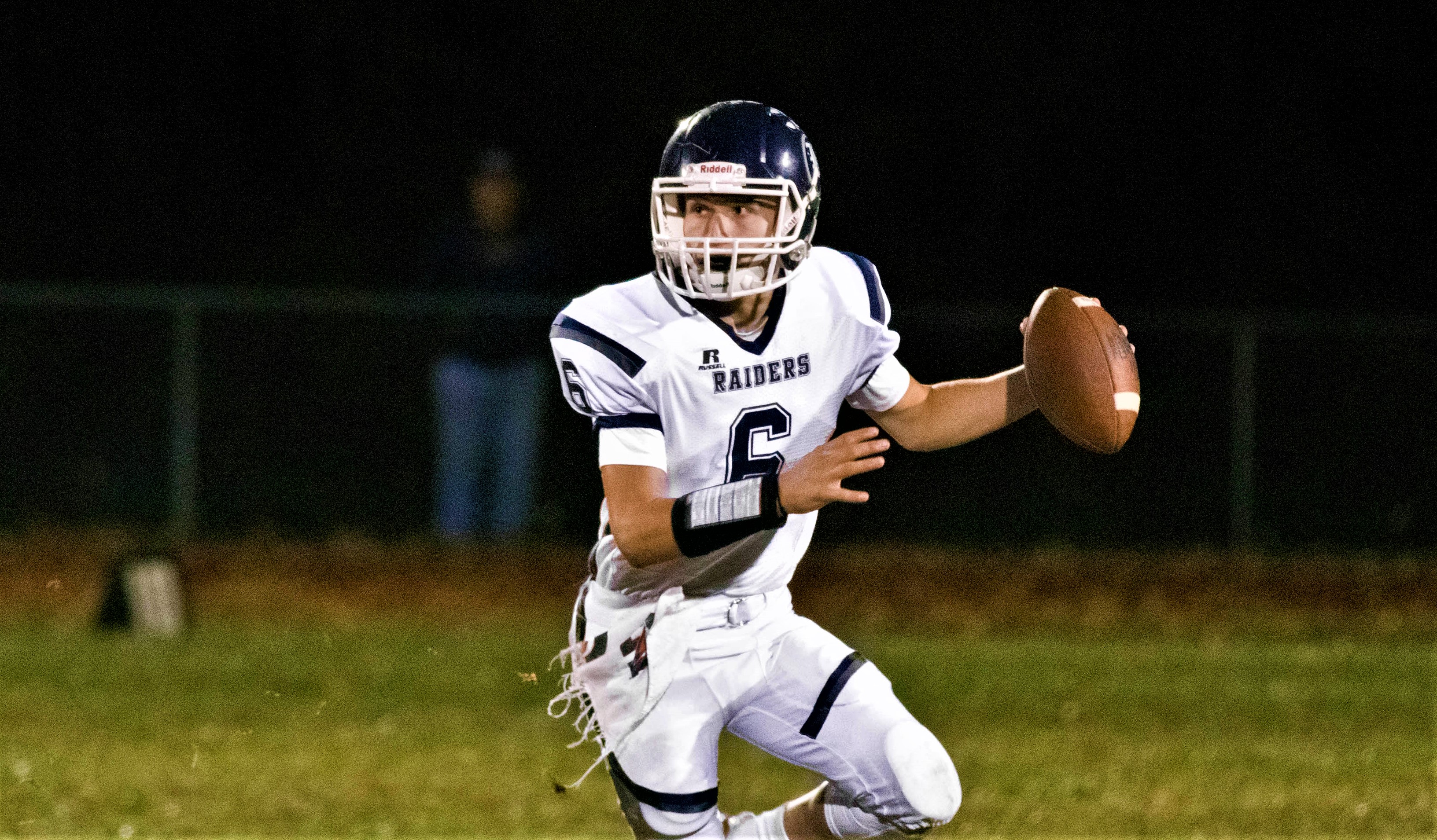 Jack Krug – Fr., QB, Brookville: Krug obliterated the Brookville passing record book in his first season throwing for a District 9-leading 2,856 yards and 40 touchdowns compared to just 11 interceptions while going 174 of 272 through the air. He added 209 yards rushing and three scores on 59 carries and had three 300-yard passing games including a season-best 387 yards on 10 of 12 throwing with four touchdowns in a win over St. Marys.
Special Teams Player of the Year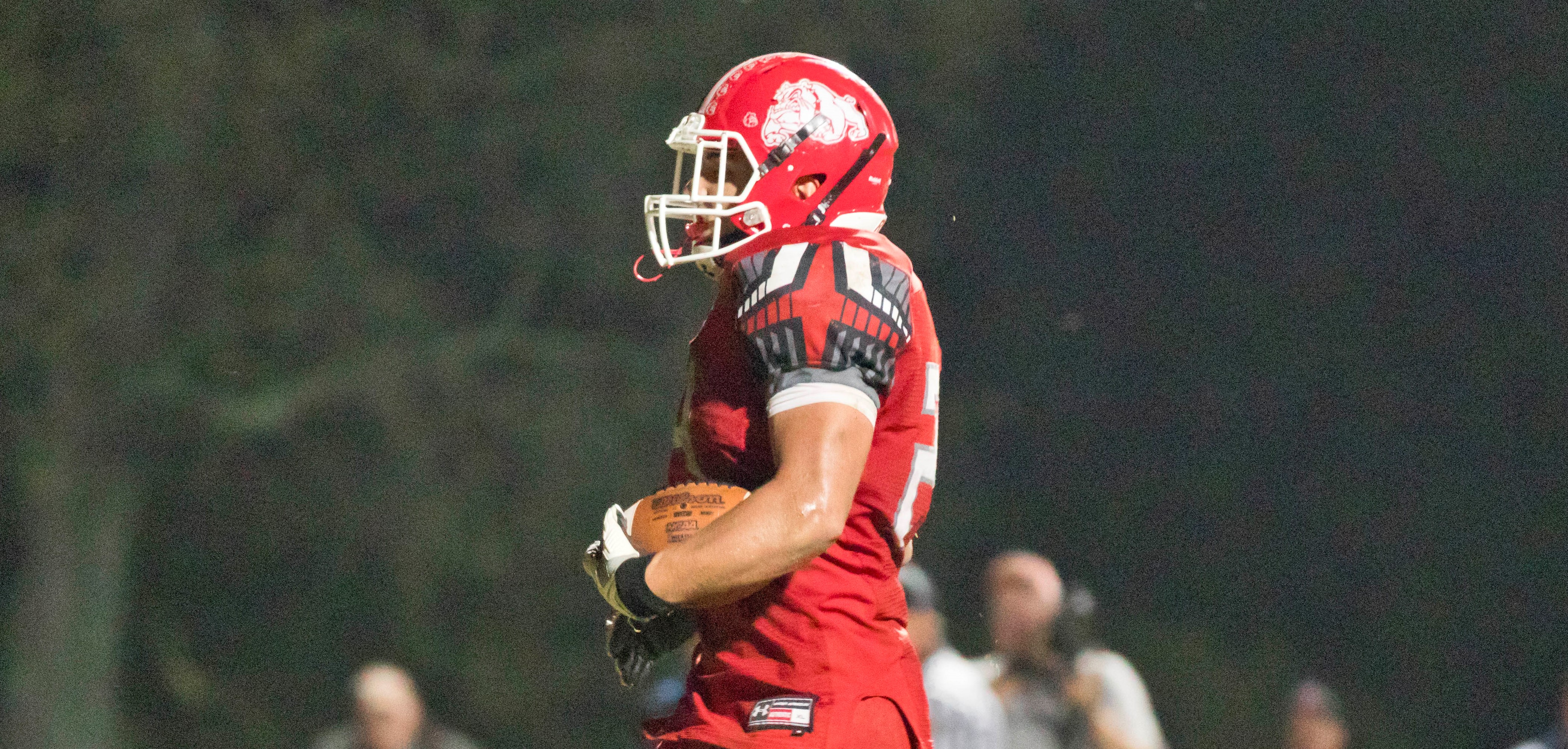 Clint Thurston – Sr., K/P, Redbank Valley: Thurston excelled in all phases of the kicking game for the Bulldogs despite also being the team's top offensive weapon finishing third in District 9 in rushing with over 1,500 yards. As a place kicker, Thurston was 3 of 4 on field goals with a long of 36 while also making 32 of 41 PATs. In the kickoff game, he averaged 50.8 yards per kick (inside the 10-yard line average) with five touchbacks. As the punter, Thurston kicked 29 times averaging 37.7 yards per boot.
Co-Coaches of the Year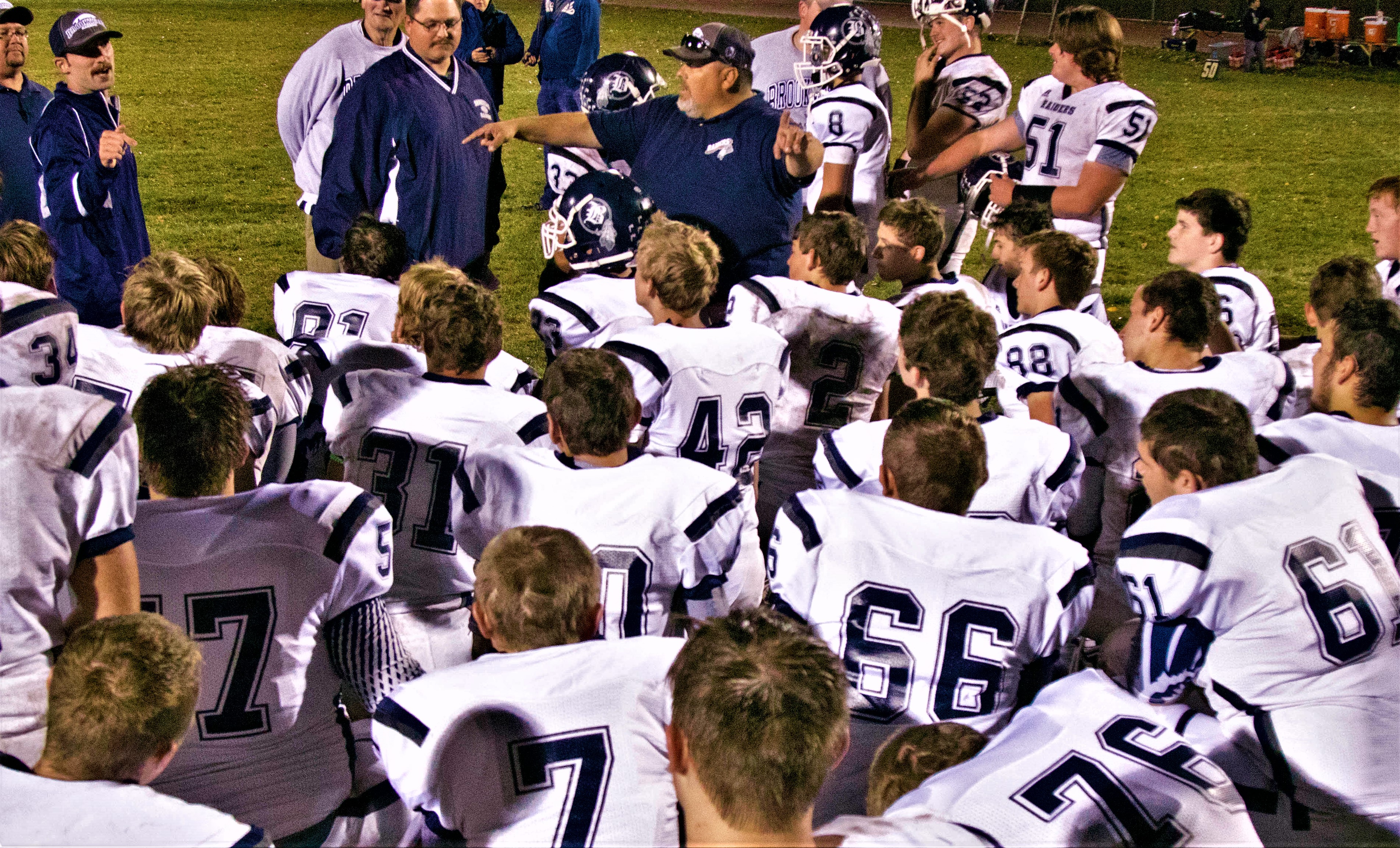 Scott Park – Brookville: Park, in his third season at Brookville, helped the Raiders to a turn-around season in 2017 leading Brookville to a 9-2 record – both losses were to D9 2A champion Clarion, a PIAA quarterfinalist. This after Brookville was 3-6 in 2016 and 2-8 in 2015, his first two years. He inherited a squad that was 2-8 the year before he arrived in 2014. Maybe Park's best move of the year was a hire. When former DuBois head coach Frank Varischetti didn't have his contract renewed by the school district, Park was quick to scoop him up as his offensive coordinator. The results were staggering with Brookville going from 153 points in 2016 to 513 this season. In another good hiring move, Park also brought in former Raiders head coach Chris Dworek, who he had replaced as the head man in 2015, to me a member of the coaching staff showing he wasn't afraid of having former head coaches on his staff.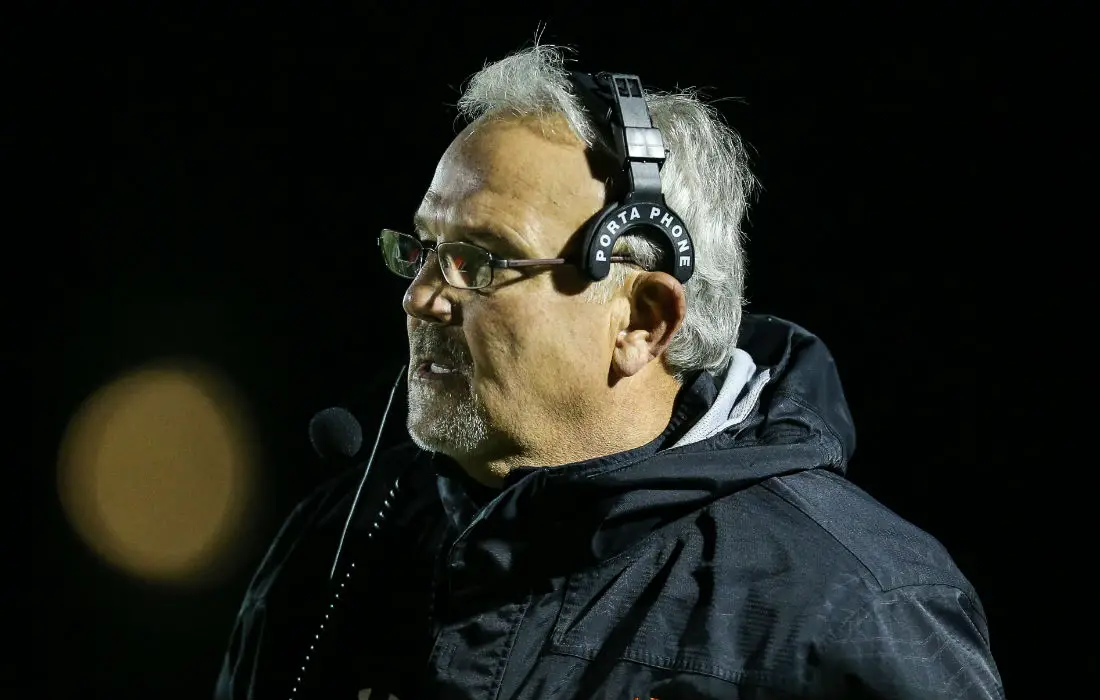 Larry Wiser – Clarion: Wiser helped Clarion to its fourth District 9 title and its first in Class 2A – the others, all under him, were in 1A – by molding a team that saw half its key skill players come from Clarion and the other half from North Clarion. His coaching and teaching ability helped the Bobcats overcame the loss of star running back Colton Rapp for multiple games in midseason. Perhaps the biggest in-game adjustments came in the PIAA First Round when Clarion trailed Chestnut Ridge, 14-0, at halftime only to rally to win 20-14. On the year, the Bobcats finished 12-1 winning their first district title since 2013.
Individual Performance of the Year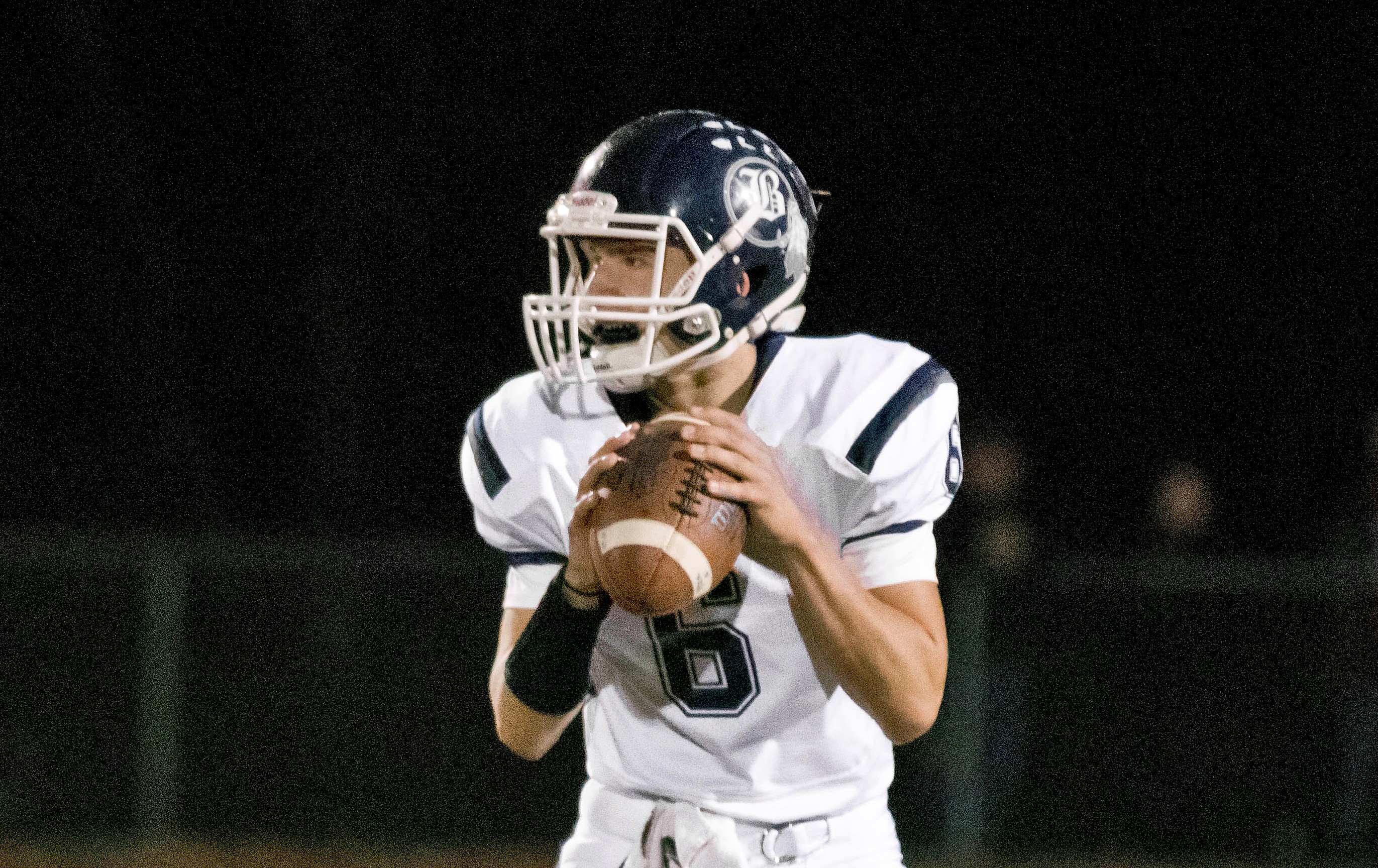 Jack Krug – Fr., QB, Brookville: On Sept. 29 Krug had a game that few will forget accounting for 441 yards of total offense and six touchdowns in a 60-52 shootout win at Clarion-Limestone. He was 13 of 23 passing for 288 yards, five touchdowns and an interception and added 153 yards rushing and a score on just 11 carries. Brookville trailed by double digits on three different occasions in the game (12-0, 24-14, 40-29) but rallied behind Krug to get the win.
Game of the Year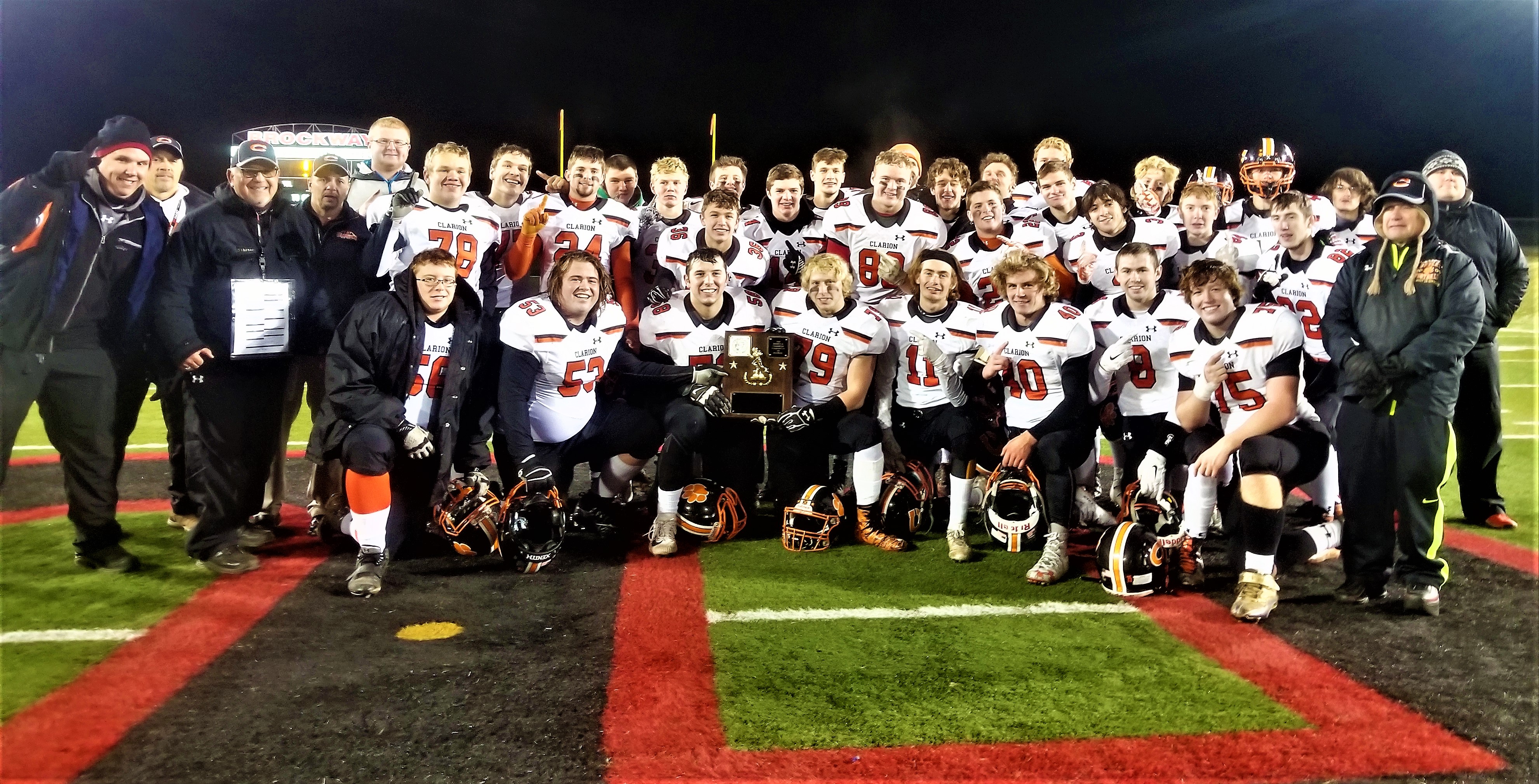 Nov. 10, 2017 – Clarion 28, Kane 21, District 9 Class 2A Championship Game: This game had it all and is one of the best football games played in District 9 in the last 20 years. Clarion jumped out quickly and led 14-0 after one quarter, a quarter that saw the Bobcats outgain Kane 104 yards to zero. But the Wolves battled back in the second quarter forcing three Clarion turnovers and scoring twice, including an 11-yard Reed Williams to JT Stewart touchdown pass with 3.4 seconds left in the half to cut the Bobcats lead to 14-13 at the break. Clarion got the first touchdown of the second half when Logan Minich broke free on a 23-yard run to make it 21-13, but Kane answered on the ensuing drive going 72 yards in seven plays before Williams hit Stewart with a 4-yard pass to knot the game at 21 after a 2-point conversion pass from Williams to Ray Maze with 2:20 left in the third quarter. Early in the fourth quarter, Clarion moved to the Kane 22 only to have the drive stall thanks in part to a sack by Cyrus Novosel. But the Wolves couldn't move the ball and punted it back to Clarion with the Bobcats taking over at the Kane 48 with 6:58 to play. Clarion need 10 plays and some good fortunate to retake the lead but did so when Sam Minich scored on a 4-yard run on a fourth-and-2 play. Earlier in the drive, Kane thought it had come up with a turnover when Jake Alcorn intercepted a pass in the end zone, but Alcorn was called for pass interference on the play. Then, on the fourth-down scoring run, Clarion debated kicking a field goal but the players wanted to go for the touchdown, and they delivered with 2:42 left. Kane got the ball back at its 26-yad line and drove to the Clarion 11 with the Wolves picking up a first down on fourth-and-3 from the 33 when Williams hit Alcorn with a 5-yard pass. Williams then completed a 14-yard pass to Ange Costanzo and 19-yard pass to Maze to put the ball at the Clarion 29 with just over a minute to play. A 13-yard pass to Stewart moved the ball to the 16, which came one play after Sterling Conner saved the day for Clarion knocking the ball away from Maze in the end zone after being beaten on the play. Then, on fourth-and-10, from the 16, Clarion jumped offside giving Kane the ball at the 11. But Williams' pass to Costanzo near the goal line was broken up by Logan Minich securing the championship for the Bobcats.
Special Contributor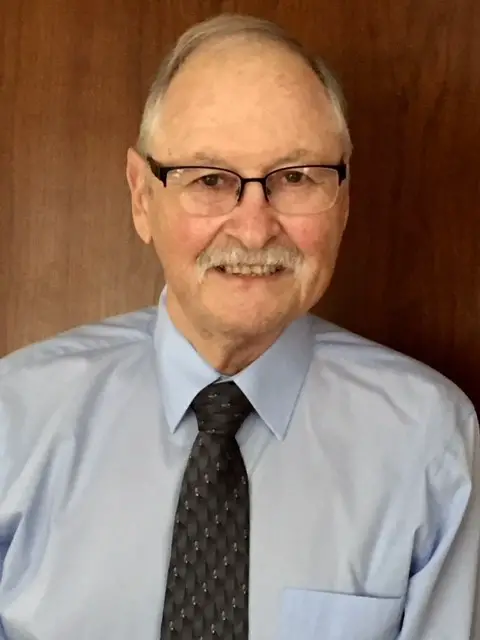 Bob Tonkin: Tonkin, originally from the Pittston, Pa., area and a graduate of West Piston High School (now Wyoming Valley High), has spent most of his adult life in District 9 at Redbank Valley, Cameron County, St. Marys and Brookville. He coached football at Redbank Valley, football at and track at Cameron County, football at St. Marys and football and track at Brookville, where he also served as the school's athletic director for 16 years (Tonkin, an East Stroudsburg graduate where he played football (center) for four years including on the state championship team as a senior, also coached football at Stroudsburg and Newport High Schools). In addition, Tonkin was a basketball referee for 18 years and spent 31 years on the District 9 committee, which he still serves in the capacity of the secretary and treasurer even though he is no longer a voting member. On the District 9 committee, Tonkin served in various leadership roles and was eventually named the Football Chairman, a role he continues to this day. His tireless work at the state level on the six-classification system in football in Pennsylvania is the reason six classes exist today, and he is currently working hard behind the scenes to try to modify or change the transfer role in the state. Bob's dedication to the district and its athletes is unquestioned and unmatched.
ERIC SHICK AGENCY D9SPORTS.COM ALL-DISTRICT 9 FOOTBALL TEAM
Offensive
QB – Jack Krug, Brookville
RB – Nick Stewart, Curwensville
RB – Erik DeLong, Kane
RB – John Eakin, Bradford
WR – Bryan Dworek, Brookville
WR – Kyle Kerle, Clarion-Limestone
TE – Thomas Wurster, Clarion
OL – Anthony Smith, Kane
OL – Steve McClure, Curwensville
OL – Zak Bauer, Clarion
OL – Isaac Gralak, Bradford
OL – Logan Minich, Redbank Valley
Defense
DL – John Frank, Brookville
DL – Max Cowan, Ridgway
DL – Aiden Hulings, Kane
DL – Steve McClure, Curwensville
LB – Zak Bauer, Clarion
LB – Evan Furlong, Ridgway
LB – John Eakin, Bradford
DB – Spencer Miller, Clarion
DB – Josh Terry, Curwensville
DB – Neil MacDonald, Ridgway
DB – Brock Barrett, Redbank Valley
Special Teams
Place Kicker: Clint Thurston, Redbank Valley
Punter: Spencer Miller, Clarion
Photo credits
Photos by Paul Burdick, Mike Schnelle and Kyle Yates