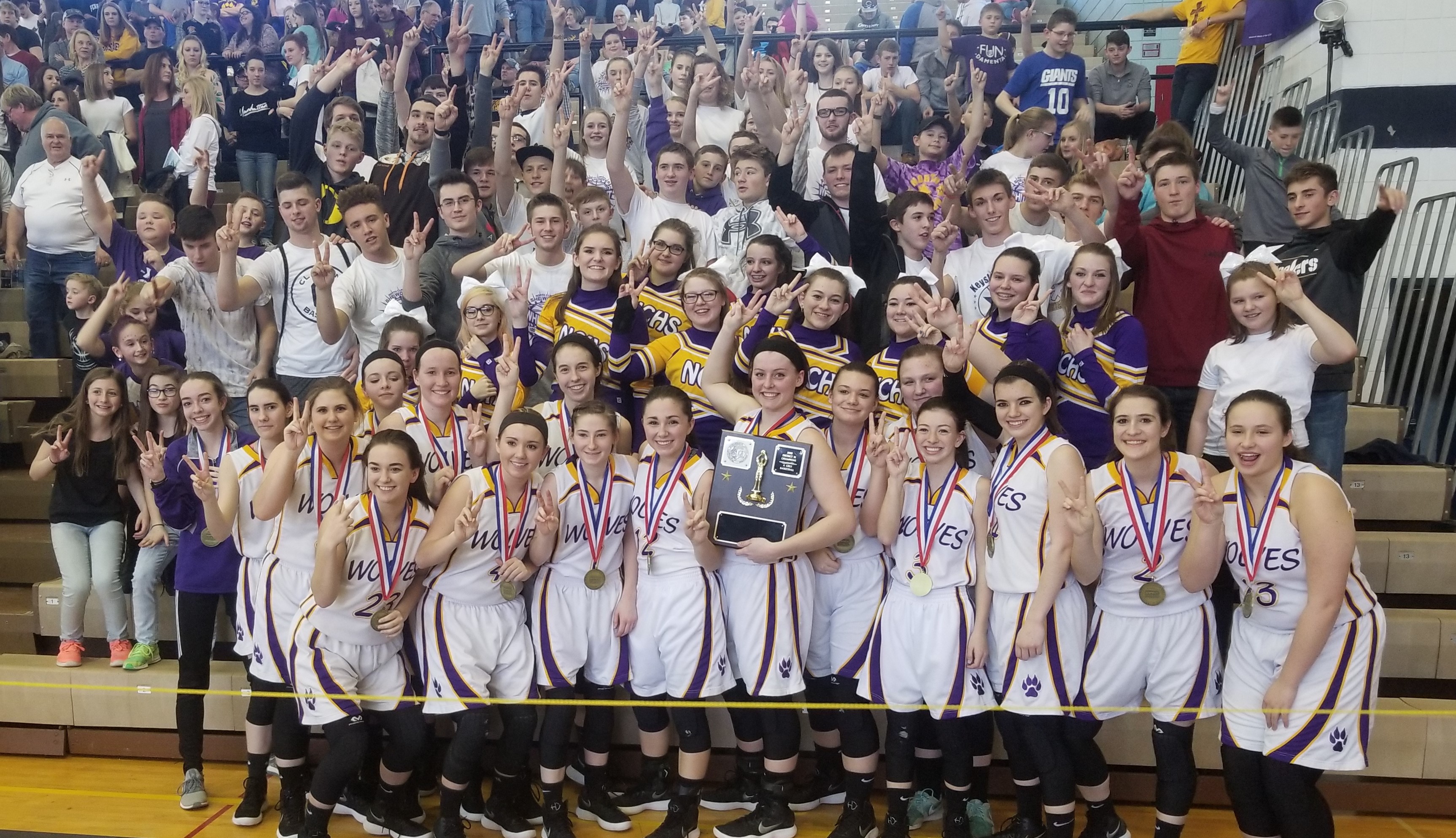 CLARION, Pa. – As A-C Valley head coach Dave Sherman called it, the Tori Factor.
Relisten to the game
Simply put, North Clarion has Tori Obenrader and A-C Valley doesn't.
Obenrader led the She-Wolves to a second straight District 9 Class 1A title by scoring 26 points and grabbing 13 rebounds in a 52-49 thriller Saturday afternoon at Clarion's University's Tippin Gym.
"It means everything," Obenrader, the co-Hager Paving Player of the Game with teammate Abby Gatesman said. "We worked really hard for this all year long."
Gatesman shared honors with Obenrader for her all-around great play – she had 10 points and five rebounds – including an all-out hustle steal with 4.5 seconds left and the She-Wolves clinging to a 1-point lead.
After North Clarion had missed its third straight front end of a one-and-one, A-C Valley called timeout with 9.2 seconds left.
On the inbounds, the Lady Falcons tried to get the ball to the school's all-time leading scorer Ellie Thompson, who finished the game with 18 points and six rebounds. But Gatesman dove in front of the pass and was able to knock it loose and then tie the ball up with the possession arrow in North Clarion's favor.
"I was just trying to play good defense and especially not let them get the ball to Ellie," Gatesman said. "She is a great player, and she can make that type of shot. Coming from what I saw, she was trying to post me up. I tried not letting her get the ball."
Obenrader said Gatesman did a great job on defense.
"She actually dove for the ball to get it out of Ellie's hands," Obenrader said. "It was a great play."
Listen to more of what Obenrader and Gatesman had to say after the game.
Sherman said with A-C Valley out of timeouts he didn't have any options.
"We were out of timeouts," Sherman said. "There is not much you can do. We were trying to get Ellie in Iso."
North Clarion head coach Terry Dreihaup said North Clarion knew the play would be designed for Thompson.
"We talked about it in the huddle," Dreihaup said. "We knew the ball was going to Ellie. All five of them said it in the huddle. I said we need to play good defense. If she gets the ball, we trap her if we can. Abby just made a super takeaway, which won us the game."
Gatesman's takeaway may have clinched the title for North Clarion, the school's second all-time in girls' basketball, but it was Obenrader, North Clarion's 2,000-point, 1,500-rebound senior superstar, who put the game on her shoulders when it mattered the most.
After A-C Valley, which trailed by 14, 32-18, at the half, had rallied to tie the game at 39 two minutes into the fourth quarter, Obenrader took over scoring seven of North Clarion's next nine points, including the first four, and assisting on the other two, to restore a nine-point lead. 48-39.
"It's been four years and the last two years have been something really special," Dreihaup said about his star player. "She knows when to take over the game. I believe at that moment and time she knew she had to step up."
Obenrader gave North Clarion the lead for good with a basket with 5:56 to play. Then she cut across the passing lane and stole a pass and went coast-to-coast to make it 43-39 with 5:35 left.
"My teammates really got everything open for me," Obenrader said.
After the She-Wolves got another stop, Obenrader fed Gatesman for another basket to push the lead to six, 45-39, 4:01 left.
"She took over," Gatesman said.
Following a pair of missed free throws my A-C Valley's Cami McNany, Obenrader brought the ball down, stopped behind the 3-point arc and hit nothing but net to put North Clarion up nine, 48-39, with 3:37 left.
"It was a contested three," A-C Valley head coach Dave Sherman said. "She just ripped it. There is nothing you can do. It wouldn't matter who was on her. That was good defense. That's just what she does. It's the Tori factor. She's a phenomenal player. You have to give her credit."
A-C Valley didn't quit, though.
Allison Sherman stopped the run with a 13-foot jumper before Gabby Carll answered back for North Clarion to make it 50-41 with 2:55 left.
McNany then hit a layup and was fouled but missed the free throw. Ellie Thompson followed by going on a fast break and was fouled. She hit both free throws to cut the North Clarion lead to five, 50-45, with 1:50 to go.
The She-Wolves then got into the free-throw shooting funk with Gabby Schmader, Makenzie Bauer and Carll all missing front ends of one-and-ones.
"Those girls are harder on themselves than I could be," Dreihaup said. "They all came into the huddle after we missed the second front end of the one-and-one and said coach says foul shots win games and we are missing them so we have to do it another way. They did."
Thanks to the missed charity shots, A-C Valley was able to close to within the one.
First, Eaton put back a missed shot from Thompson to make it 50-47 with 54.9 seconds left. Then, after Eaton missed two free throws, Thompson got the rebound and followed through with the putback to make it a one-point game with 26 seconds left.
"They don't get rattled," Sherman said. "There is no quit in this group. I knew it. I wasn't even concerned about it. I knew they would come out and play 100 miles per hour like they did."
Rallying is nothing new for A-C Valley, which has dug itself holes at various points in the year only to climb out of them. And the Lady Falcons were at it again after getting down the 14 at halftime.
A-C Valley scored the first 11 points of the second half, including five from Annie Viertel, to get back in the game trailing 32-29 following a Viertel steal and basket with 4:48 left in the third quarter.
"We talked exactly about that (at halftime)," Dreihaup said. "We talked about how well we played the first half, and we said it's not over. So we celebrated it for a second and said they are going to make a run because they always do. They are a great team. We didn't expect it to be in the first four minutes of the third quarter, but that's the way it was. We just fought hard ever since then."
Despite the A-C Valley run, North Clarion didn't lose the lead in the third quarter with Ciearah Manross coming up with a huge old-school 3-pointer play with just under a minute to play to push the lead to 39-34.
Manross played a strong game off the bench with seven points.
Manross played a strong game off the bench with seven points.
"She was at the right place everytime she needed to be," Dreihaup said. "Her 'and one' was huge. She played great."
Thompson, though, banked home a 3-pointer at the horn to get the Lady Falcons within two, 39-37, going to the fourth, and then Thompson tied the game at 39 with a basket with 6:17 to play.
A-C Valley came out in the first half and tried to play some junk defenses on North Clarion having seen the success of DuBois Central Catholic and Elk County Catholic had earlier in the playoffs slowing down the She-Wolves offense.
"We rolled the dice a little bit," Sherman, whose team lost three times to North Clarion this year and has lost five in a row to the She-Wolves, said. "The definition of insanity, we all know what that is. If we come out and play them straight up like we usually do, I know we can play with them. But maybe we can do something to tip the cup in our favor a little bit. So we came out with a little bit of junk. I borrowed it off some people. The best coaches are the best thieves."
North Clarion, though, wasn't bothered at all by the junk A-C Valley threw at it.
Obenrader scored 11 first-quarter points, as the She-Wolves took a 17-8 lead after one quarter.
That lead grew to the 14 at the break partly because of five points from Gatesman.
"That's what we came out to do, to get a good start," Obenrader said. "All year, we have kind of struggled giving teams leads. We knew it needed to be the opposite this game."
North Clarion is now 26-0. The She-Wolves are just the second District 9 girls' team to win a D9 title with an unbeaten record since at least the 1996 season joining the Bradford girls in 2012. North Clarion is the first to do it in Class 1A in that span.
"I don't think it has sunk in," Dreihaup said. "I don't think the girls realize what 26-0 really means. I don't think it will hit them for a while. But since last Jan. 20 (of 2017) when we lost to A-C Valley on a last-second shot, we haven't lost but one game (in the PIAA quarterfinals). The girls just don't realize what a run that is, and they are ready to make another one."
North Clarion will take on WPIAL fifth-place finisher Cornell, who the She-Wolves beat in the PIAA second round last year – the best players from that Cornell team have graduated – in the opening round of the PIAA playoffs Saturday at a time and place to be released Sunday.
The loss drops A-C Valley to 20-6 with five of those losses – three to North Clarion, one to Punxsutawney and one to West Middlesex – to District champions and the other – to Karns City – to a district runner-up.
"That is what I told them," Sherman, whose team was playing in a D9 final for the first time in school history, said. "We have a 20-win season. You kind of lose sight of that. You don't always get to your goals, necessarily. These girls wanted to win this game this afternoon. That is the ultimate goal. But there are a lot of teams sitting home today not playing at all. We have another game left, at least, in interdistrict. Not that I want to hang our hats on that, but where this program has come I have to give credit to these girls. The program has come a long way."
A-C Valley will face WPIAL third-place finisher Sewickley Academy in the opening round of the PIAA playoffs also Saturday at a time and place to be announced Sunday.
NORTH CLARION 52, A-C VALLEY 49
Score by Quarters
A-C Valley 8 10 19 12 – 49
North Clarion 17 15 7 13 – 52
A-C VALLEY – 49
Cami McNany 2 0-3 5, Emma Fox 0 0-0 0, Ellie Thompson 6 5-5 18, Allison Sherman 3 0-0 6, Annie Viertel 3 0-0 8, Brooke Irwin 3 0-0 6, Kylee Eaton 2 2-4 6. Totals 18 7-12 49.
NORTH CLARION – 52
Makenzie Bauer 0 1-3 1, Cierah Manross 3 1-1 7, Gabby Schmader 0 0-1 0, Abby Carll 2 1-4 5, Abby Gatesman 4 1-2 10, Tori Obenrader 10 4-5 26, Haley Sherman 1 1-1 3. Totals 20 9-17 52.
Three-pointer: A-C Valley 4 (Viertel 2, McNany, Thompson). North Clarion 3 (Obenrader 2, Gatesman).
Rebounding: A-C Valley 9 defensive, 25 offensive, 34 total (Eaton 9, Thompson , Irwin 6, Team 6, McNany 5). North Clarion 12 offensive, 19 defensive, 31 total (Obenrader 13, Gatesman 5, Schmader 5).