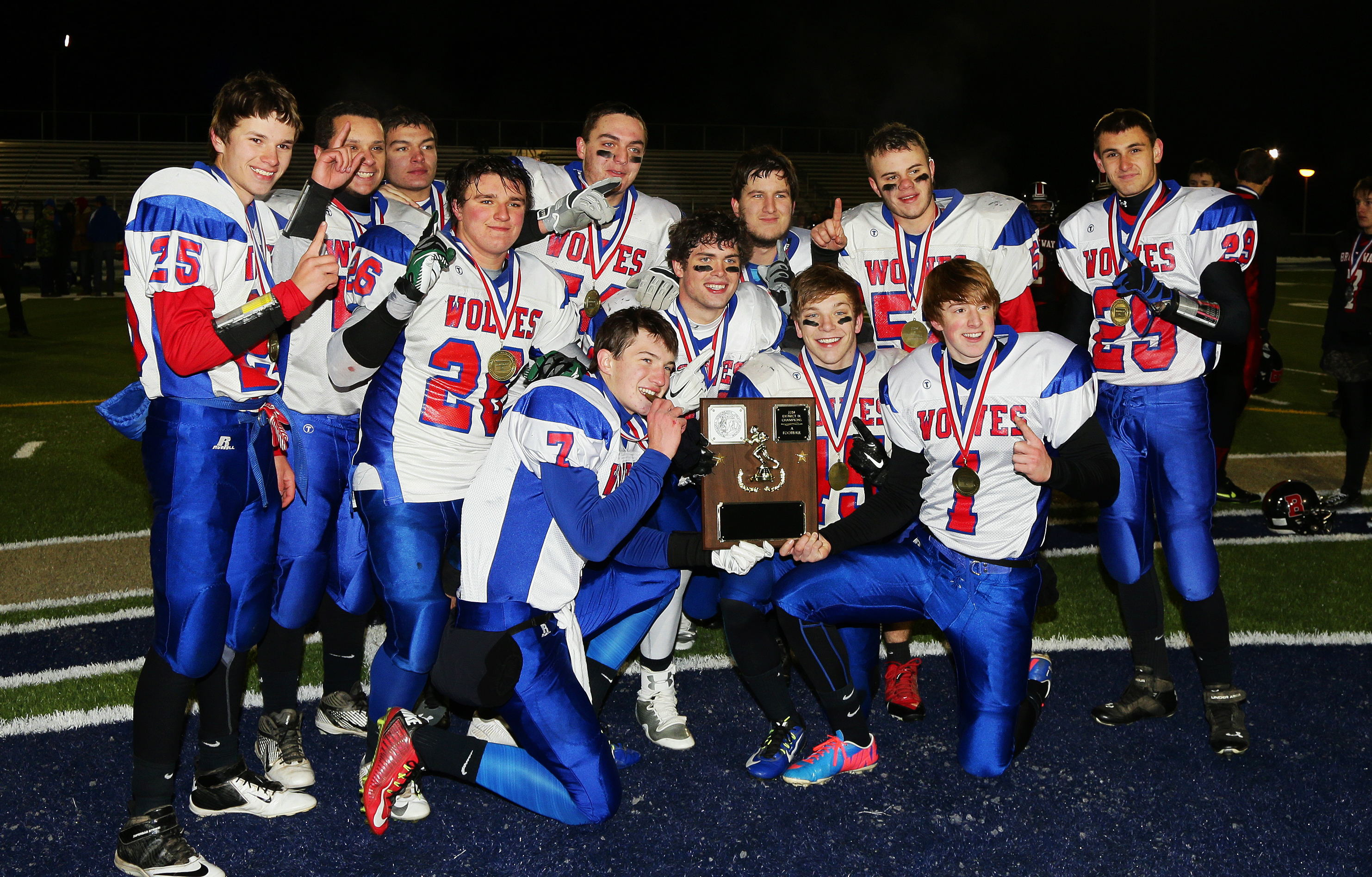 For more photos from this game, please visit 
http://pburdick.smugmug.com/ – Photos by Paul Burdick and http://eedigitalimages.zenfolio.com/ – Photos by Eric Elliott 
By Rich Rhoades
CLARION — They had already become the first District 9 team in 12 years to play in, let alone lose, three one-point games in a season. The Kane Wolves were in no mood to make more of that kind of history.
Considering the history would've been the first team to lose in three straight championship games, no question the Wolves happily enjoyed their second district title after beating the Brockway Rovers, 33-14, Friday night.
"I'm just glad that stat still stands," said Wolves head coach Todd Silfies, whose team lost to Karns City in the last two Class AA finals before dropping to Class A this year. "It feels great.
"Our guys were extremely hungry tonight," Silfies added. "We talked about it more than we normally would actually. Gold is a lot better than silver. And we know that now."
Kane lands in the PIAA quarterfinals next week against District 10 champion Sharpsville, a 29-14 winner over West Middlesex also on Friday night. The game will be played at a D10 site and time to be announced.
The Wolves broke a 14-14 tie in the fourth quarter by scoring 19 unanswered points. Of their five touchdowns, two came after Brockway turnovers and two answered a Rovers touchdown in the previous possession.
Senior linebacker James Lingenfelter, the leader of a Wolves defensive unit that bottled up opponents all season, led the way again as he recovered two fumbles. He scored two of the Wolves' three fourth-quarter touchdowns on a 1-yard run to put the Wolves up 27-14 with 1:31 remaining and then put the exclamation point on the win by forcing an Anthony Isabella fumble and returned the recovery 45 yards to set the final 24 seconds after his TD run.
"I love defense," Lingenfelter said. "I wanted to make a statement there at the end and I think I did."
More important was his team's statement, beating the Rovers for a second time this season. The Wolves' 9-7 win came amidst a four-game stretch that saw three one-point losses to Ridgway (21-20), Curwensville (7-6) and Elk County Catholic (13-12).
"It's awesome," Lingenfelter said. "We've worked so hard to get to this point and we fell short the last two years and this year it solidifies everything for me and the rest of the seniors. It's just so awesome and great feeling because we've been working so hard. All the time we put in through the summer. Throughout the season we came up short with the three games we lost by one point and I think that made us a better team for sure."
Senior running back John English was the workhorse once again — he now has 79 carries in three postseason wins — as he ran for 111 yards on 29 carries with a 2-yard touchdown run in the first half.
"It's just amazing to come back on this field with not great memories and to have such an amazing team effort," said English of their last two seasons ending at Clarion University's Memorial Stadium in the losses to Karns City. "All of our guys stepped up and get this finals win our senior year is just incredible."
The Rovers, another team that overcame a tough stretch, had their season end at 7-6. Isabella ran for 133 yards on 18 carries with a 1-yard touchdown run that tied the game at 14-14 with 2:17 left in the third quarter.
Isabella's game-tying TD was Brockway's only offensive touchdown. Cody McClintick recovered a Kane fumble and returned it four yards to start the game's scoring at the end of the first quarter.
"We had a game plan for (Kane)," Rovers head coach Frank Zocco said. "For the most part, we did move the ball decently at times. We got down to the 5-10 yard-line and couldn't punch it in. We fumbled. (We were) moving the ball on the first drive of the second half and fumbled. That's a big turning point. It happens. It's part of the game. It's a cold night, cold ball. It's going to pop loose. Their fumbles bounced back into their hands and our fumbles go to them. When things aren't meant to be, that kind of ends up going that way."
Despite all of that, the Rovers had plenty of momentum going in the third quarter. After Kane's Colton Lawton picked up an Anthony Benson fumble at the Kane 43, the Wolves appeared to be driving for more turnover points, but a chop block penalty on English's first-down run stalled the drive to force a punt.
The Rovers appeared to stall as well and were punting from the Wolves' 43, but a roughing the snapper call on Kane gave Brockway a first down. Seven plays later, Isabella scored his 1-yarder to tie the game.
But it took Kane just six plays to take the lead for good at 21-14. Quarterback Jack Kocjancic hit Tyler Rolick with a 42-yard TD pass 41 seconds into the fourth quarter.
"That was a perfectly delivered pass," Silfies said. "He missed that one last week. He wasn't going to miss it two weeks in a row."
Kocjancic was effective, completing 9 of 12 passes for 115 yards and two touchdowns with an interception.
The Wolves forced a Brockway punt on the following possession and put the game away with a 15-play, 69-yard scoring drive that milked 7:13 off the clock. Lingenfelter capped it off with his 1-yarder.
For good measure, Lingenfelter knocked the ball loose from Isabella on a short pass from Hunter Miller two plays after the ensuing kickoff and took it 45 yards to the end zone.
Brockway got on the board first after coming up short on a trip into the red zone. Isabella's fumble on a second-and-goal run from the Wolves' four was recovered by Kane's Tyler Rolick at the 5.
However, the turnover only delayed the Rovers' game-opening score when Kocjancic's lateral to Rolick was misplayed and recovered by McClintick who raced into the end zone at the 3:55 mark of the first quarter.
Kane answered that with a seven-play, 33-yard drive that was set up by Shane Rolick's 54-yard return of the ensuing kickoff. English finished it off with a 2-yard run with 10 seconds left in the opening quarter.
The Wolves turned a Rovers fumble — Isabella's third lost fumble of the game — recovered by Lingenfelter at the Wolves' 30 and went 70 yards to take a 14-7 lead.
The 12-play drive ended with a key sequence that saw the Wolves change their mind on a 27-yard field goal attempts after the Rovers called a timeout.
With a 27-yard field goal attempt easily within the range of strong-legged kicker Dillon Mattis, the Wolves decided to go for it on fourth-and-four from the 9 and it paid off as Kocjancic flipped a TD pass to Davis Gardner with 4:06 left in the first half.
"We thought we could hit a play we had put in earlier this week," Silfies said. "It was one of the few you could put in when there was a lot of snow. We felt we could hit it and we felt they were setting up some type of block or defense, so we weren't confident on calling a fake so we thought we could hit it.
"Obviously, coach (Tyler) Smith had a great game plan and call right there. Gardner is a big-time player. We had time to talk about it. Obviously, we thought we could make a field goal, but seven is better than three."
The Wolves had another shot to score before halftime after stopping Brockway on downs at the Rovers' 45. On a third-and-three from the Rovers' 6, Kocjancic's pass was intercepted by Mike Martino in the end zone with 12 seconds remaining.
It all set up a decisive second half that saw the Wolves overcome adversity — largely the scrappy Rovers trying to continue a late-season revival — and win their second title and first since winning Class A in 2007.
"It was a crazy finish," Silfies said. "That was a great football team and they had a great game plan on offense and defense. They're extremely well coached with a lot heart to do what Brockway did, to come back from the tough middle stretch they had this year. My hat's off to them."
"We turned it around," Zocco said. "We came together at the end of the year as a team. We got some confidence building, but we can into a good team here, a really good team. They were in the past two AA championship finals, so they are a good team.
"We came up short. You can't fumble the ball four times and win a game."
NOTES: Kane improved to 2-3 in finals. The Wolves beat Cameron County in 2007 with the Class AA losses to Karns City the previous two seasons and the 2002 loss in Class A to Clarion-Limestone. … Several teams have lost in back-to-back district championships games, including Kane (2012-2013 in Class AA), Clarion (2011-2012, and 1999-2000 in Class A) and Clarion-Limestone (1991-1992 in Class A), Moniteau (2007-2008 in Class AA), Karns City (2002-2003 in Class AA), Brockway (2000-2001 in Class AA), Port Allegany (1996-1997 in Class AA), Redbank Valley (1994-1995 in Class AA), Brookville (1992-1993 in Class AA), Bradford (2012-2013 in Class AAA), St. Marys (2007-2008 in Class AAA), Clearfield (2000-2001 in Class AAA and 1992-93 in Class AAAA)
KANE 33, BROCKWAY 14
Score By Quarters
Kane 7 7 0 19 – 33
Brockway 7 0 7 0 – 14
First Quarter
B – Cody McClintick 4 fumble return (Jarrett Esposito kick), 3:55.
K – John English 2 run (Dillon Mattis kick), :10.
Second Quarter
K – Davis Gardner 9 pass from Jack Kocjancic (Dillon Mattis kick), 4:06.
Third Quarter
B – Anthony Isabella 1 run (Jarrett Esposito kick), 2:17.
Fourth Quarter
K – Tyler Rolick 42 pass from Jack Kocjancic (Dillon Mattis kick), 11:19.
K – James Lingenfelter 1 run (kick blocked), 1:31.
K – James Lingenfelter 45 fumble return (kick failed), 1:07.
B                 K
First Downs           15                16
Rushes-Yards        35-213       47-217
Passing Yards       41                 115
Comp-Att-Int       8-12-0         9-12-1
Total Yards           254              332
Punts-Avg             1-29             2-20
Fumbles-Lost       5-4               2-1
Penalties-Yards    4-25            5-40
INDIVIDUAL STATISTICS
Rushing – Brockway: Anthony Isabella 18-133, Anthony Benson 8-31, Hunter Miller 6-26, Mike Martino 2-24, Team 1-(-1). Kane: John English 29-111, Shane Rolick 4-54, Tyler Rolick 9-46, James Lingenfelter 4-11, Jack Kocjancic 1-(-5).
Passing – Brockway: Hunter Miller 5-for-9, 27 yards; Anthony Isabella 3-for-3, 14 yards. Kane: Jack Kocjancic 9-for-12, 115 yards, 2 TDs, 1 Int.
Receiving – Brockway: Anthony Benson 4-21, Jack Glasl 2-15, Hunter Miller 1-6, Anthony Isabella 1-(-1). Kane: Tyler Rolick 2-51, Davis Gardner 3-45, John English 2-14, Shane Rolick 2-5.
Interceptions – Brockway: Mike Martino.
Fumble Recoveries – Brockway: Cody McClintick, Alex Verne. Kane: Tyler Rolick, James Lingenfelter 2, Colton Lawton, Griffin Greenawalt.
Kick Returns – Brockway: Aaron Benson 2-33, Anthony Isabella 1-21. Kane: Shane Rolick 2-54, Tyler Rolick 1-21.
Punting – Brockway: Jarrett Esposito 1-29. Kane: Dillon Mattis 2-40 (long 28).