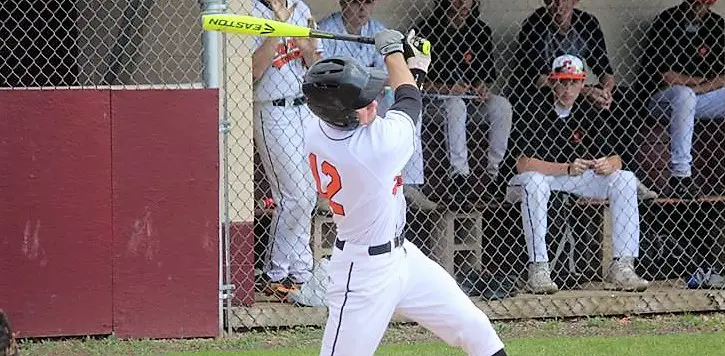 UNIVERSITY PARK, Pa. – This is what it's all about.
(Cover photo: Spencer Miller. Photo by Christie Datko)
The team that no one thought would be here, not even themselves, is one win away from history.
Clarion (21-3), the second-place finisher out of District 9, takes on Meyersdale (20-6), the District 5 champion and 2016 PIAA Class 1A runner-up, in the 2017 PIAA Class 1A baseball title game at 12:30 p.m. Thursday at Medlar Field at Lubrano Park on the campus of Penn State University.
"We had practice Tuesday morning, and I told the guys, hey you are one of only two teams in Class A to practicing today," Clarion manager Rob Jewett said. "That is a pretty cool thing to be a part of. We were still on Cloud 9 a little bit. It's special, but we are back to work. It's time to prepare for the next game."
Both teams got to the championship game in dramatic walk-off fashion with Clarion beat WPIAL runner-up Greensburg Central Catholic 1-0 when a Reed Anthony chopper to third couldn't be fielded with two outs in the bottom of the seventh and Kyle Patterson at third allowing Patterson to score the winning run.
Meyersdale's semifinal victory was no less dramatic, as the Red Raiders Bryce Kretchman walked with the bases loaded and two outs in the bottom of the eighth to give them a 2-1 win over High Point Baptist Academy. Meyersdale trailed 1-0 until tying the game with a run in the bottom of the sixth.
As previously mentioned, it's the Red Raiders second straight trip to the PIAa title game having lost to Vincentian Academy, 7-3, a year ago.
"There are advantages and disadvantages to them being here last year," Jewett said. "Their nerves won't probably be as bad and they may not be as giddy as they were a year ago. The stage is not a big. But there maybe is more pressure on them. I know this, we aren't going to make it easy on them. They have to get through us. I just hope our boys don't get caught up in the hoopla and play our game."
Clarion is making its first-ever trip to the PIAA Championship game and is the first Clarion County boys' "ball" (football, basketball, soccer, baseball) team to make it to a PIAA championship game since Keystone football in 1989 and is looking to become the first Clarion County team to win a PIAA title since East Brady basketball in 1980.
"We haven't thought about that," Jewett said. "We are playing for ourselves. Our guys have a chip on their shoulder. But, to play for Clarion and to play for the county, we are proud to do that."
Meyersdale appears to have a pitching advantage, at least on paper.
The Red Raiders didn't start their No. 1 pitcher, Riley Christner in the semifinal game electing to go with Kretchman, who went three innings allowing one run while throwing 34 pitches. Christner, who is 9-1 with a 0.61 ERA and throws in the high 80s according to Prep Baseball Report, then came on in relief pitching five innings and allowing one hit and one walk while striking out eight and needing just 58 pitches to do so meaning both players are eligible to pitch Thursday.
Clarion, meanwhile used its ace Reed Anthony (11-1, 0.40 ERA) for six innings in the win over GCC with Reed Anthony throwing over 90 pitches, meaning he isn't available Thursday.
"I have a lot of confidence in everyone," Jewett said. "I don't know who is going to start, but if they just follow Reed's game plan of throwing quality strikes, trusting the defense and limiting walks, I think we can hang with almost anyone."
While Jewett wouldn't name his starter – at least publicly – it will most certainly come from one of the following four pitchers – Ryan Anthony (Reed's twin brother), Sterling Conner, Spencer Miller or Cam Craig.
Ryan Anthony has thrown the most innings of that group going 27 ⅓ with a 1.28 ERA. He last started in the District 9/10 semifinal win over Jamestown.
Conner (15 ⅔ innings, 0.89 ERA) was a bit of surprise starter in the first round of the PIAA playoffs against Berlin Brothersvalley and was lifted after some early wildness in favor of Ryan Anthony.
Miller got the win in relief of Reed Anthony in Monday's semifinal win going a scoreless inning. He is 1-0 on the year and hasn't given up a run in 5 ⅔ innings of work.
Craig is 1-2 with a 2.33 ERA in 18 innings of work but hasn't pitched since May 15 and would be the biggest surprise of the three to get the nod just because of the month layoff from pitching.
"I don't want to put pressure on anyone," Jewett said. "We will evaluate pitches and quality of pitches. We are pretty deep in arms. A lot of guys can throw. We are a team, not a team built around Reed. The next guy steps up and we support him the best we can, and, if he is done, then the guy after that steps up and we support that guy. That's how we have to go from here."
And while Meyersdale would seem to have the paper edge in pitching, don't expect the Bobcats to be worried about their mound opponent. After all, they found a way to beat Greensburg Central Catholic, who threw Neal McDermott and his ERA under 0.25 on Monday and have shown and ability to battle good pitches all season long.
"Our offense seems to find a way," Jewett said of his hitters whose stats don't blow anyone away with a .266 team batting average. "I wish it was a little easier and not as stressful, but I believe if we hang in the game everyone believes the timely hits will come along. I hope it comes right away (Thursday) and makes it easier. But that's the game of baseball and you take it as it goes."
On paper, Meyersdale's offense doesn't look to blow people away either with the Red Raiders hitting .316 as a team with most of that coming from the dangerous Christner, who is hitting .568 with six homers, nine doubles, four triples and 43 RBIs. After him, only Zach Hotchkiss (.449) and Tanner Krause (.391) are hitting above .300 among the regulars.
That being said, Jewett said that working around Christner isn't an automatic.
"It depends on the situation," Jewett said. "I would feel it's more situational. I haven't seen him play, but the stats are pretty impressive. He has some eye-popping numbers. But, they are a pretty good team all around. You can't focus on one player. Hopefully, we can execute."
Clarion's offense is led by Miller, the junior shortstop, who is hitting a team-leading .431 with six double, a triple and 16 RBIs. Ryan Anthony comes in at .320 with two doubles, a triple and 20 RBIs, while freshman Nate Datko is batting .298 with six RBIs.
"We try to downplay (the importance of this game)," Jewett said. "Yes, it's on an even bigger stage and there are more media and more eyes on us. There are elements I see and they see, but we are trying to tell them not to make it bigger than it is. Play your game, try not to panic and make the sure plays. We have all done it before, and we have even gone beyond and made some plays I didn't believe they could make. Our confidence is building as it goes, which is nice to see as a coach that they are able to respond that way."
EXTRA BASES
Fans can listen to the game on D9Sports.com via ExploreClarion.com and the ExploreRadio App.
Clarion is the third District 9 Class 1A baseball team to reach the title game since 2013. Johnsonburg won the title in 2013 and Elk County Catholic finished second in 2014.
Since the PIAA started playing baseball title game in 1977, District 9 has won three PIAA baseball titles in its history with Johnsonburg capturing the 2013 1A championship, Punxsutawney taking home the 2007 Class 3A title and DuBois Central Catholic winning the Class 1A title in 2001.
District 9 PIAA baseball runner-ups include ECC in 2014 in Class 1A, Johnsonburg in 2007 in Class 1A, Ridgway in 1992 in Class 2A and DuBois in 1992 in Class 2A.
District 5 has never won a PIAA baseball title, and, in fact, Meyersdale was the first District 5 team to reach the title game when the Red Raiders made it last year.
A baseball title would be the fourth PIAA team title in Clarion school history. The girls' volleyball team won the 2012 title and the boys' track and field team won back-to-back titles in 2000 and 2001.