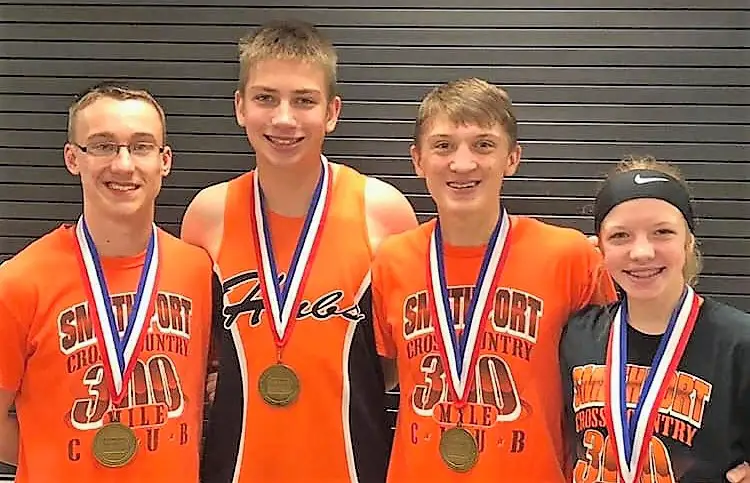 HERSHEY, Pa. – Behind three medalists, District 9 captured 13 percent of the Top 100 at the PIAA Class 1A Boys' Cross County Championships Saturday in Hershey.
(Photo: Christian Tanner (left) and Darion Gregory (second from right) of Smethport were the top two finishers from D9 at the PIAA Class 1A boys' XC championship Saturday. Submitted photo)
Class 1A Results • Class 2A Results 
A pair of Smethport Hubbers earned medals with Christian Tanner taking 9th in a time of 17:08 and Darion Gregory 11th in a time of 17:10. Elk County Catholic's Ben Hoffman also earned a medal with a 12th-place finish in a time of 17:11.
As a team, ECC was seventh with 176 points and Cranberry ninth with 217.
Jenkintown won the team title in Class 1A with 49 points led by first-place finisher Jack Miller (16:33).
Clarion's Nathaniel Lerch just missed medaling finishing one spot off the medals in 26th in a time of 17:34, which was five second shy of a medal. ECC's Isaac Wortman was 27th with teammate Jacob Carnovale in 33rd. Brookville's Ethan Brentham was 34th, ECC's Joe Wolfe was 40th, Cranberry's Daniel Fisher was 45th, Clarion's Noah Schill was 92nd, Cranberry's Christian Miller was 93rd and Smethport's Jordan Pavlock 94th.
In the Class 2A race, Punxsutawney finished 13th with 309 points. Greensburg Salem won the race with 63 points, and Grove City's Jonah Powell was the individual medalist with a time of 16:29.
The top D9 runners were both from Punxsutawney with Corbin Heitzenrater taking 85th and Owen Bartlebaugh 115th.