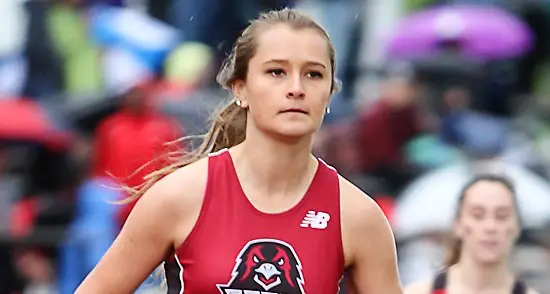 BLOOMSBURG, Pa. – Three District 9 alums took home gold at the PSAC men's and women's track and field championships over the weekend.
On the women's side, Johnsonburg graduate Emily Dubler was part of IUP's winning 4×400-meter relay team. She ran with Lizzy Cunningham, Jada Wilson and Heather Sternby with the junior Dubler running the third leg of the relay that won the title in a time of 3:49.53.10.
Men's champions included Bradford graduate David Reinhardt in the hammer for Slippery Rock and Kane graduate D.J. Horton in the pole vault for IUP.
Reinhardt, a graduate student, set the Slippery Rock record in the hammer with a throw of 61.59 meters, the eighth-best in the nation through Saturday. A national champion, it was Reinhart's first PSAC crown. Reinhart also finished fifth in the javelin with an NCAA throw of 62.15 meters and took seventh in the discus with a toss of 45.24 meters
Horton, a sophomore, took home his second straight PSAC championship clearing a height 5.13 meters (16-feet, 10-inches). He also captured the indoor championship as a freshman and is a two-time All-American in the event.
Four additional District 9 alums finished in the top 4 with Cameron County's Trae Smith of Edinboro taking the third in the men's javelin with an NCAA provisional mark of 63.78 meters (209-feet, 3-inches), St. Marys' Jimmy Werner of Lock Haven taking third in the men's hammer with a throw of 52.68 meters, DuBois' Danielle Sciremammo of Shippensburg was second in the 100-meter hurdles in a time of 14.08 and Bradford's Elizabeth Coppella of IUP was fourth in the pole vault (3.56 meters).