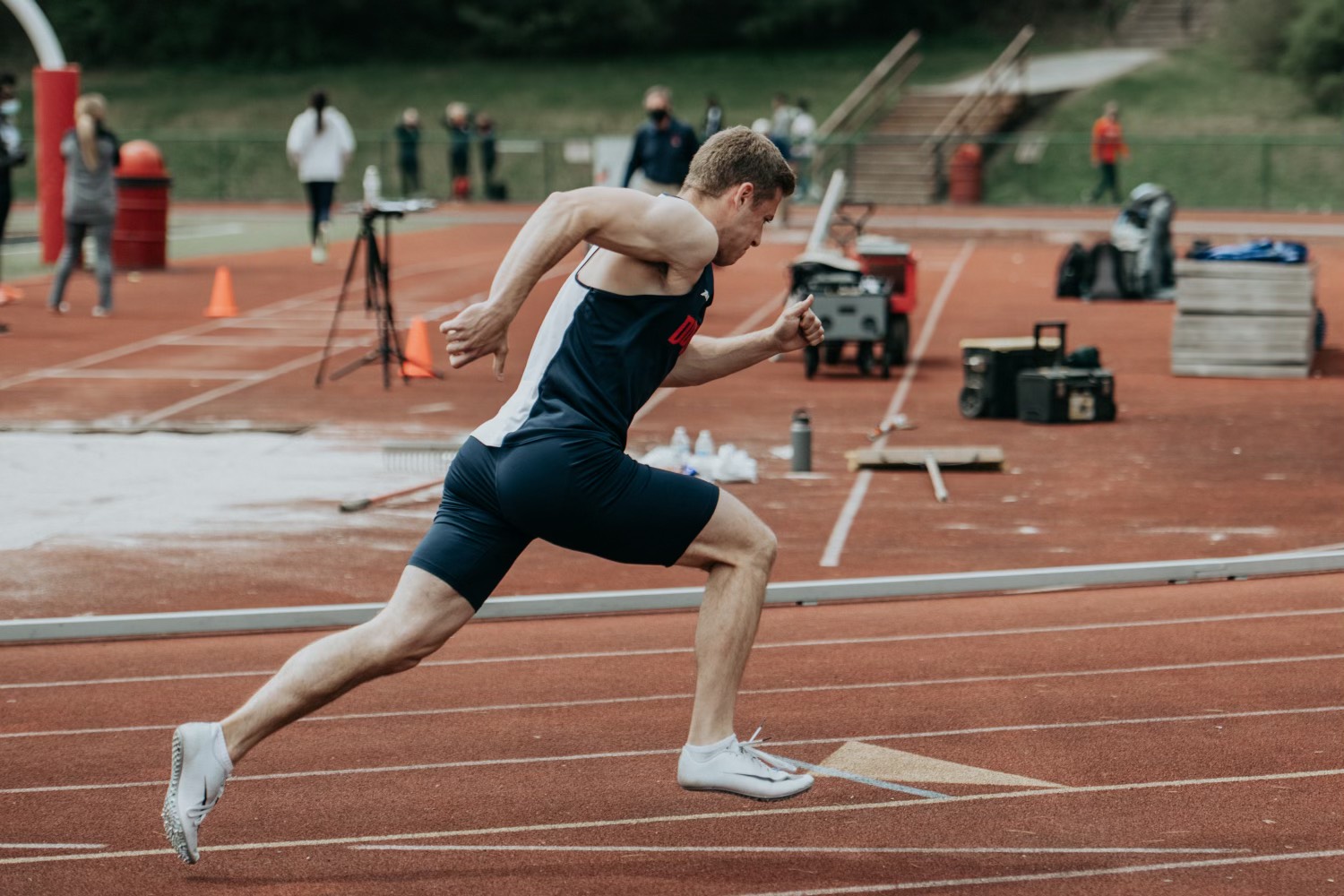 PITTSBURGH (EYT/D9) – Brookville Area High School graduate, Ian Thrush, has become one of the more decorated sprinters District 9 has seen in some time. For the former Raider two-sport standout, he attributes his success to having a powerful value system.
(Photo by Duquesne Athletics and Melissa Thrush Photography)
"It's about putting in the work and focusing on the true goals you have in life," Thrush said. "Some people say they want to do something, but they focus too much on other things instead of what is important. Each decision we make is based on a value, so people need to really decide what it is they want to do. Whether or not it is in athletics, if time and work is dedicated to that one thing, there is no limit and people can go anywhere."
Wise words for a young man who is only in his third semester of college at Duquesne University. Sacrifice is something Thrush has done a lot of in his life, and it has started from a young age. Though his family roots are in Jefferson County, Thrush and his family lived in Colorado in his early years and moved back to Pennsylvania when he was in the sixth grade.
Fast forward to now, and Thrush and many other 2020 high school graduates missed out on activities like their senior prom, senior trip, spring sports seasons, and countless opportunities to be around their classmates. The current Duquesne Duke has had to deal with a non-traditional college experience with fewer socialization opportunities, masking, and even COVID-19 testing. Despite this, the Duquesne sophomore keeps a positive attitude about the opportunity he has in front of him.
"It was hard at first, but there really is not anything anyone could have done," said Thrush. "One of the more normal feelings I can remember was my first race at Carnegie Mellon and running alongside one of my best friends competing for Slippery Rock, Bryan Dworek. It felt natural to be sharing that race with him because we shared every race in high school together."
Another aspect of a strange few years in athletics was Thrush could not finish his quest to end his high school track and field career as a state champion. After a great indoor season and running some of the best times of his life, Thrush was confident that he had what it took to take home gold in Shippensburg in 2020. Decisions out of his control unfortunately took that away from him, but his attention is now focused on becoming the best 100m, 200m, and 4×100 sprinter he can be for Duquesne.
"I am back to feeling confident and am super excited to be focusing on the 100 and 200 this year as my primary events," he said. "My first college season did not shake out exactly how I hoped it would, but I think this year will turn out the way I would like it to."
In high school, Thrush was an eight time state medalist with seven medals coming in outdoor and one coming in indoor. He was also a part of a 4×100 relay team at Brookville that finished second in states his junior year and would also take second as a team. He also was a member of three Raider teams that won District 9 titles, something he believes his head coach, Dan Murdock, deserves the most credit for.
"He puts a lot of time and effort into this program and made it a point of emphasis to bring the District 9 Championships to Brookville each season. He keeps people in Brookville excited about track and field and has invested a lot of time and money. He really has become a role model for many of us."
Looking back to high school, his favorite memories from track and field have come from being a part of some outstanding relay teams. His teammates Jack Krug, Cabe Park, and Bryan Dworked have all also become college athletes, and these four placed fifth in the 800-meter sprint relay in 2019, while competing at the New Balance Outdoor Championships in Greensboro, North Carolina.
"I loved being able to run with that group," said Thrush. "We had our ups and downs all season and faced some injuries, but we accomplished a lot, and it is rare for four kids on a relay from a small school to all excel past high school in various sports."
As previously mentioned, Thrush has faced a great deal of adversity the last two years, and unfortunately lost one of his closest high school friends, Brooke Emery, just last month. Thrush said this about the friendship he shared and the memories he has with Brooke.
"I almost felt like Brooke was the female version of me in our graduating class. Like me, she had so much love for track and field and was at practice to make track her number one sport. It was so tremendous to be around her and to have her as my teammate. We really were a family, and Brooke was someone that brought us all closer."
Through the troublesome times and the best of times, Thrush's parents, Melissa and Tim, and his siblings, Morgan and Logan, have been there to support him and provide guidance on anything he ever needed. He looked up to his brother Logan and his cousin, Ryan, in order to become the athlete he has become today.
In the classroom, Thrush is currently undecided on a major, but is interested in a business career. At Duquesne, their business school allows students to experience a variety of business topics and classes in their first four semesters before declaring a major or minor. As of now, business systems are one avenue the current Duke may further explore.
For one of the most decorated Brookville athletes of all time, it's been about hard work, overcoming adversity, and remembering the people that have been there through this ride we call life. These next three years are shaping up to be exciting for the Jefferson County product, and many strides will be made both on the track and in the classroom.