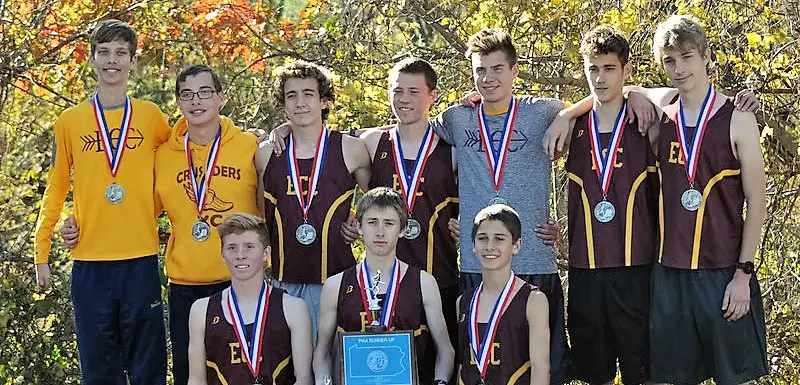 HERSHEY, Pa. – District 9 enjoyed a solid day at the PIAA Cross Country Championships Saturday with Brookville's Ryan Thrush finishing fourth overall in Class 1A and Elk County Catholic Zach Wortman finishing seventh in Class 1A, while the ECC boys' team finished second to Winchester Thurston in Class 1A.
(Cover photo courtesy of Rob Wortman)
Overall, District 9 had five medalists in 1A boys, two in 1A girls and two in 2A girls.
Thrush ran a time of 16:39 to finish fourth with Wortman coming in with a time of 16:46. ECC scored 110 points to finish second behind Winchester Thurston, who scored 62 points.
Also in 1A, Cranberry was eighth with 213 points. The Berries had a pair of medalist (Top 25) with Sam Lander (17:03) finishing 18th and Harrison Keenan 23rd (17:05).
Also medaling in 1A from District 9 was Smethort's Christian Tanner, who was 22nd in 17:04.
In the 1A girls' race, Northern Potter's Danielle Perry was 19th in a time of 19:58, while Kane's Chelsea Hunt was 20th in 20:01.
The 2A girls' race saw St. Marys' Michelle Bauer was 17th and Amanda Foster took 19th.