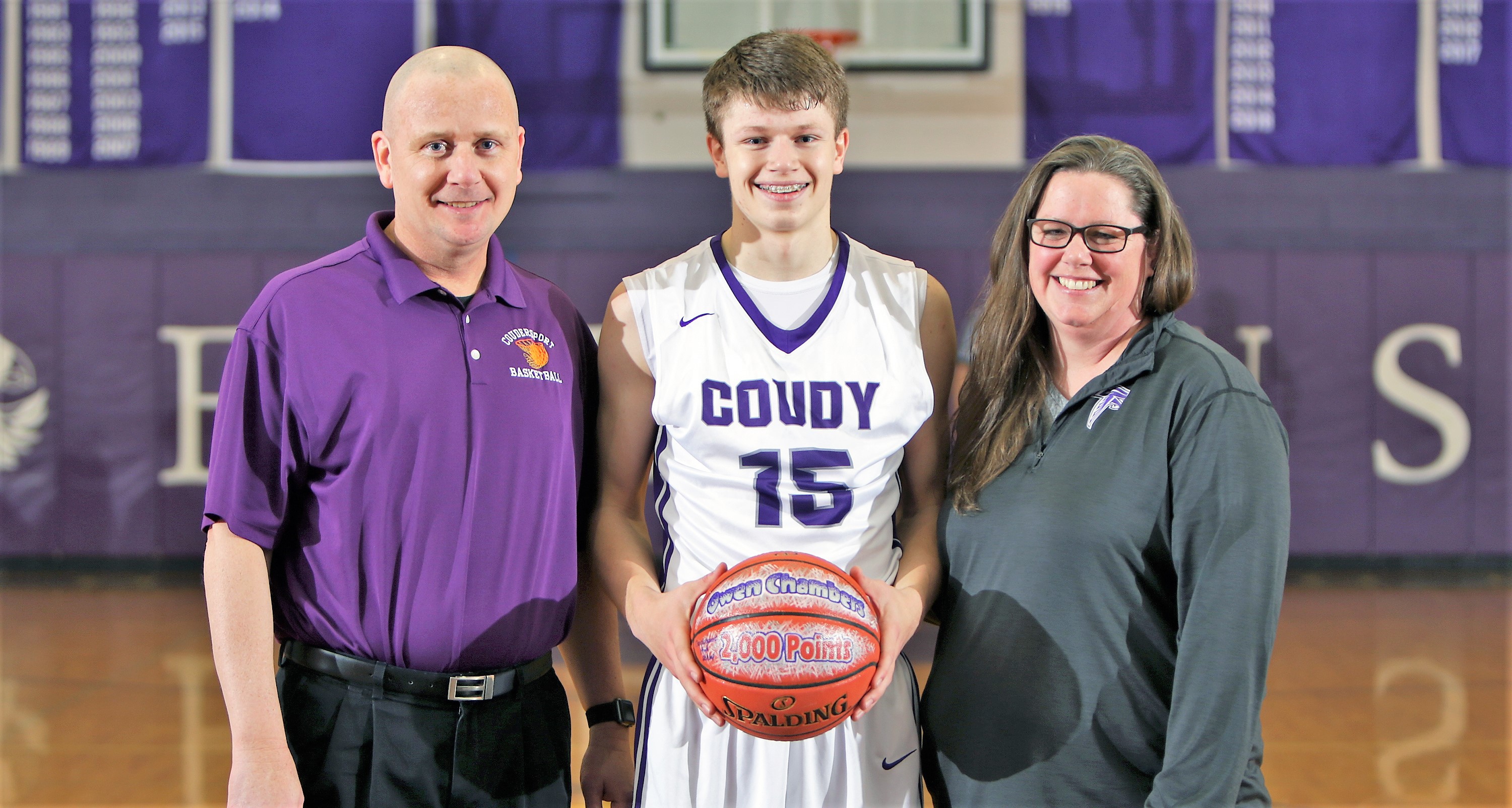 CLARION, Pa. – Over the next few weeks D9Sports.com's Chris Rossetti we will take a look at his the Top 25 stories that impacted District 9 during the 2018-19 school year.
(Photo of Owen Chambers with his parents, Mark and Jennifer Chambers, after scoring his 2,000th career point early in the 2019 season. Photo by Paul Burdick. Check out more of Burdick's work here)
NO. 1 – CHAMBERS SETS DISTRICT 9 BOYS' BASKETBALL SCORING MARK
Once in a while, perhaps once a decade or once every 15 or 20 years, a player comes along that transforms the sport he or she plays in a way that his or her name gets written in the record books of District 9 and talked about long after that athlete has graduated.
For sure, Owen Chambers was one of those athletes.
A four-year starter for the Coudersport basketball team, Chambers helped the Falcons to a pair of District 9 Class 2A titles and to the PIAA playoffs in all four years thanks to second-place D9 finishes in 2016 (Class 1A) and 2019 (Class 2A).
But Chambers' legacy goes well beyond what the Falcons did as a team, as the smooth-shooting guard who is headed to Mercyhurst to continue his playing career scored almost at will throughout his career and finished as the all-time leading scorer in District 9 history with 2,269 career points topping the previous mark of 2,257 set by Johnsonburg's Calvin Grumley in 2007. He was just the fifth player in D9 boys' hoops history to top 2,000 points joining Grumley, Keystone's Garrett Heath (2,215), Cameron County's Brandon Housler (2,084) and Elk County Catholic's Jesse Bosnik (2,083).
If that wasn't enough to cement his legacy, the senior year Chambers had certainly was. He became the first District 9 boys' basketball player to average at least 30 points a game since Housler scored 31.9 ppg in 1999. He finished the year with a D9-leading 30.7 ppg to go with 4.2 rebounds, 3.1 assists and 2.6 steals per contest. Chambers shot 53.2 percent from the field and hit an unbelievable 115 3-pointers while shooting 43.7 percent from beyond the arc. He also was an 84.9 percent free-throw shooter.
On the season, Chambers scored 30 or more points 16 times, 35 or more seven times and twice reached 40 in a game while leading the Falcons to a 24-3 overall record.
He was named the All American Awards & Engraving D9Sports.com District 9 Boys' Basketball Player of the Year for the second straight year joining Heath (2003, 2004), Bosnik (2006, 2007) and ECC's A.J. Straub (2001, 2002) as the only two-time winners of the award, which was in its 20th year in 2019.
To cap off his great season and career, Chambers earned first-team All-State honors by the Pennsylvania Sports Writers.
ROSSETTI'S TOP 25 MOST IMPACTFUL HIGH SCHOOL SPORTS STORIES FROM 2018-19 SCHOOL YEAR
2. Whitehill, Scott win PIAA wrestling crowns, English finishes second
3. Sherry, Newton take home PIAA girls' track and field individual titles
4. Brookville's Record-Setting 4×100-meter boys' relay team
5. DCC softball reaches PIAA title game
6. Brookville boys' track finishes second in the state
7. Clarion-Limestone/Clarion football programs combine
8. Curwensville head coach Andy Evanko passes away after a long fight with ALS
9. C-L's Newcomb runs into D9 record book
10. Young Clearfield softball team reaches PIAA semifinals
11. Cranberry softball reaches PIAA semifinals
12. Winning one for the coach, Kane rallies behind Dave Kiehl
13. A-C Valley girls' basketball makes school history
14. Clarion Volleyball Wins D9 Title, Advances to PIAA quarterfinals
15. Ridgway Boys' Basketball reaches PIAA quarterfinals
16. Six D9 Cross Country athletes medal at PIAAs
17. North Clarion Girls' Basketball gets unexpected three-peat
18. Moving up in class? No problem, Ridgway Football wins third straight D9 title
19. ECC Baseball goes from D9 fifth seed to final eight in the state
20. Moniteau Baseball battles back to win D9 title
21. Brookville Wrestling, a D9 Dynasty
22. Chambers steal and miracle Shot
23. Callen nearly unhittable
24. Wruble's Clutch Hit
25. Ella Marconi's terrific season caps terrific career