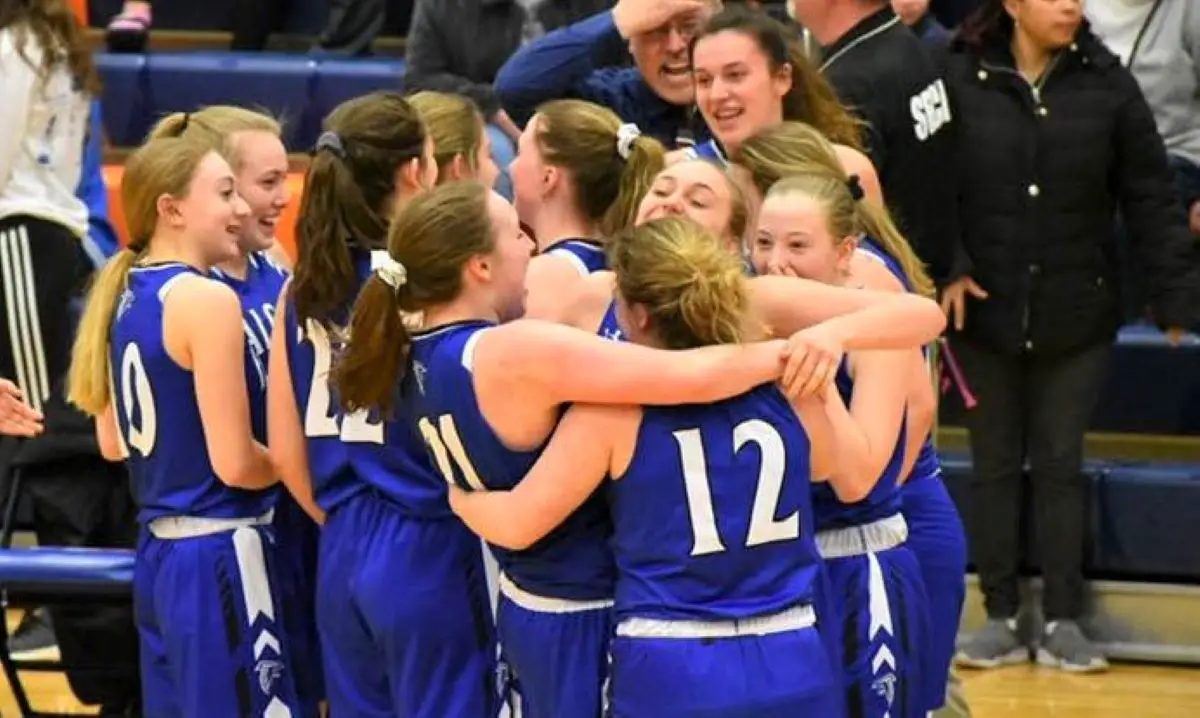 CLARION, Pa. – Over the next few weeks D9Sports.com's Chris Rossetti we will take a look at his the Top 25 stories that impacted District 9 during the 2018-19 school year.
NO. 13 – A-C VALLEY GIRLS' BASKETBALL MAKES SCHOOL HISTORY
Coming off a solid 2018 season that saw it win a PIAA playoff game for the first time in school history, expectations were high for the A-C Valley girls' basketball team in 2019.
And the Lady Falcons didn't disappoint.
After cruising to the KSAC South title with a perfect 10-0 record, four games better than any other team, A-C Valley vanquished some demons by knocking off North Clarion – a team that had beaten the Lady Falcons in both the KSAC title game and D9 Class 1A title game in 2018 – 38-35 in the KSAC Championship Game at Keystone High School thanks to 18 points from Olivia Boocks.
A-C Valley, which moved up a class this year, reached the Class 2A title game and nearly pulled off a stunning rally overcoming a 10-point deficit going to the fourth quarter to force overtime before losing to Kane, 61-52.
But the Lady Falcons didn't let that loss define their season.
In the PIAA playoffs, they knocked off Cambridge Springs, 47-43, thanks to a game-ending 6-1 spurt with Kylee Eaton scoring the go-ahead layup with 1:23 to play. Eaton had 20 points and 14 rebounds to lead the way to victory.
Up next was WPIAL champion Our Lady of Scared Heart, and it ended up being a game that legends are made from for A-C Valley.
In a defensive slugfest, the Lady Falcons trailed by six, 22-16, heading to the fourth quarter but forced overtime when Boocks, who had a game-high 18 points, hit the back end of a two-shot foul with 1.5 seconds left in regulation to knot the game at 29.
Cami McNany then scored off the opening tip-off of overtime, which was won by Eaton, on a set play to put A-C Valley up for good, 31-29.
The fourth-quarter rally will be talked about for as long as A-C Valley girls' basketball exists and perhaps beyond.
Down 25-20, following a 3-pointer by OLSH with 6:04 to play in the fourth quarter, A-C Valley didn't allow another field goal the rest of the way only allowing free throws from the Chargers in the last 10:04.
Back-to-back baskets by Rachel Cullen and Boocks closed the gap back to one, 25-24, with five minutes left, and the score remained that way until 1:08 left in the game when OLSH hit two free throws to make it 27-24 OLSH.
Boocks, though, grabbed her own rebound off a missed three and was fouled with 27.1 to play. She hit both to make it a one-point game again before Norling hit both ends of a 1-and-1 seconds later to make it 29-26.
Again it was Boocks to the free-throw line this time when she was fouled taking a 3-pointer with 13.6 to play. Boocks missed the first shot but hit the next two to make it a one-point game once again, 29-28.
After OLSH missed the front-end of a one-and-one, Eaton collected the rebound and A-C Valley got a timeout before the ball was tied up with 7.0 seconds left. Boocks then drove the hoop and was fouled with 1.5 to go giving the Lady Falcons a chance to win the game in regulation. Boocks, however, missed the first shot putting all the pressure on her to hit the second to force overtime, which she did.
A-C Valley's season came to a close in the quarterfinals against Everett, but the Lady Falcons achieved school history by playing the Elite Eight for the first time in school history.
ROSSETTI'S TOP 25 MOST IMPACTFUL HIGH SCHOOL SPORTS STORIES FROM 2018-19 SCHOOL YEAR
14. Clarion Volleyball Wins D9 Title, Advances to PIAA quarterfinals
15. Ridgway Boys' Basketball reaches PIAA quarterfinals
16. Six D9 Cross Country athletes medal at PIAAs
17. North Clarion Girls' Basketball gets unexpected three-peat
18. Moving up in class? No problem, Ridgway Football wins third straight D9 title
19. ECC Baseball goes from D9 fifth seed to final eight in the state
20. Moniteau Baseball battles back to win D9 title
21. Brookville Wrestling, a D9 Dynasty
22. Chambers steal and miracle Shot
23. Callen nearly unhittable
24. Wruble's Clutch Hit
25. Ella Marconi's terrific season caps terrific career