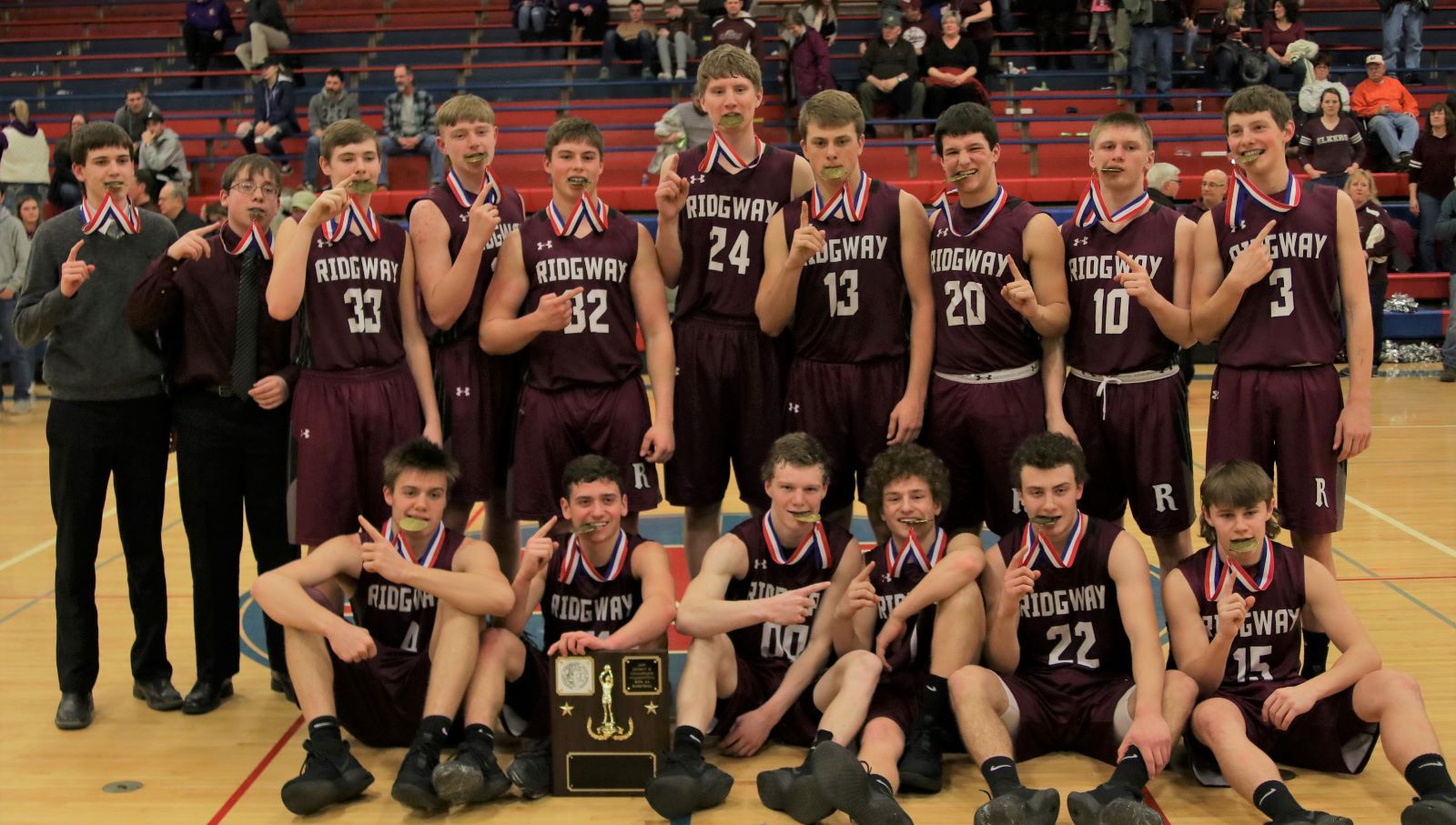 CLARION, Pa. – D9Sports.com's Chris Rossetti is taking a look at his the Top 25 stories that impacted District 9 during the 2018-19 school year.
(Photo by Jared Bakaysa of JB Graphics. See more of Bakaysa's work here)
NO. 15: RIDGWAY BOYS' HOOPS ADVANCES TO PIAA QUARTEFINALS
Going deep into the PIAA boys' basketball playoffs isn't an easy task, but Ridgway is making it a semi-regular occurrence after reaching the PIAA Class 2A quarterfinals again in 2019.
The Elkers quest started by winning the District 9 title thanks to a pair of edge-of-your-seat wins.
First, they held off a strong challenge from Keystone in the semifinals to reach the title game with a 42-38 win. Then, in the D9 championship game against Coudersport, a team that had beaten Ridgway by 20 in the 2018 title game, Zach Zameroski's layup off a Daunte Allegretto pass with 4.4 seconds gave the Elkers a 52-50 win and the D9 title.
Watch the game-winning shot. Video courtesy of Drew Macensky.
That shot capped a comeback from a 43-39 deficit heading to the fourth quarter for the Elkers.
In the PIAA playoffs first round at St. Marys, Ridgway then won a wild affair against Sewickley Academy, another team that had beaten the Elkers in the 2018 postseason.
The 60-51 final score doesn't do justice to how the game unfolded.
Down 11, 30-19, at halftime and down 10, 38-28, late in the third quarter, Ridgway ended the game on a 32-12 run. But even that doesn't tell the full story.
Still trailing by two, 47-45, with 1:20 to play, Daunte Allegretto hit a 3-point to put the Elkers ahead, 48-47 before Isiah Warfield tied the game when he split a pair of free throws.
Matt Dush put the Elkers back ahead, 49-48, when he hit one of two charity shots, and Zameroski gave Ridgway a 51-48 lead with two free throws.
Things then went completely bonkers after that.
Sewickley Academy missed a shot, and Zameroski collected the rebound and was fouled. The Sewickley Academy player was then whistled for a technical foul, and Zameroski proceeded to hit 3 of 4 free throws to make it 54-48.
If that didn't put it out of reach what happened in the ensuing seconds surely did.
In a chaotic turn of events, Sewickley Academy head coach Win Palmer received a technical foul, and Panthers senior Donald Belt was also called for a flagrant foul and ejected from the game. The end result was a 60-48 Ridgway lead with Jake Reynolds making a basket and one of two free throws and Zameroski splitting two free throws and Dush hitting 2 of 2 from the line.
The second round game against Wilmington, a 38-36 win that avenged a loss to Greyhounds during football season, was just as tight if not as chaotic.
Jake Reynolds was the hero this time hitting a 3-pointer from the high-right wing with 38.6 seconds left to give Ridgway the victory.
Reynolds then partially blocked a potential game-winning 3-pointer from Robert Pontius with just over four seconds to play with the ball falling into the arms of Allegretto.
Ridgway led by four, 34-30, following a 3-pointer by Reynolds with 5:24 to play before Wilmington answered with a 6-1 run to take a 36-35 lead on the second of back-to-back baskets by Tage Kelliher off feeds from Cameron Marett, the last coming with 2:51 to play.
The great run by the Elkers ended in the quarterfinals with a 68-54 loss to OLSH.
ROSSETTI'S TOP 25 MOST IMPACTFUL HIGH SCHOOL SPORTS STORIES FROM 2018-19 SCHOOL YEAR
15. Ridgway Boys' Basketball reaches PIAA quarterfinals
16. Six D9 Cross Country athletes medal at PIAAs
17. North Clarion Girls' Basketball gets unexpected three-peat
18. Moving up in class? No problem, Ridgway Football wins third straight D9 title
19. ECC Baseball goes from D9 fifth seed to final eight in the state
20. Moniteau Baseball battles back to win D9 title
21. Brookville Wrestling, a D9 Dynasty
22. Chambers steal and miracle Shot
23. Callen nearly unhittable
24. Wruble's Clutch Hit
25. Ella Marconi's terrific season caps terrific career