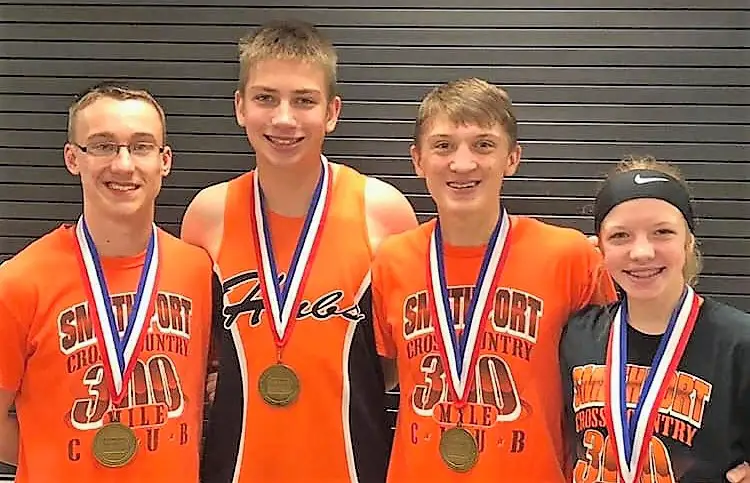 CLARION, Pa. – D9Sports.com's Chris Rossetti is taking a look at his the Top 25 stories that impacted District 9 during the 2018-19 school year.
(Photo: Christian Tanner (left) and Darion Gregory (second from right) of Smethport were the top two finishers from D9 at the PIAA Class 1A boys' XC championship Saturday. Submitted photo)
NO. 16: SIX D9 ATHLETES MEDAL AT PIAA CROSS COUNTY CHAMPIONSHIPS
Any time District 9 has success at the PIAA level it is a cause to celebrate.
And that was especially true during the 2018 cross country season when D9 athletes captured six medals (three boys and three girls), including five in Class 1A and one in Class 2A.
The three boys' medals all came in Class 1A with District 9 taking home three of the top 12 places in the race.
Smethport's Christian Tanner led the way finishing ninth in a time of 17:08 while his Hubbers teammate Darion Gregory was 11th in a time of 17:10. Gregory was just ahead of Elk County Catholic's Ben Hoffman, who finished 11th in a time of 17:11.
In the girls' Class 1A race, District 9 saw a pair of runners finish in the Top 15 led by Northern Potter's Amanda Ford, who took 12th in a time of 20:41 while D9 champion Evelyn Lerch was 15th in a time of 20:47.
The Class 2A girls' race saw St. Marys' Samantha Hayes finish 16th in a time of 20:22.
ROSSETTI'S TOP 25 MOST IMPACTFUL HIGH SCHOOL SPORTS STORIES FROM 2018-19 SCHOOL YEAR
17. North Clarion Girls' Basketball gets unexpected three-peat
18. Moving up in class? No problem, Ridgway Football wins third straight D9 title
19. ECC Baseball goes from D9 fifth seed to final eight in the state
20. Moniteau Baseball battles back to win D9 title
21. Brookville Wrestling, a D9 Dynasty
22. Chambers steal and miracle Shot
23. Callen nearly unhittable
24. Wruble's Clutch Hit
25. Ella Marconi's terrific season caps terrific career