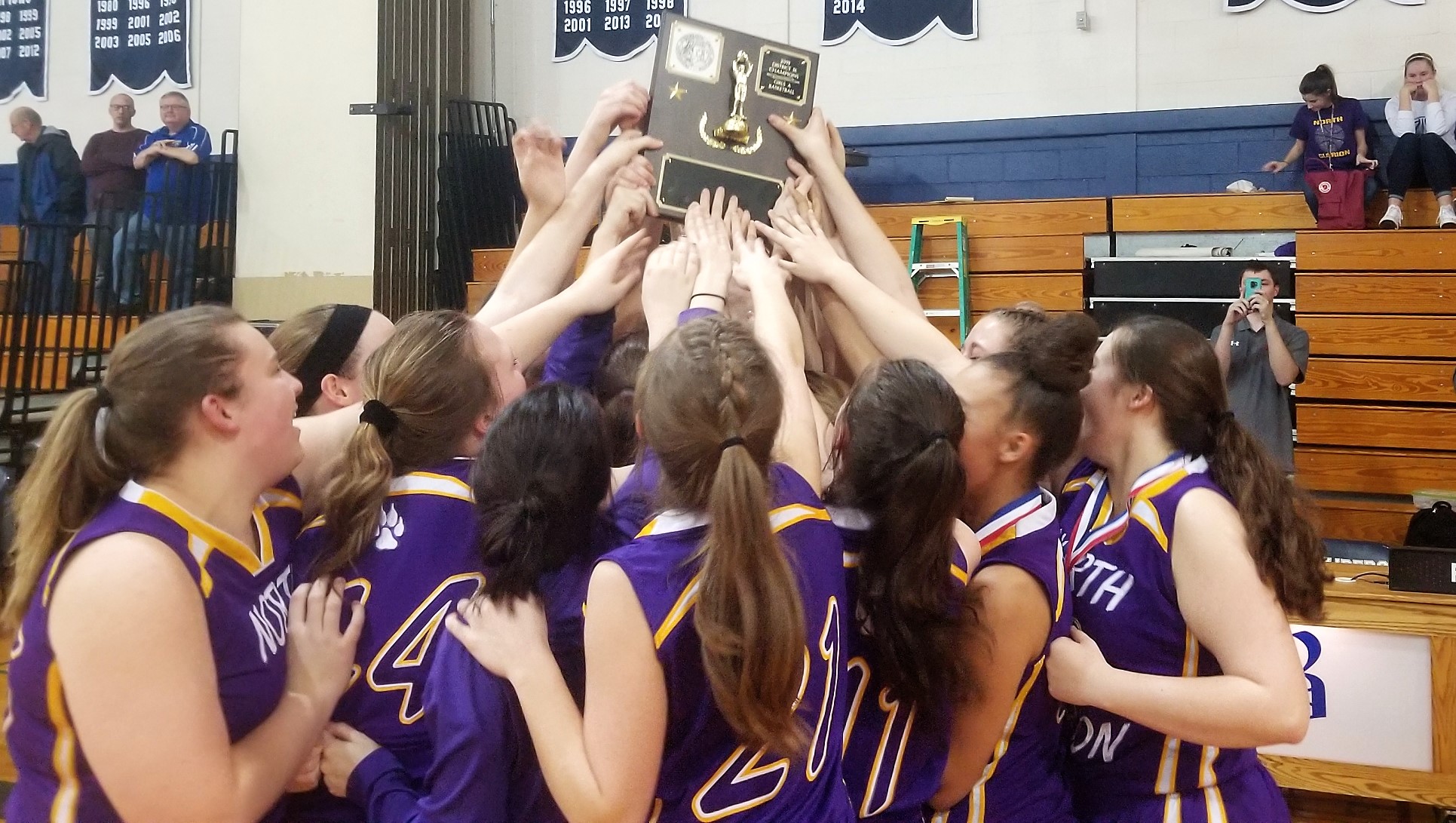 CLARION, Pa. – D9Sports.com's Chris Rossetti is taking a look at his the Top 25 stories that impacted District 9 during the 2018-19 school year.
NO. 17: NORTH CLARION GIRLS' HOOPS WINS UNEXPECTED THIRD STRAIGHT CLASS 1A TITLE
Coming into the 2018-19 season, the North Clarion girls' basketball team was an unknown quantity.
The She-Wolves were the two-time defending D9 Class 1A champion, and they returned four starters. But the one starter who wasn't back was the best player to ever step foot inside the school, Tori Obenrader, a 2,000-point, 1,000-rebound superstar who was one her way to earning PSAC West Freshman of the Year honors at Gannon.
But enter junior Abby Gatesman and a supporting cast that seemed to have a different hero every night.
Behind Gatesman, who averaged 14.3 points, 8.7 rebounds, 3.5 assists, 2.8 steals and 1.2 blocks per game while earning first-team All American Awards & Engraving D9Sports.com District 9 honors and third-team All-State honors in Class 1A, North Clarion won the KSAC North for the fourth straight year.
After losing to A-C Valley in their attempt to win a third consecutive KSAC crown, North Clarion entered the D9 playoffs as the No. 3 seed.
First up was Elk County Catholic in the quarterfinals at Brookville High School, and North Clarion roared to a 22-9 lead in the second quarter only to see ECC take a 43-42 lead early in the fourth quarter. But Gatesman hit a 3-pointer to give the She-Wolves a 45-43 lead before ECC tied the game again at 45. But Haley Sherman answered with an offensive rebound and bucket with 3:10 left to put North Clarion ahead for good, 47-45, and the She-Wolves went on to win, 54-48, with Gatesman scoring 20 points.
In the semifinals against second-seeded Coudersport, North Clarion has no problem at all racing to a 50-29 win at St. Marys High School. A 10-0 run at the end of the first half broke open a close game and turned the contest into a route with Mackenzie Bauer leading the way with 15 points and five steals.
The championship game was back in Brookville against top-seeded Johnsonburg on the last day of February.
North Clarion was in control of the game for long stretches leading 24-13 two minutes into the second quarter, 31-23 late in the third quarter and 37-32 with 4:45 to play.
But Johnsonburg rallied to tie the game at 37 with 2:20 left.
The game was still tied at 37 with just under 40 seconds left when Gabby Schmader, who had been held scoreless up to that point, hit perhaps the biggest shot in North Clarion girls' basketball history draining a 3-pointer from the right corner on the lobby side of the Brookville High School Gymnasium that found nothing but net to give North Clarion what ended up being a 43-41 win and a third consecutive title.
North Clarion's season came to a close in the opening round of the PIAA tournament with a loss to Sewickley Academy, but the three-peat that no one expected was already in the trophy case.
ROSSETTI'S TOP 25 MOST IMPACTFUL HIGH SCHOOL SPORTS STORIES FROM 2018-19 SCHOOL YEAR
18. Moving up in class? No problem, Ridgway Football wins third straight D9 title
19. ECC Baseball goes from D9 fifth seed to final eight in the state
20. Moniteau Baseball battles back to win D9 title
21. Brookville Wrestling, a D9 Dynasty
22. Chambers steal and miracle Shot
23. Callen nearly unhittable
24. Wruble's Clutch Hit
25. Ella Marconi's terrific season caps terrific career