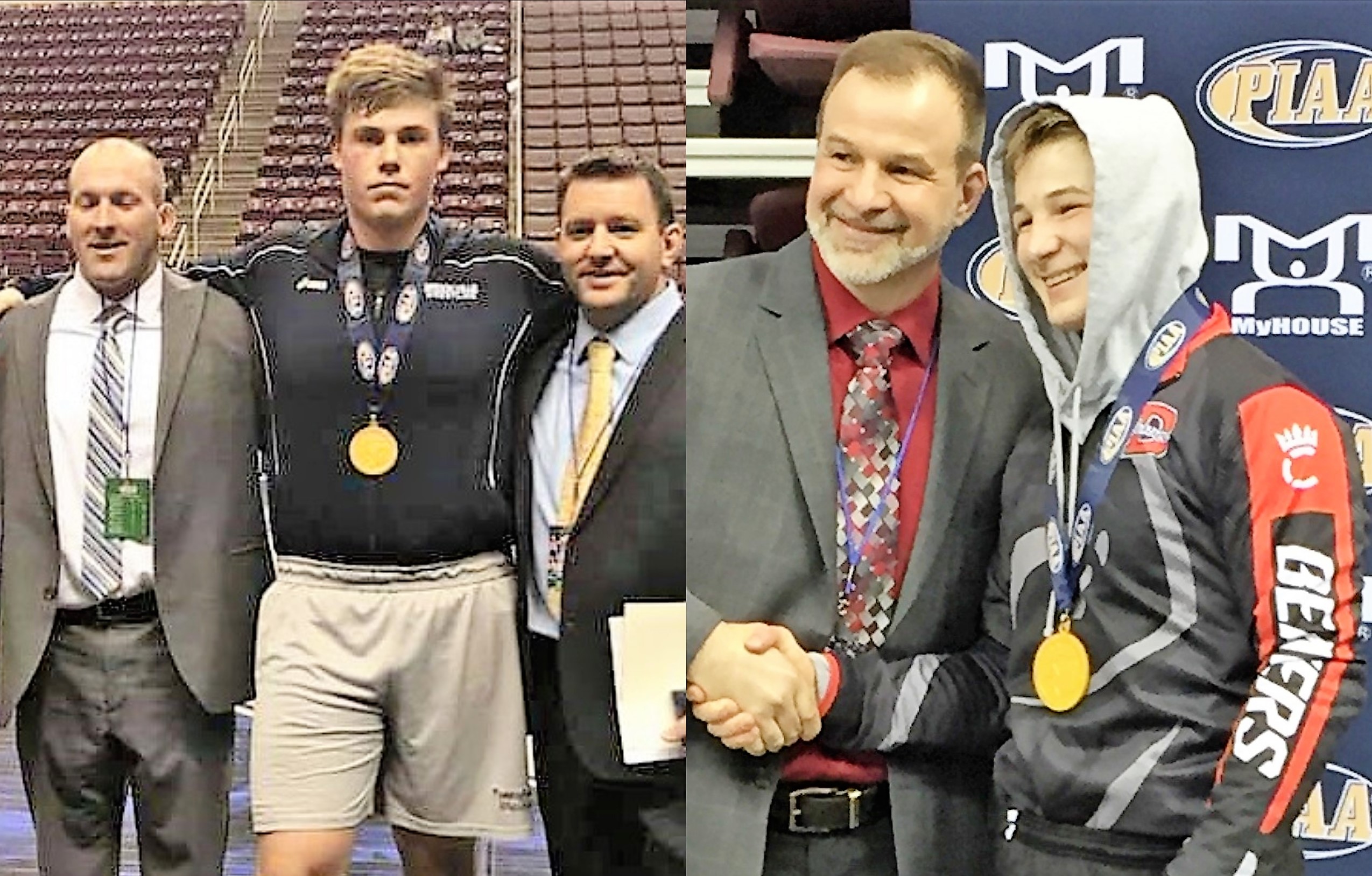 CLARION, Pa. – Over the next few weeks D9Sports.com's Chris Rossetti we will take a look at his the Top 25 stories that impacted District 9 during the 2018-19 school year.
(Photo of Brookville's Colby Whitehill (left) and DuBois' Ed Scott. Whitehill photo courtesy of Brookville Athletic's. Scott photo courtesy of DuBois AD Chuck Ferra)
NO. 2 – WHITEHILL, SCOTT WIN PIAA WRESTLING TITLES, ENGLISH TAKES SECOND
Wrestling is consistently one of the top sports each year for District 9 athletes, and 2019 was no different with two wrestlers winning PIAA titles and a third wrestler finishing in second place.
The championships went to Brookville's Colby Whitehill in Class 2A at heavyweight (285 pounds) and to DuBois' Ed Scott in Class 3A at 138 pounds.
Kane's Alec English finished second in Class 2A at 160 pounds.
Both champions won in impressive fashion with Scott recording a pin over Nazareth's Dashawn Farber at the 3:25 mark and Whitehill claiming a 5-2 victory over Mount Union's Jack Ryan.
Whitehill's title completed an undefeated season for the Raider junior, who while becoming the seventh Brookville wrestler to win a PIAA title became the first underclassman to do so.
He went 39-0 on the year and at the PIAA Championship he beat Burgettstown's Riley Kemper (fall at 1:46), Meyersdale's Jalen Stephens (5-3) and Southern Columbia's Lear Quinton (8-4) to set up the finals match against Ryan, who came into the championship bout at 39-1 on the year.
Scott also finished the season 39-0 and had two pins at the PIAA Championships and a pair of close pins.
In addition to his final's pin over Farber, Scott started PIAA competition with a pin over Pocono Mountain's Steven Storm (4:37). He then won a pair of close matches to reach the finals topping Owen J. Robert's Antonio Petrucelli, 5-4, in the quarterfinals and Northampton's Devon Britton, 6-4, in the semifinals.
While Whitehill and Scott took home gold, English had to settle for a still impressive silver after falling in the 2A 160-pound title match to Frazier's Thayne Lawrence, 7-2.
Despite the loss, it was still a great career for English, who went 35-2 his senior year and won 111 bouts in his career.
ROSSETTI'S TOP 25 MOST IMPACTFUL HIGH SCHOOL SPORTS STORIES FROM 2018-19 SCHOOL YEAR
3. Sherry, Newton take home PIAA girls' track and field individual titles
4. Brookville's Record-Setting 4×100-meter boys' relay team
5. DCC softball reaches PIAA title game
6. Brookville boys' track finishes second in the state
7. Clarion-Limestone/Clarion football programs combine
8. Curwensville head coach Andy Evanko passes away after a long fight with ALS
9. C-L's Newcomb runs into D9 record book
10. Young Clearfield softball team reaches PIAA semifinals
11. Cranberry softball reaches PIAA semifinals
12. Winning one for the coach, Kane rallies behind Dave Kiehl
13. A-C Valley girls' basketball makes school history
14. Clarion Volleyball Wins D9 Title, Advances to PIAA quarterfinals
15. Ridgway Boys' Basketball reaches PIAA quarterfinals
16. Six D9 Cross Country athletes medal at PIAAs
17. North Clarion Girls' Basketball gets unexpected three-peat
18. Moving up in class? No problem, Ridgway Football wins third straight D9 title
19. ECC Baseball goes from D9 fifth seed to final eight in the state
20. Moniteau Baseball battles back to win D9 title
21. Brookville Wrestling, a D9 Dynasty
22. Chambers steal and miracle Shot
23. Callen nearly unhittable
24. Wruble's Clutch Hit
25. Ella Marconi's terrific season caps terrific career