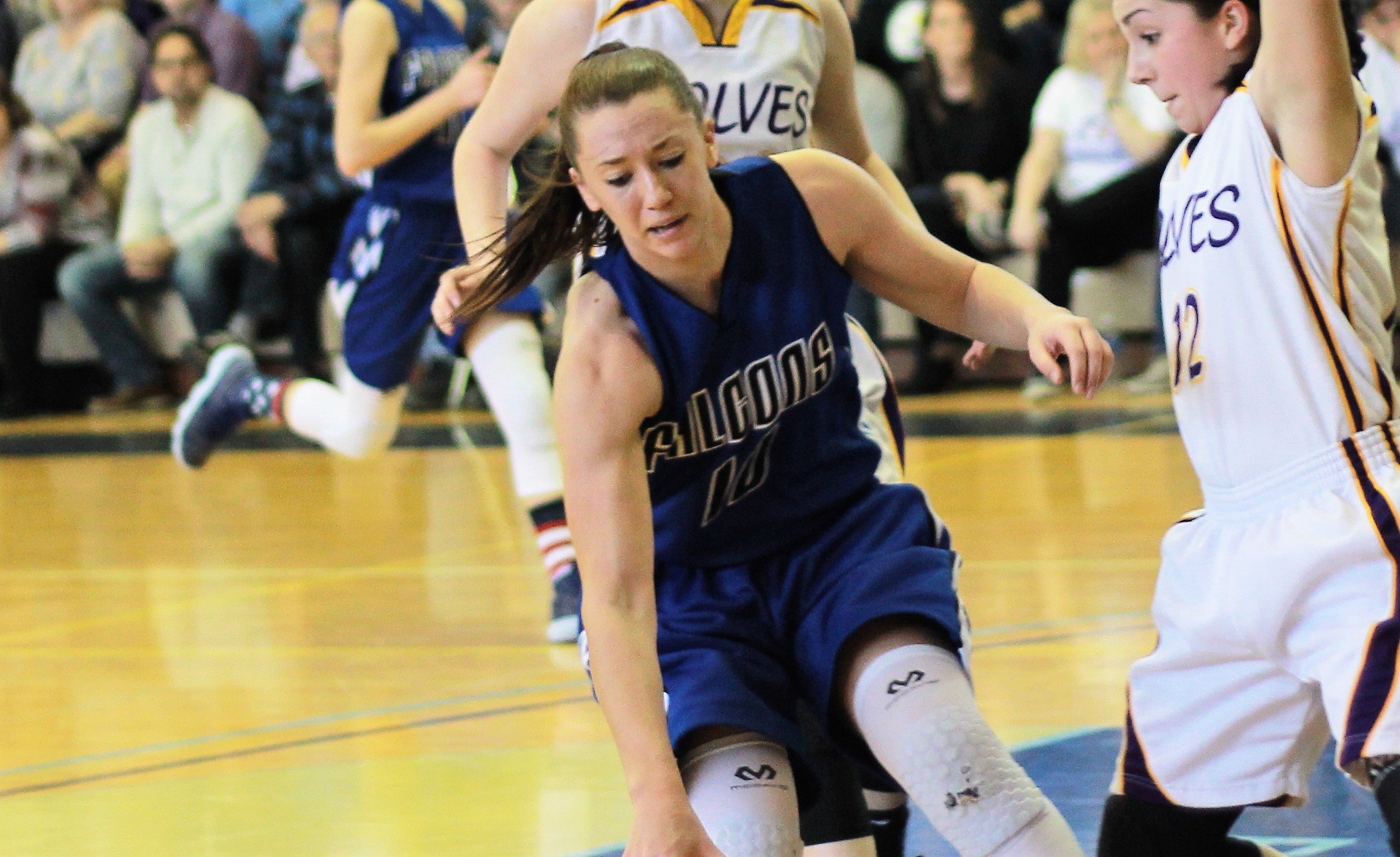 Between June 26 and July 30, D9Sports.com Sports Editor Chris Rossetti will be counting down his Top 25 favorites stories in District 9 from the 2017-18 school year starting with No. 25 June 25 and finishing with No. 1 July 30. Again these are Chris' favorite stories and are open for debate.
(Photo of Ellie Thompson. Photo by Jared Bakaysa of JB Graphics. See more of Bakaysa's work here)
No. 25 – A-C Valley girls win first PIAA playoff basketball game in school history
For the longest time, A-C Valley girls' basketball was viewed as an easy win.
Not anymore.
The Lady Falcons recorded school history when they finished second in District 9 Class 1A and then beat Sewickley Academy, 54-48, in overtime to claim the first PIAA girls' basketball victory in school history.
The PIAA game was a classic with Cami McNany scoring seven of her 15 points in overtime after the teams were tied at 43 at the end of regulation.
The win almost didn't happen, as A-C Valley lost a six-point lead in the final two minutes of regulation, but the Lady Falcons shot 9 of 14 from the free-throw line in overtime to claim the victory.
The success of the season, which saw A-C Valley go 21-7 and win the KSAC South title, the first divisional title in school history, was made all that more impressive by the fact the Lady Falcons lost point guard Olivia Boocks to a season-ending injury in mid-January.
But with Boocks, out, everyone else stepped up their game led by first-team All American Awards & Engraving All-District 9 selection and second-team All-State choice Ellie Thompson (19.5 ppg, 8.3 rpg, 2.4 apg, 2.3 spg), who became the school's all-time leading scorer.
Chris Rossetti's Top 25 Sports Stories in District 9 for the 2017-18 School Year
No. 25 – A-C Valley girls win first PIAA playoff basketball game in school history
No. 24 – Coming June 27
No. 23 – Coming June 28
No. 22 – Coming June 29
No. 21 – Coming July 2
No. 20 – Coming July 3
No. 19 – Coming July 4
No. 18 – Coming July 5
No. 17 – Coming July 6
No. 16 – Coming July 9
No. 15 – Coming July 10
No. 14 – Coming July 11
No. 13 – Coming July 12
No. 12 – Coming July 13
No. 11 – Coming July 16
No. 10 – Coming July 17
No. 9 – Coming July 18
No. 8 – Coming July 19
No. 7 – Coming July 20
No. 6 – Coming July 23
No. 5 – Coming July 24
No. 4 – Coming July 25
No. 3 – Coming July 26
No. 2 – Coming July 27
No. 1 – Coming July 30