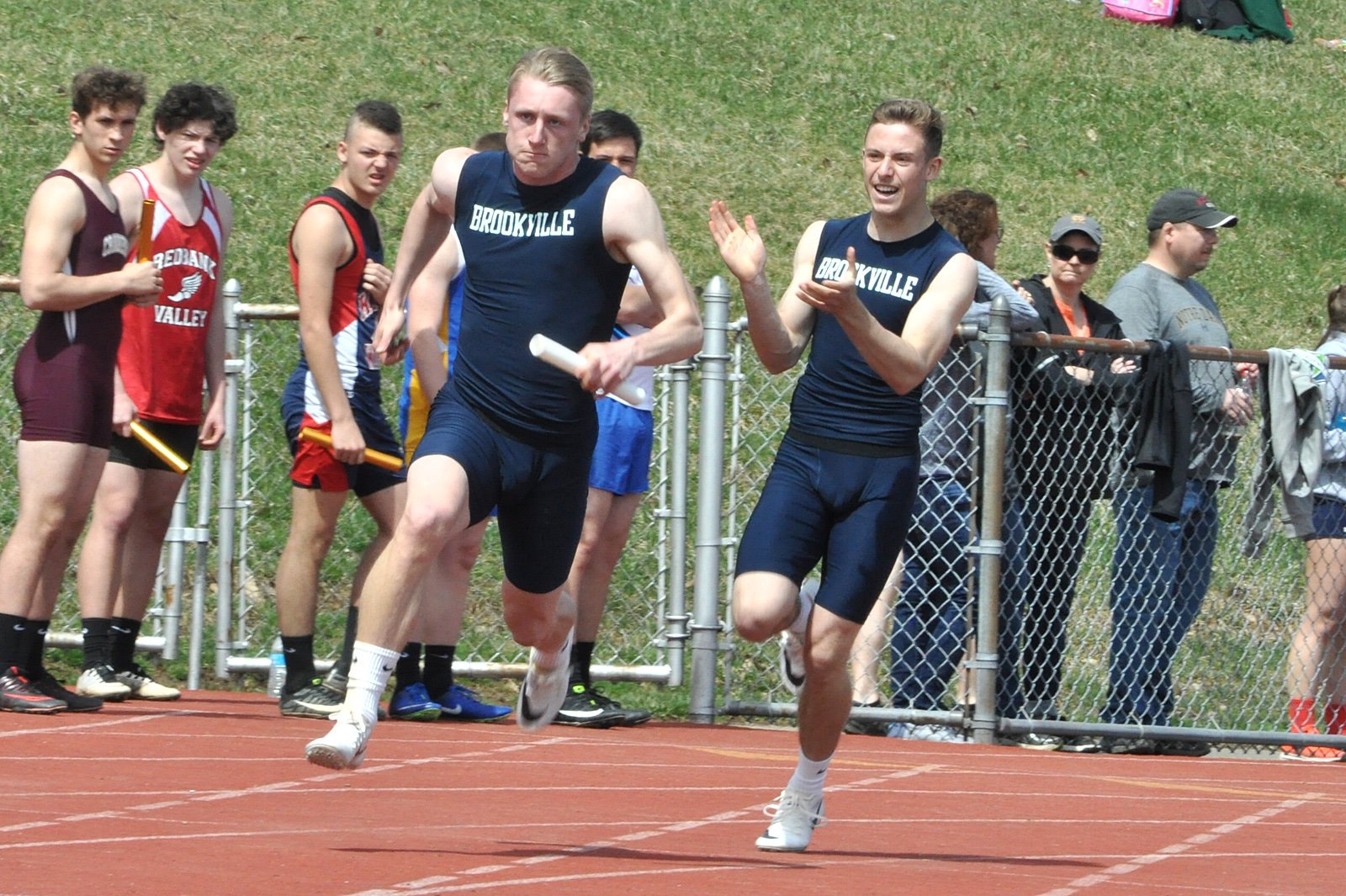 CLARION, Pa. – Over the next few weeks D9Sports.com's Chris Rossetti we will take a look at his the Top 25 stories that impacted District 9 during the 2018-19 school year.
NO. 4 – BROOKVILLE'S RECORD-SETTING 4X100-METER RELAY TEAM
Every once in awhile, something so special happens within another event that it gets its own recognition outside of the original event.
That is the case with the Brookville 4×100-meter boys' relay team.
Just a couple of days ago, Brookville finishing second at the PIAA Class 2A track and field championship was featured, and in that story, the 4×100-meter relay team was mentioned.
But a mere mention doesn't do justice to this group of four runners – Jack Krug, Cabe Park, Bryan Dworek and Ian Thrush.
Going into the season, the foursome knew it had a special group, and it didn't take long to show what kind of a group it was setting the school and track record during the Brookville Invite in mid-April in a blistering time of 42.18, which was good enough to be the fastest time in Pennsylvania heading into the District 9 meet.
But that wasn't good enough for this group.
They set the District 9 record while blowing away the competition at the D9 meet winning in a time of 42.02, over two seconds faster than second-place Elk County Catholic and over a half-second faster than the mark set by Clarion in 2001 (42.62).
At the PIAA meet, Brookville entered the finals with the top semifinal time of 42.54 and then nearly equaled its D9 record by running 42.04 in the finals. The Raiders had to settle for second place when Motivation out of Philadelphia ran a sub-42 winning the race in 41.98. But Brookville beat out Aliquippa, which took third in a time of 42.91.
The records set by Brookville in 2019 may not be touched in District 9 or at the school for a very long time.
ROSSETTI'S TOP 25 MOST IMPACTFUL HIGH SCHOOL SPORTS STORIES FROM 2018-19 SCHOOL YEAR
5. DCC softball reaches PIAA title game
6. Brookville boys' track finishes second in the state
7. Clarion-Limestone/Clarion football programs combine
8. Curwensville head coach Andy Evanko passes away after a long fight with ALS
9. C-L's Newcomb runs into D9 record book
10. Young Clearfield softball team reaches PIAA semifinals
11. Cranberry softball reaches PIAA semifinals
12. Winning one for the coach, Kane rallies behind Dave Kiehl
13. A-C Valley girls' basketball makes school history
14. Clarion Volleyball Wins D9 Title, Advances to PIAA quarterfinals
15. Ridgway Boys' Basketball reaches PIAA quarterfinals
16. Six D9 Cross Country athletes medal at PIAAs
17. North Clarion Girls' Basketball gets unexpected three-peat
18. Moving up in class? No problem, Ridgway Football wins third straight D9 title
19. ECC Baseball goes from D9 fifth seed to final eight in the state
20. Moniteau Baseball battles back to win D9 title
21. Brookville Wrestling, a D9 Dynasty
22. Chambers steal and miracle Shot
23. Callen nearly unhittable
24. Wruble's Clutch Hit
25. Ella Marconi's terrific season caps terrific career