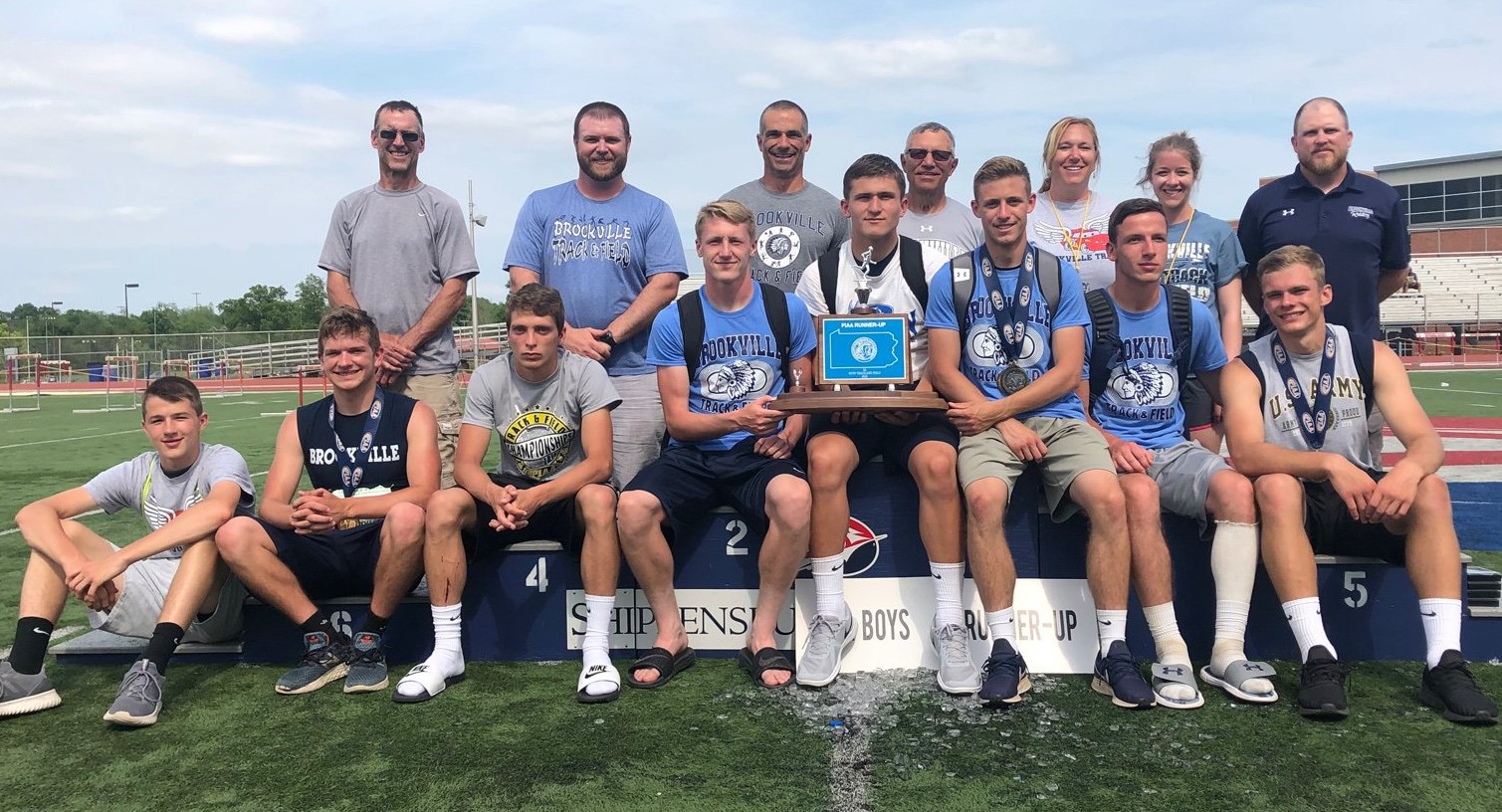 CLARION, Pa. – Over the next few weeks D9Sports.com's Chris Rossetti we will take a look at his the Top 25 stories that impacted District 9 during the 2018-19 school year.
NO. 6 – BROOKVILLE TRACK & FIELD FINISHES SECOND IN THE STATE
The Brookville boys' track and field team has been strong for the last few years and secured its third consecutive District 9 Class 2A title in 2019.
But the Raiders went even further at the PIAA level ending up finishing second in the state despite not having any points won in the throwing events, an achievement that is noteworthy in itself from a team from the rural portion of Pennsylvania.
The strength of the Brookville team was its sprinters.
Ian Thrush had a strong meet for the Raiders finished second in the 200-meter dash (21.91) and fourth in the 100-meter dash (11.13). He also helped the 4×100-meter relay team to a second-place finish (42.04) being joined on that team by Cabe Park, Jack Krug and Bryan Dworek and was a member of the seventh-place 4×400-meter team that took seventh (3:33.42) being joined on that squad by Krug, Kyle MacBeth and Dillon Olson.
Olson collected additional hardware in the hurdles finishing fourth in the 110-meter hurdles (14.89) and seventh in the 300-meter hurdles (39.86).
Dworek also captured an individual medal taking home fifth in the long jump with a leap of 21-feet, ¼ of an inch.
ROSSETTI'S TOP 25 MOST IMPACTFUL HIGH SCHOOL SPORTS STORIES FROM 2018-19 SCHOOL YEAR
7. Clarion-Limestone/Clarion football programs combine
8. Curwensville head coach Andy Evanko passes away after a long fight with ALS
9. C-L's Newcomb runs into D9 record book
10. Young Clearfield softball team reaches PIAA semifinals
11. Cranberry softball reaches PIAA semifinals
12. Winning one for the coach, Kane rallies behind Dave Kiehl
13. A-C Valley girls' basketball makes school history
14. Clarion Volleyball Wins D9 Title, Advances to PIAA quarterfinals
15. Ridgway Boys' Basketball reaches PIAA quarterfinals
16. Six D9 Cross Country athletes medal at PIAAs
17. North Clarion Girls' Basketball gets unexpected three-peat
18. Moving up in class? No problem, Ridgway Football wins third straight D9 title
19. ECC Baseball goes from D9 fifth seed to final eight in the state
20. Moniteau Baseball battles back to win D9 title
21. Brookville Wrestling, a D9 Dynasty
22. Chambers steal and miracle Shot
23. Callen nearly unhittable
24. Wruble's Clutch Hit
25. Ella Marconi's terrific season caps terrific career