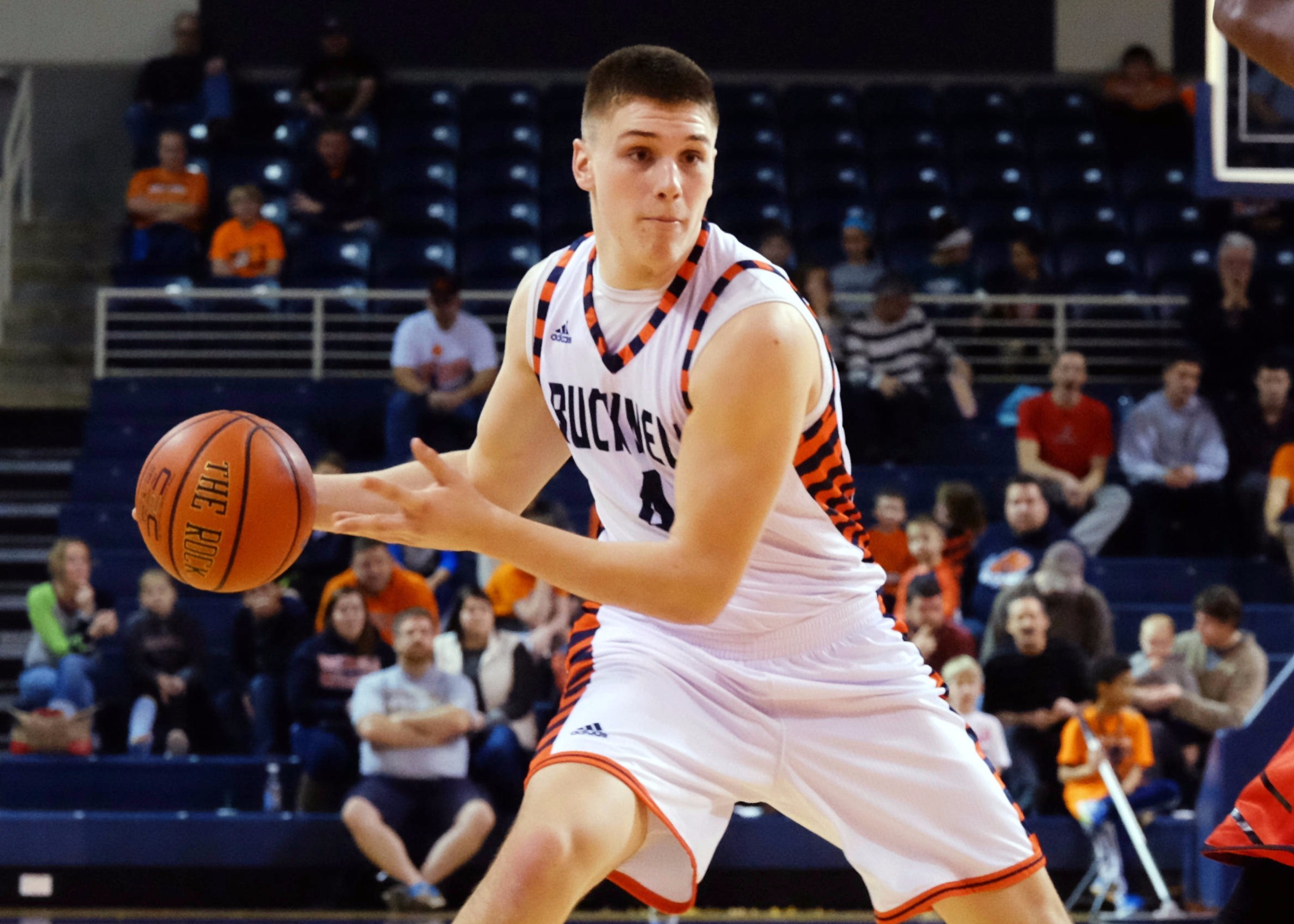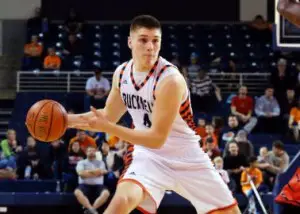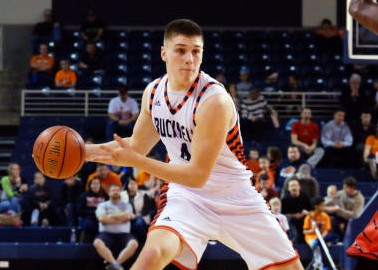 By Chris Rossetti
LEWISBURG, Pa. – Some tough news out of Bucknell University for Cameron County graduate Nate Sestina.
Sestina, who was just starting to come on for the Bison basketball team, is done for the season with a shoulder injury.
"I have a torn labrum and a torn ligament," Sestina said in a text message to D9Sports.com. "I have surgery next Tuesday (Jan. 19)."
Sestina, the All American Awards & Engraving D9Sports.com Co-Player of the Year last year, played in four games for Bucknell this season averaging 3.8 points and 1.3 rebounds per game before the injury ended his season. He may be eligible for a medical redshirt.
"It's more than likely," Sestina said when asked about a medical redshirt. "But I'm not sure yet."
The 6-foot-8, 247-pound freshman was starting to play well for the Bison before the injury and had a season-high 10 points in 16 minutes vs. Fairfield Dec. 27.
"He's done well," Bucknell first-year head coach Nathan Davis said. "He showed flashes early. It was unfortunate he got hurt when he did because he was really playing well."
Sestina said going from District 9 to NCAA Division I basketball in the Patriot League was an adjustment.
"In high school, I was always bigger than the people we played," Sestina said. "When I came here, I knew I wasn't going to be the biggest guy and I was going to have to adjust and play in a system. In high school, I could freelance and get away with it. In college, I'm not the best player. I had to adjust to defend guys quicker than me and not just rely on my height to block shots. Learning how to play defense has been the biggest adjustment as has playing in a system on offense and not just catching the ball and doing my thing."
Davis said Sestina has natural athletic ability which is a plus for him at the Division I level.
"He is big, strong and athletic but he has really good footwork too," Davis said. "He's comfortable playing the perimeter and under the basket.
"Like any high school kid, defense is much different at this level. Offensively, he also needs to work on his back to the basket more and shooting while moving."
Despite not always seeing the best competition while in high school, Sestina did have some advantages when it came to playing at the next level not the least of which was having an older brother, Andrew, playing college basketball at the Division III level at Allegheny College.  
"Because of Andrew playing college basketball, I had an idea of how different it is," Sestina said.
While Sestina wasn't a Davis recruit, the coach was hired after Sestina committed to Bucknell, he said Sestina is a perfect fit for the system he would like the Bison to play.
"As a coach, you have to fit your system to your players," Davis said. "But as to what I would like to do, Nathan is a perfect fit. He can play outside and he can play inside. He can do just about anything you want to do, and he can be as good as he wants to be. It's up to him."
Sestina joins a growing list of District 9 boys' basketball players playing at the next level, a list that is helping to change the look of basketball in D9 and includes Elk County Catholic's Ryan Seelye and Smethport's Zach Smith at Pitt in Division I as well as Johnsonburg's Cameron Grumley, Clarion's Roland Shannonhouse and Clarion-Limestone's R.J. Laugand at Clarion in Division II.
"I think it shows what District 9 basketball is about," Sestina said. "Especially guys like Cameron and Cole (Peterson) at Johnsonburg. Who would have thought Johnsonburg or Ridgway would be in the final four or the state championship game? There is incredible athleticism and heart  in District 9. You look at Zach Smith. I played AAU ball with him. He is one of the smartest if not the smartest player I have every played with, and he helped Smethport beat Clairton when he was in high school. It's all about who want to win and work harder in the gym. I think District 9 has been overlooked as to who is athletic or not. But Cole (Peterson) is dominating at St. Bonaventure in baseball. Everyone thinks because we we come from our athletics and talent isn't the best. We have a lot of small schools, places like smethport where they are an hour from anywhere just to get to a shopping mall. Places like Johnsonburg, St. Marys, Emporium – Elk County Catholic has produced some great players. We didn't come from big arra, but with how hard the guys want to work it has led to very successful teams."